Easy noodles with pork and green beans. Chinese-inspired dish with tender beans and minced pork in an aromatic sauce showcasing a wide spectrum of salty & sweet flavors. Serve with a fried egg, a touch of scallions and some toasted peanuts for extra texture. This flavor explosion will wow your taste buds!⁠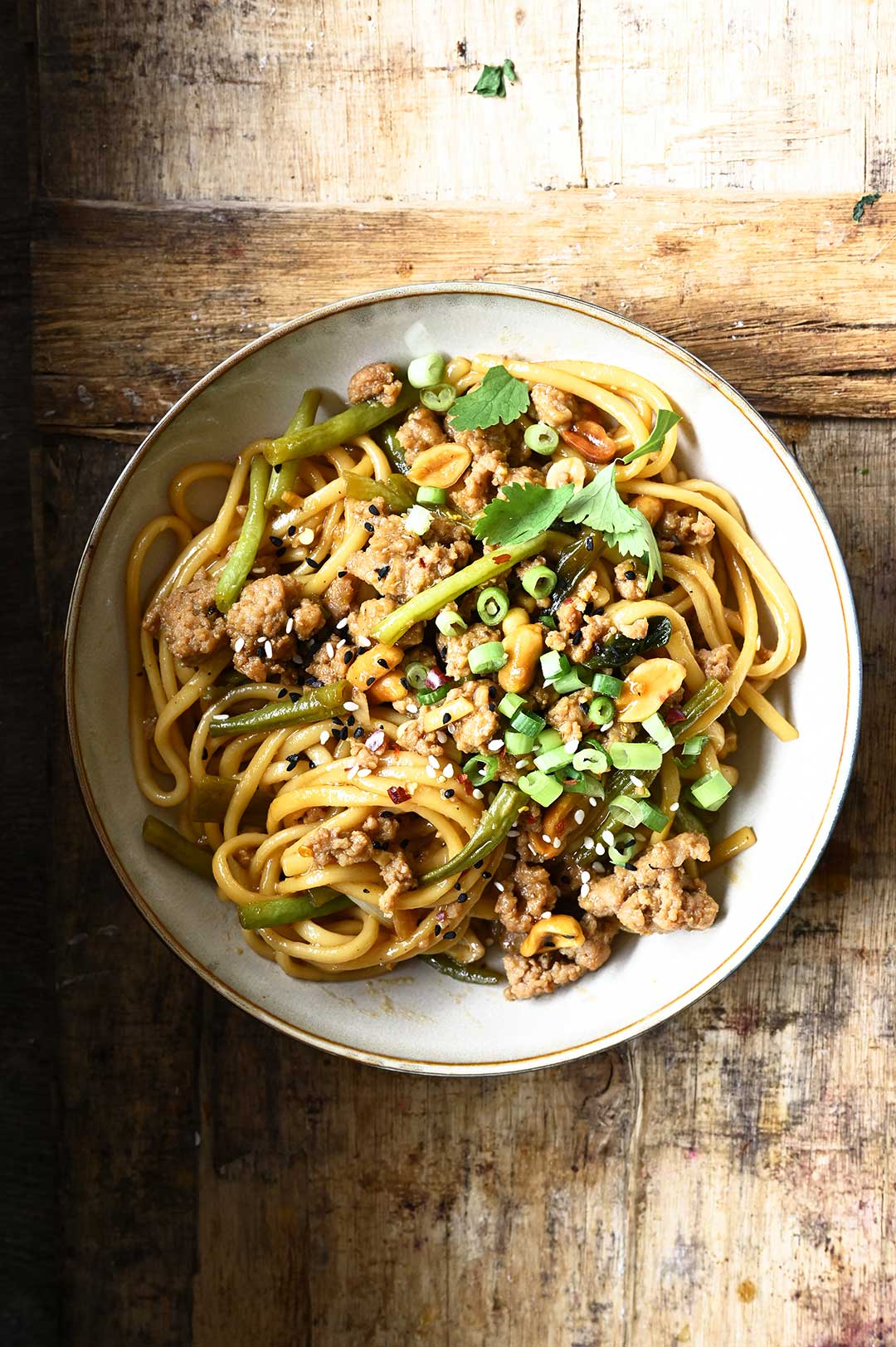 The stars in this dish are the green beans with their tender addictive bite. The ground pork browns beautifully in a hot pan and has a perfect fat to lean ratio that makes the noodles extra tasty in combination with the sauce. I guarantee these noodles will leave you craving for more!⁠
Let me guide you through the recipe with this step-by step-VIDEO.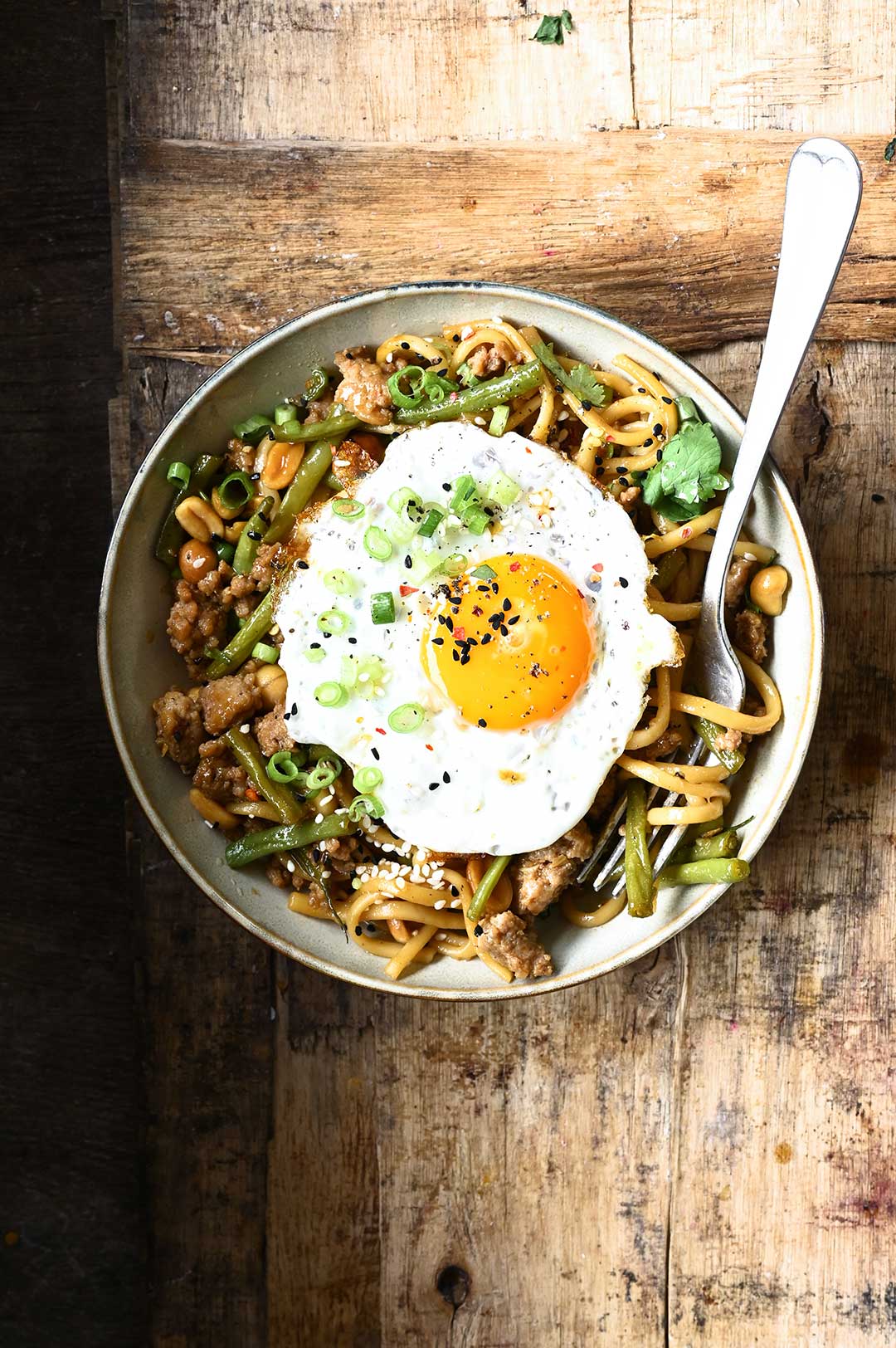 RECIPE NOTES
if you're looking for another crunchy vegetable option besides beans, just swap for chopped bok choy, snap peas or cabbage
swap pork for beef, ground chicken or tempeh
or serve over steamed rice
More stir-fry recipes, please!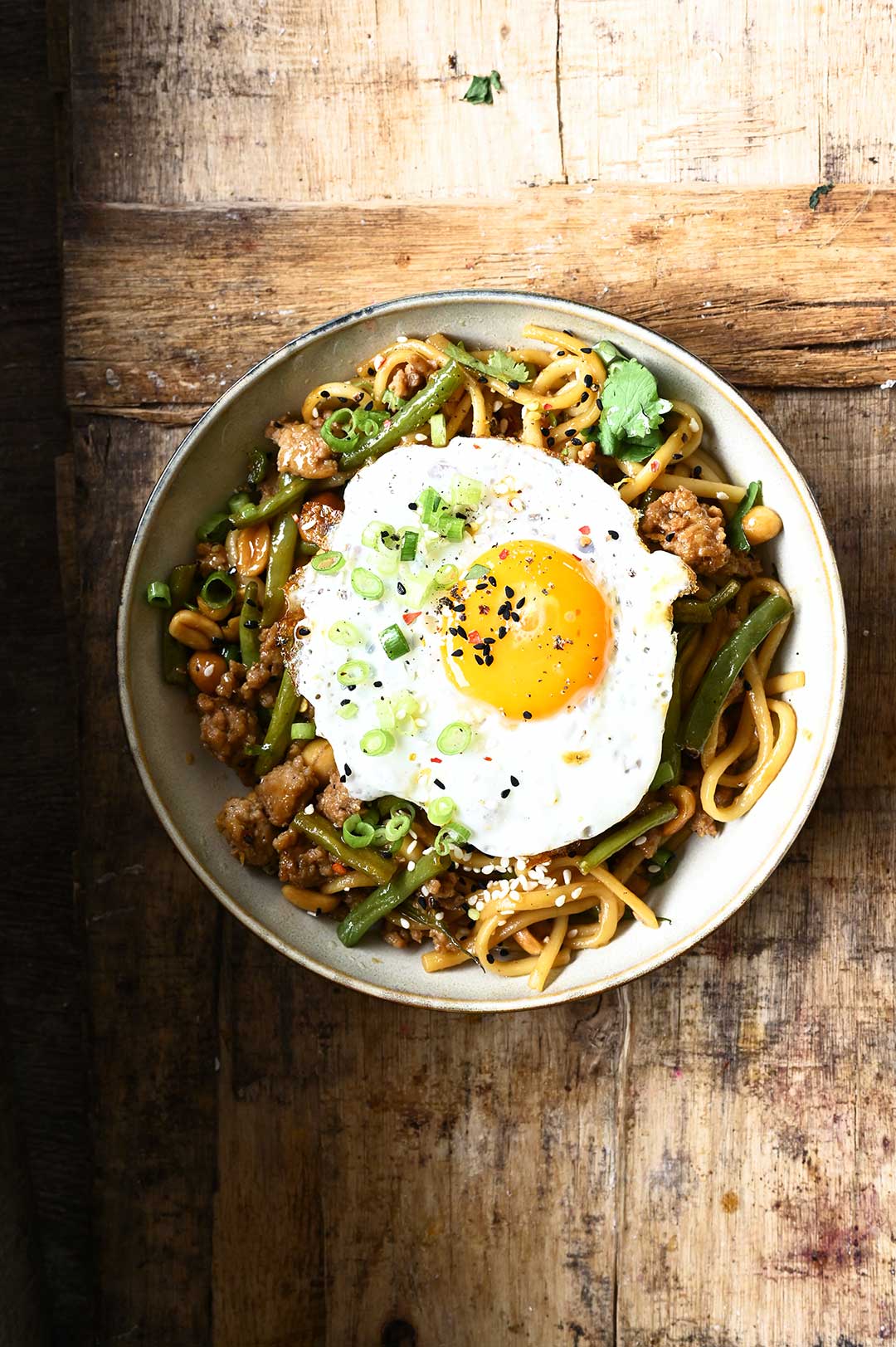 Cooking Video
Yield: serves 2
Easy Noodles with Pork and Green Beans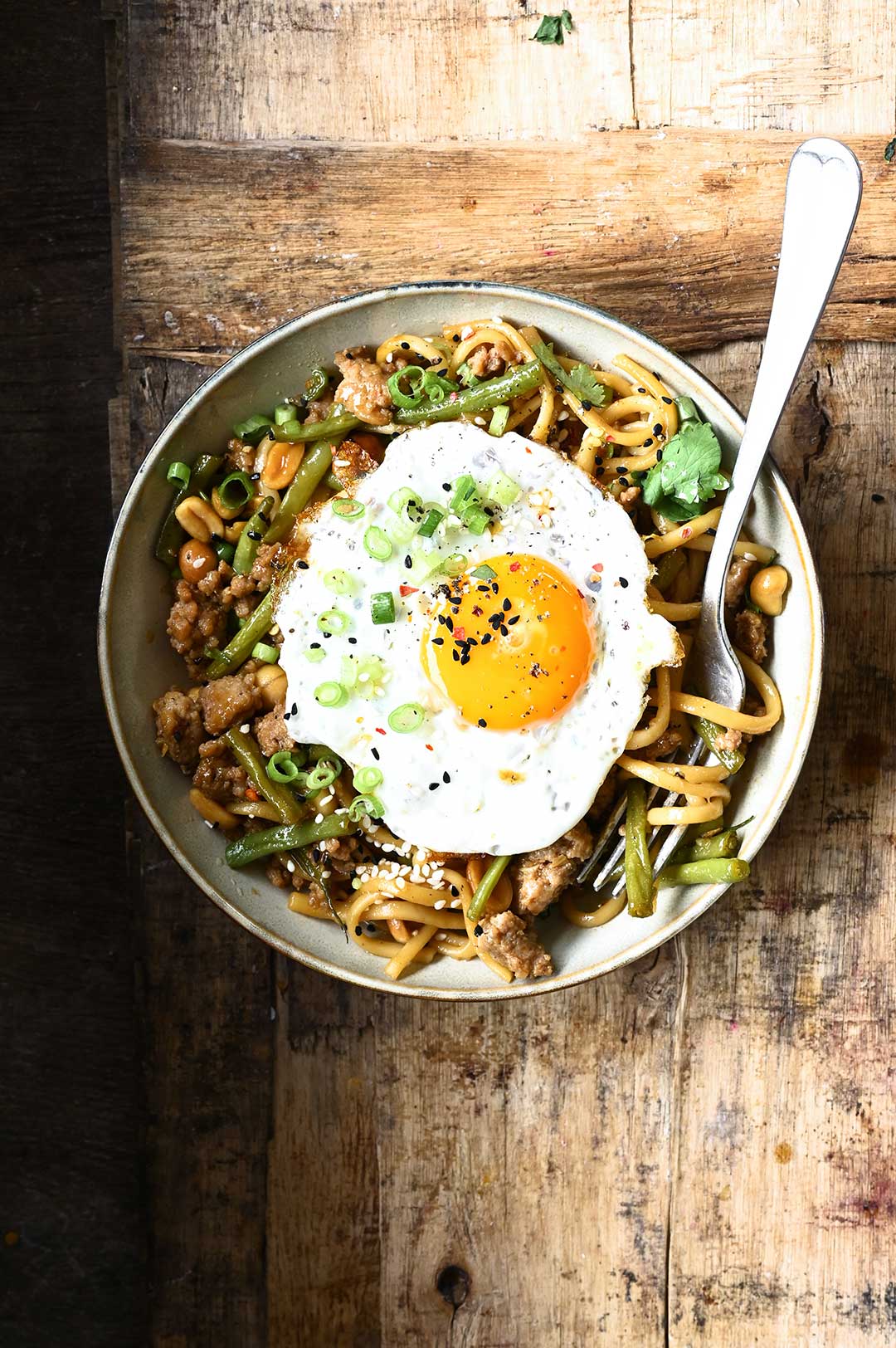 Cook Time 25 minutes

Total Time 25 minutes
Ingredients
150 g/5 oz udon or rice noodles
200 g/7 oz ground pork
200 g/7 oz green beans, trimmed and cut into small pieces
2 tbsp vegetable oil
4 garlic cloves, minced
4 scallions, sliced, more for serving
1 tbsp grated ginger
2 tbsp toasted peanuts
2 eggs
sesame seeds, for serving
cilantro, for serving (optional)
Sauce
120 ml (1/2 cup) low sodium soy sauce
3 tbsp mirin
1 tsp brown sugar
1 tbsp toasted sesame oil
1 tsp each: black pepper, red chili flakes
60 ml (1/4 cup) water
Instructions
Combine the ingredients for the sauce in a small bowl.
Bring a large pot of water (without salt) to a boil, add green beans and cook for 3 minutes. Remove with a slotted spoon and run under cold water. Set aside.
In the same pot, cook the noodles according to the package instructions. Drain and run under cold water.
In the meantime, heat oil in a large pan over low heat. Add garlic and ginger, cook for 2 minutes or until fragrant. Add ground pork, break up the meat into small pieces with a wooden spoon, and cook over medium high heat until browned, 5 minutes. Add scallions, cook for 2 minutes. Stir in green beans and pour the sauce, cook for 5 minutes.
In the meantime, melt a little butter over low heat in a non-stick skillet and fry the eggs. Season with salt and pepper.
Add noodles to pork and beans mixture, toss until combined. Simmer for 1 minute. Sprinkle with toasted peanuts and serve.
Divide noodles among bowls, top with a fried egg, scallions and sesame seeds. Enjoy!


Notes
Calories Per Serving: 636 kcal
Nutritional information is only an estimate. The accuracy of the nutritional information for any recipe on this site is not guaranteed.


PRINT RECIPE