Meatball tortellini soup. This Italian wedding-inspired soup is pure comfort, super delicious, easy to prepare and perfect for any weeknight. Made with a brothy base and filled with cheesy tortellni, wilted spinach, and bite-sized herby meatballs. Finished off with green pesto to make it extra special. A great way to start any meal or simply serve with some crusty bread and you've got a delicious healthy light dinner.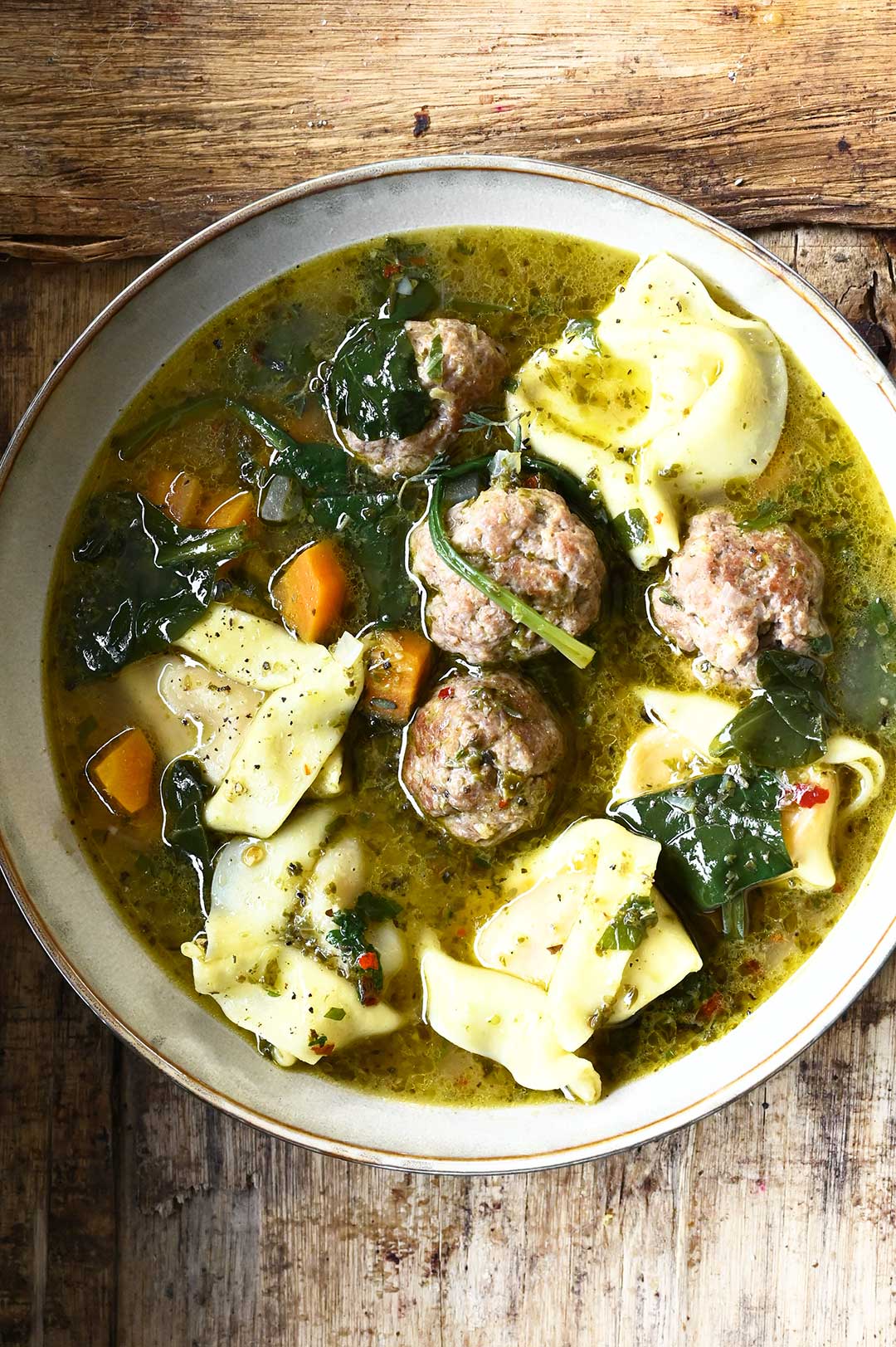 This soup comes together quite easily and a surefire way to get plenty of happy faces from your guests to the very last spoonful.
We start by browning the meatballs, this step will give the soup an extra layer of flavor, then sauté garlic and onion. Pour in some white wine and add carrot and some herbs. Plop the meatballs back into the broth, and add Parmesan rind.
The Parmesan rind is a must, if you have one, it makes the soup super tasty and rich. Maybe you kept some rind of Parmesan saved for just such an occasion in your freezer, but if you have not had the forethought, simply purchase some Parmesan rinds from the cheese counter of your grocery store.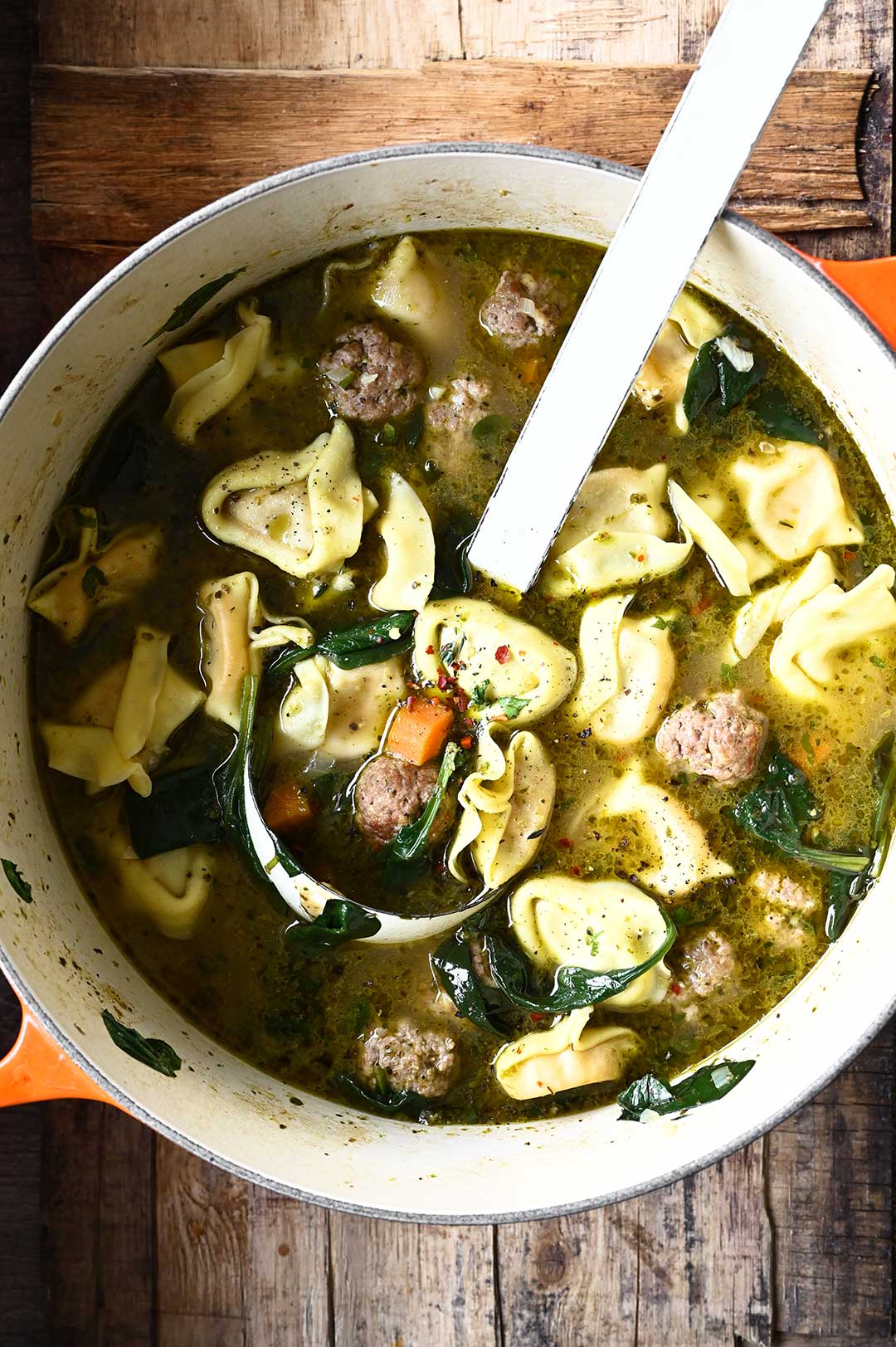 We simmer the soup for 15 minutes, next add tortellini and two handfuls of spinach, and the soup is almost ready to serve. If you want to make this ahead for leftovers, you may want to add the tortellini to the soup before serving, as it will soak up a lot of the broth.
Let me guide you through the recipe with this step-by-step VIDEO.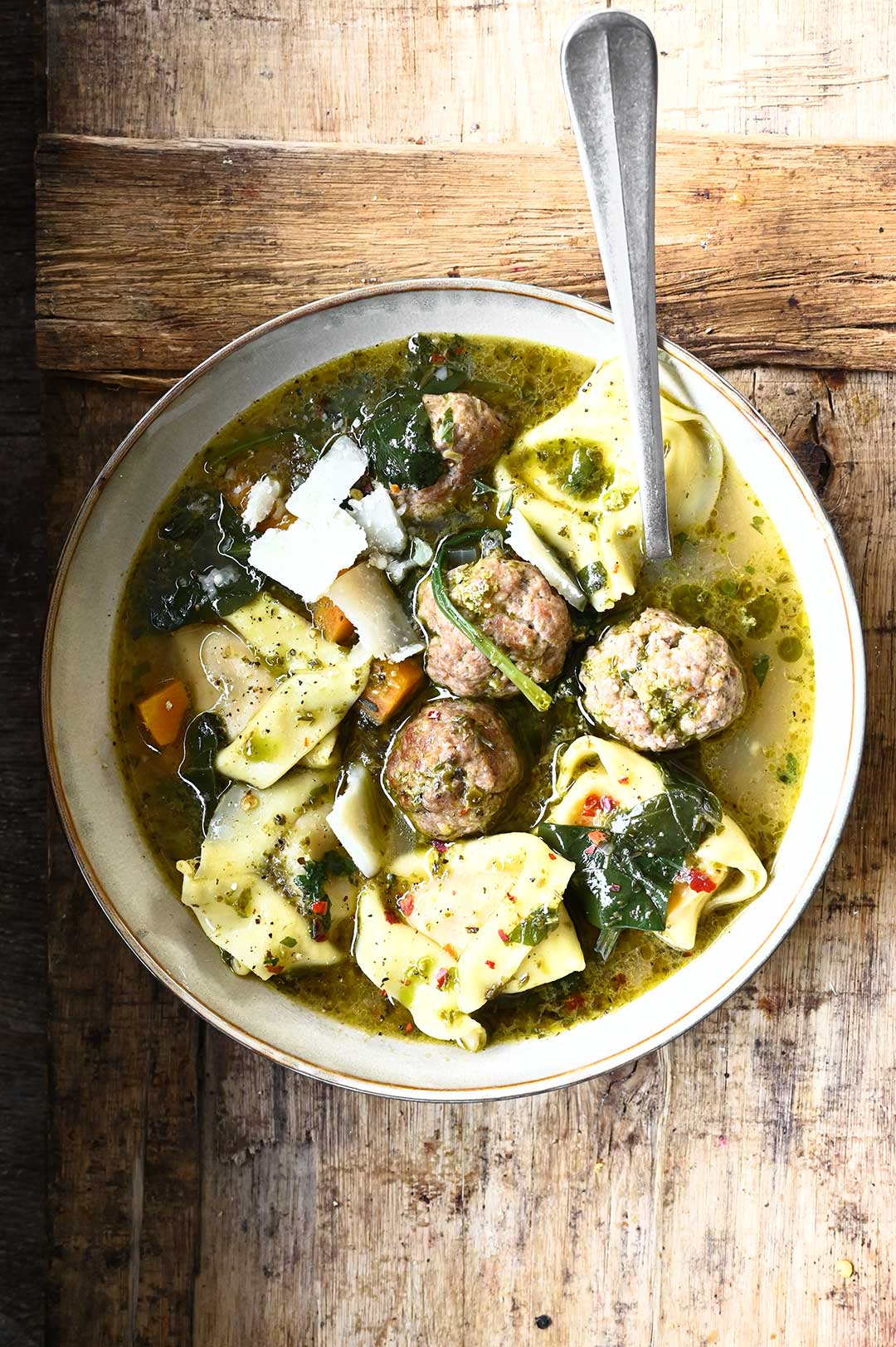 RECIPE NOTES
This meatball tortellini soup is super versatile.
to make this recipe even more weeknight-friendly, there's a little shortcut: instead of making the meatballs with traditional ingredients, use Italian sausage to make things extra-easy. You'll simply roll uncooked Italian sausage, free from its casing, into meatballs without adding extra ingredients
use ground chicken or turkey instead of the pork/beef mixture
instead of spinach, add escarole or kale
use any tortellini of your choice
skip the meatballs and add cannellini beans
if you're using frozen tortellini instead of fresh, you'll need to cook the tortellini a little bit longer
Try These Next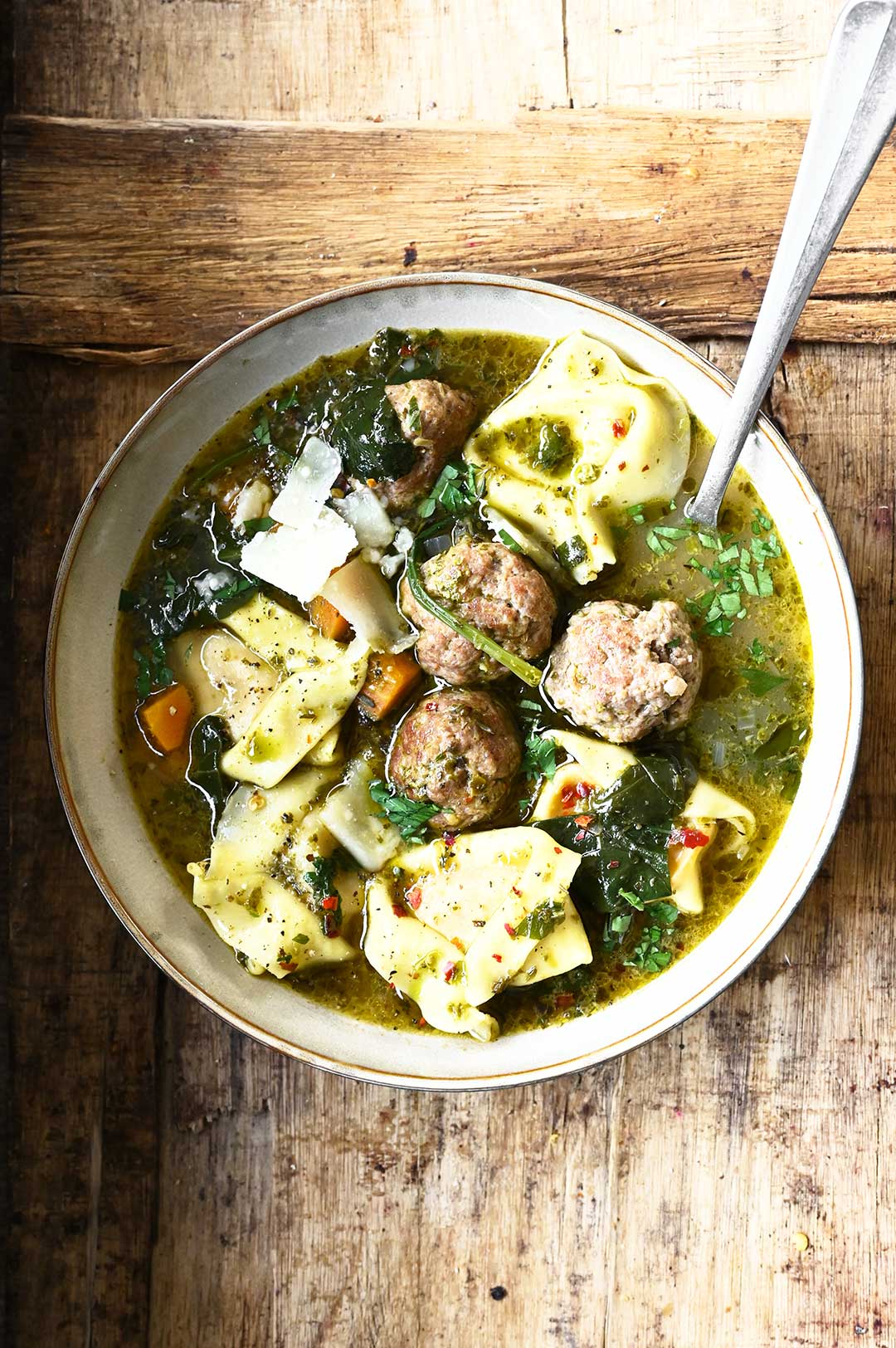 Cooking Video
Yield: serves 4-6
Easy Meatball Tortellini Soup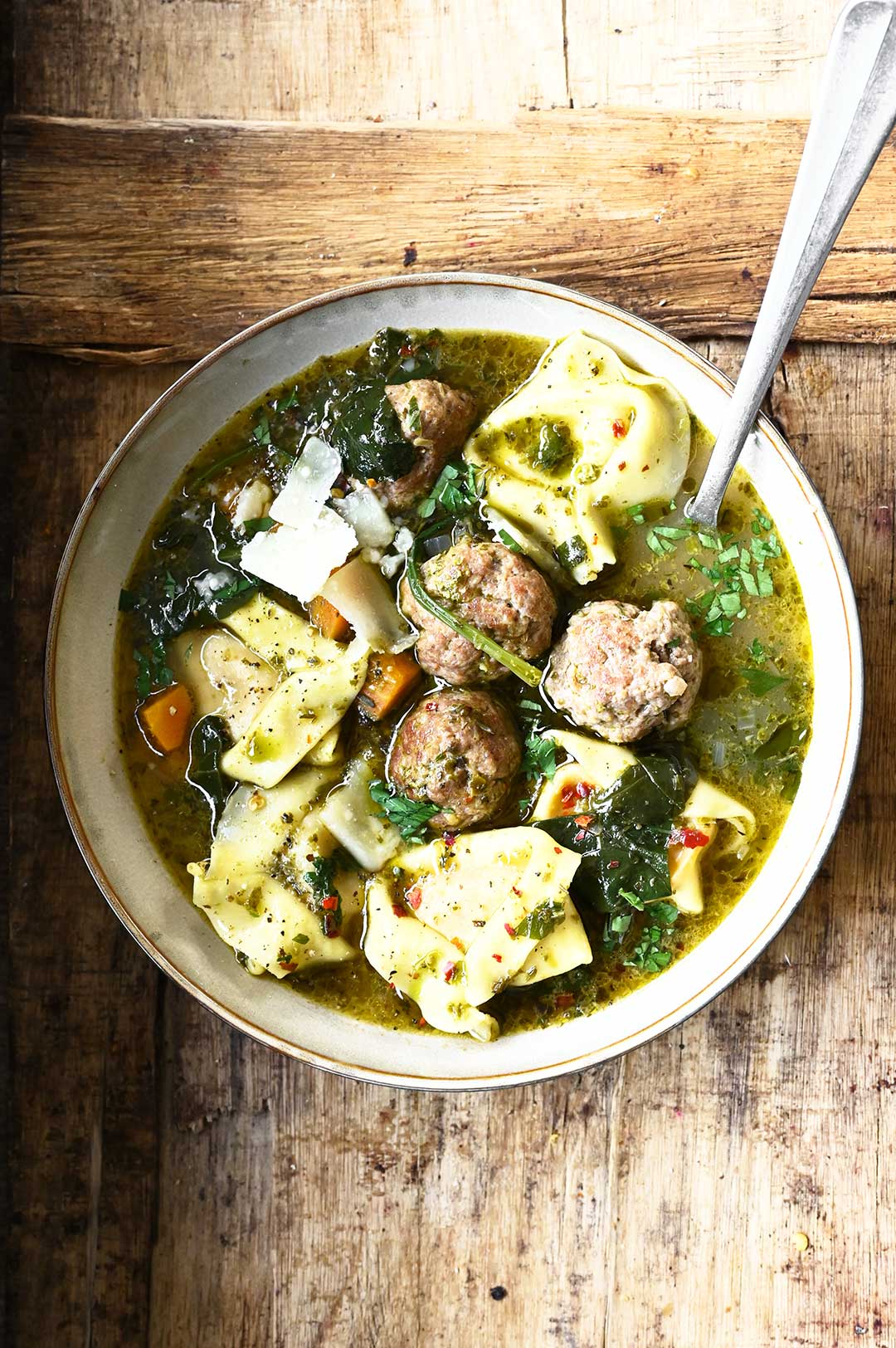 Prep Time 10 minutes

Cook Time 30 minutes

Total Time 40 minutes
Ingredients
meatballs
200 g/7 oz ground beef
300 g/10.5 oz grond pork
1 egg yolk
1/2 tsp each: salt, black pepper, onion powder, garlic powder, fennel seeds, smoked paprika
2 tbsp bread crumbs
30 g /1 oz grated parmesan
soup
2 tbsp olive oil
1 tbsp unsalted butter
1 onion, finely chopped
4 garlic cloves, minced
1/4 cup/50 ml white wine
3 carrots, chopped
1 tsp each: dried oregano, dried sage, dried thyme, black pepper
salt, to taste
6 cups/1.5 L chicken broth
2 tbsp lemon juice
2 tbsp green pesto
250 g/9 oz fresh cheese tortellini
100 g/3.5 oz spinach
1 Parmesan cheese rind (optional)
crushed red pepper flakes, for serving
grated Parmesan, for serving
fresh thyme, for serving
chopped parsley, for serving
Instructions
Combine all the ingredients for the meatballs in a large bowl. Mix until just combined, using your hands. Roll the meat into small meatballs.
Get the prep done before you start cooking: mince the garlic, finely chop the onion and chop the carrots.
Heat oil and butter in a large pot over medium high. Add meatballs, and brown all over, turning frequently, about 5 minutes. Remove from pot with a slotted spoon, leaving as much grease as possible in the pot.
Reduce heat to low, add garlic and onion, cook for 3 minutes until soft. Pour in white wine, stir with a wooden spoon to dissolve the brown bits on the bottom of the pot, simmer for 2 minutes. Add carrots, oregano, sage, thyme and black pepper. Cook for 3 minutes.
Add chicken broth, bring to boil over high. Add meatballs and parmesan rind. Reduce heat to a simmer, and cook for 15 minutes.
When ready, stir in lemon juice and green pesto. Add tortellini and spinach, cook for 2 minutes. Taste, and adjust salt. Finish off with fresh thyme, red pepper flakes, chopped parsley and some freshly ground black pepper. Enjoy!
Notes
Calories Per Serving: 517 kcal
Nutritional information is only an estimate. The accuracy of the nutritional information for any recipe on this site is not guaranteed.


DOWNLOAD PRINTABLE RECIPE PDF