Easy Laksa with Shredded Chicken. This spicy 30-minute coconut noodle soup is next level delicious. A hot, steaming bowl of soup that deserves a place in your repertoire. It just screams delicious!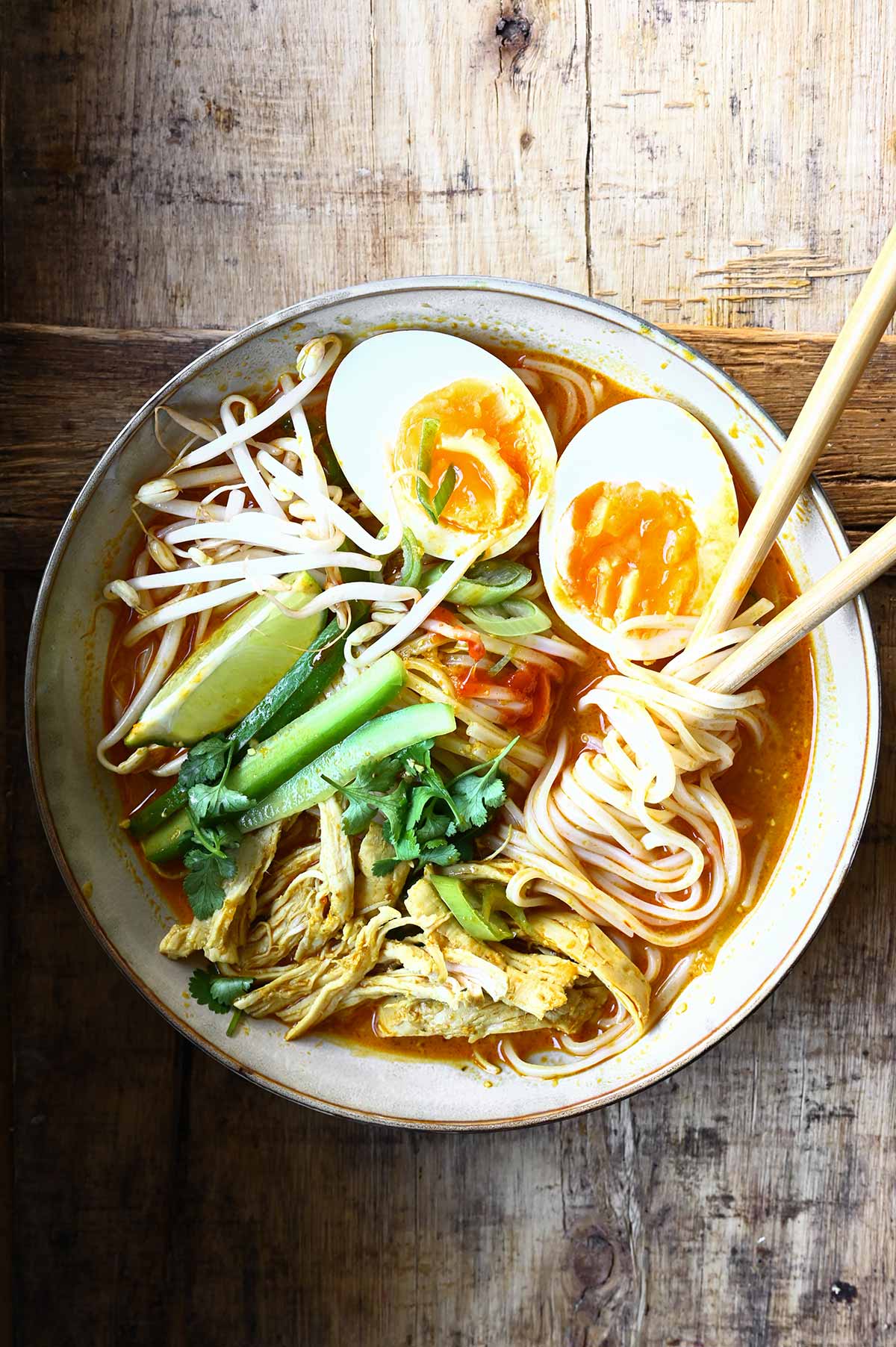 This iconic Malaysian spicy coconut noodle soup will make you crave a second bowl. Imagine an incredibly rich, fragrant, complex flavored broth. The tastes are pretty close to Thai food. Big, bold flavors. Easy to make and deeply satisfying. There is nothing not to love about laksa. Try it. You won't be sorry.
Let me guide you through the recipe with this step-by-step VIDEO.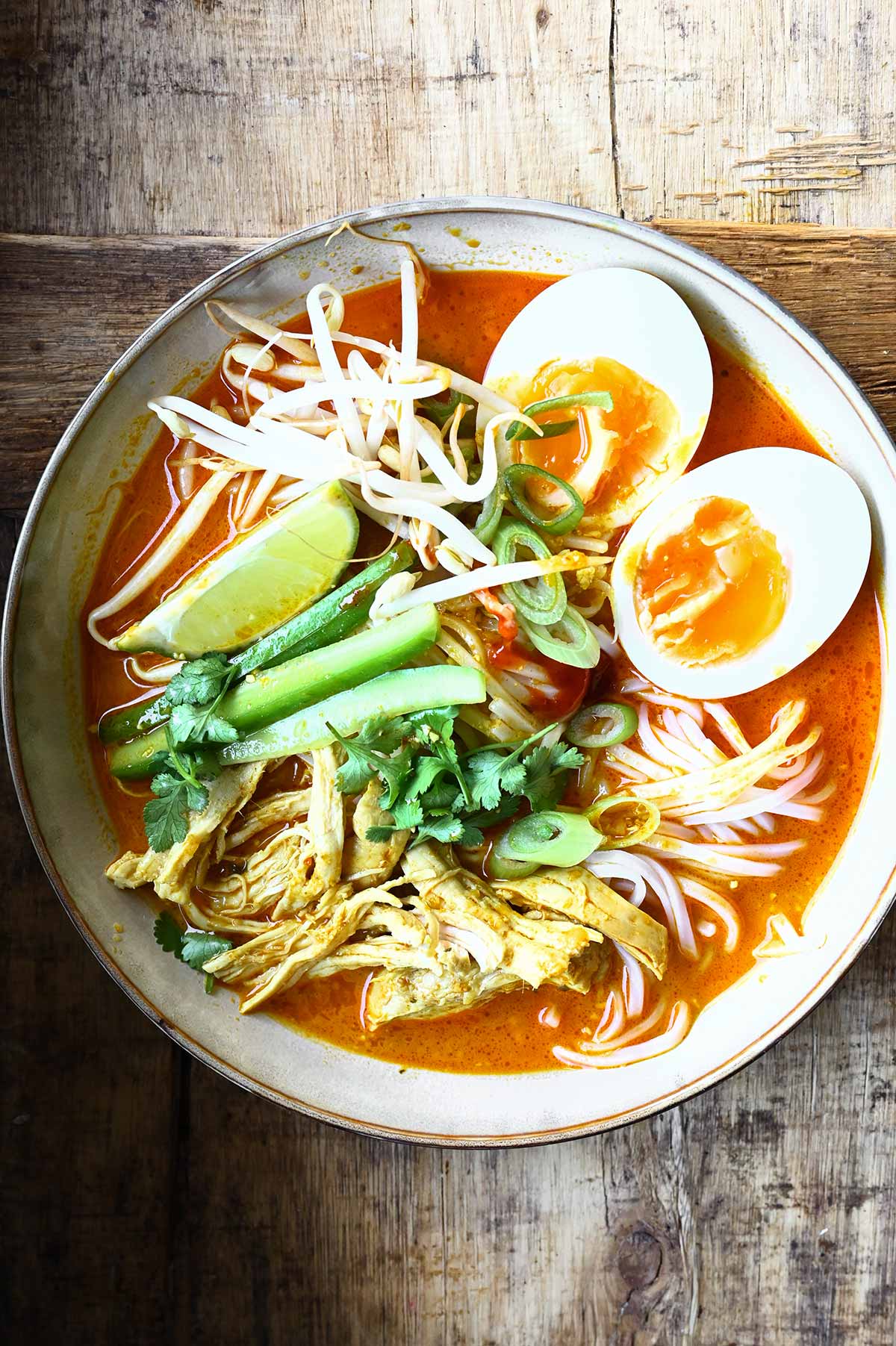 Laksa Paste
The key component in this recipe is the laksa paste, it's where all that rich, nutty, fragrant flavor is hiding. You can make your own paste or use a good quality store-bought paste.
If using store-bought, laksa paste benefits greatly from some freshening up. You'll want to add 2 garlic cloves, 1 tablespoon ginger, lemongrass, chili and a shallot. Sauté before adding the store-bought paste, and it will elevate your laksa to mind blowing deliciousness! You can find laksa paste in Asian stores or online.
This is my version for the laksa paste, it's not traditional, because I wasn't able to find all of the ingredients, but it's super flavorful and made with pantry staple ingredients you might already have.
Let's take a look:
1 tbsp cilantro stalks
1 tbsp each: curry powder, turmeric powder, sweet paprika, ground cumin
2 tbsp ground coriander
2 tbsp sambal oelek (traditionally 5 Thai red chilis + 1 tsp salt)
2 tbsp fish sauce, (traditionally 3 tbsp shrimp paste or dried shrimp, soaked in hot water for 5 minutes)
2 shallots
4 garlic cloves
2 stalks lemongrass, white part
1 tbsp chopped ginger (traditionally galangal)
8 macadamia nuts, swap for a handful of cashews (traditionally made with candlenuts)
3 tbsp brown sugar (traditionally 5 tbsp tamarind paste. If using tamarind paste, leave out lime juice)
juice from 1/2 lime
2 tbsp vegetable oil, + 3 tbsp for cooking
Place all of the ingredients in a blender and blitz until smooth. Heat the 3 tablespoons oil in a wok or heavy-bottomed skillet over medium-low and add the paste. Cook the paste for about 10 minutes, stirring until the mixture darkens and the oil separates from the paste. Makes for 1/2 -3/4 cup. You can keep it in the fridge for up to a month.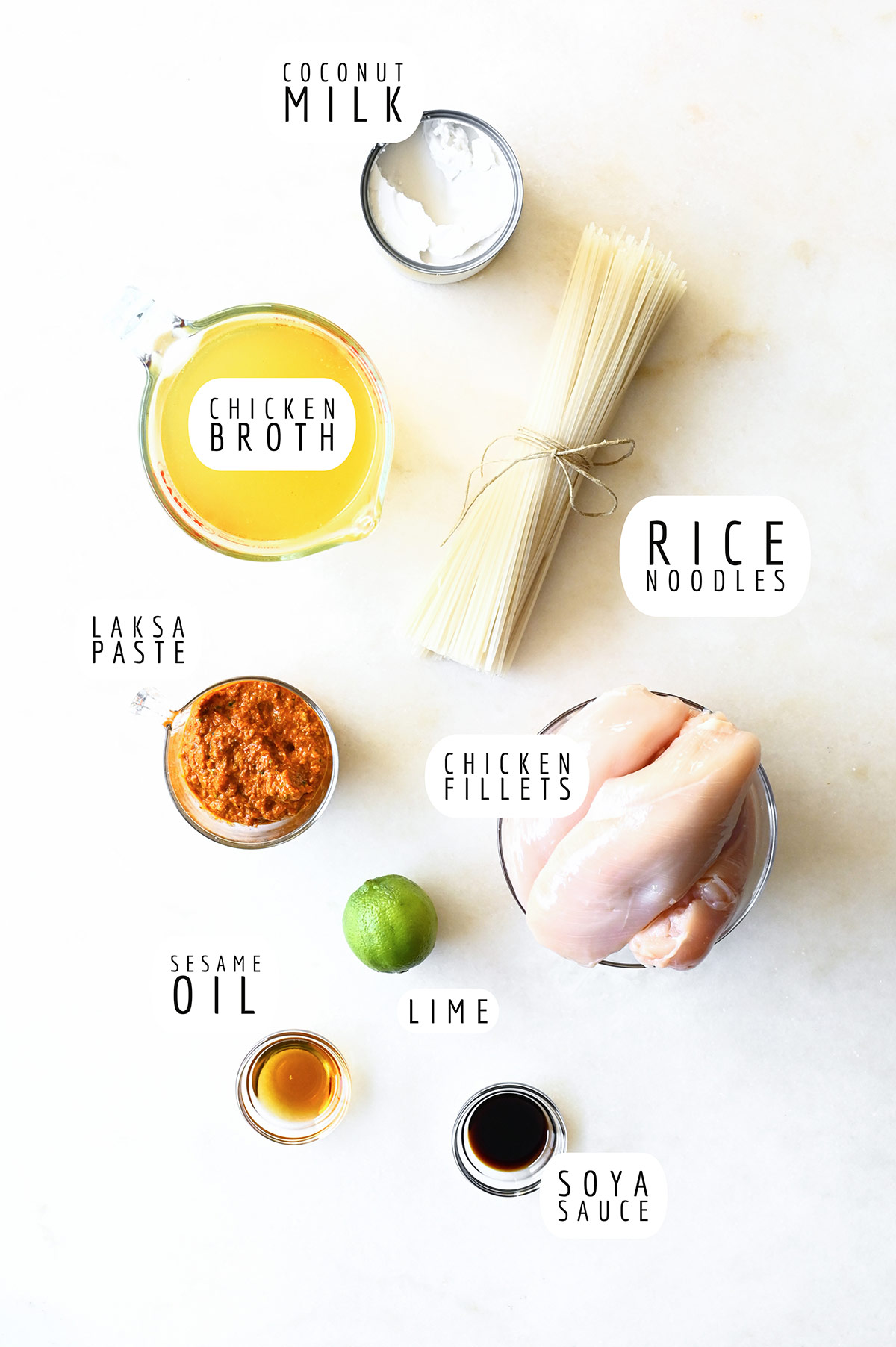 THE INGREDIENTS
Sesame Oil: For cooking and additional flavor.
Laksa Paste: Use store-bought or homemade. See note above. Substitute for Thai red curry paste.
Chicken Broth: Use store-bought or homemade. Swap chicken broth for vegetable broth.
Chicken: I used chicken breast fillets, but you can also use skinless/boneless chicken thighs.
Soy Sauce: A touch of soy sauce adds saltiness that brings out the inherent flavors.
Coconut Milk: For a nice flavor and a creamy touch. Coconut milk adds a sweetness to the soup that counteracts the spiciness, creating a nice balance. Use full fat coconut milk.
Lime Juice: To balance out the sweetness.
Noodles: You can use rice noodles or egg noodles, thick noodles, vermicelli or even spaghetti. Alternatively, udon noodles can be a modern 'cheat'. Moreover, it's very common to mix both rice noodles and wheat/egg noodles in laksa. So feel free to use whatever noodles you have on hand.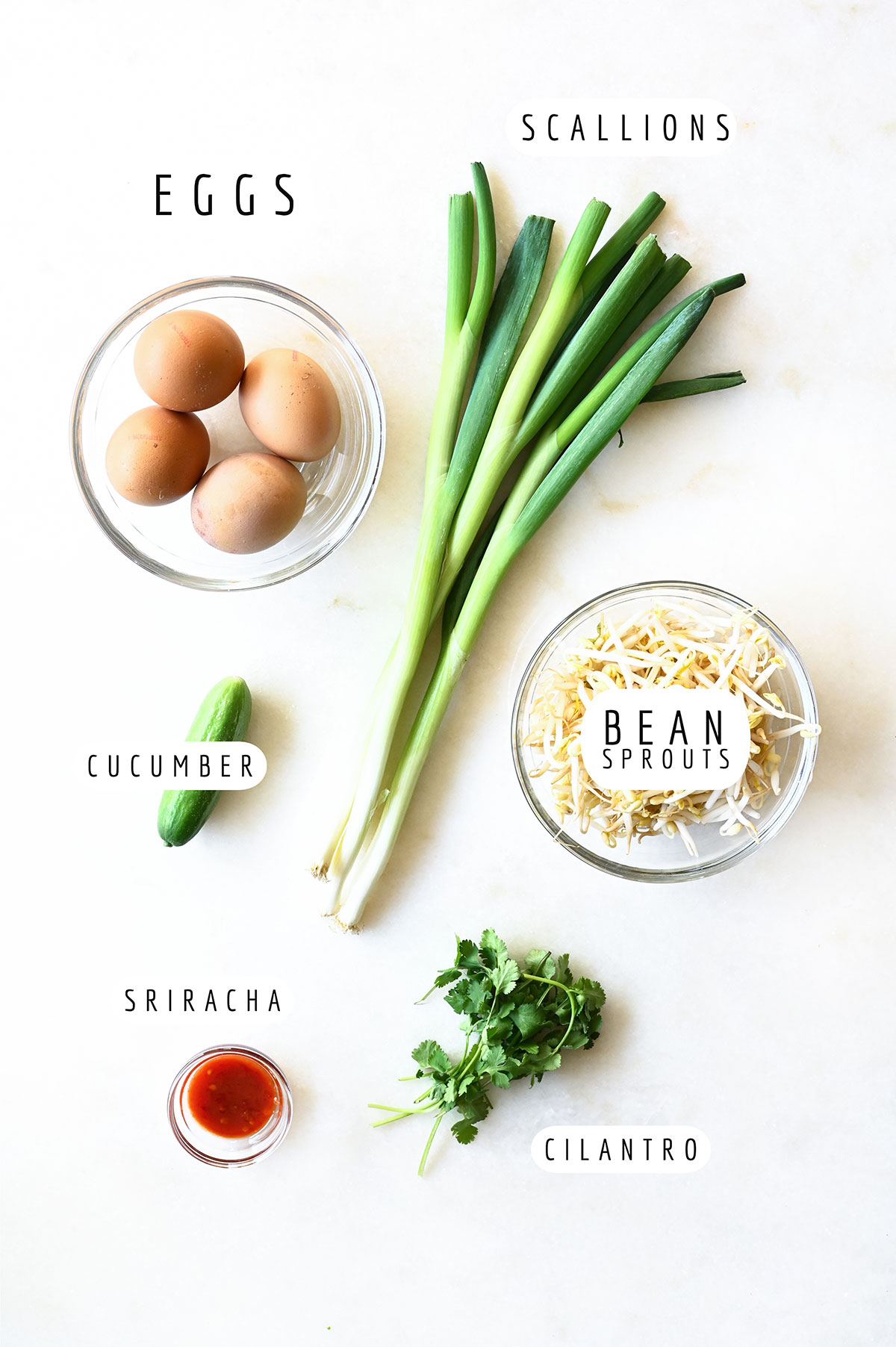 TOPPINGS
Eggs: Cooked for 6 minutes. You can also fry your eggs as an omelette and cut into thin strips.
Bean Sprouts: Blanched in hot water.
Cucumber: Julienned.
Cilantro
Scallions: Swap for chives.
Chili paste: Sriracha, swap for sambal oelek or Thai chili paste.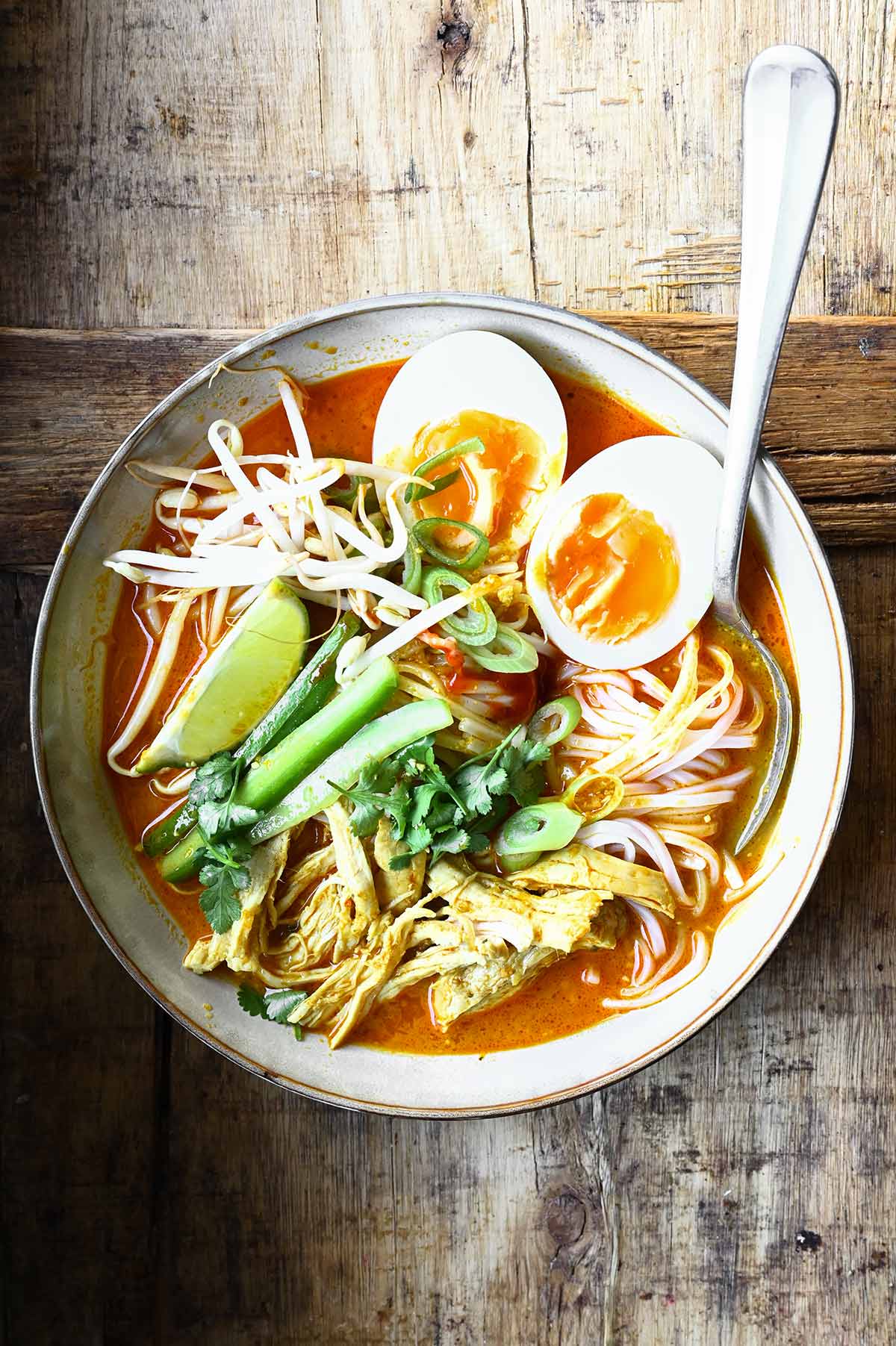 RECIPE NOTES
If you want to keep this soup traditional, you can add some tofu puffs. You are likely going to need to go to an Asian store and find them in the refrigerated section. Not a super mainstream ingredient but an interesting garnish. I couldn't find them:)
Additional toppings: Thai chilis, lime wedges, crispy fried shallots, chili paste, sriracha, blanched bok choy.
Instead of chicken, use white fish or shrimp.
You can also use rotisserie chicken or leftover chicken for a faster version.
You can leave out the chicken for a vegetarian version.
This is a mildly spicy soup, but you can always add chopped fresh chili, red pepper flakes or chili paste. Or serve chili peppers on the side if your table companions prefer different spice levels.
Be sure to cook the noodles in a separate pot and keep them separated from the soup until ready to serve. If you add them to the soup before serving, they will continue to cook, absorb the liquid and become too soft.
Storage: Leftovers can be refrigerated in an airtight container for up to 3 days. Leave any extra noodles separated and add them just before serving.
Make ahead: You can make the soup 1 day ahead, and cook the noodles when you're ready to eat.
TRY THESE NEXT
COOKING VIDEO
Yield: serves 4
Easy Laksa with Shredded Chicken
Ingredients
1 tbsp sesame oil
½ cup laksa paste, more to taste, homemade or store-bought (see notes above)
3 cups/750 ml chicken broth
1 tbsp low sodium soy sauce
4 small chicken breast fillets
1 can (14 oz/400 ml) coconut milk
juice from ½ lime
7 ounces/200 g rice noodles
Toppings
4 eggs
scallions, chopped
cilantro
cucumber, julienned (optional)
lime wedges
bean sprouts, blanched in hot water
chili paste or sriracha
Instructions
In a pot, heat sesame oil over medium, add laksa paste and cook for 2 minutes. If using store-bought paste, sauté some garlic, ginger, lemongrass and chili paste before you add the laksa paste. See notes above.
Pour in chicken broth and bring to a boil. Add soy sauce and chicken fillets. Cover the pot and lower the heat. Simmer for 15 minutes.
In the meantime, add water to a small sauce pan, once boiling, add eggs. Cover, simmer for 6 minutes. Run under cool water, set aside.
Cook the rice noodles according to package directions until just al dente. Drain and run the noodles under cool water to stop the cooking process.
Prepare the toppings.
When ready, remove the chicken fillets and place onto a clean plate. Add coconut milk and lime juice. Simmer, uncovered, for 5 minutes while you shred the chicken. Use two forks, hold one fork in each hand, and use them to pull the meat apart. Return chicken to the pot.
Place the cooked rice noodles into a serving bowl. Ladle the hot soup over the noodles. Top with shredded chicken, eggs, cucumber and bean sprouts. Add a lime wedge and garnish with cilantro, scallions additional chili paste. Serve immediately.
Notes
Calories Per Serving: 518 kcal
Nutritional information is only an estimate. The accuracy of the nutritional information for any recipe on this site is not guaranteed.

//= __('Print recipe (no photos)', 'servingdumplings' );?> //= __('Print recipe (with photos)', 'servingdumplings' );?>