Looking for a quick and tasty meal? Try this easy fried rice recipe! It's ready in just 20 minutes and packed with the flavors you love from your favorite takeout. It's perfect for a meatless lunch, a versatile side, or a satisfying dinner.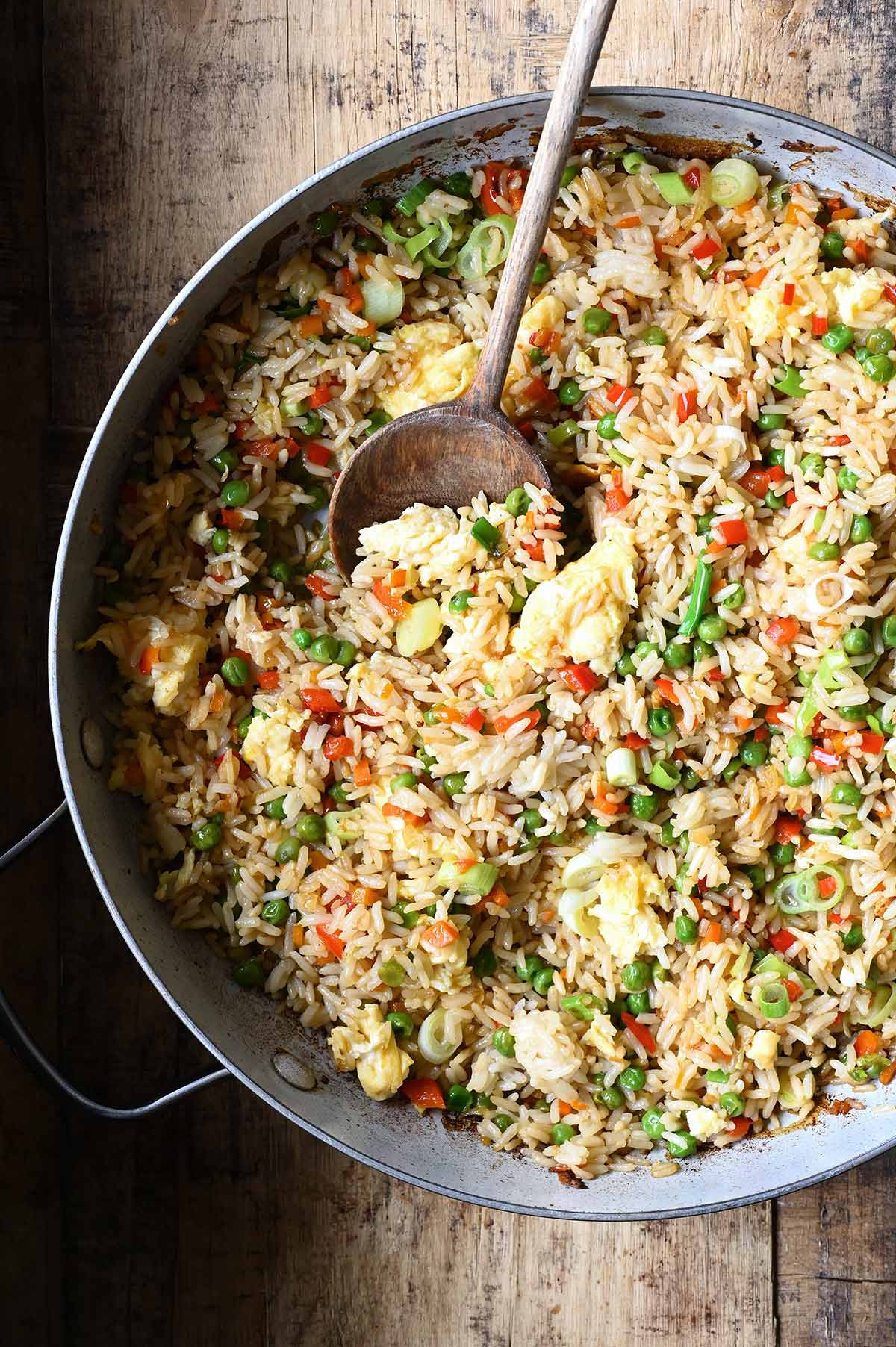 Making fried rice is super easy, although it does require a bit of finesse when it comes to nailing the perfect veggie-rice-flavor balance. Achieving that ideal harmony of ingredients is key, they should seamlessly fuse to deliver a harmonious flavor in each mouthful. Feel free to make it as hearty as your appetite desires, experimenting with various protein options to elevate it to a dinner-worthy status. The core formula for making the most amazing fried rice is marked by its buttery touch, a well-balanced sauce, big chunks of scrambled egg, and little bits of vegetables.
Let me guide you through the recipe with this step-by-step VIDEO or follow along on YouTube!
Why You'll Love This Fried Rice Recipe
Say goodbye to takeout and get ready to grab your skillet or wok – it's time to master the art of making the best fried rice!
Speedy Satisfaction: Embracing this straightforward method not only results in mouthwatering goodness but also introduces a quick and flavorsome addition to your weeknight dinner repertoire.
Simple Ingredients: Whip up this straightforward recipe with ingredients you might already have at home.
Endlessly Versatile: Raid your kitchen for any available veggies, whether they're frozen or conveniently pre-chopped. Or experiment with any additions, like chicken or shrimp.
Authentic Flavor: With a handful of simple tricks (like using chilled rice and a touch of butter), you can craft restaurant-quality fried rice from scratch.
Leftovers Welcome: Once you get the hang of it, you might as well double the batch. It makes for the perfect lunch and tastes even better when reheated.
One-Pan Wonder: The beauty of this fried rice lies in its one-pan preparation, which translates to less cleanup!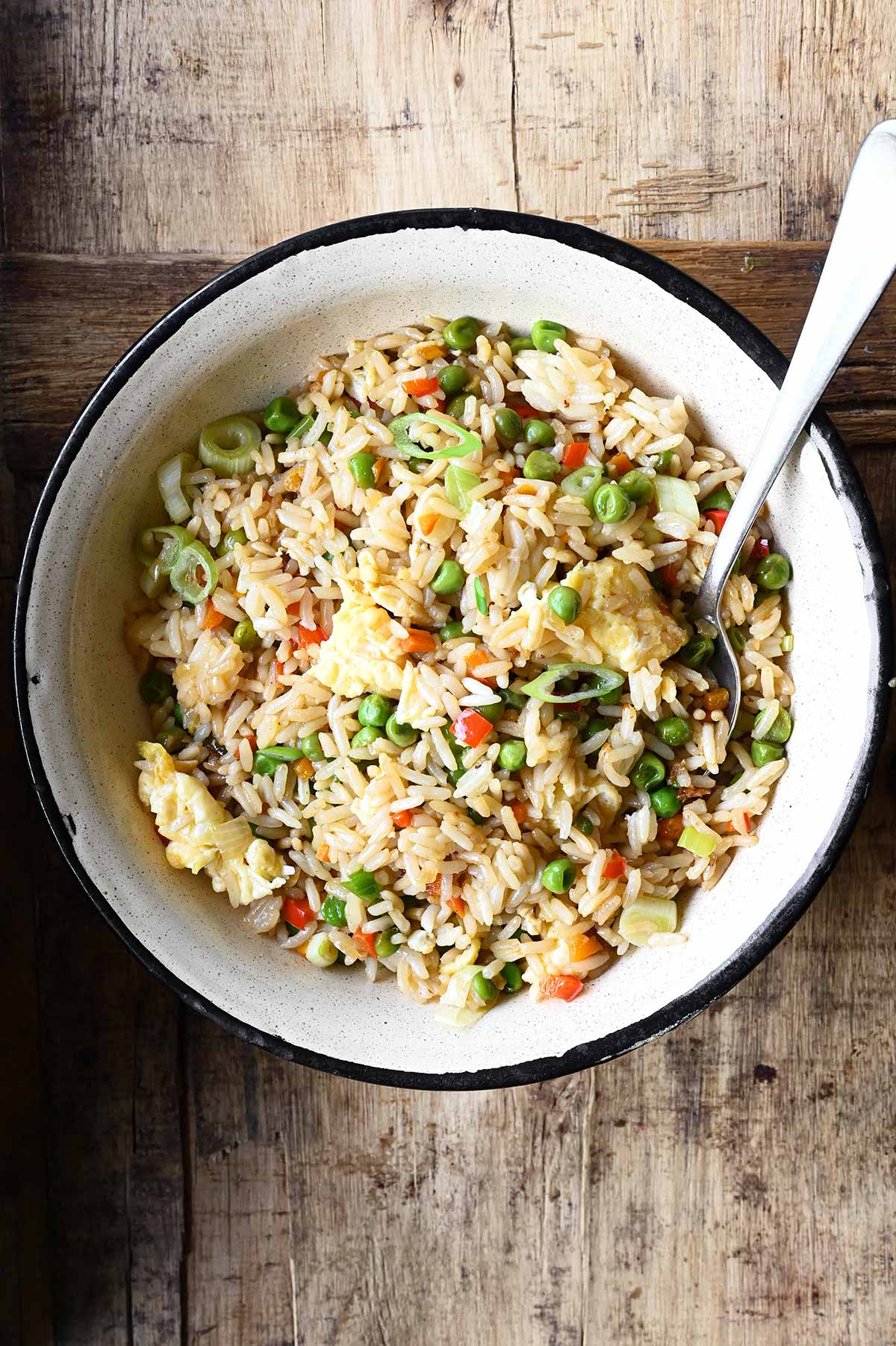 The Best Rice for Fried Rice
When it comes to making easy fried rice, long grain rice takes the crown. Its lower starch content makes it the go-to choice, ensuring your rice turns out soft and fluffy every single time. Long grain varieties like fragrant Jasmine, Basmati or American long-grain rice are top picks, they cook up separate. However, you can venture with other options like short grain, or even brown rice if that's what you have on hand.
But here's the golden rule: Use cold rice! Planning ahead is key, opt for day-old cooked rice that's been chilled. Freshly cooked, warm rice won't fare well in a sizzling hot pan, leading to a mushy, sticky mess. This little trick helps prevent clumping and ensures your rice stays separate and firm. While it doesn't have to be icy cold, having day-old rice on standby is a game-changer. Even leftover refrigerated rice works like a charm.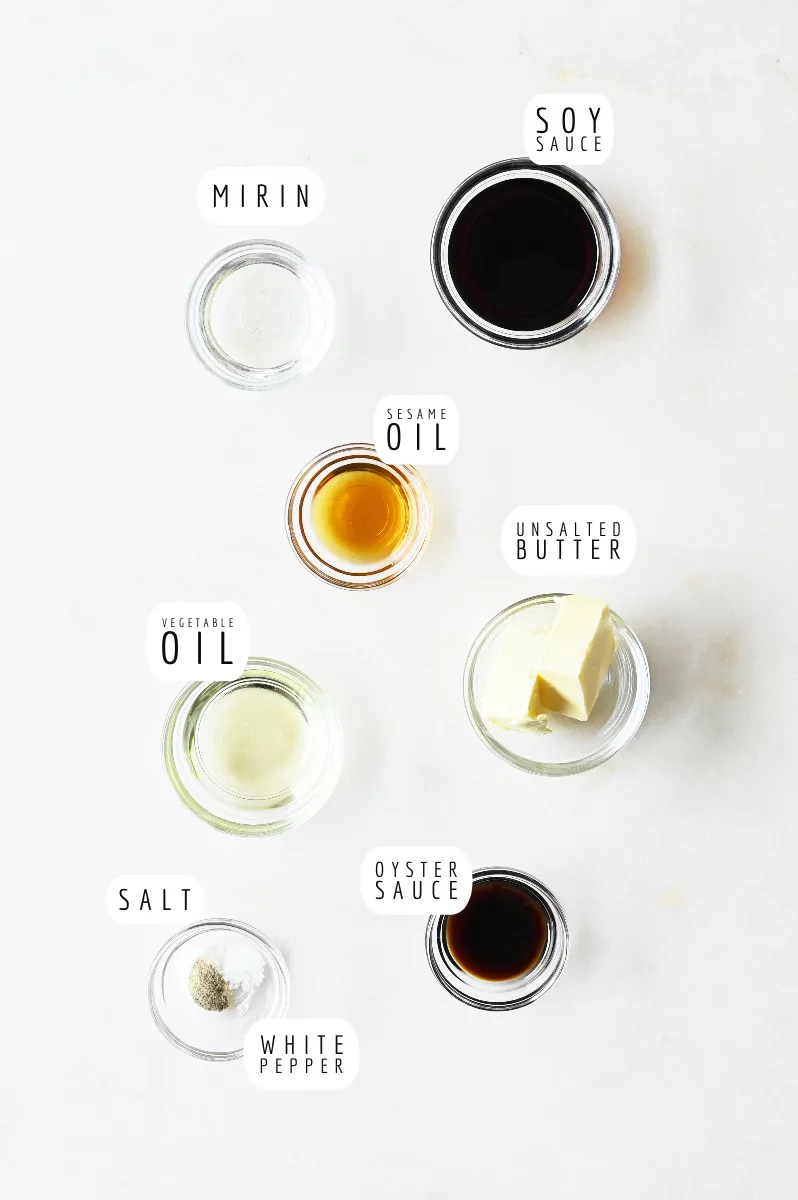 Ingredients and Substitutions
Oil: Used for frying the eggs and veggies. Any vegetable oil works.
Butter: The flavor enhancer you don't want to skip.
Oyster Sauce: Adds a savory, slightly sweet, and salty kick.
Soy Sauce: Your trusty sidekick. Opt for low-sodium, or dilute dark or light soy sauce with water. Use tamari for a gluten-free alternative.
Mirin: Ties flavors together. Substitute with Chinese cooking wine or sherry if needed.
Toasted Sesame Oil: Essential for that authentic, nutty flair.
Salt and White Pepper: For an extra flavor boost.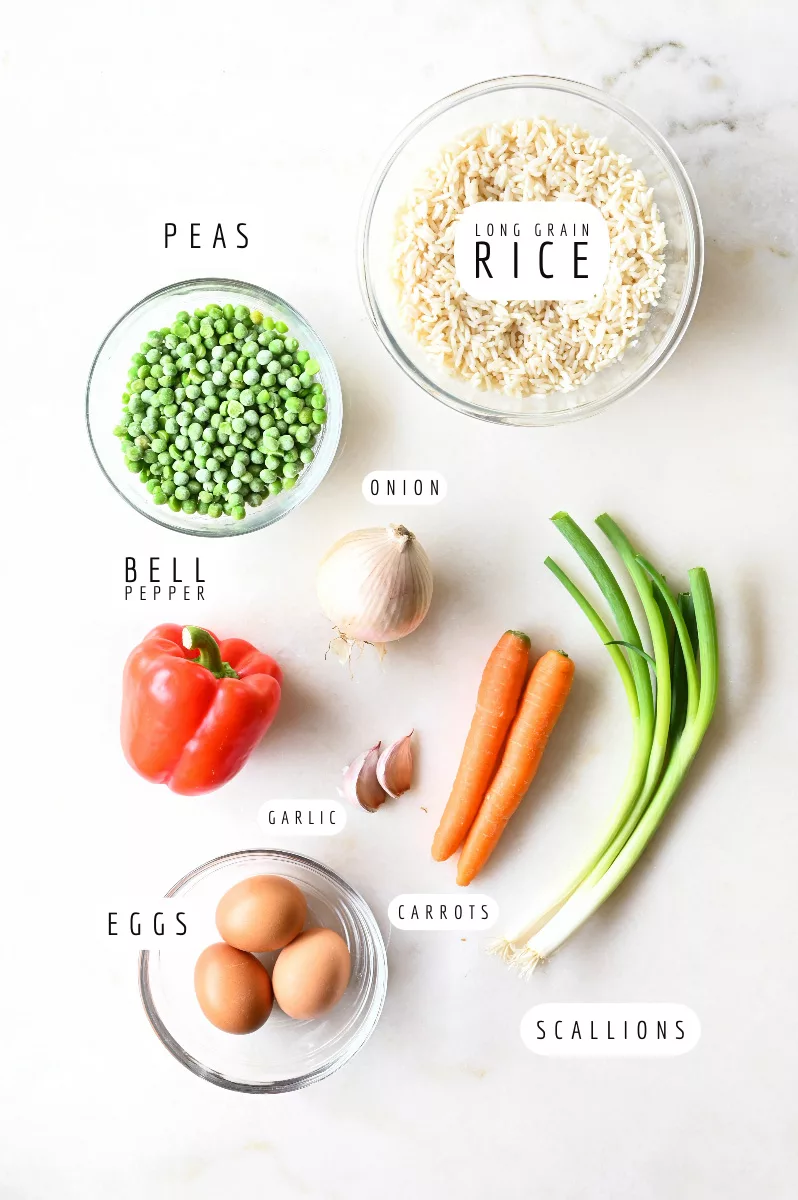 Rice: Use a day old cooked rice or leftover long grain rice, like Jasmine, Basmati or American long-grain. You can also use parboiled rice. Using a long grain rice will produce the best results and is most commonly used. It cooks up separate and does not clump together.
Eggs: A typical ingredient in a fried rice recipe, which add great flavor, texture and protein. You can omit and substitute for tofu if you are allergic to eggs or simply not a fan.
Vegetables: Bell pepper (use any color), carrots, scallions and frozen peas. You can swap for any veggies you have on hand like celery, mushrooms, snow peas, cabbage, bok choy, bamboo shoots or bean sprouts. You can also use a bag of (frozen) pre-chopped veggies.
Garlic and Onion: Essential ingredients to boost the flavor.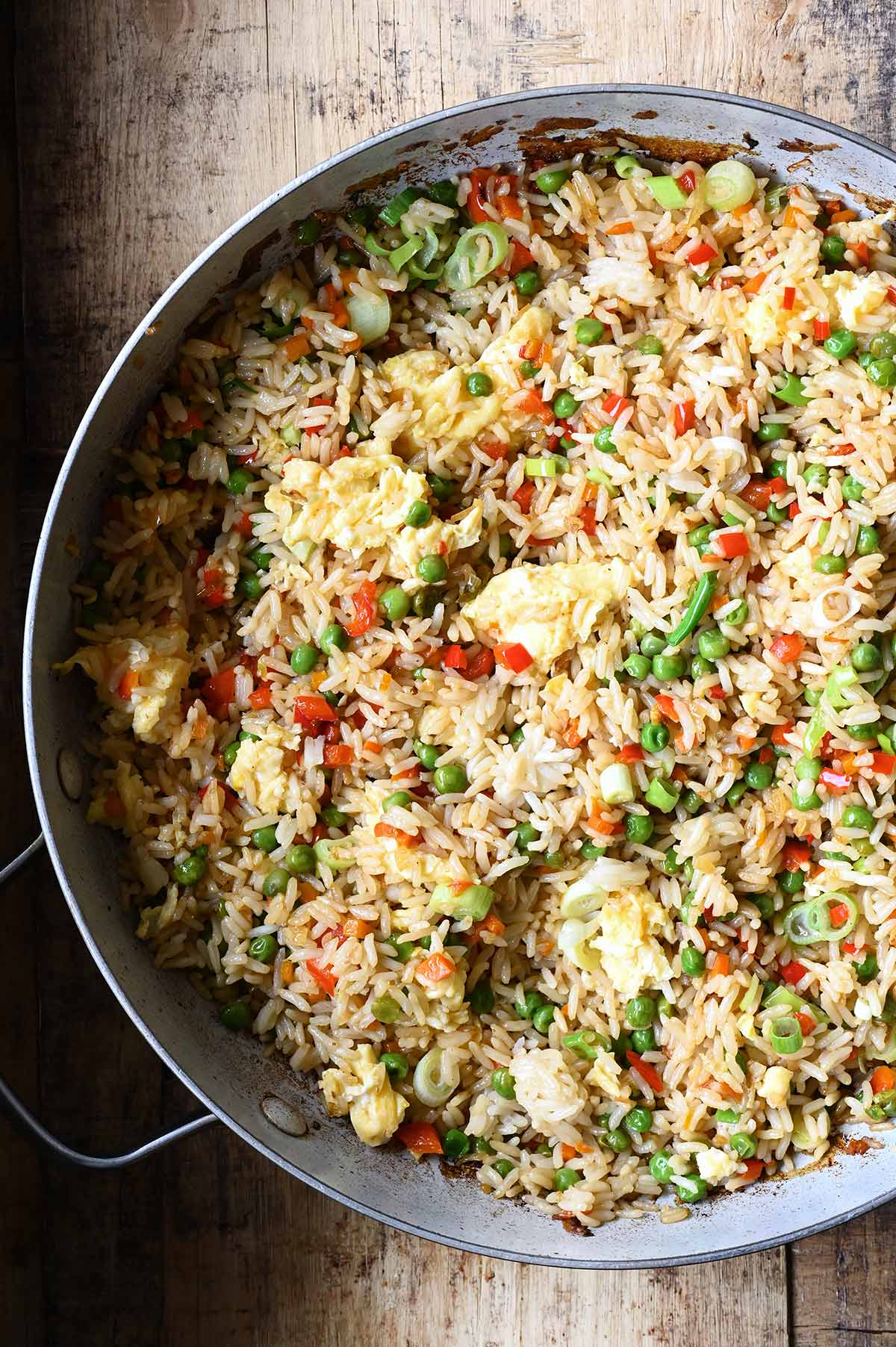 Helpful Tips
Small, Even Cuts: To ensure each bite is packed with all the flavors, finely dice your veggies. Think of them as being no bigger than a few grains of rice.
Choose the Right Pan: Opt for a wide, nonstick, thin-bottomed skillet or a trusty wok. This prevents rice from sticking and promotes even cooking.
Crank Up the Heat: Use high heat to get that sizzling stir-fry action going. High heat helps to fry the rice and veggies without steaming them.
Get Creative: Feel free to experiment with leftover ingredients you have on hand. Classic add-ins include chicken, shrimp, pork, beef, bacon, ham, pineapple, or kimchi.
Storage and Leftovers Tips
How long does fried rice last? After you made your delicious fried rice, store it in airtight containers in the fridge. When properly stored, fried rice typically stays fresh for up to 4 days.
Can you reheat fried rice? Absolutely! It's smart to double the recipe for leftovers. Reheat it either on the stovetop or in the microwave, but avoid reheating fried rice more than once for the best taste and texture.
Can you freeze fried rice? No problem! Freeze your cooked fried rice in airtight containers or ziplock bags. It remains tasty for up to 3 months. When you're ready to enjoy it again, the microwave works like a charm for reheating.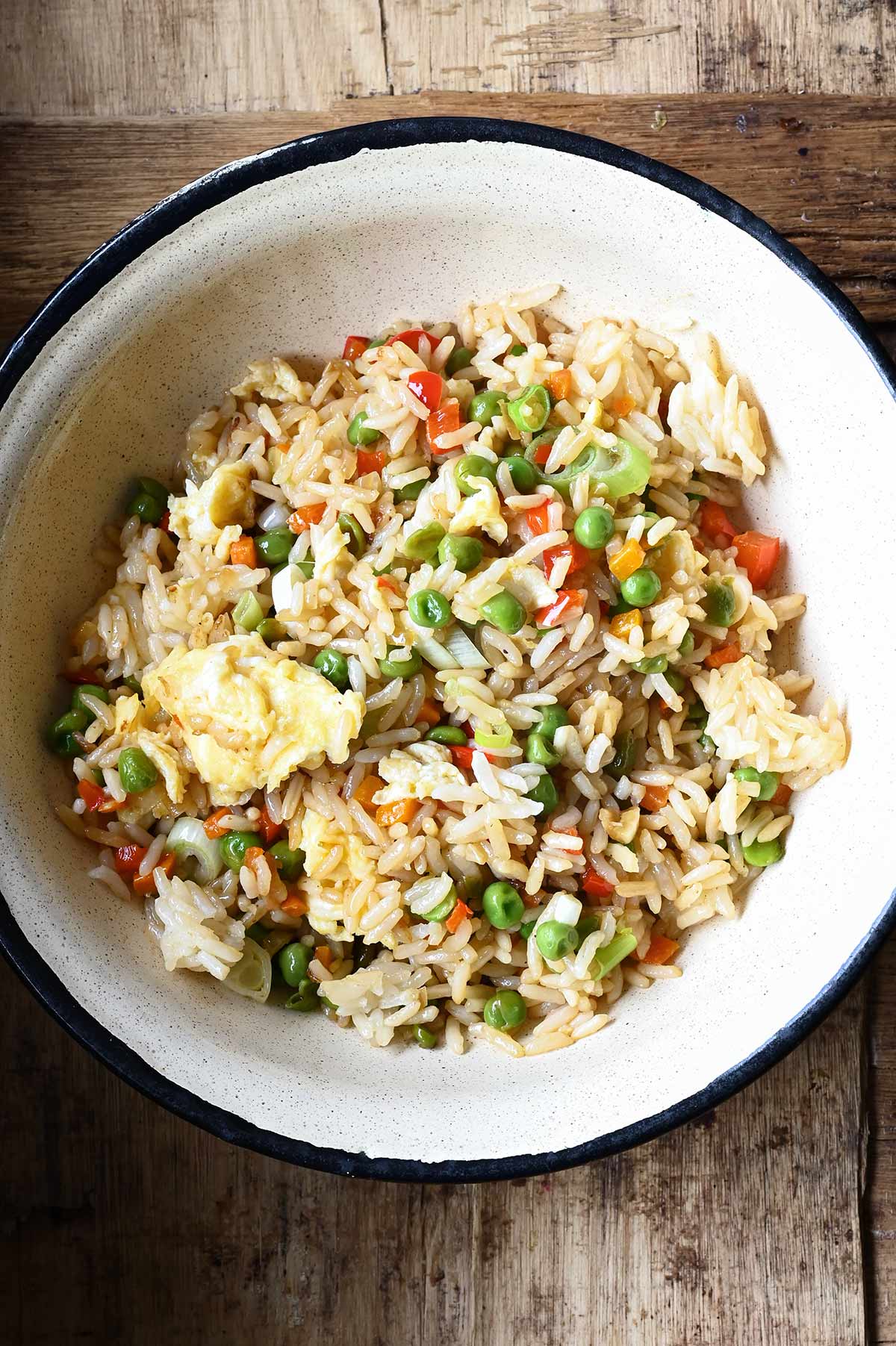 What to Serve with Fried Rice?
Looking for inspiration? Some of my favorite recipes to serve with fried rice:
Cooking Video
Yield: serves 4
Easy Fried Rice Recipe
For a speedy and flavorful meal, try this 20-minute fried rice recipe, reminiscent of your favorite takeout. Ideal for a meatless lunch, versatile side, or satisfying dinner.
Ingredients
2 tbsp vegetable oil, divided
3 eggs
1 tsp each: salt, white pepper, divided
1 small bell pepper, diced
2 carrots, diced
2 garlic cloves, minced
1 yellow onion, finely chopped
1 cup/130 g frozen green peas
2 tbsp oyster sauce
3 tbsp low sodium say sauce
1 tbsp mirin
1 tsp toasted sesame oil
2 tbsp unsalted butter
4 cups/700 g cooked day-old long grain rice
3 scallions, chopped
Instructions
Get your prep done before you start cooking: Peel and dice the carrots. Deseed and dice the bell pepper. Finely chop the onion and scallions, and mince the garlic cloves.
In a bowl, whisk the eggs with salt and pepper.
Measure your liquids like sesame oil, oyster sauce, soy sauce and mirin.
Heat your wok or a wide thin bottomed nonstick skillet over medium high, add 1 tablespoon oil. Pour in the eggs and scramble for about 30 seconds, until just set. Remove from skillet onto a clean plate.
Add the remaining oil, then the bell pepper. Stir fry for about 1 minute. Next add carrots and cook for 1 minute more. Stir in onion and garlic, fry for another minute. Add salt and pepper, stir to incorporate. Finally stir in frozen peas.
Add soy sauce, oyster sauce, mirin and sesame oil. Stir to combine. Then add butter, stir until melted. Toss in rice and stir fry for 1 minute over high heat, or until the rice is fully coated with sauce.
Stir in scallions and return eggs to the skillet. Give it a good stir, then taste and season with salt if needed. Serve and enjoy!
Nutrition Information:
Yield:
4
Serving Size:
1
Amount Per Serving:
Calories:

483
Total Fat:

18g
Saturated Fat:

6g
Trans Fat:

0g
Unsaturated Fat:

11g
Cholesterol:

155mg
Sodium:

955mg
Carbohydrates:

66g
Fiber:

5g
Sugar:

7g
Protein:

13g
Nutritional information is only an estimate. The accuracy of the nutritional information for any recipe on this site is not guaranteed.