Easy chicken tikka masala. Seared yogurt marinated chicken smothered in a rich coconut tomato sauce infused with warm spices. It's very straightforward and made with easy-to-find Indian inspired ingredients. Serve over basmati rice and pair with warm naan and a fresh cucumber salad.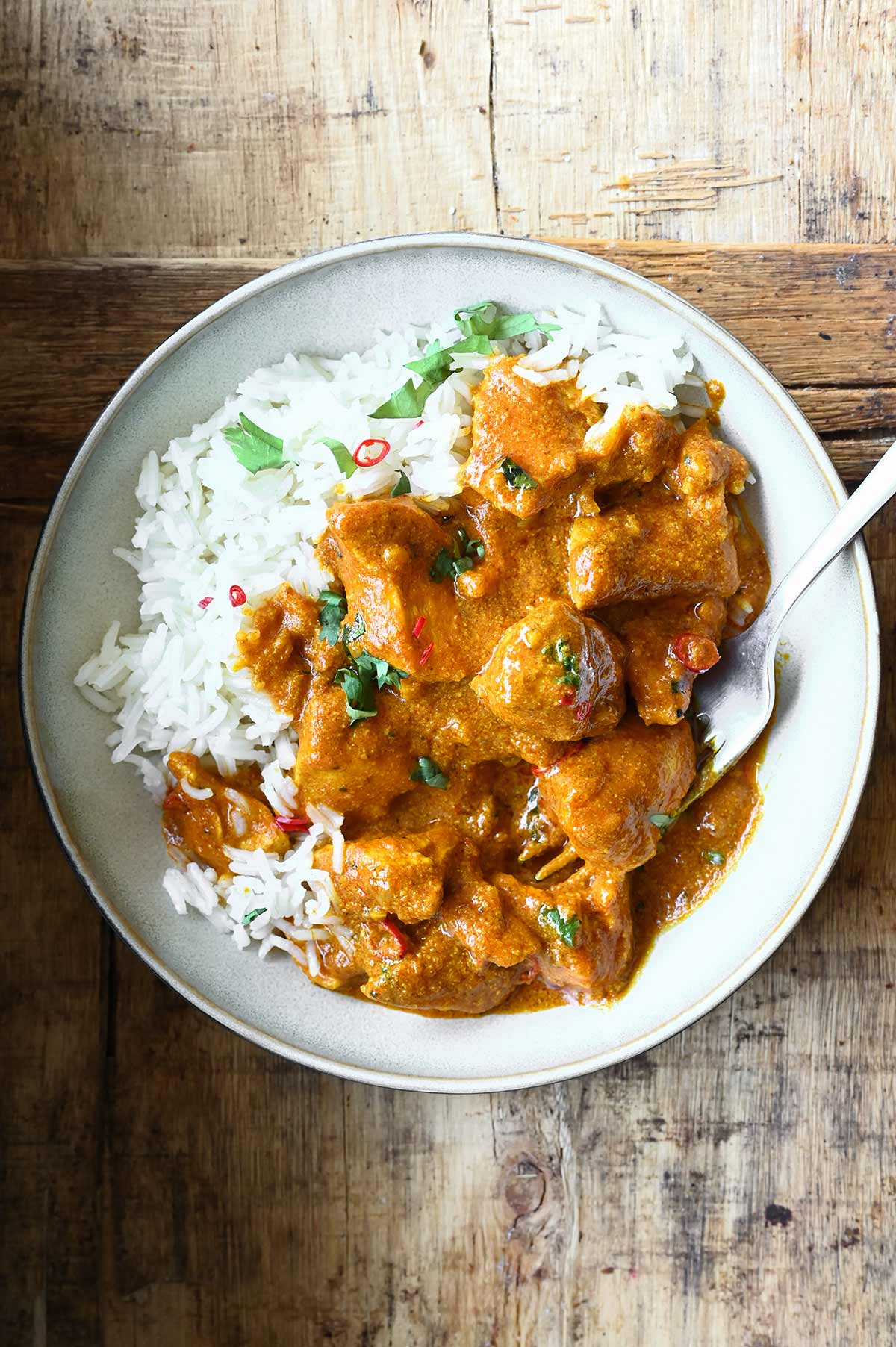 It's a perfect bowl of deliciously warming comfort food. Indian-inspired tikka masala made with plenty of spices and creamy coconut milk. It's slightly spicy, rich and filled with fragrant flavors. This is one of those dinners that can be enjoyed any night of the week.
Let me start with the sauce. It's filled with spices infused into the tomato cream sauce. At the same time, this sauce wouldn't be the same without the tender chicken pieces infused with tangy yogurt and a light spice that tingles all the way through. Each ingredient is outstanding on its own, and when they come together they make for a delicious tikka masala.
Let me guide you through the recipe with this step-by-step VIDEO.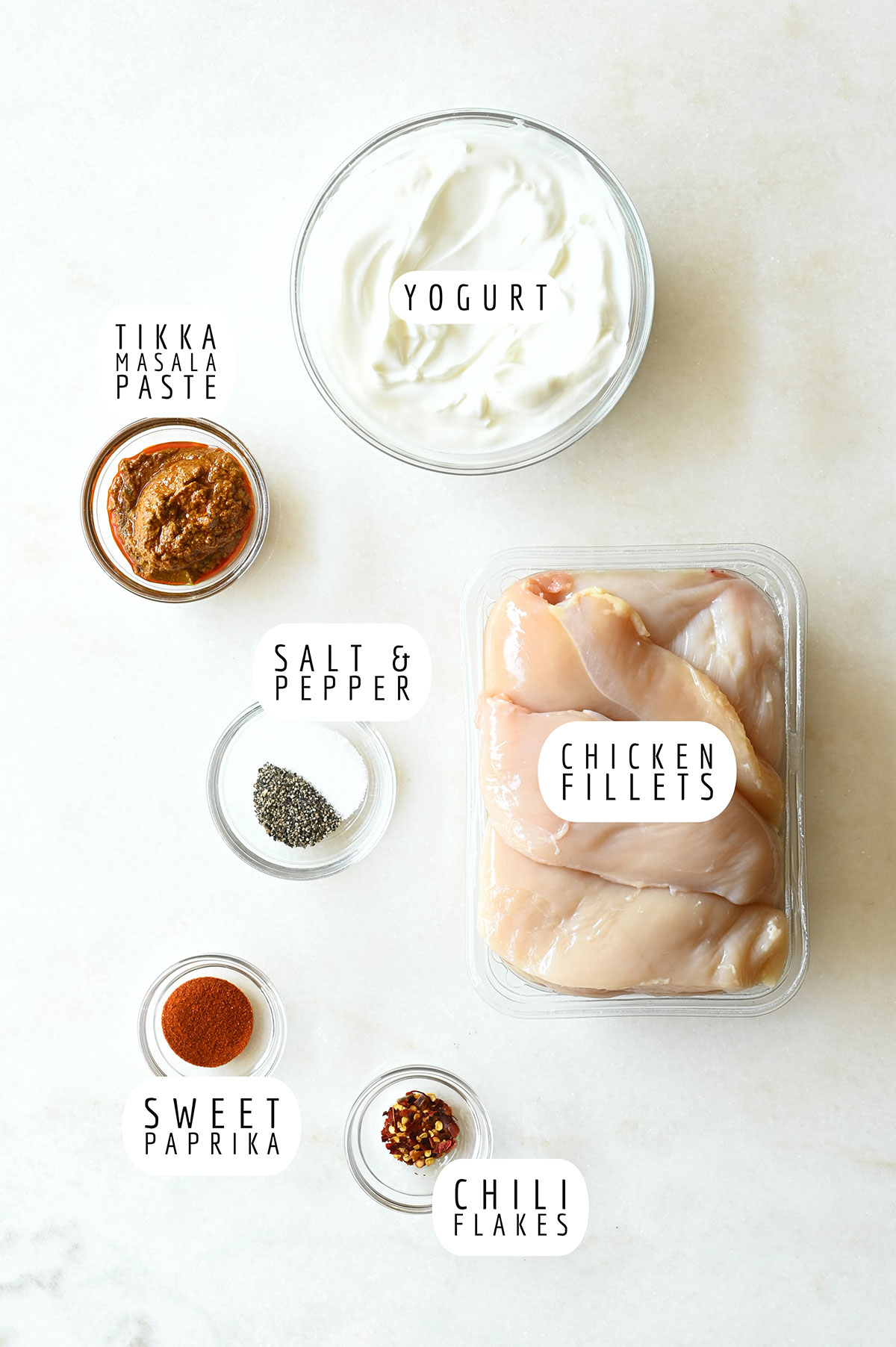 Ingredients, Tips & Substitutions
Chicken Marinade
Chicken: You can use chicken breast fillets, boneless/skinless chicken thighs or a mix of both.
Yogurt: Full fat plain yogurt is best, you can also use full fat Greek yogurt.
Tikka Masala Paste: To add extra flavor.
Spices: Salt, black pepper, sweet paprika, chili flakes.
Curry Sauce
Oil and Butter: To sear the chicken.
Onion and Garlic: Aromatics to lift up the flavor.
Coconut Milk: To keep the masala creamy, it adds a hint of coconut flavor, which goes really nice with Indian cuisine. Feel free to use heavy cream instead.
Tomato Purée: Our tomatoey base.
Spices: Salt, smoked paprika, turmeric, ground coriander, ground cumin and sugar.
Tikka Masala Paste: For extra color and flavor.
Lime juice: To balance out this dish.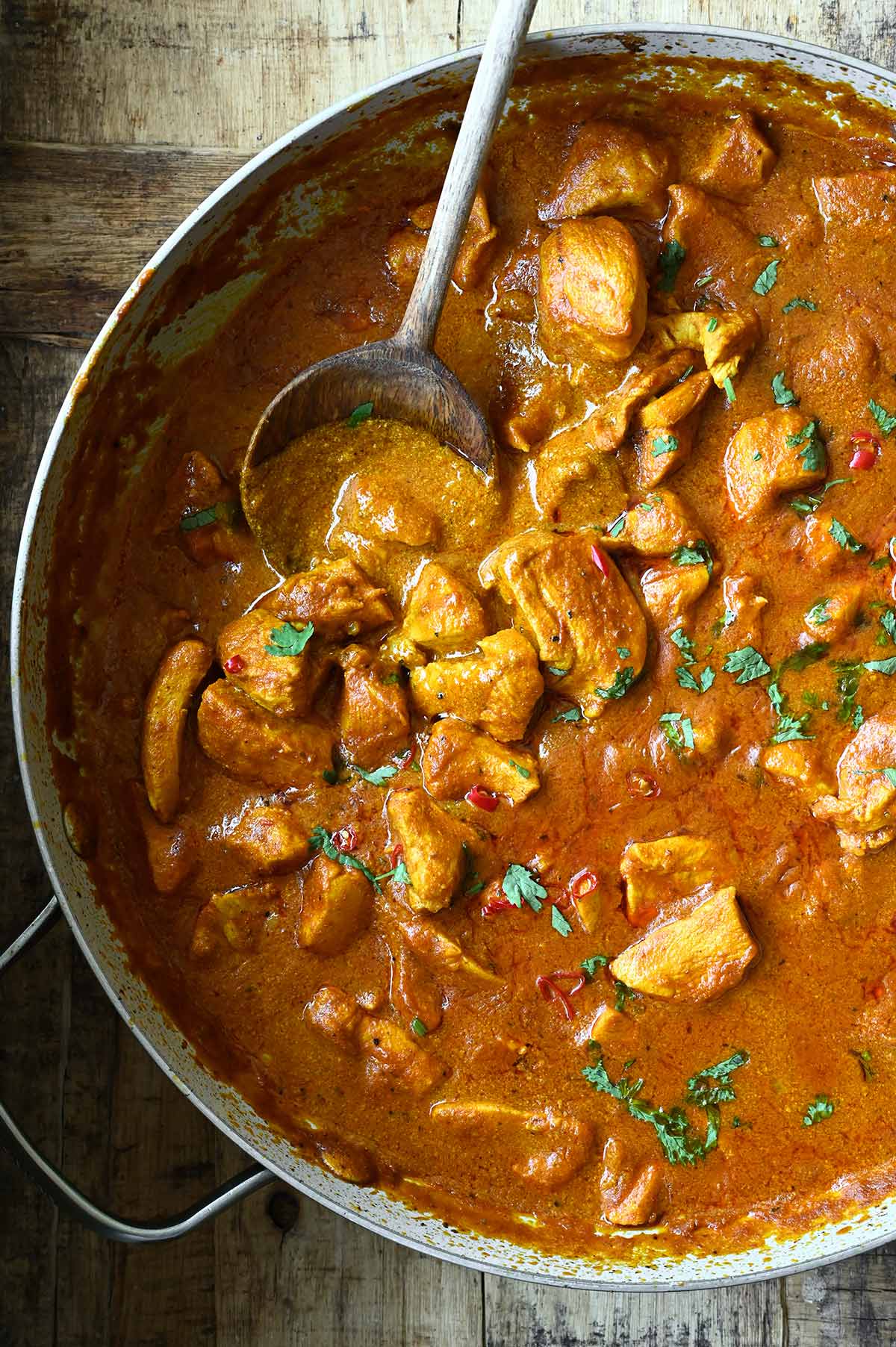 Recipe Notes
Make it vegetarian! Use tofu instead of chicken.
Heat Level: medium. You can really spice this dish up by adding extra chili peppers.
Serve with warm naan and basmati rice.
Pair with a fresh cucumber salad or a mango-cucumber salsa.
You can also thread the marinated chicken on skewers and grill them on your BBQ.
Make ahead: You can marinate the chicken in the refrigerator overnight.
Storage: Store leftovers refrigerated in an airtight container for up to 3 days.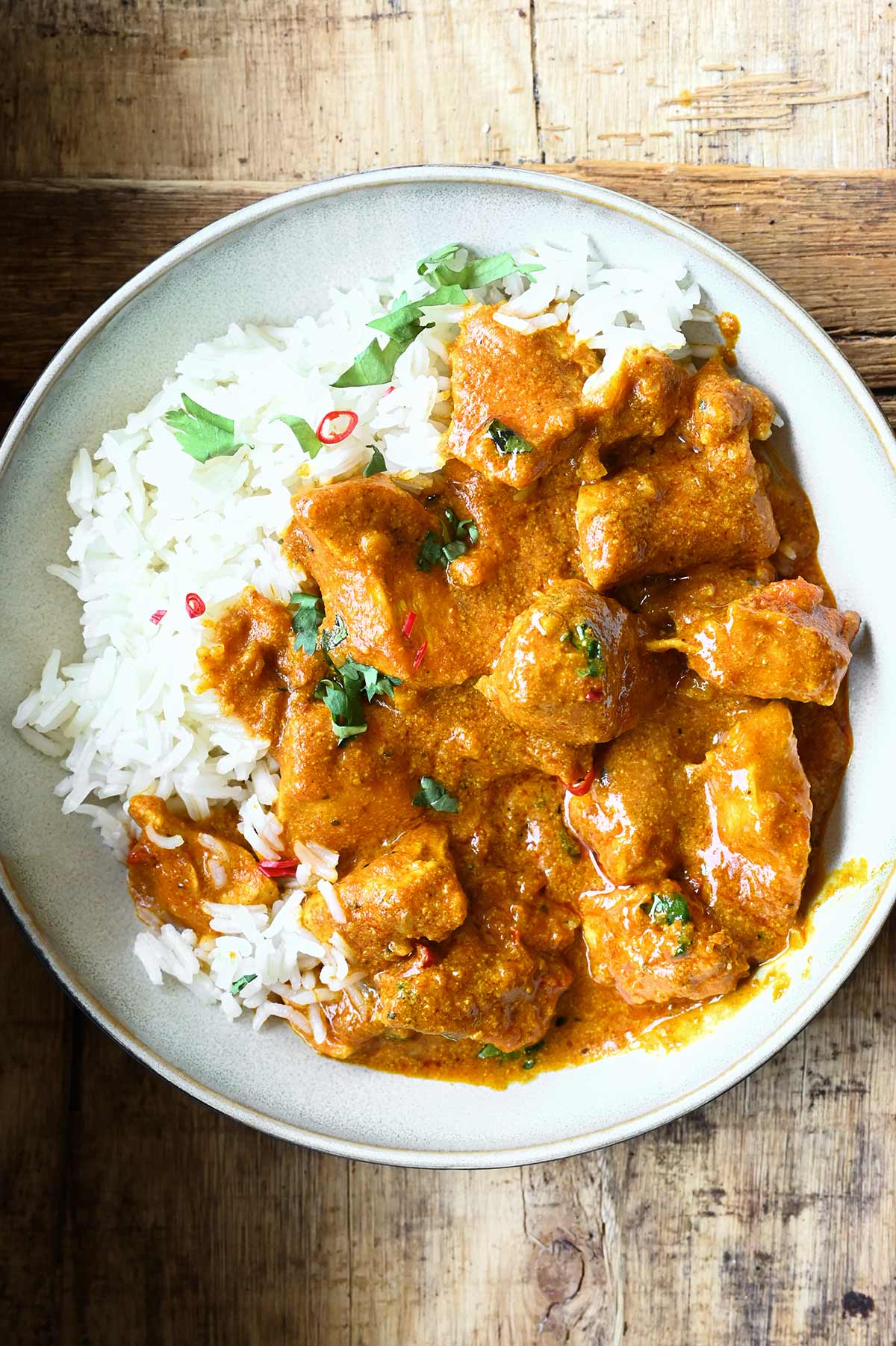 Try These Next
Cooking Video
Yield: serves 4
Easy Chicken Tikka Masala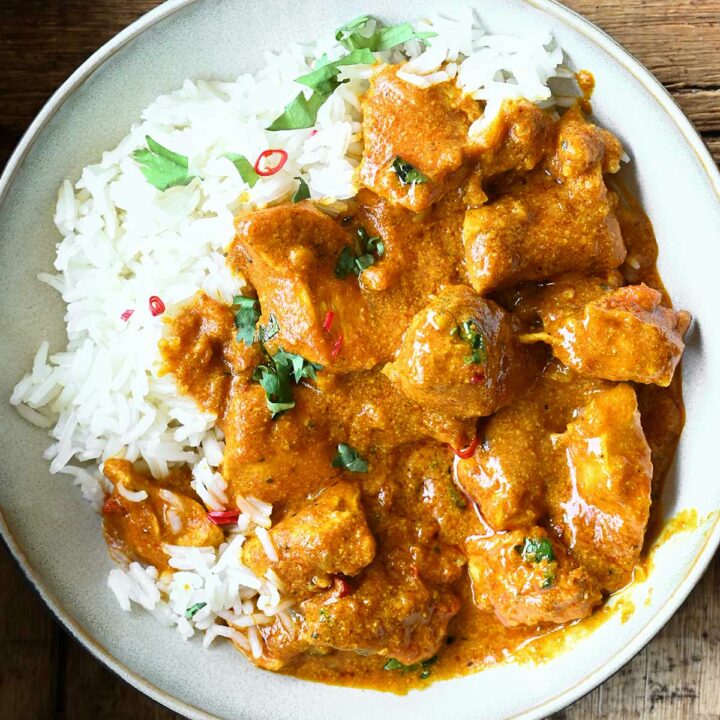 Ingredients
Chicken Marinade
1.2 pounds/800 g chicken fillets
¾ cup plain yogurt, full fat
2 tbsp tikka masala paste
1 tsp each: salt, smoked paprika, black pepper
½ tsp chili flakes
Curry Sauce
1 tbsp olive oil
2 tbsp unsalted butter, divided
1 small yellow onion, finely chopped
6 garlic cloves, minced
1 tbsp grated ginger
1 tsp each: smoked paprika, ground turmeric, ground coriander, ground cumin, sugar
½ tsp salt
2 tbsp tikka masala paste
1 cup/250 ml tomato purée
1 can (14 oz/400 g) unsweetened full fat coconut milk
1 tsp lime juice
For Serving
basmati rice
red chili pepper
chopped cilantro
warm naan
Instructions
Cut the chicken fillets into bite-sized pieces. In a bowl, combine chicken with yogurt, salt, pepper, paprika, chili flakes and tikka masala paste. Set aside and let marinate for 15 minutes to one hour, or overnight if time allows.
In the meantime, finely chop the onion, mince the garlic and grate the ginger.
In a large nonstick skillet, heat oil and 1 tablespoon butter over medium. Add half of the chicken and place in a single layer. Sear, undisturbed for 2 minutes, next stir for 1 minute more or until golden brown but not cooked through. We'll finish cooking the chicken in the sauce. Transfer chicken into a clean bowl. Repeat with remaining chicken.
In the same skillet, melt the remaining butter. Add onion, ginger and garlic, cook for 2 minutes until soft and fragrant. Stir in salt, paprika, turmeric, coriander, cumin and sugar. Cook for 1 minute until you scent the aromas.
Add tikka masala paste, cook for 2 minutes. Add tomato purée and let simmer for 5 minutes until it starts to thicken and turns into a deep brown red color.
Pour in the coconut milk and sprinkle with lime juice. Add the chicken together with its juices back to the skillet. Stir to coat and simmer for 10 minutes until the sauce thickens. Taste and adjust salt.
Top with cilantro and chopped chili pepper. Serve with basmati rice, warm naan and a fresh cucumber salad. Enjoy!
Notes
Calories Per Serving: 520 kcal
Nutritional information is only an estimate. The accuracy of the nutritional information for any recipe on this site is not guaranteed.

//= __('Print recipe (no photos)', 'servingdumplings' );?> //= __('Print recipe (with photos)', 'servingdumplings' );?>