This is not just a common cheesecake, okay, it's easy, but it's the kind of cheesecake you want to eat again and again. And it's the least stressful cheesecake you'll ever bake and the recipe is failproof.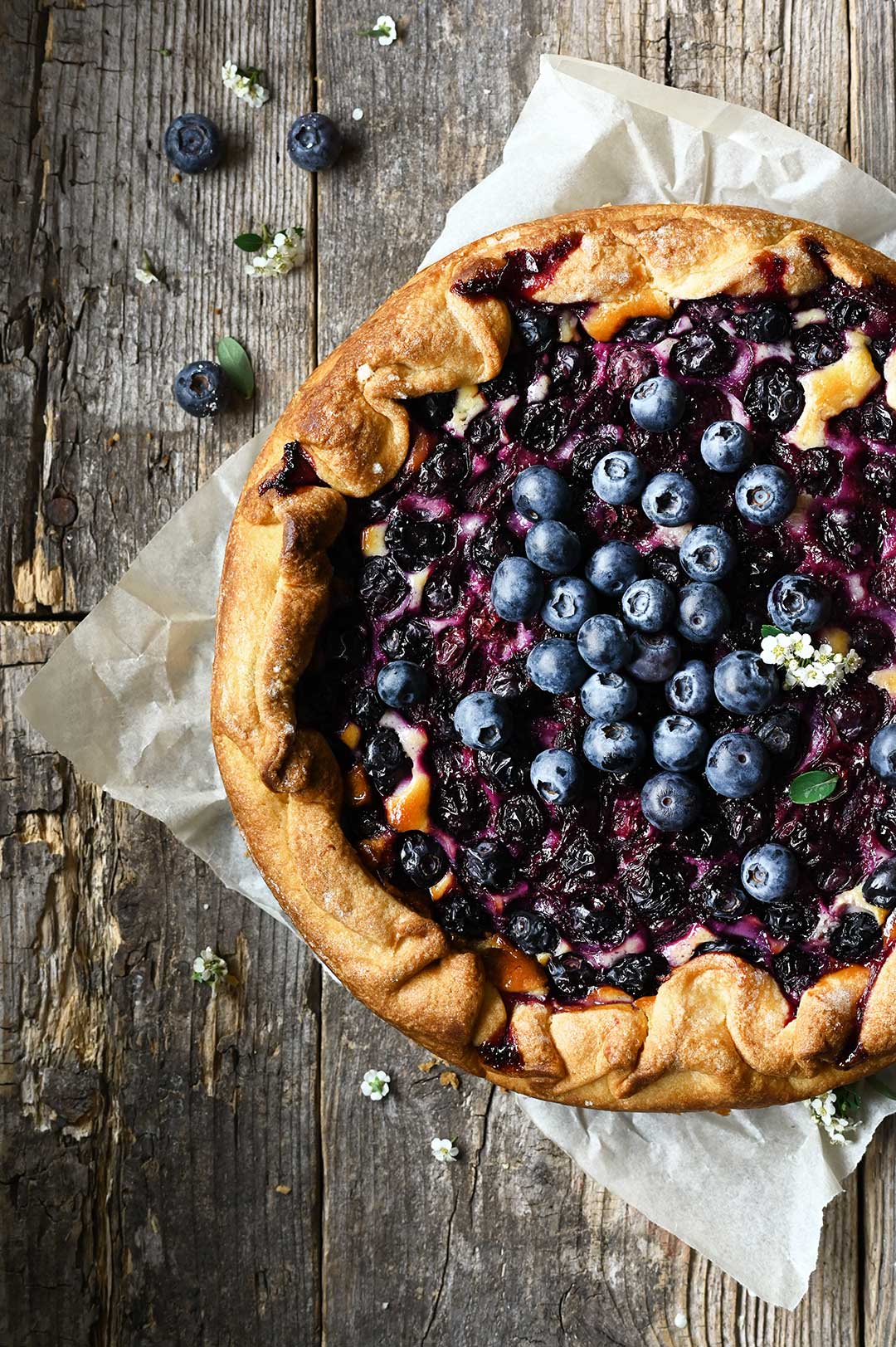 The filling is surrounded with shortcrust pastry that gives this cheesecake a nice crunchy note, like a galette, rustic and therefore perfectly imperfect. But you will forget about the imperfection from the moment you taste that creamy yet light cheese filling, lemon kissed and loaded with blueberries. A cheesecake that you absolutely need to eat at room temperature so it can melt in your mouth.
That kind of cheesecake we all need in our life. Isn't it nice to make new friends?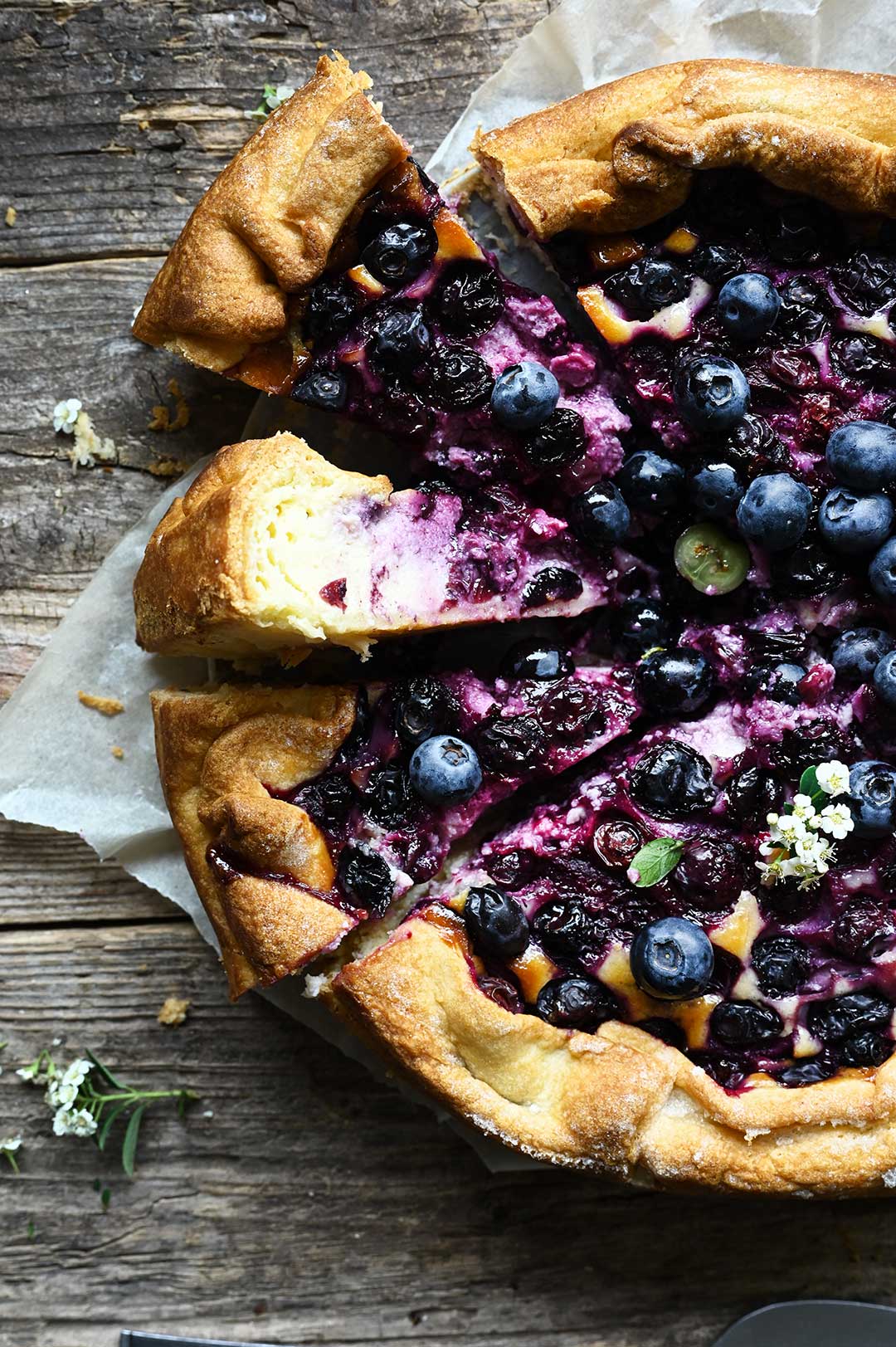 Just one important extra tip: Your cream cheese, yogurt and eggs need to be at room temperature or your batter will be lumpy.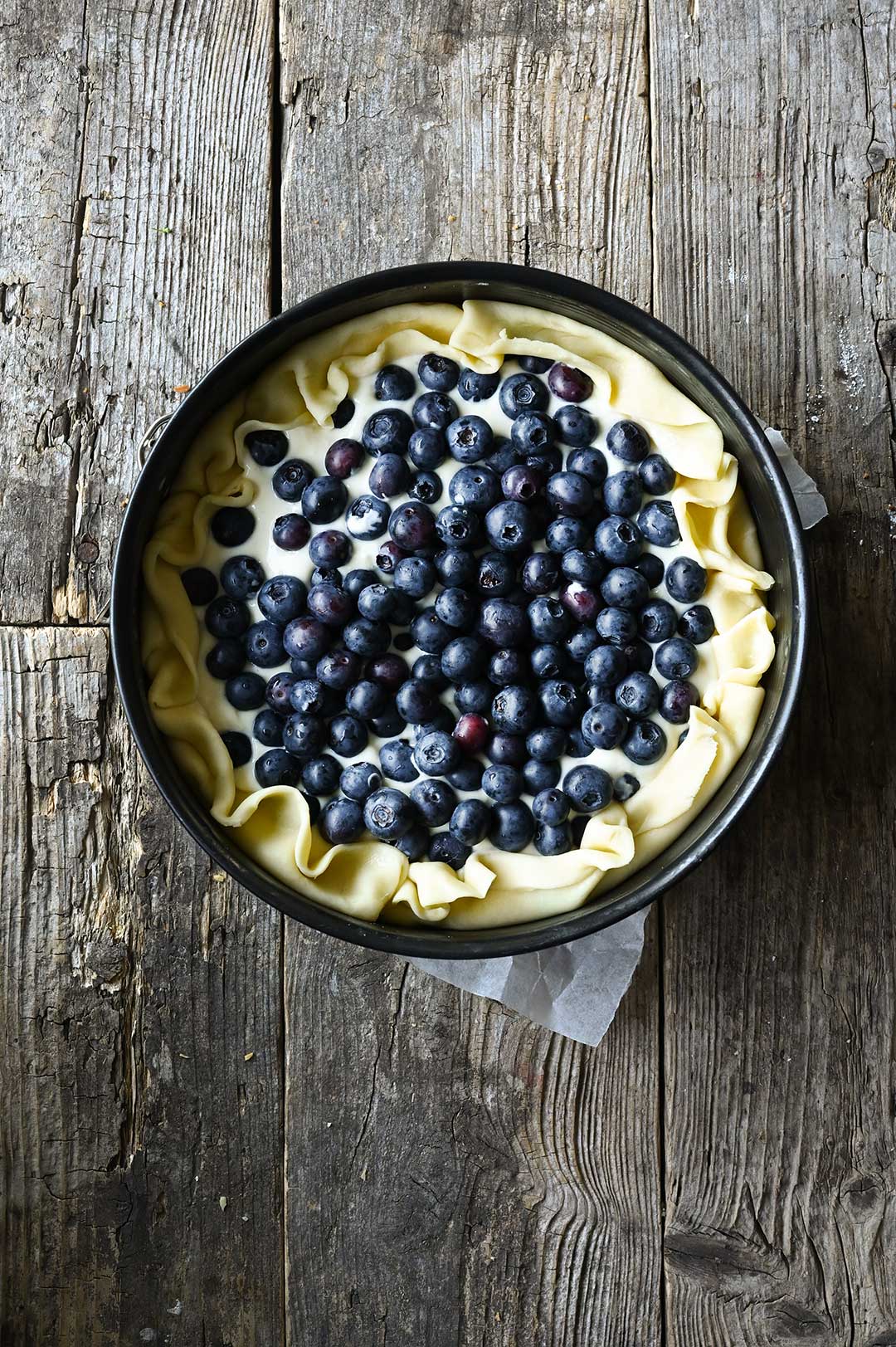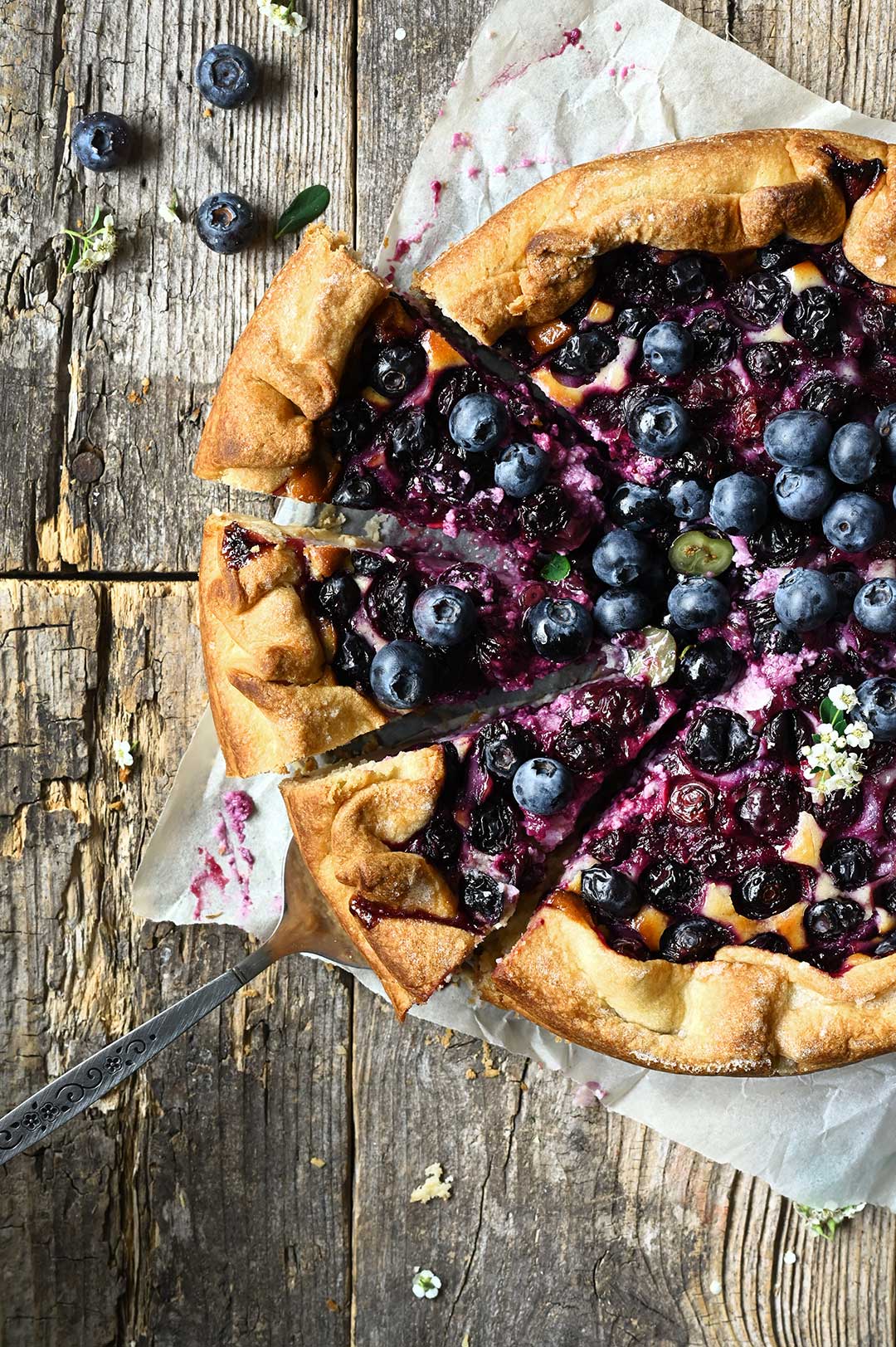 You need
all ingredients for the cheese filling should be at room temperature
cheese filling
470 g cream cheese
160 g sugar
2 eggs
100 g Greek yogurt
2 tbsp corn starch
1 tsp lemon zest
juice from 1/2 lemon
1 tsp vanilla extract
300 g blueberries
+
1 sheet shortcrust pastry, homemade or store-bought
1 egg + 1 tsp milk
coarse sugar for sprinkling
Link for homemade shortcrust pastry.
How to
Preheat the oven to 180°C.
Line a 22 cm springform pan with parchment paper and grease the sides with butter.
In a medium bowl, beat the cream cheese with yogurt, sugar and eggs until fluffy. Beat in the corn starch, vanilla extract, lemon juice and zest.
Carefully drape the shortcrust pastry in the prepared pan. Press the dough into the corners of the pan using your fingers, don't trim off the edges. Prick the bottom with a fork, pour in cheese filling and add blueberries. You don't need to push them into the batter, they will sink while the cake is baking.
Gently, loosely lay the pastry down over the filling, repeat all around.
Whisk the egg and milk in a small dish and gently dab over the pastry crust with a brush. Sprinkle with coarse sugar.
Place in the oven and bake for 65 minutes until golden brown. Then turn off the oven, open the door open and leave the cake inside the oven to cool. Once completely cooled, transfer to a serving plate. Try not to eat the whole cake at once.
This cheesecake is actually better the second day, so you can make it a day ahead and leave it to cool overnight.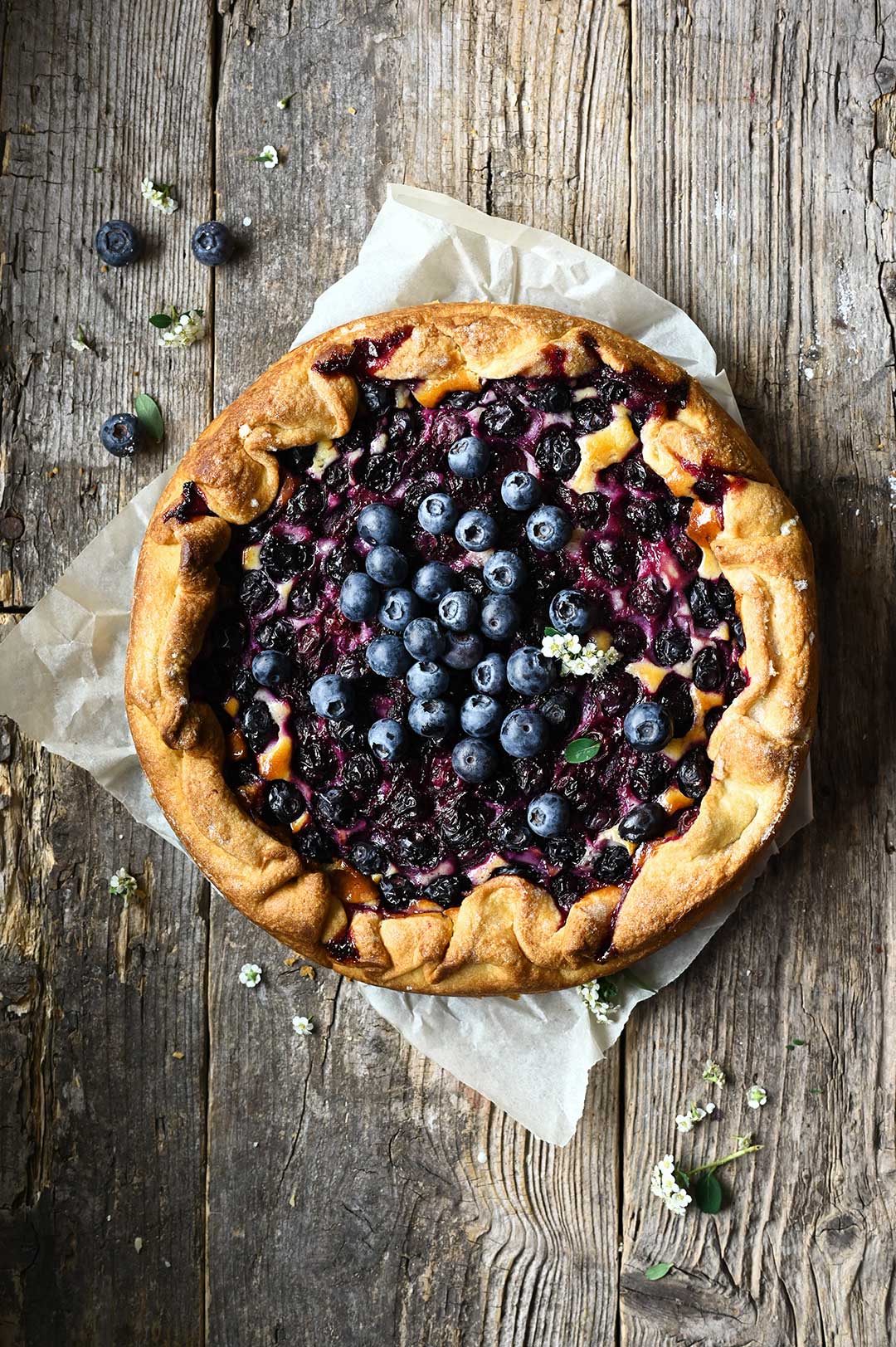 //= __('Print recipe (no photos)', 'servingdumplings' );?> //= __('Print recipe (with photos)', 'servingdumplings' );?>