Tender drumsticks in a full-flavored tomato sauce. I added some blueberry  jam to the tomatoes to soften the sour taste, the sauce didn't became sweet but balanced the taste and the dish received extra character. This is one of the best sauces I've ever made and ate! A real revelation! You definitely have to try this one, it's surprisingly delicious.
serves 4 | 60 minutes
Ingredients
10 chicken drumsticks
5 tomatoes
2 shallots, finely chopped
2 cloves garlic, finely chopped
2 tbs mild mustard
2 tbs blueberry jam
4 tbs tomato paste
1,5 cup warm chicken broth
1 tbs chicken spices
salt and black pepper
1 tbs butter
2 tbs olive oil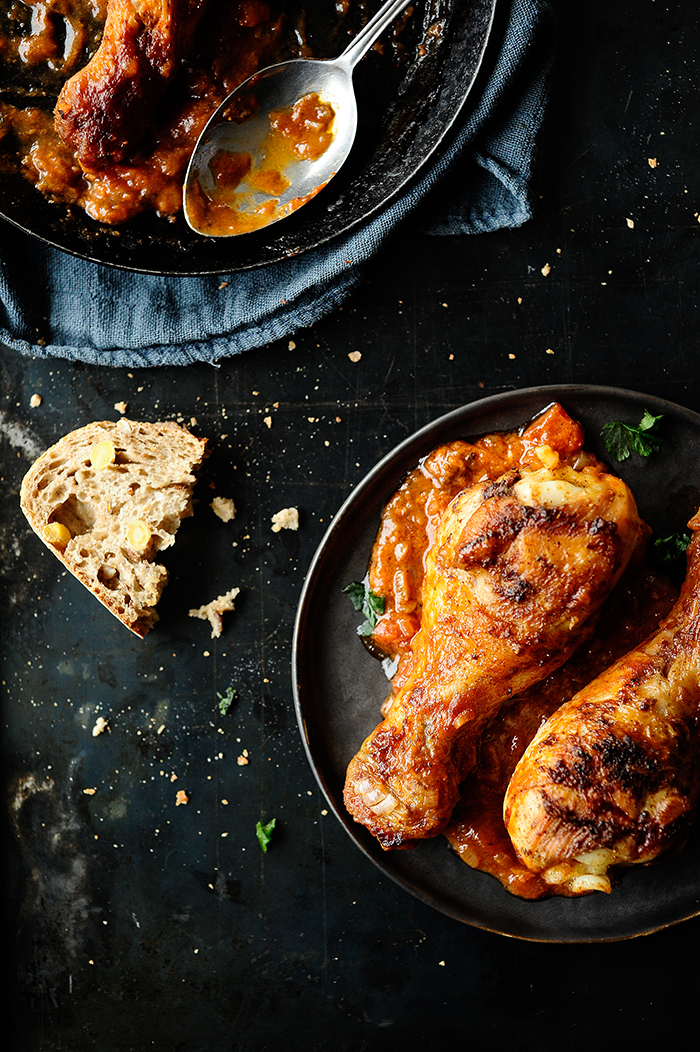 Instructions
In a deep frying pan, heat the oil and butter. Sprinkle the drumsticks with the chicken spices and fry for 10 minutes on each side. Add the shallots and garlic and simmer everything for 5 minutes.
In the meantime, boil some water in a large pan, place the tomatoes for 10 seconds in the boiling water and then rinse in cold water. Remove the skin, cut into quarters and remove the seeds. Chop into small pieces and add to the drumsticks.
Stir the broth with mustard, tomato paste and blueberry jam, then pour into the pan with chicken. Simmer for 40 minutes over low heat. Season with salt and pepper. If the sauce becomes too thick, you can add a little more broth.
Serve with bread and fresh salad.
Bon appetit!
//= __('Print recipe (no photos)', 'servingdumplings' );?> //= __('Print recipe (with photos)', 'servingdumplings' );?>