Gentle sweet chocolate cookies with dried fruit and walnuts. Crispy with a juicy, colorful and cardamom scented stuffing. Tiny, full-of-goodness cookies.
Ingredients
crust
125 g flour
50 g sugar
60 g cold butter
1 egg yolk
1 tbsp cocoa powder
pinch of salt
filling
500 g dried fruit (dates, apricots, plums, cranberries, apples, pears, …)
4 tbl chopped walnuts
3 tbl blueberry jam
1 tbl vanilla extract
1/2 tsp ground cardamom
100 ml honey
50 g brown sugar
1 tbl flour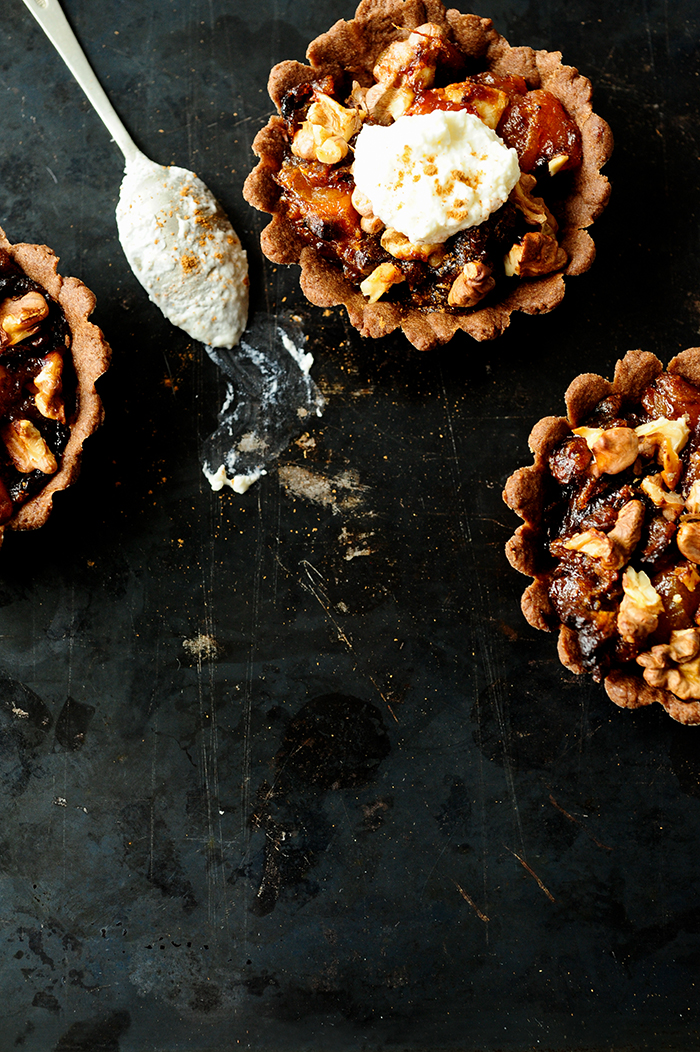 Instructions
In a bowl, mix the cubed butter with sugar.  Add the egg yolk, cocoa and half of the flour and begin to knead. Add the remaining flour and knead it all together into a ball. Wrap in cling film and place for 30 minutes in the fridge.
Place the chopped dried fruit in a saucepan together with the vanilla extract, cardamom, honey and sugar. Pour a glass of water and simmer for 10 minutes over medium heat. Remove from heat and mix with the flour and blueberry jam. At the end add the chopped nuts.
Grease the cupcake trays with butter and sprinkle with flour. Remove the dough from the fridge and roll out on a floured work surface to 1/2 cm thickness. Using a glass, cut disks from the pastry. Line the trays and place the filling. Bake for 20 minutes at 180 degrees. Remove from the oven and after 10 minutes gently remove the cookies from the trays, cool on a rack.
Serve with whipped cream.
Bon Appetit!