Crispy za'atar potatoes with chicken thighs. A comforting one-pot dinner that's super easy to make and full of flavor. These delicious potatoes are crispy on the outside and soft on the inside, paired with tender chicken and topped with a delicious punchy, chermoula sauce. It's a dream combo for sure!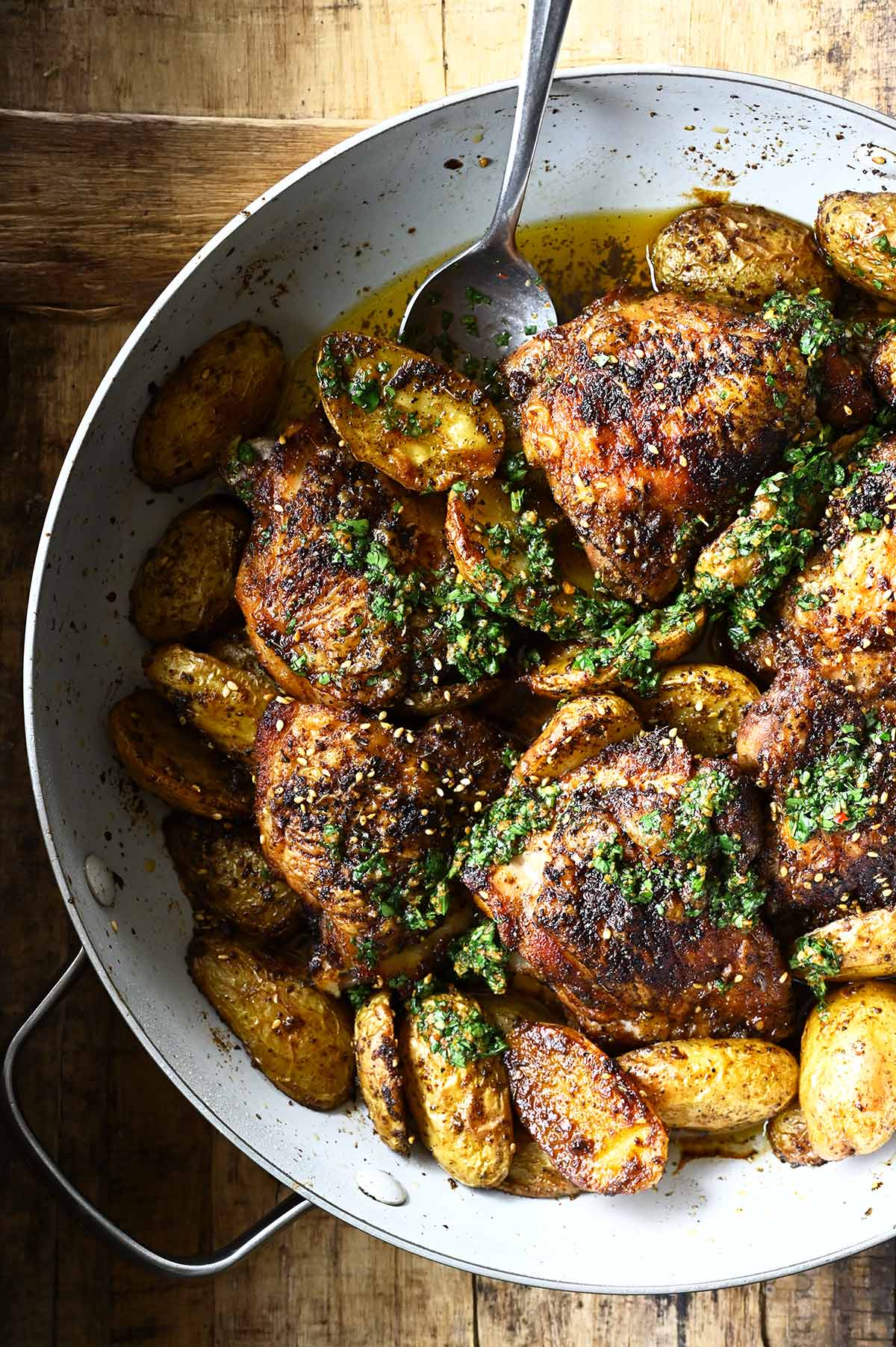 This flavor packed one-pan recipe is a real crowd-pleaser! The Middle Eastern inspired potatoes and chicken are a delicious twist on your dinner routine. They're sprinkled with za'atar and baked until crisp and tender then finished off with a herbal chermoula sauce.
If you're not familiar with za'atar it's a tasty blend of spices that has origins in the Middle East. It can vary but it typically combines toasted sesame seeds, sumac, oregano, coriander and cumin.
These za'atar potatoes with chicken are a great weeknight dinner. You can marinate the chicken and cut the potatoes the night before and when you get home from work, just slide it into the oven. Everything comes together in one skillet with the promise of easy cleanup and practically no effort. Add a side salad and some pita bread for a meal everyone will love.
Let me guide you through the recipe with this step-by-step VIDEO.
It's super hearty with a bright touch that will have everyone coming back for more. Perfect any night of the week, but also to serve at a dinner party when you're looking for a chicken dish that's just that little bit extra special. Some of you may be tempted to skip the chermoula sauce, but don't leave it out, it totally elevates this dish to the next level.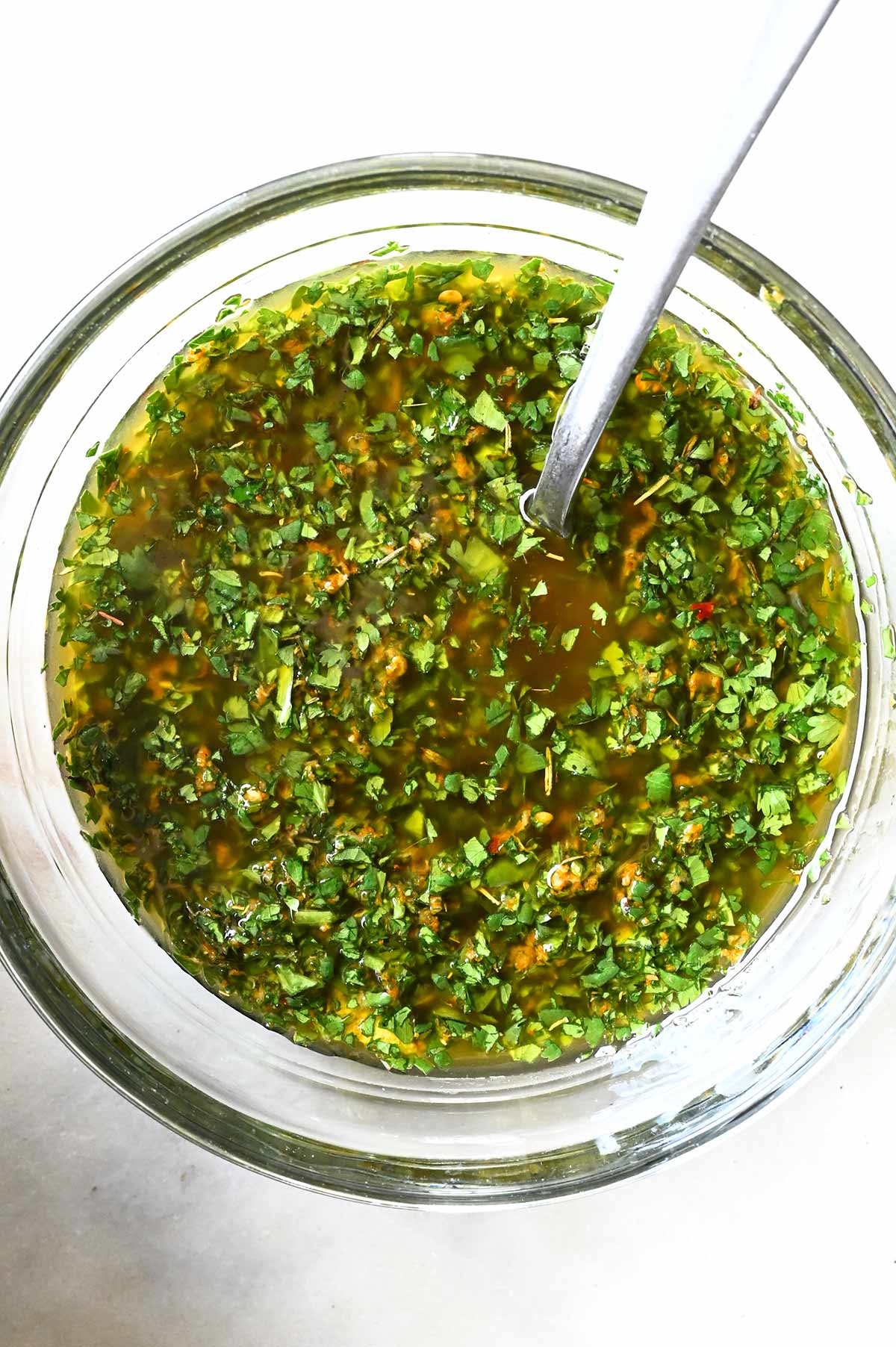 What Is Chermoula Sauce?
Chermoula is a sauce and marinade used in Algerian, Libyan and Moroccan cooking. Imagine a herby sauce made with cilantro, parsley, garlic, oil, spices and lemon. It's traditionally used to give fish, chicken, grilled meat or soup a burst of flavor and extra brightness. It is somewhat similar to Argentinian chimichurri.
You can use it to jazz up your dinner, just like in this recipe, drizzle your salads or use it as a marinade for fish, chicken or steak.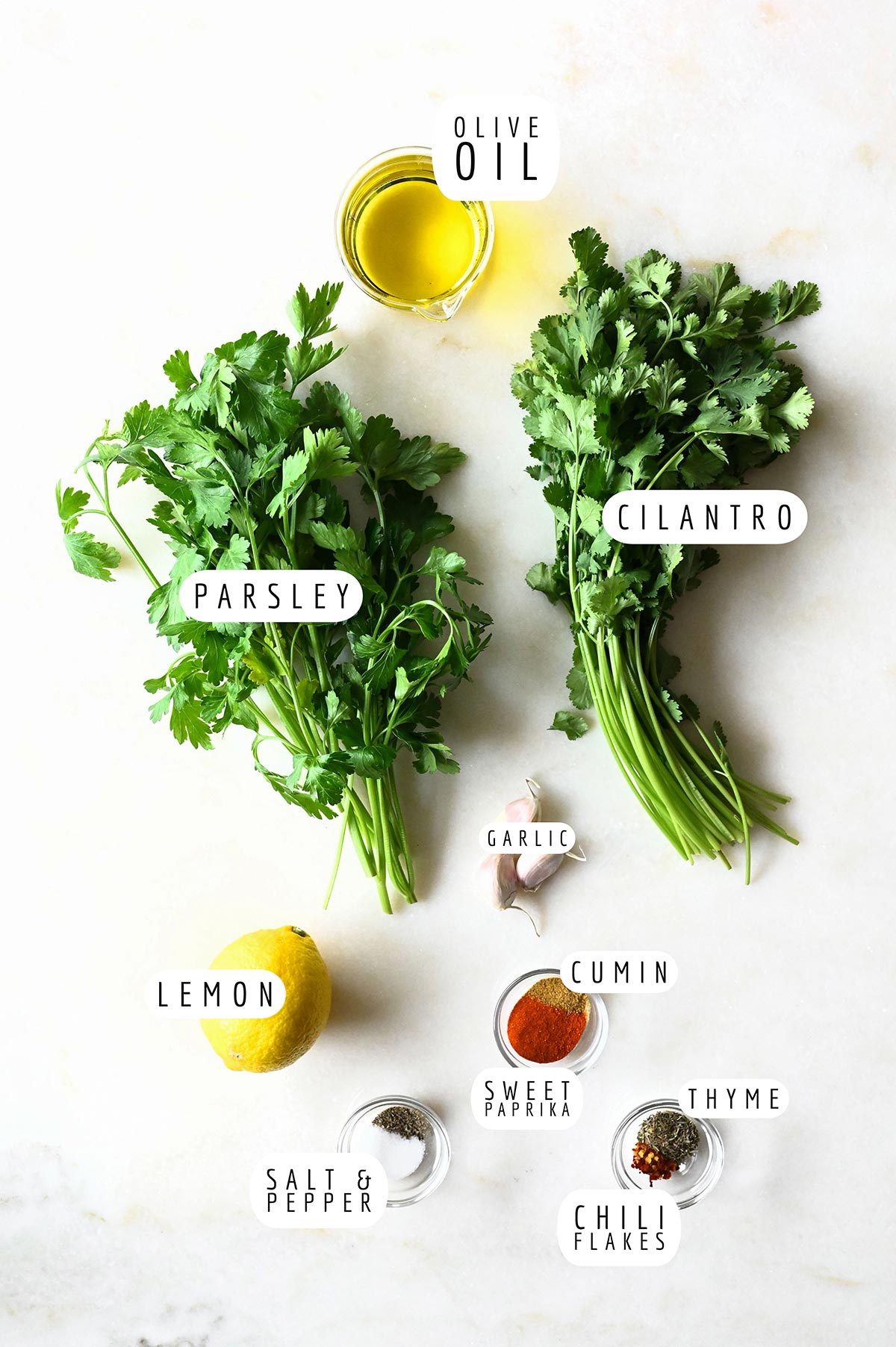 It's also pretty versatile too! You can add preserved lemons, coriander seeds, grated ginger or tomato paste. For a hot chermoula, add more chili flakes or some cayenne pepper.
Chermoula can be chopped by hand, made in a food processor or with a mortar and pestle.
How to Make Chermoula
1 cup cilantro leaves
1 cup parsley leaves
3 garlic cloves, use less if you don't like a strong garlic taste
1/2 tsp each: ground cumin seeds, black pepper
1 tsp sweet paprika
1/4 tsp each: salt, red pepper flakes
3 tbsp lemon juice
lemon zest
1/4 cup olive oil
Finely chop the cilantro and parsley, grate or press out the garlic cloves. Add to a bowl with the rest of the ingredients, whisk to combine. Taste and adjust salt, olive oil or lemon juice.
Storage: You can make chermoula 3 days ahead, store refrigerated in a closed jar.
Short Step-By-Step Video How to Make Chermoula Sauce
Recipe Notes
Serve the crispy za'atar potatoes and chicken with pita bread, roasted vegetables or a big side salad.
Make ahead: You can cut the potatoes and marinate the thighs the night before and store them separately in the refrigerator in airtight containers, just take them out 30 minutes before you start to cook. Allowing the chicken thighs to come closer to room temperature will make them tender and juicy.
Leftovers will keep for 2 days in the fridge.
To freeze: Cool completely, then freeze portion sizes in airtight containers. Thaw overnight in the fridge, then reheat, preferably in the oven at 325°F/160°C.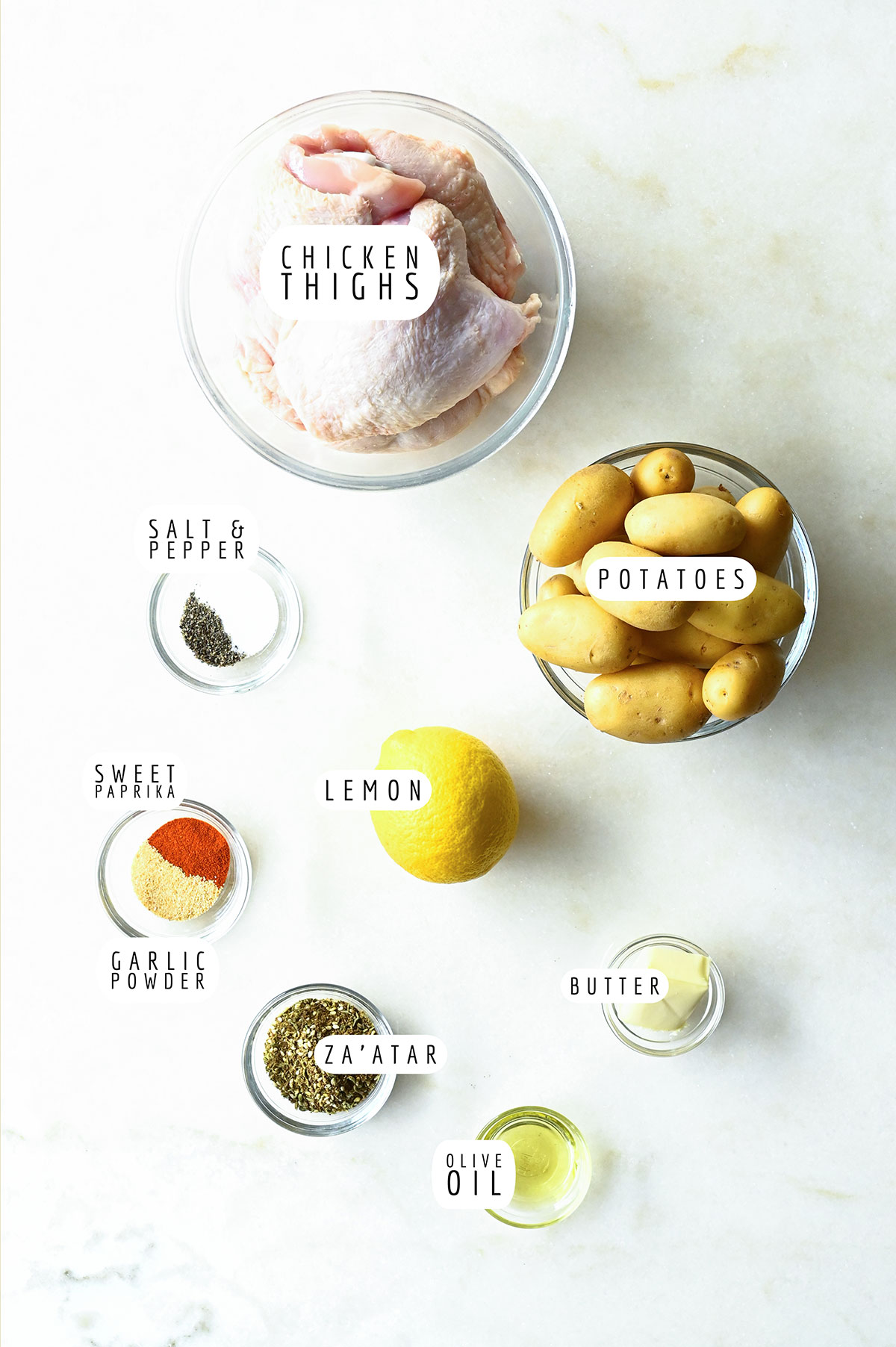 Ingredients for Crispy Za'atar Potatoes with Chicken
Potatoes: Use small waxy potatoes, like Yukon Gold or Fingerling.
Chicken Thighs: For the most juicy and tender result. The bone and skin protects the lean meat from overcooking and drying out. You can also use drumsticks or chicken legs.
Za'atar: A spice blend of savory dried herbs like oregano, marjoram or thyme, and spices like cumin and coriander, combined with sesame seeds, salt and sumac. You can find it at most larger grocery stores.
Seasoning: Salt, black pepper, garlic powder, sweet paprika.
Lemon: Adds additional depth of flavor and helps to tenderize the chicken thighs.
Olive Oil and Unsalted Butter: For frying the chicken and to get crispy skinned thighs and potatoes.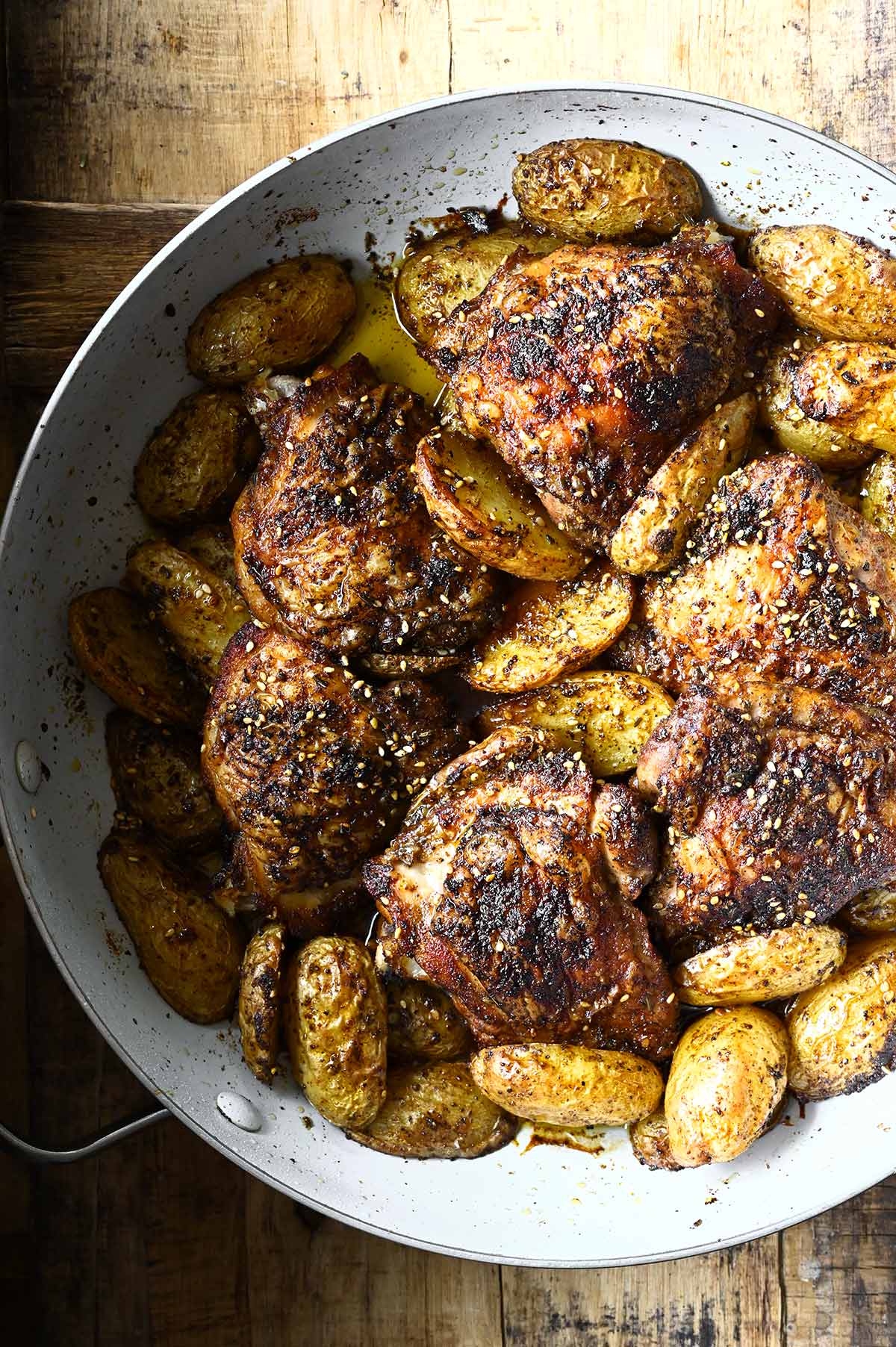 Try These Next
Cooking Video
Yield: serves 4
Crispy Za'atar Potatoes with Chicken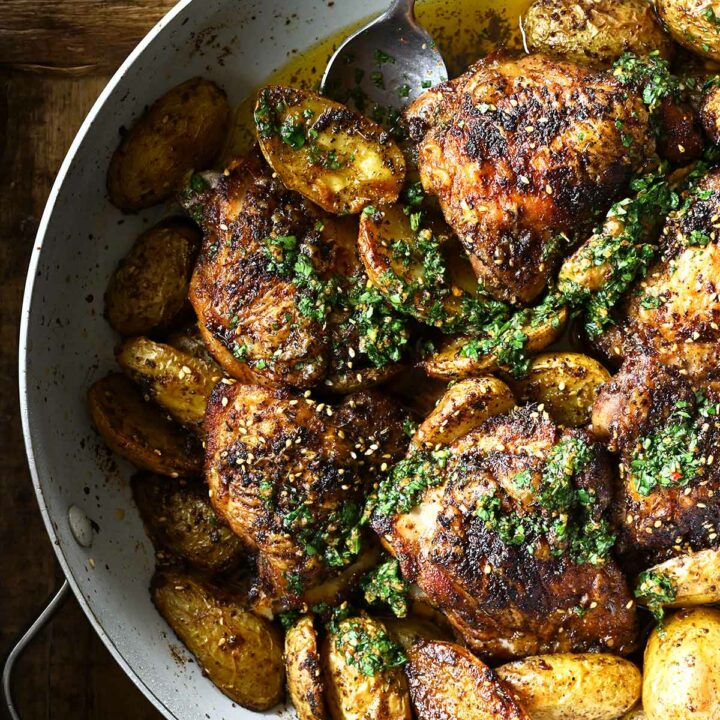 Ingredients
2 tbsp olive oil, divided
1 tbsp unsalted butter
2.2 pounds/1 kg chicken thighs
1.2 pounds/550 small waxy potatoes, cut in half lengthwise
2 tbsp za'atar, divided
1 tsp salt, divided
2 tsp each: black pepper, garlic powder, divided
1 tsp sweet paprika
juice from 1/2 lemon
chermoula sauce, for serving, see blog post
Instructions
Start with preparing the chicken thighs. Rub 1 teaspoon za'atar, ½ teaspoon salt, 1 teaspoon pepper and garlic powder, and sweet paprika on both sides of the chicken. Set aside.
Cut the potatoes in half lengthwise. To a bowl, add potatoes, 1/2 teaspoon salt, 1 teaspoon garlic powder, pepper and za'atar. Drizzle with 1 tablespoon olive oil and toss to combine.
Preheat the oven to 400°F/200°C.
Heat oil and butter over medium in a large ovenproof skillet or pan. Add chicken thighs skin-side down, cook for 10 minutes, move chicken around every couple of minutes to prevent from sticking to the bottom. Turn, cook for 5 minutes more. Remove thighs from skillet onto a clean plate.
Add potatoes and cook for 3 minutes, until they start to brown. Place chicken in between potatoes. Sprinkle with lemon juice, transfer to the oven and bake for 20 minutes. Then reduce the heat to 320°F/160°C and bake for another 20 minutes until the chicken thighs are cooked through and tender.
When ready, drizzle with chermoula sauce and serve with a leafy side salad. Enjoy!
Notes
Calories Per Serving: 618 kcal
Nutritional information is only an estimate. The accuracy of the nutritional information for any recipe on this site is not guaranteed.