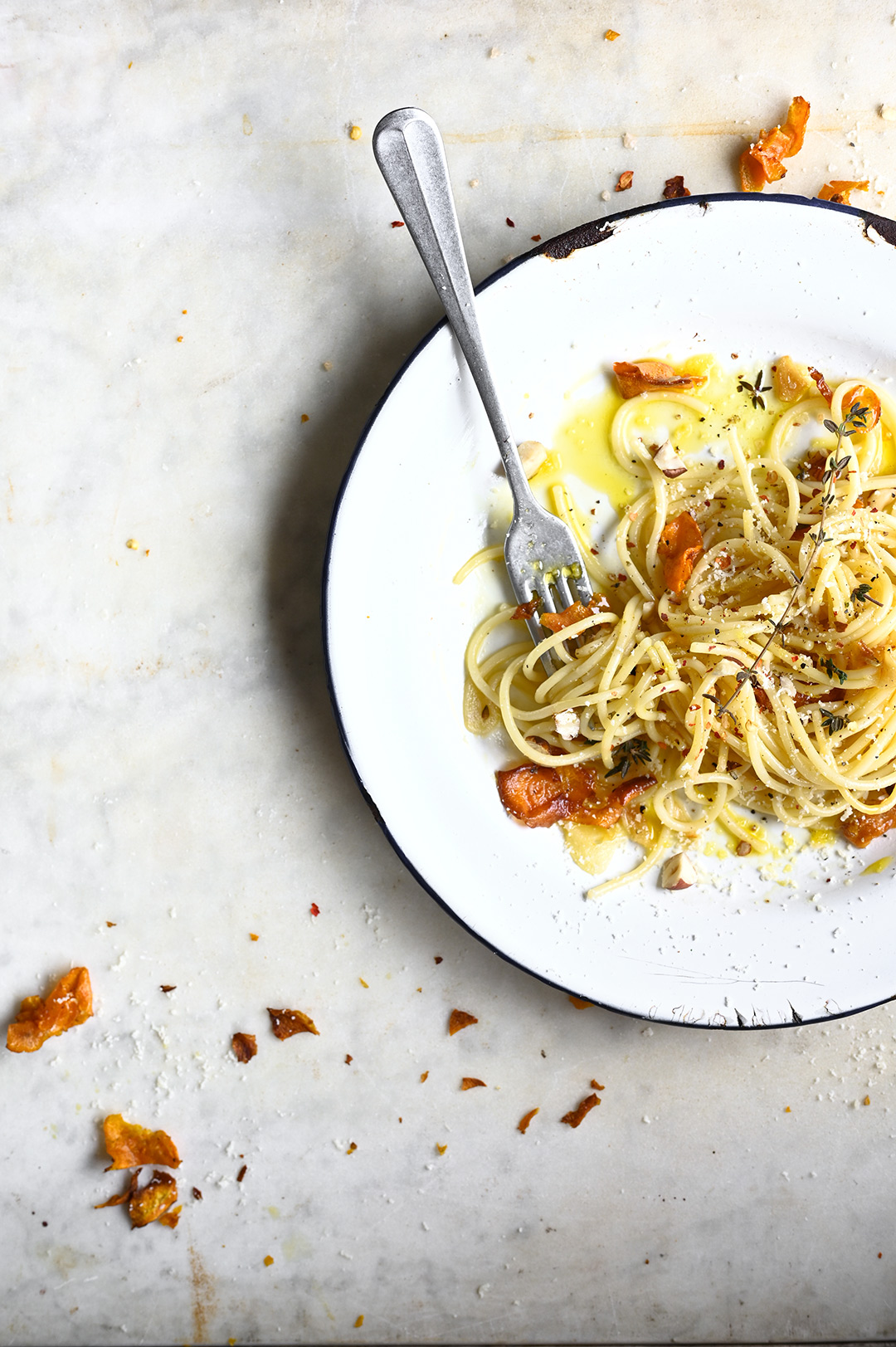 With just a few simple ingredients from your pantry staple, you can create the most versatile dish. Like this burnt butter spaghetti, that I dressed up with just a handful of ingredients to create a memorable pasta. And jazzed the whole thing up, by adding some crispy sweet potato chips. It's absolutely mind-blowing. They add so much crunch and hearty flavor.
Together with hazelnuts, chili flakes and the burnt butter, it becomes one of the simplest yet most satisfying pasta dishes. This is like buttered noodles for adults. Spicy, garlicky, buttery with lots of parmigiano, and roasted hazelnuts. It's hearty, so fulfilling, and could not be cozier. Plus, it's my personal favorite pasta on the blog! You must try it.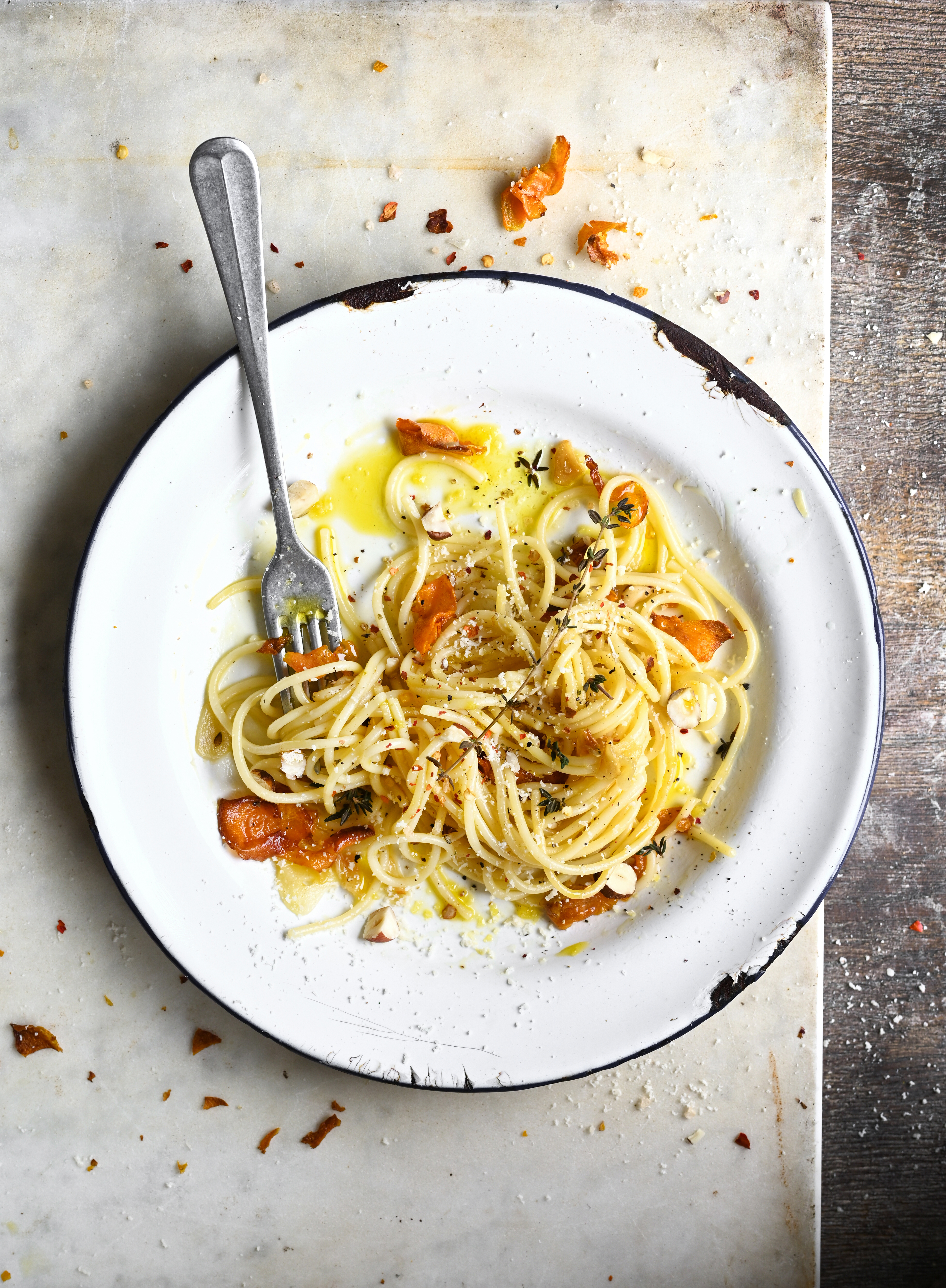 Ingredients
pasta
500 g spaghetti
150 g unsalted butter
4 cloves garlic, thinly sliced
6 sprigs thyme
sea salt + cracked black pepper
2 tbsp lemon juice
1/2 tsp chili flakes, + more for sprinkling
toasted hazelnuts, for serving
grated parmigiano, for serving
sweet potato chips
1 sweet potato, peeled
rapeseed oil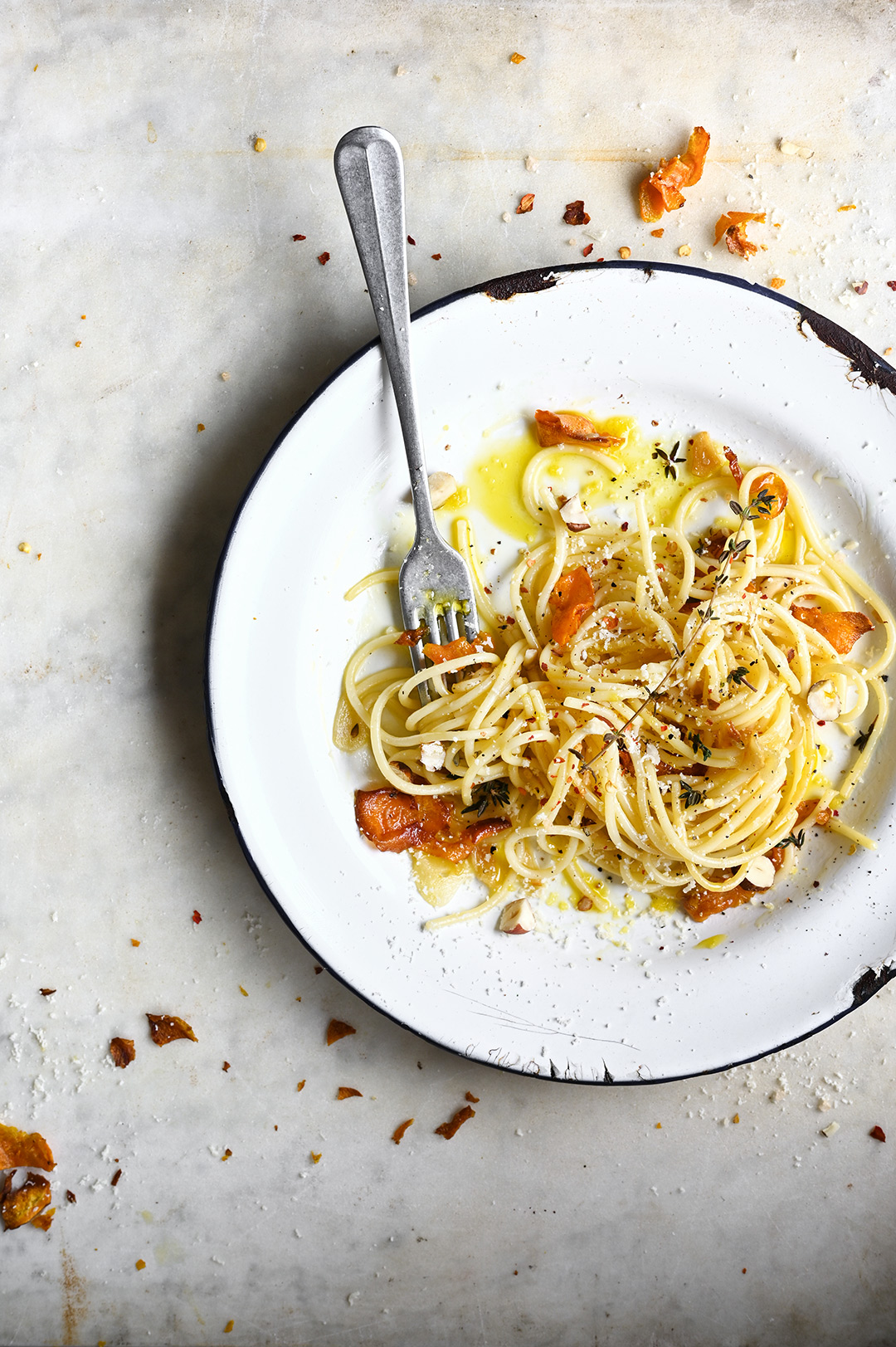 Instructions
Thoroughly wash the sweet potato and trim any bad spots away. Slice it with a vegetable peeler into thin strips or chips. Heat the oil in a pan, you don't need to use a lot of oil, just a bottom should be enough. Fry the sweet potato slices in one layer batches for a minute or until golden brown. You don't want them to get too dark, they will taste bitter. Drain on a paper towel. Repeat with the remaining chips.
Cook the spaghetti in a pan of salted boiling water until al dente. Drain and keep warm.
While the pasta is cooking, heat a large frying pan over high heat. Add the butter and garlic and cook for 2 minutes or until the butter starts to foam. Add chili flakes, salt and pepper, and cook for 2 minutes more. Add the lemon juice and thyme leaves.
Divide the pasta between bowls. Top with the crispy sweet potato chips and burnt butter sauce, sprinkle with pepper, toasted hazelnuts, extra chili flakes and freshly grated parmigiano to serve. Enjoy.