Creamy Tuscan ravioli. A delicious hearty dinner that features a truly irresistible creamy sauce, baby spinach, sun-dried tomatoes and a Parmesan touch. Super easy to make, with just a few ingredients, your favorite ravioli and 15 minutes of your time. It's just the kind of weeknight meal that's guaranteed to become a new favorite.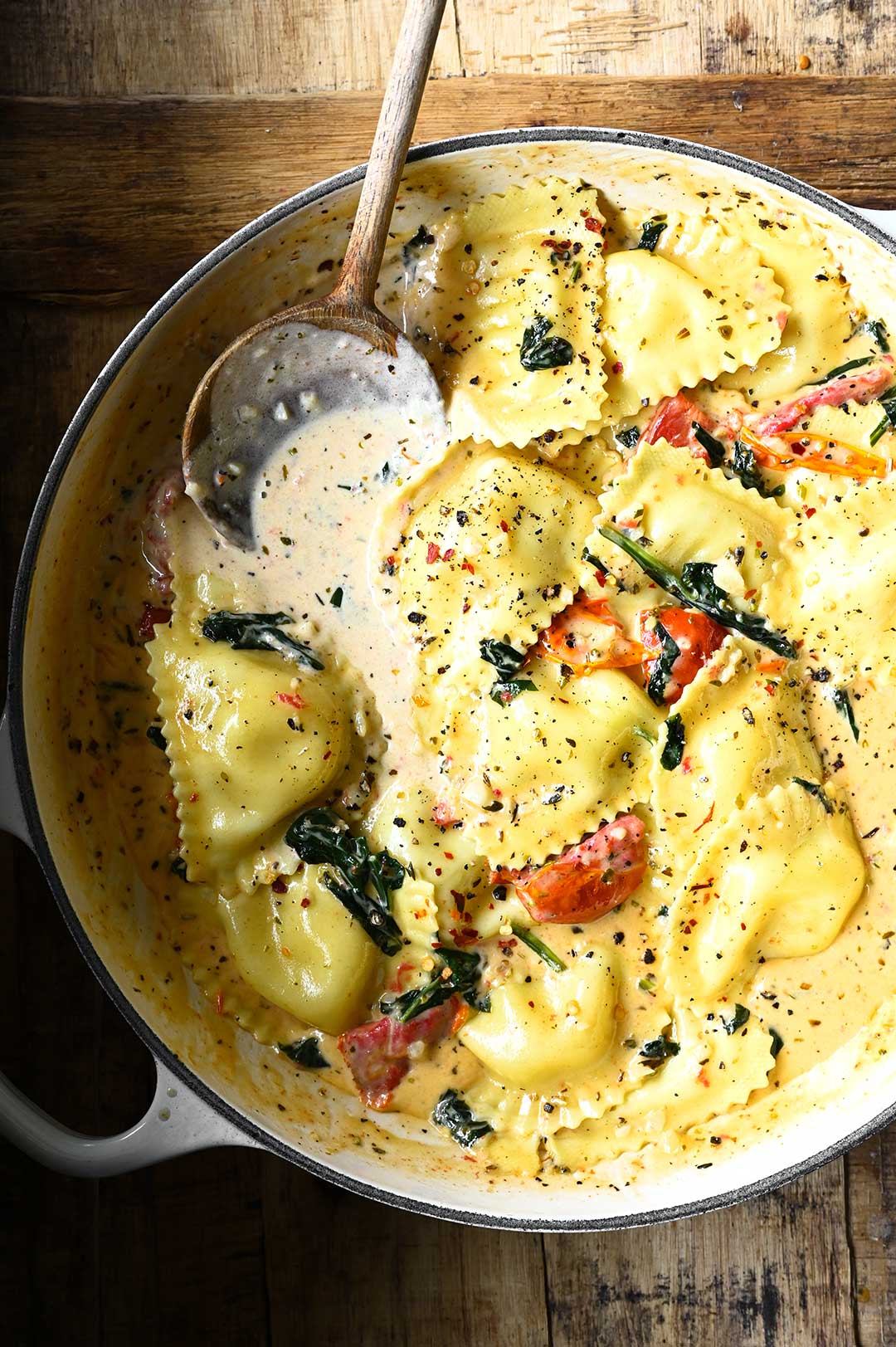 This dinner is greater than the sum of its parts, it's fuss-free, but tastes like you spent hours in the kitchen. Sun-dried tomatoes cook quickly and create a sweet sauce base that's bright and super flavorful, especially when flavored with garlic and Italian seasoning. A handful of baby spinach is stirred in together with some heavy cream and Parmesan.
We add the cheese ravioli at the end, then sprinkle some freshly grated black pepper and chili flakes… done! It's an effortless meal that deserves to be made.
Let me guide you through the recipe with this step-by-step VIDEO.
This dish is ready in no-time, with minimal effort or planning. But it also makes for a surprisingly delicious appetizer if want to treat your guests on your next dinner party.
Besides tossing the sauce with ravioli or tortellini, you can use it over pasta noodles or gnocchi. Or with with shrimp, grilled vegetables or seared chicken fillets. And don't forget to add a big leafy salad for a real treat.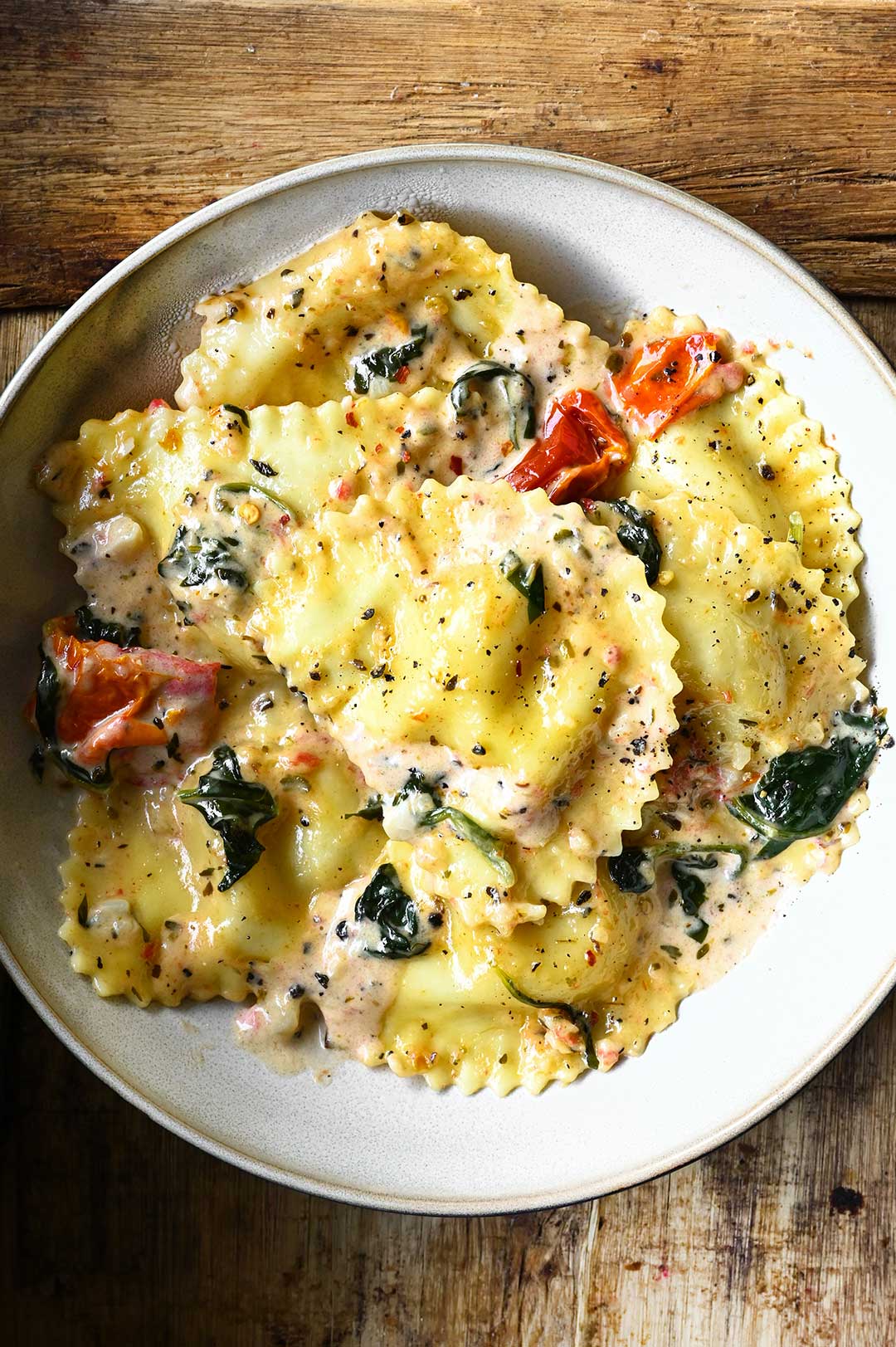 YOUR GROCERY LIST
Here's what you need to make this fast Creamy Tuscan Ravioli recipe.
Oil and butter: To add flavor and for sautéing the garlic. Use unsalted butter, it will give you complete control over the overall flavor of the dish.
Garlic: Flavor base for the sauce.
Seasoning: spices like salt, pepper, and Italian seasoning are all you really need.
Sun-dried tomatoes: Use sun-dried tomatoes packed in oil, they're already marinated and full of flavor.
Spinach: Use fresh baby spinach for best results.
Cream: Use heavy cream or cream with at least 20% fat. It has the necessary fat content to create a stable backbone for the sauce. I don't recommend using half-and-half or milk, as your sauce could turn out too watery.
Lemon juice: To balance out the flavors.
Parmesan cheese: Freshly grated, always.
Ravioli: Use any of your favorite ravioli, like 4-cheese, spinach-ricotta, meat, seafood,…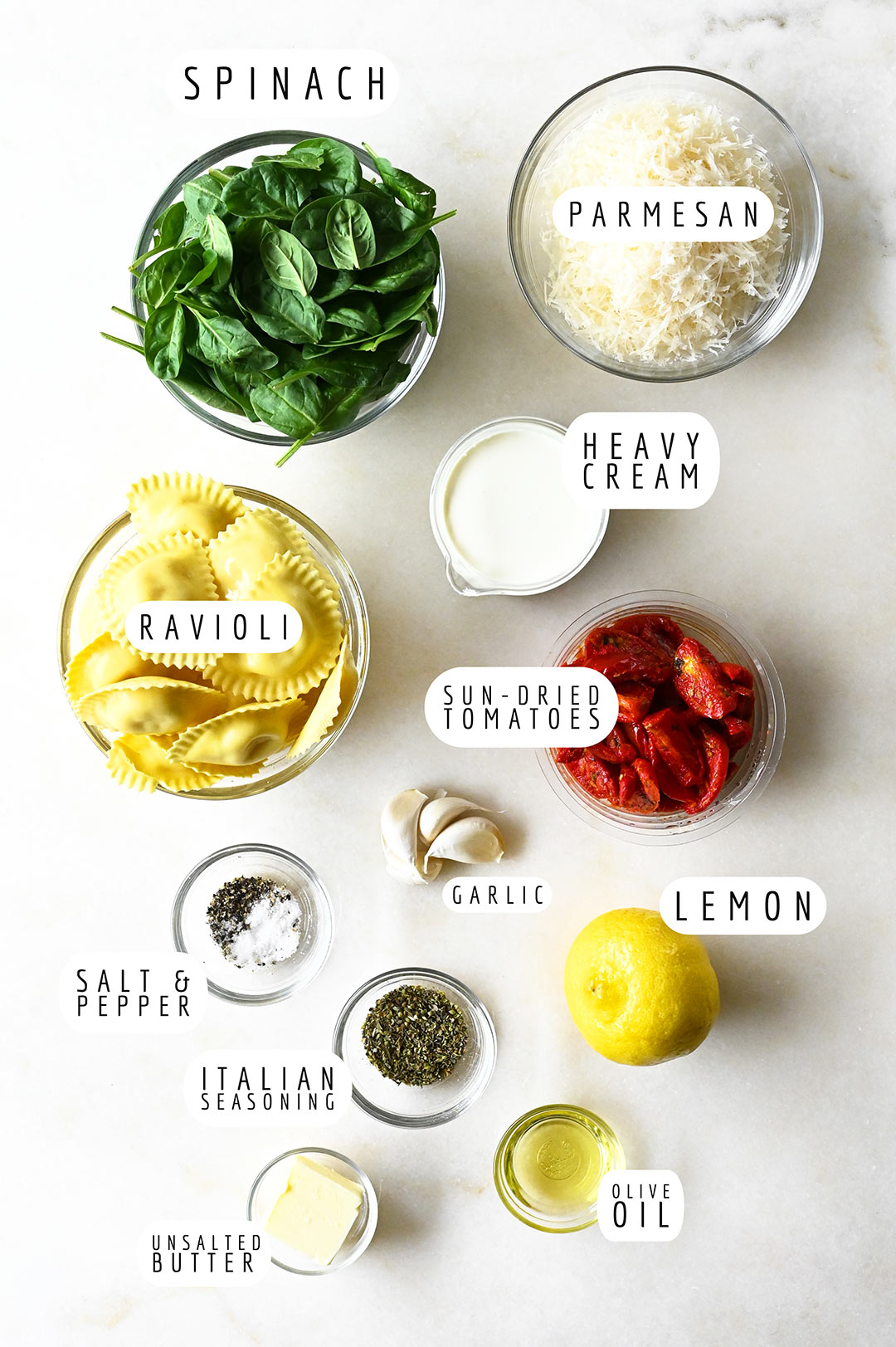 RECIPE NOTES
You can add a splash of white wine right before you stir in the spinach.
Instead of spinach, you could also use chopped kale.
To make this dish dairy-free, simply use only olive oil, swap cream for unsweetened coconut milk, use your favorite dairy-free shredded cheese or nutritional yeast instead of parmesan. As for the ravioli, use a vegan-friendly ravioli.
You can use the sauce over your favorite pasta noodles, gnocchi, chicken or fish.
Serve as dinner with a big side salad or as a starter.
You can refrigerate the leftovers and easily reheat it over low heat. When reheating, add a bit of milk, and simmer until you get the desired consistency.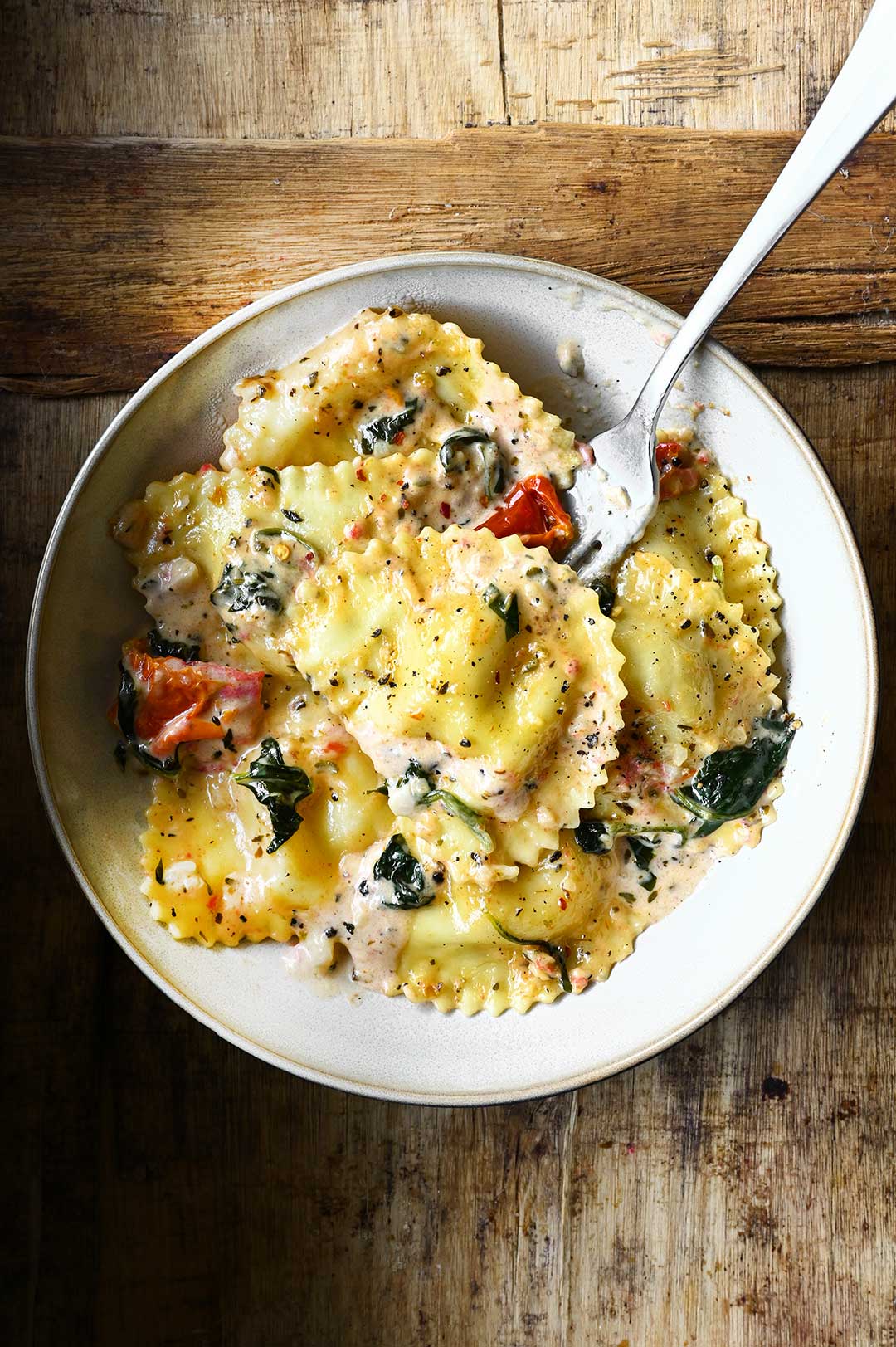 MORE RAVIOLI RECIPES TO TRY
Need More Italian-Inspired Recipes?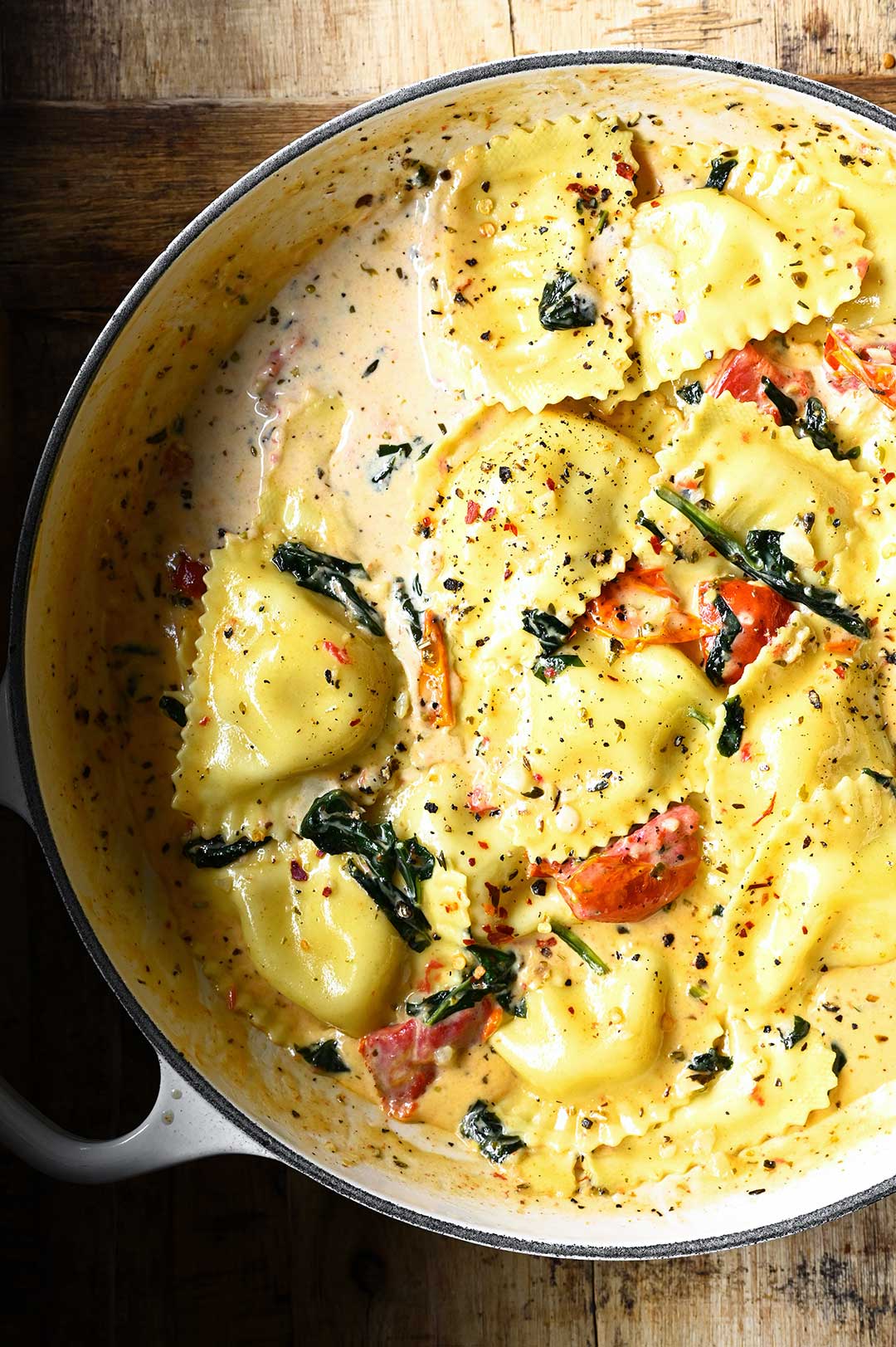 COOKING VIDEO
Yield: serves 4
Creamy Tuscan Ravioli
Ingredients
1 tbsp unsalted butter
1 tbsp olive oil
4 garlic cloves, minced
1 tsp each: salt, black pepper
1 tbsp Italian seasoning
3.5 ounces/100 g sun-dried tomatoes, drained
2 ounces/50 g baby spinach
1 ½ cups/300 ml heavy cream
10.5 ounces/300 g cheese ravioli
1 tbsp lemon juice
½ cup/40 g grated Parmesan
chili flakes, for serving
Instructions
Bring a large pot with salted water to a boil.
Before you start cooking, mince the garlic and cut the sun-dried tomatoes in half.
Heat oil and butter in a large skillet over low. Add garlic and sweat until fragrant and soft, about 2 minutes. Stir in salt, pepper and Italian seasoning. Add sun-dried tomatoes and cook for a minute.
Add spinach and stir until it starts to wilt, about 1 minute. Pour in cream and bring to a simmer.
Add ravioli to the pot with boiling water. Cook for 3 minutes, or according the package directions, then drain, reserving ¼ cup cooking water.
In the meantime, to the skillet, add lemon juice and Parmesan. Stir until combined. Simmer over low until the ravioli is ready.
Add ravioli, stir to coat. If the sauce looks too thick, add a splash of cooking water. Serve immediately, topped with chili flakes and freshly grated black pepper. Enjoy!
Notes
Calories Per Serving: 432 kcal
Nutritional information is only an estimate. The accuracy of the nutritional information for any recipe on this site is not guaranteed.