Creamy Tuscan chicken orzo. A rich and comforting one-pot dinner that's ready in 30 minutes. Seared chicken simmered in a decadent cream sauce with silky orzo, sun-dried tomatoes, tender spinach and plenty of Parmesan. It's knock-your-socks-off delicious! You'll love it!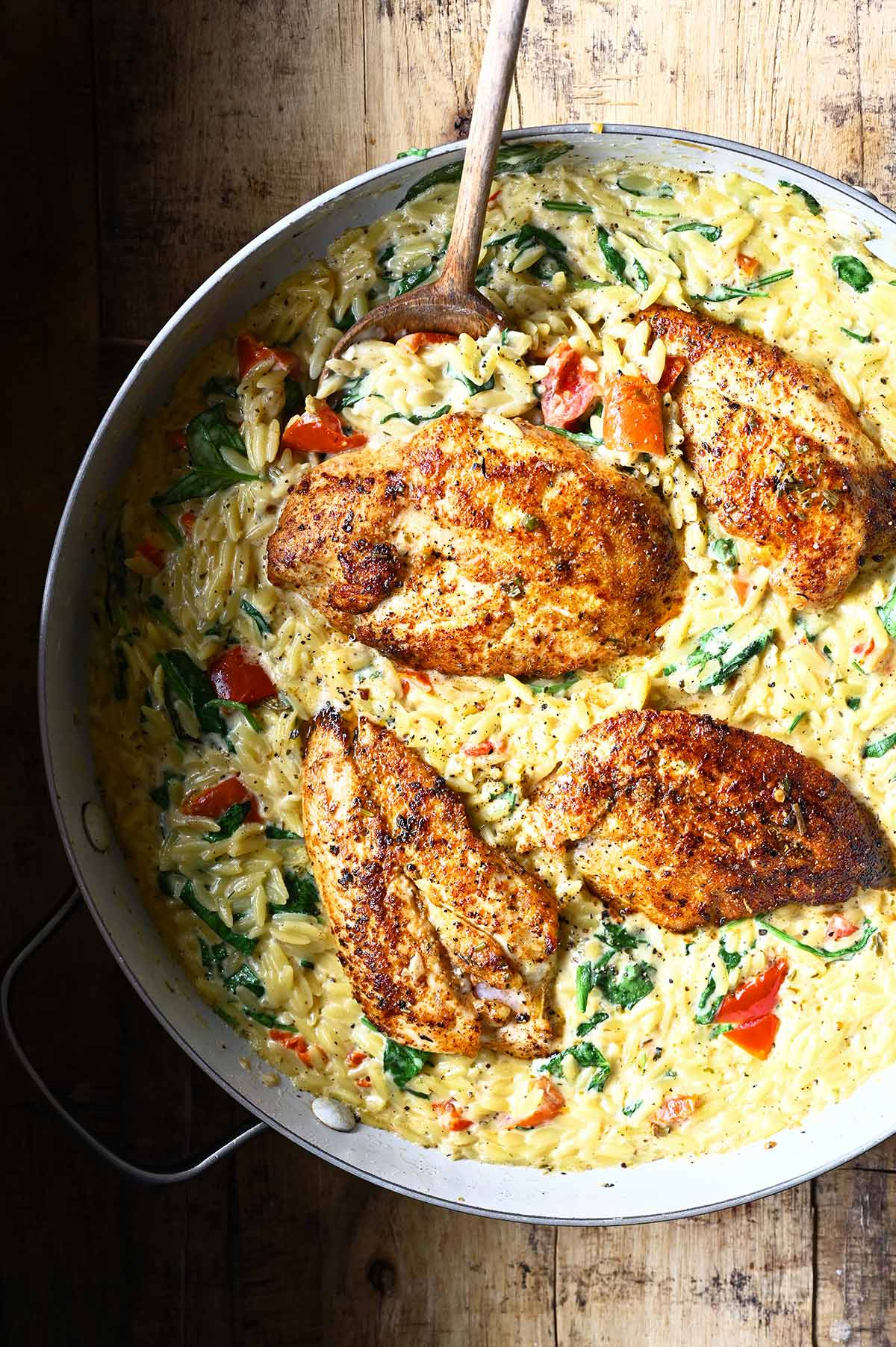 One pan dinners are busy weeknight savers. We cook the orzo directly in the skillet where we create the sauce, this way the pasta will release its starch while it simmers, the end result is similar to a risotto without the requirement to stand over your skillet and stir for 30 minutes. We use Parmesan and cream together with starchy water to make a thick creamy sauce that coats the orzo. It's super comforting and fuss-free to make. It will be tempting not to eat a second bowl.
This Tuscan chicken orzo recipe has a short ingredient list, but doesn't skimp on flavor. It feels fancy and is an easy meal to share with family or friends, or to serve for an unforgettable date-night dinner. Plus, the leftovers taste amazing!
Let me guide you through the recipe with this step-by-step VIDEO.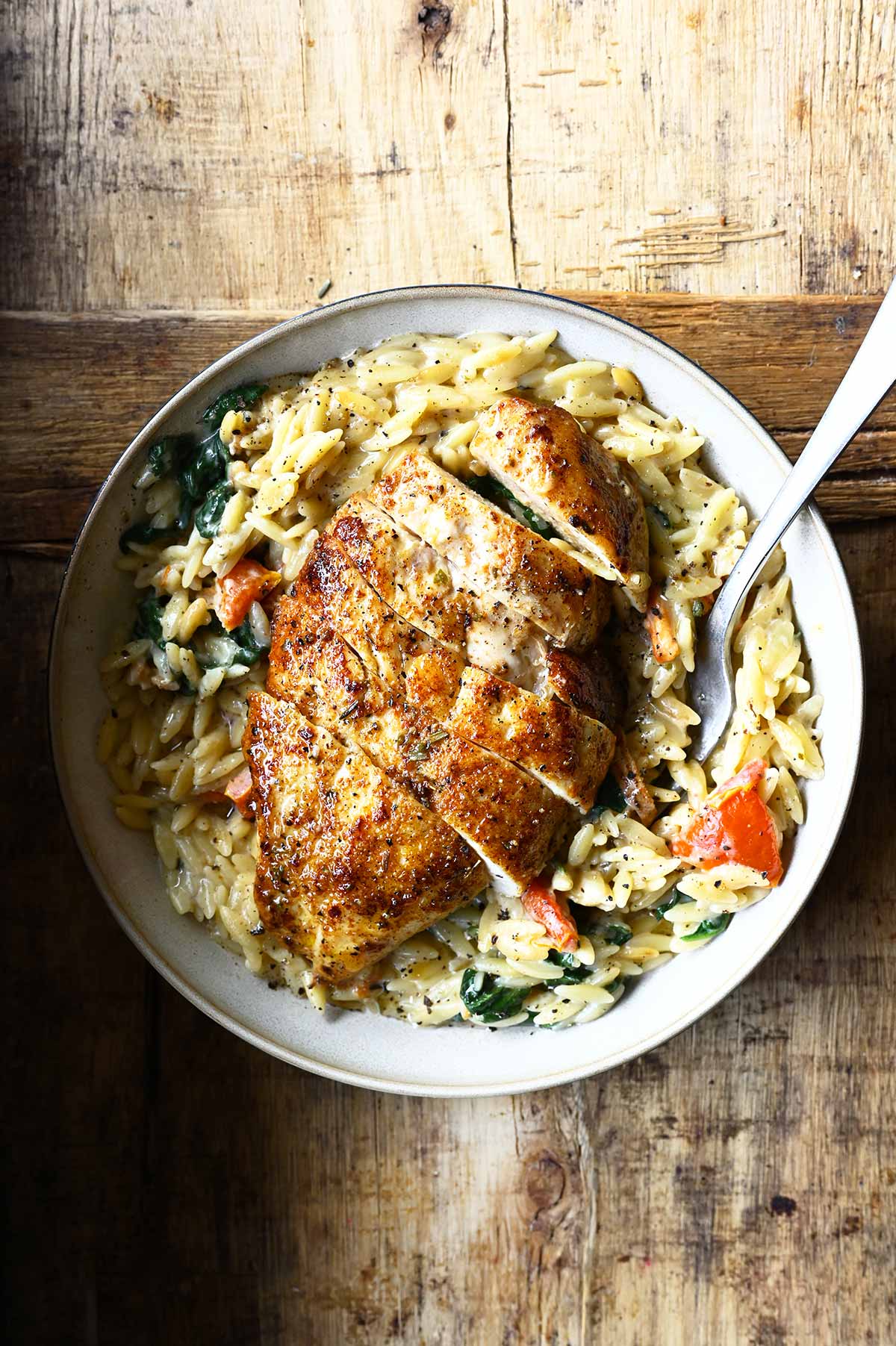 How To Make Creamy Tuscan Chicken Orzo?
It starts with chicken fillets seasoned with Cajun spices and seared until golden brown. We cook the onion and garlic in the same skillet. Add in orzo which is immediately infused with a delicious aromatic seasoning from the seared chicken. It's the easiest way to crank up the volume on a simple skillet dinner without having to reach for an overwhelming number of spices.
Next, we pour in chicken broth and bring it to a low simmer. The orzo will continue to cook in the broth, creating a creamy base for the sauce. Once the orzo cooked, we stir in cream followed by spinach and let it wilt nicely. Finally Parmesan and sun dried tomatoes go in. At the end we nestle the chicken into the orzo, let it simmer just until it's warmed through. Ready. Serve!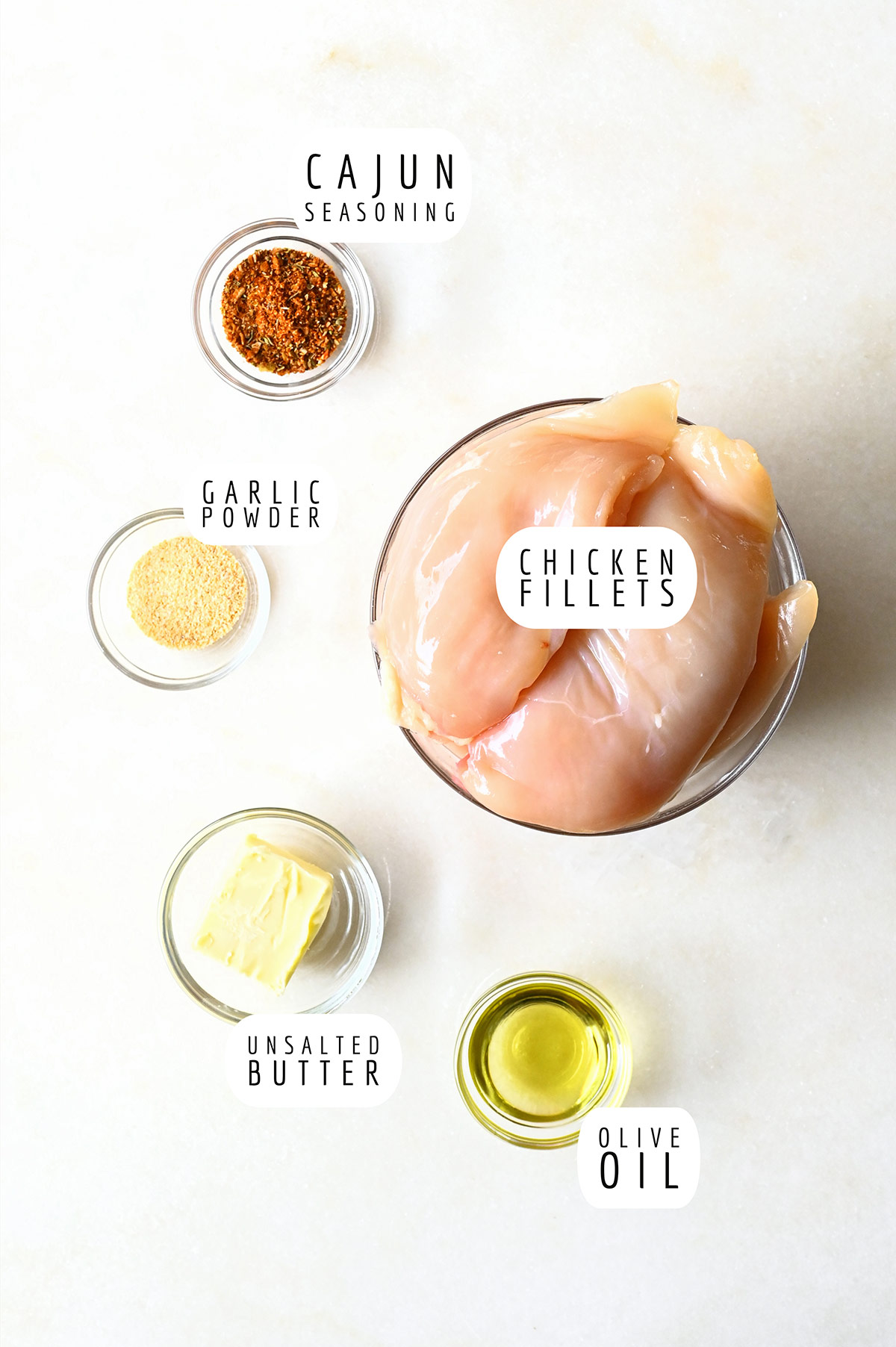 INGREDIENTS, TIPS & SUBSTITUTIONS
Chicken: We're using chicken breast fillets, but you can also use skinless/boneless chicken thighs or even rotisserie chicken, just shred it while the orzo boils and stir it in at the end together with spinach.
Spices: We're only using garlic powder and Cajun seasoning to flavor the chicken. Use store-bought Cajun spices or my homemade seasoning blend. See recipe notes.
Oil and Butter: To sear the chicken.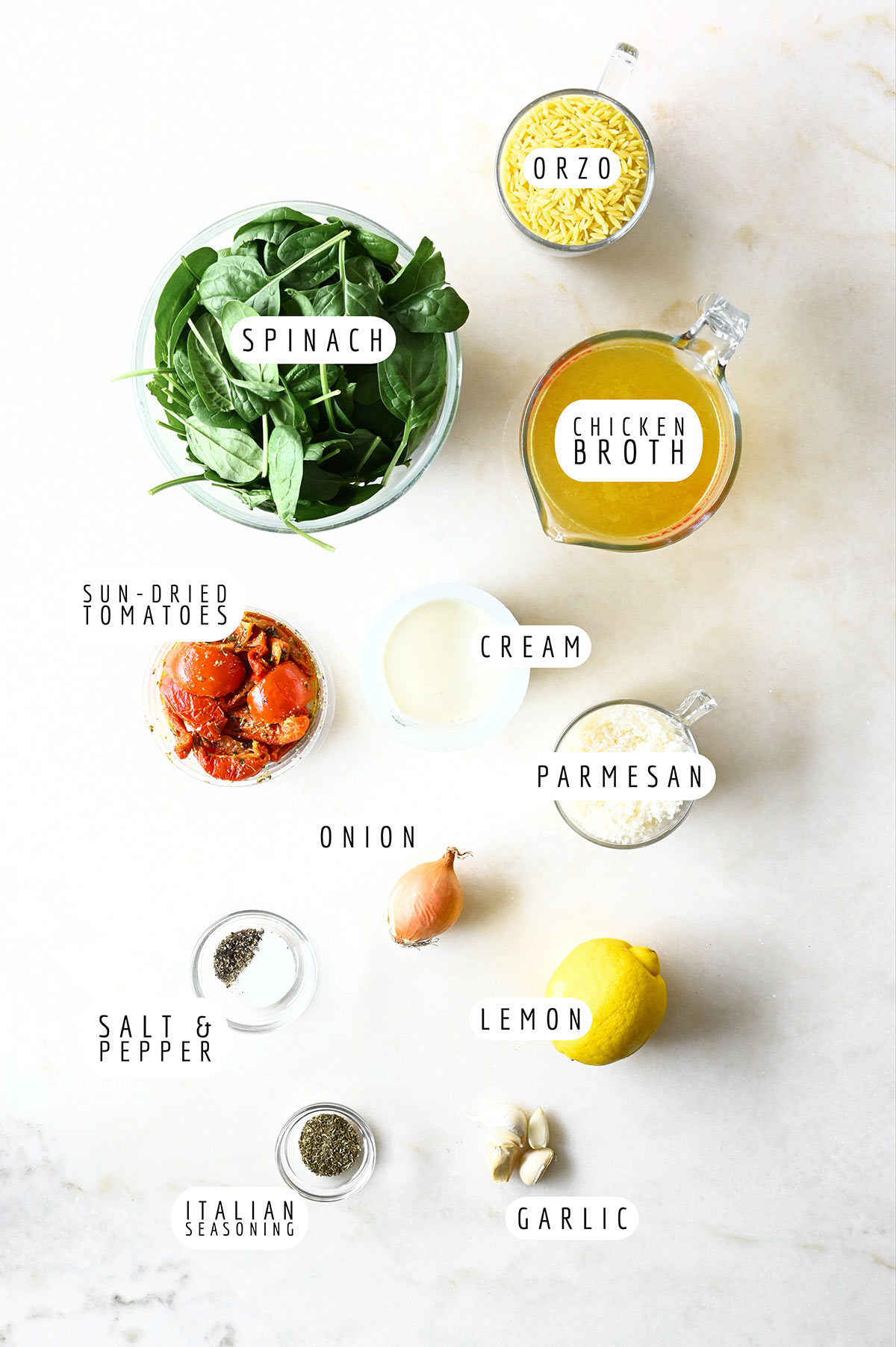 Orzo: It gives this dish a silky texture, which you can't get with any other pasta. You can use white or whole wheat orzo. If you can't find orzo pasta, use the tiniest pasta shape you can find like gnocchetti sardi N83, small shells, orecchiette or elbow macaroni.
Garlic and Onion: Essentials!
Seasoning: Salt, black pepper and Italian seasoning.
Sun-dried Tomatoes: Try to find sun-dried tomatoes packed in oil to enjoy the wonderfully sweet tomato flavor. If you can't find tomatoes packed in oil, you can hydrate the tomatoes, to prevent them from being tough and chewy. Just put them in a bowl, add some hot water and let stand for about 20 minutes, drain and you're ready to go.
Chicken Broth: To elevate this dish, the flavors would never be the same if we'd use water. Use homemade or store-bought.
Cream: Heavy cream is the go-to in this recipe, although you can also use half-and-half. For dairy-free option, sub with full fat coconut milk.
Spinach: For a delicious hit of green. Use fresh for best results, but frozen also works. You can swap spinach for kale.
Parmesan: To thicken the sauce and to add a deep savory note. Best when freshly grated. You can also use Pecorino Romano.
Lemon Juice: Freshly-squeezed is best!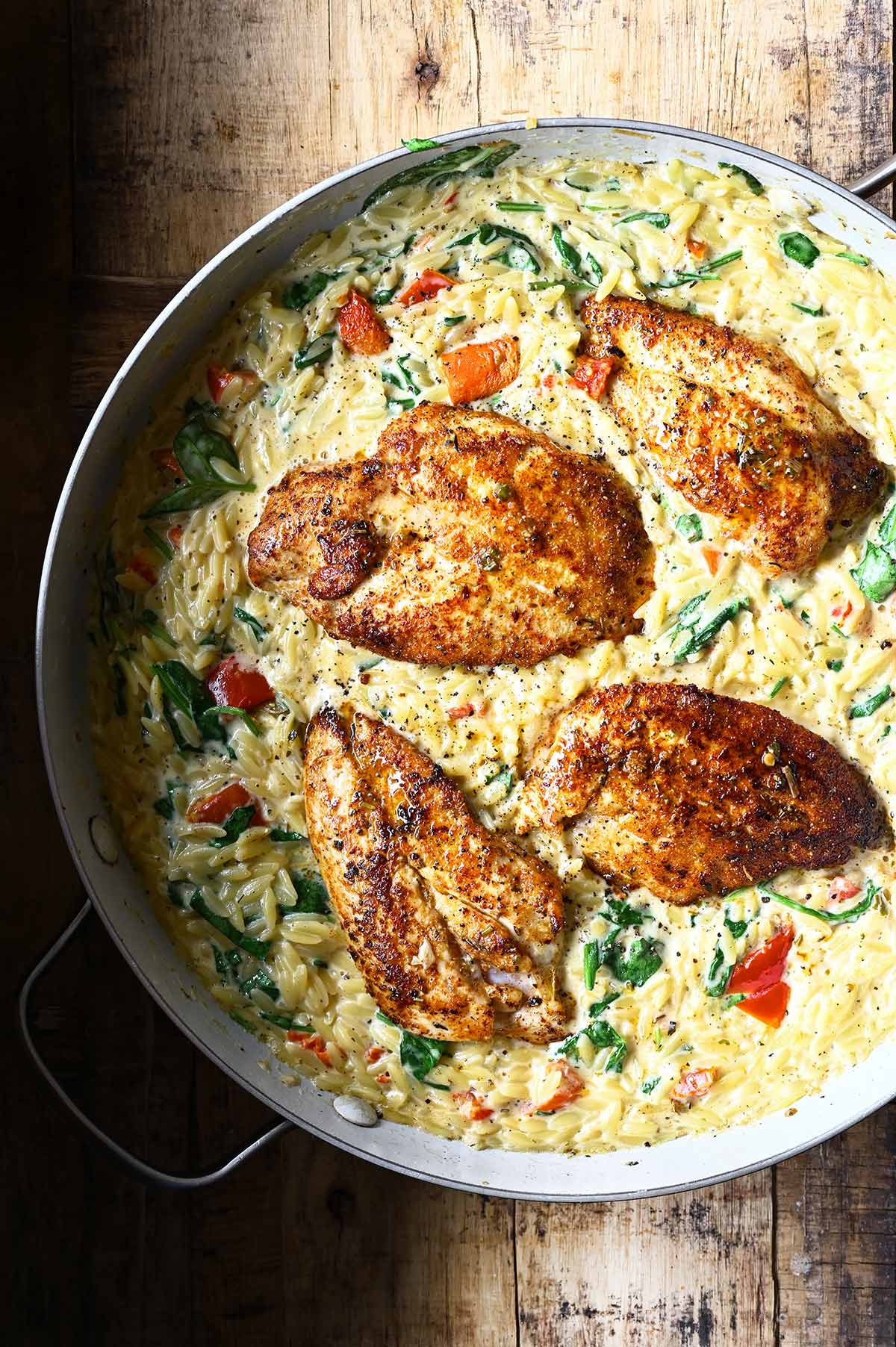 RECIPE NOTES
Homemade Cajun seasoning: 2 tbsp smoked paprika, 2 tsp each onion powder + garlic powder, 1 tsp each dried thyme + dried oregano + salt + black pepper + cayenne pepper + chili powder + ground cumin
Pair with a big leafy salad.
Storage: Leftovers can be stored refrigerated in an airtight container for up to 3 days.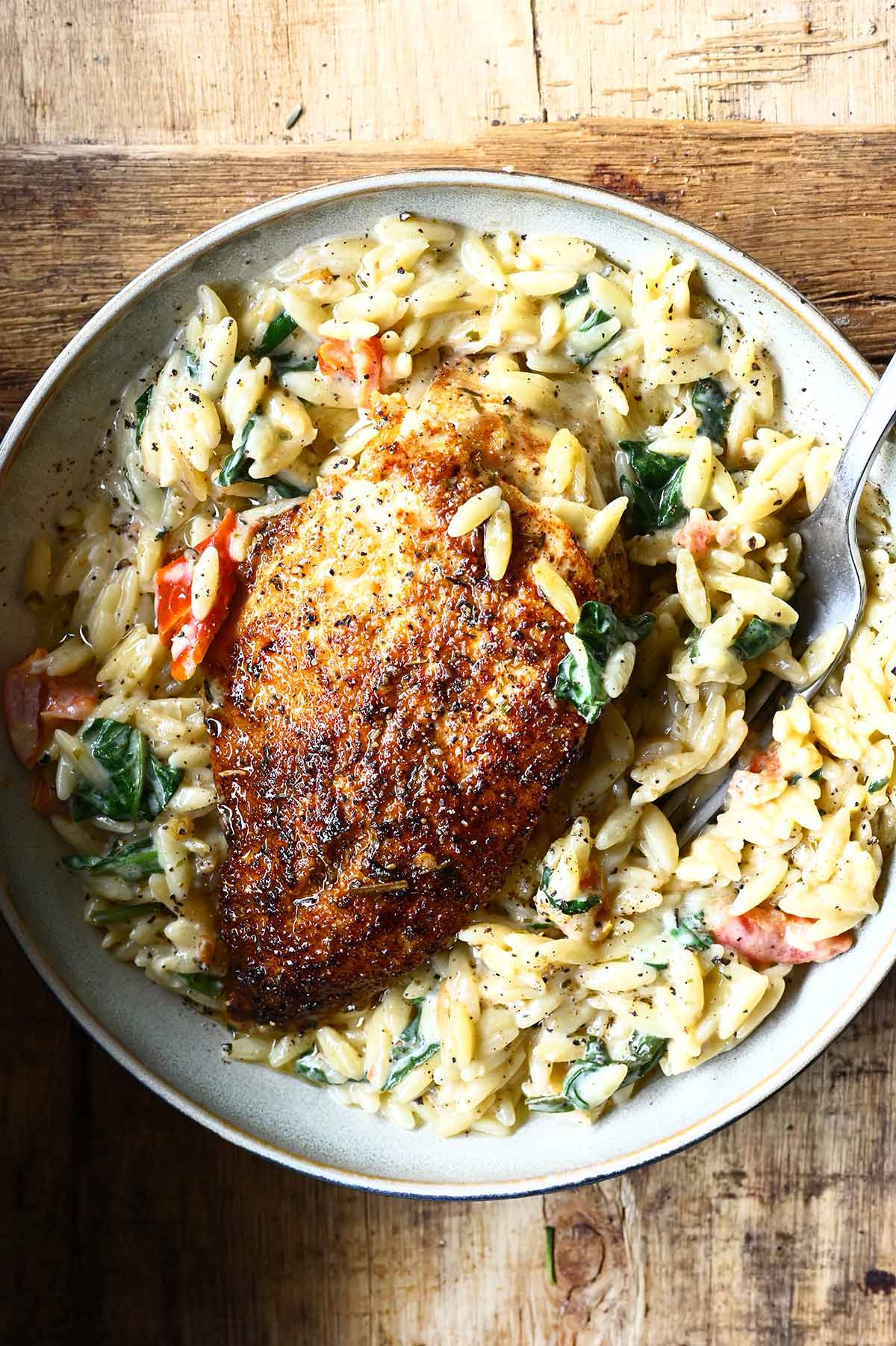 MORE DELICIOUS WEEKNIGHT DINNER RECIPES
COOKING VIDEO
Yield: serves 4
Creamy Tuscan Chicken Orzo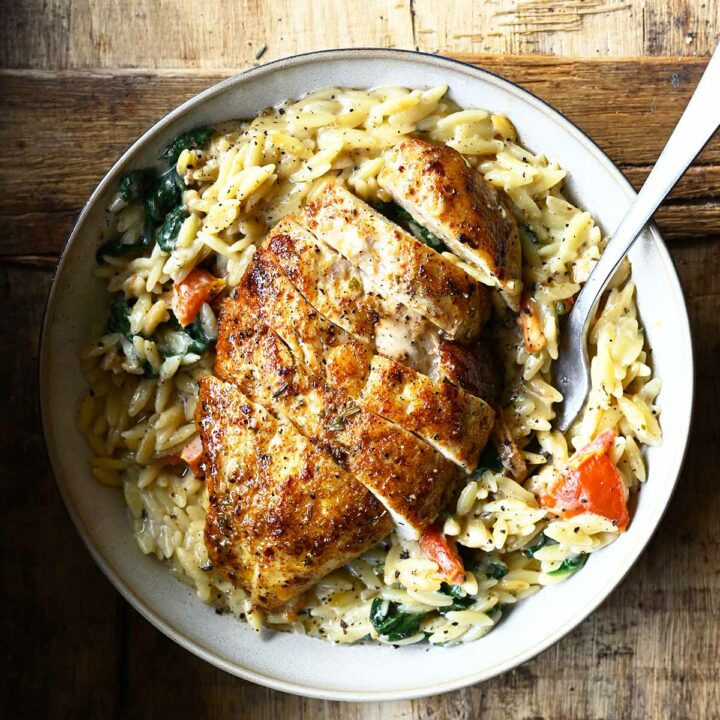 Ingredients
4 chicken fillets
1 tsp each: garlic powder, Cajun seasoning
1 tbsp unsalted butter
1 tbsp olive oil
1 small yellow onion, finely chopped
4 garlic cloves, minced
1 tsp each: salt, black pepper, Italian seasoning
1 cup/250 g dry orzo
3 cups/750 ml chicken broth
1 cup/250 ml heavy cream
3.5 ounces/100 g spinach
3.5 ounces/100 g sun-dried tomatoes, packed in oil, drained
½ cup/50 g grated Parmesan
1 tbsp lemon juice
Instructions
Get your prep done before you start cooking. Season bot sides of the chicken fillets with garlic powder and Cajun seasoning.
Mince the garlic, finely chop the onion and roughly chop the sun-dried tomatoes.
Heat oil and butter over medium. Add chicken fillets and cook, about 5-8 minutes per side or until cooked through and browned on both sides. The cooking time can vary with the size of your chicken. Remove from skillet and place on a clean plate. Cover with aluminum foil.
Add garlic and onion, cook until soft and fragrant for about 2 minutes. Stir in salt, pepper and Italian seasoning. Add orzo and toast for 1 minute. Pour in chicken broth and bring to a boil. Simmer over medium low for 8 minutes, while stirring from time to time to prevent orzo from sticking to the bottom of your skillet.
When ready, add cream and spinach. Stir until the spinach is slightly wilted, about 1 minute. Add sun-dried tomatoes, grated Parmesan and lemon juice. Stir to combine. Add a splash of water if the orzo looks too dry.
Nestle chicken in orzo, simmer for 3 minutes or until the chicken is warmed through. Top with freshly cracked black pepper. Enjoy!
Notes
Calories Per Serving: 594 kcal
Nutritional information is only an estimate. The accuracy of the nutritional information for any recipe on this site is not guaranteed.