Creamy coconut sweet chili chicken meatballs. This chicken dinner is packed with flavor, easy to make and comes together in less then 30 minutes. Tender meatballs coated in a rich sauce with hints of sweetness and spice that makes it so dang good. Serve with rice or noodles for an exciting weeknight dinner.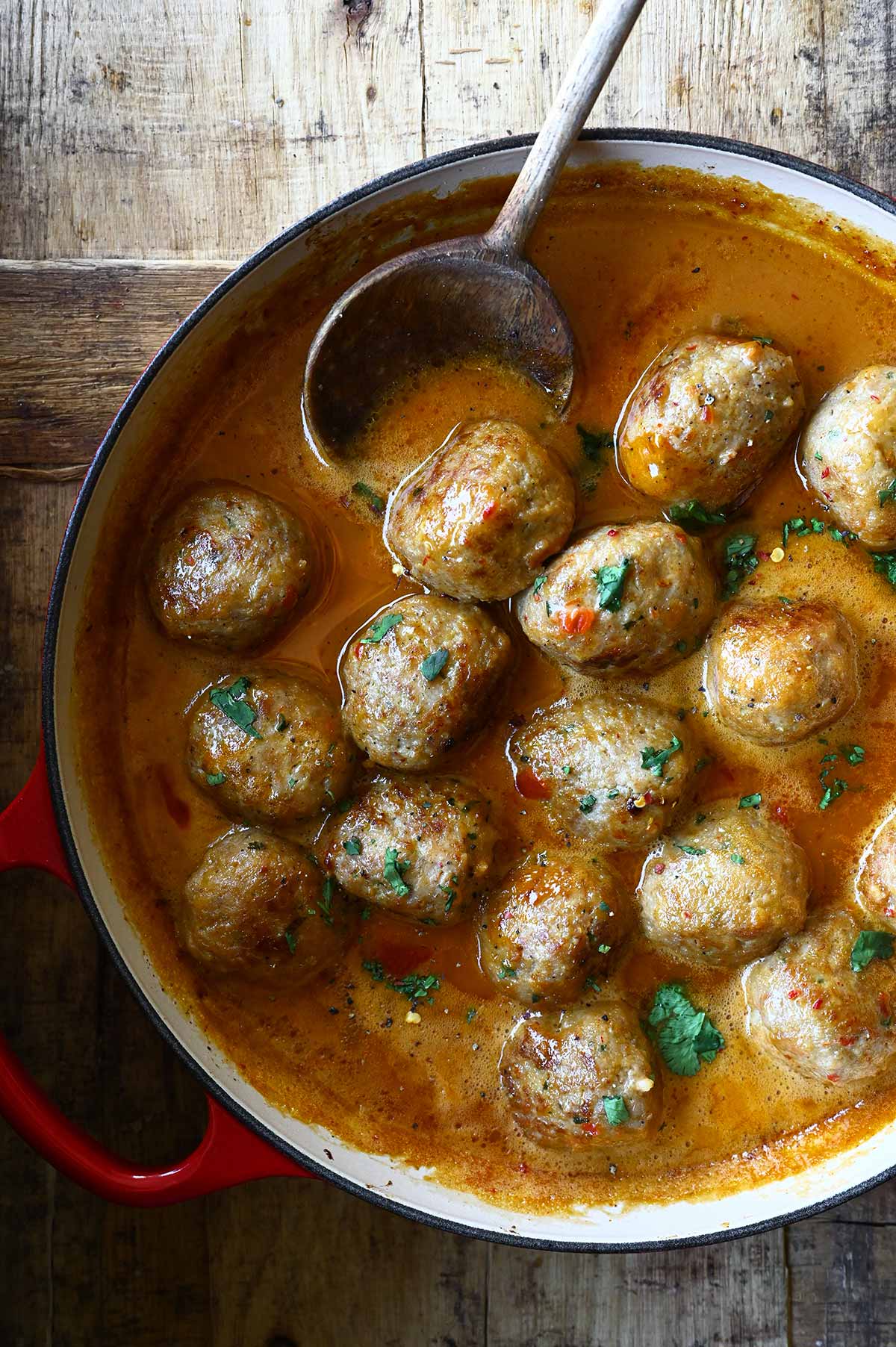 These chicken meatballs are what weeknight dinner dreams are made of. A sweet spicy garlic-kissed chicken recipe, comin' in hot! You can double the sauce ingredients to have enough to serve over rice. Highly recommended!
This weeknight dinner recipe combines super tender chicken meatballs with a creamy coconut chili sauce that's sweet and a little bit spicy at the same time. It's packed with just enough heat to tickle your tongue, but never intensifies or overwhelms. Super delicious, full of flavor and so easy to make. Serve with steamed rice and buttered green peas for a dinner that will rock your world.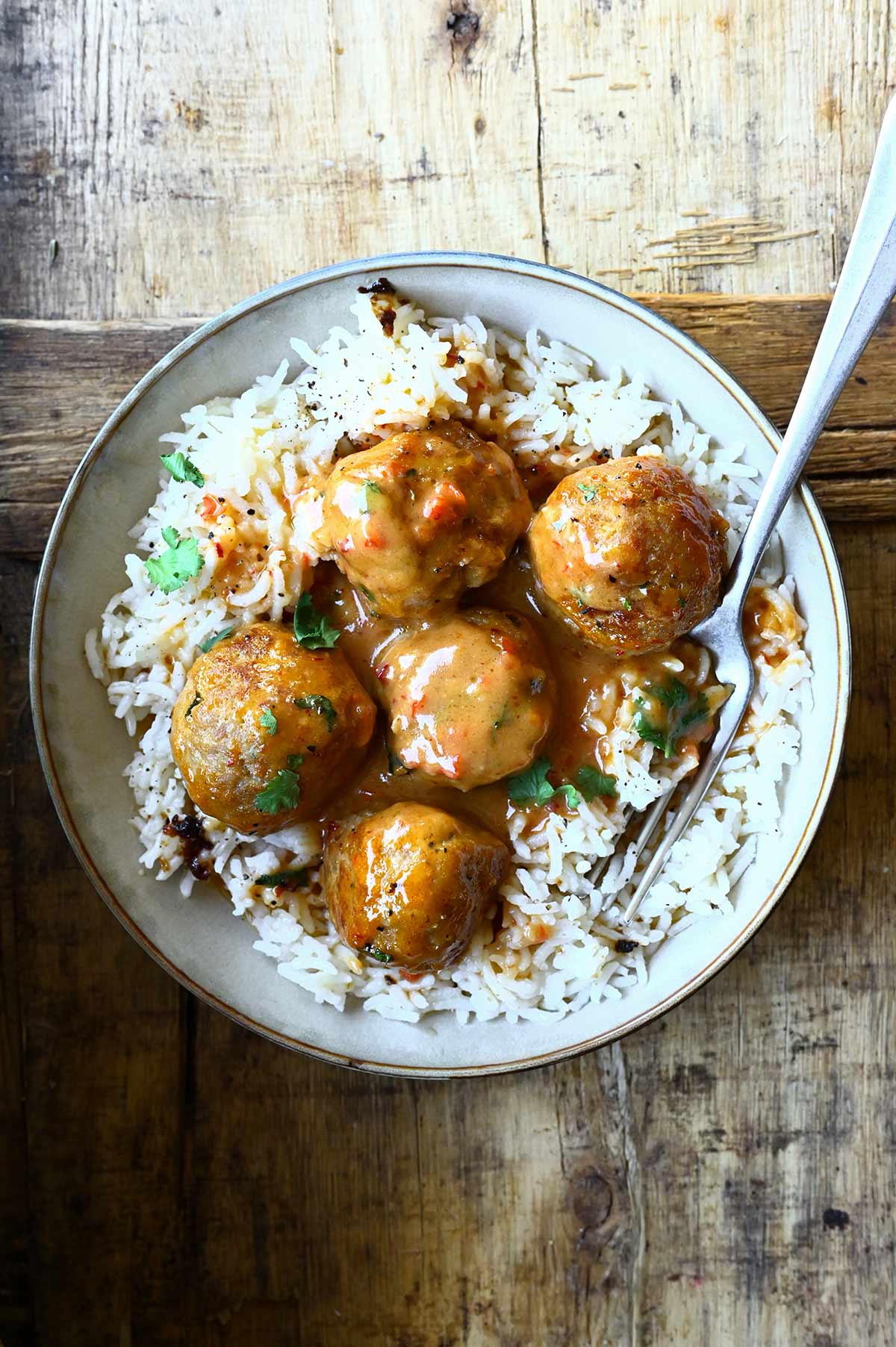 After searing the meatballs, we pour in the creamy sweet chili sauce and simmer everything together. So easy! The sauce thickens and compliments the chicken meatballs, while cilantro and lime juice, add a welcome bright burst of freshness to the sweet spicy mix. It's one of the best back-pocket, weeknight-lifesaver recipes.
Let me guide you through the recipe with this step-by-step VIDEO.
An amazing blend of sweet and spicy, plus a few carefully chosen spices team up to bring a little extra happiness into your weeknight routine. Plus, the presentation is funky and fancy, you could serve this as the main event of your next dinner party and not a single person will complain. It's so good.
Ingredients, Tips & Substitutions
Chicken Meatballs
Chicken: For tender meatballs, use a ground chicken mixture of white and dark meat or ground chicken thighs.
Breadcrumbs: They prevent the meatballs from becoming dry. The breadcrumbs absorb the juices from the meat as it cooks, trapping them within the meatball. I used panko, but you can use regular breadcrumbs.
Seasoning: Garlic powder, ginger powder.
Soy Sauce: For a salty touch.
Egg: To bind the meat with breadcrumbs and spices. We'll only be using the yolk.
Cilantro: For extra flavor and freshness. If you're not a fan of cilantro, leave it out.
Sweet Chili Sauce: Adds a delicious sweet and slightly spicy touch.
Vegetable Oil and Unsalted Butter: For searing the meatballs.
Creamy Sweet Chili Sauce
Garlic: Lots of freshly grated garlic. I used 4 cloves, but if you're a garlic lover, add at least 6!
Sweet Chili Sauce: An essential for our dish. You can easily find Thai sweet chili sauce in a regular supermarket in the Asian food aisle.
Sriracha: For extra heat. Use more or less depending on how spicy you like your food. You can swap sriracha for sambal oelek or gochujang paste.
Lime: Lime juice to balance the sweet and spicy flavors.
Coconut Cream: Use full fat coconut milk for the best creamy result.
Low Sodium Soy Sauce: To boost the salty, savory flavor.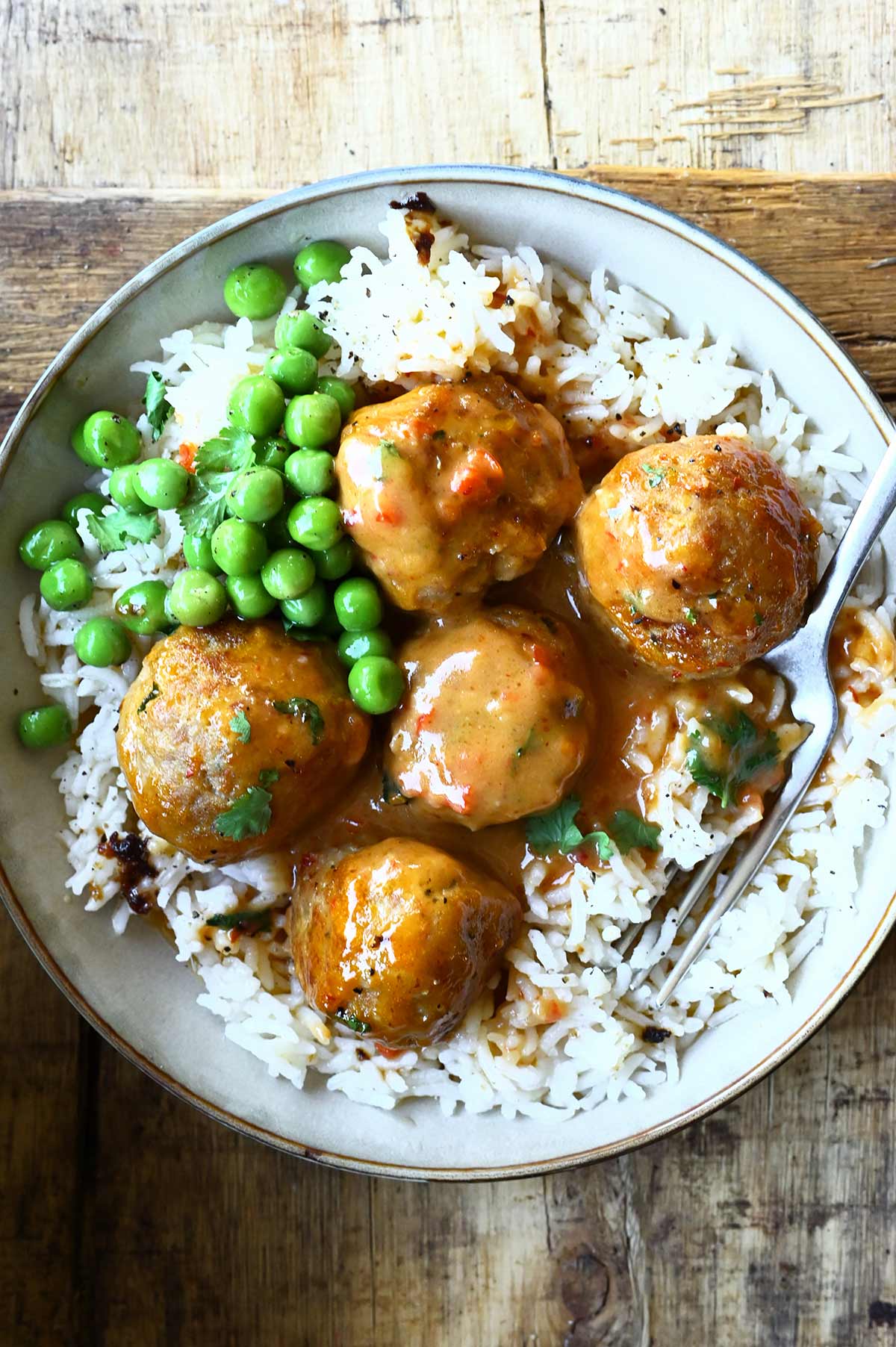 Recipe Notes
Instead of ground chicken, you can use pork or ground turkey.
This is a pleasantly spicy dish, but you can use less sriracha to turn down the heat.
Serve over steamed rice, rice noodles or egg noodles.
Instead of cilantro, you can use chives or scallions for topping.
Add grated ginger to the sauce for even more flavor.
You can also serve these meatballs as a snack or appetizer.
Pair with sautéed bok choy, crunchy cucumber salad, buttered green peas or green beans.
Make Ahead: This dish can be made ahead, both the sauce and the meatballs themselves can be stored in an airtight container in the fridge for up to 3 days.
To freeze the meatballs: transfer to a freezer-safe container and freeze for up to 3 months.
Try These Next
Cooking Video
Yield: serves 4
Creamy Sweet Chili Chicken Meatballs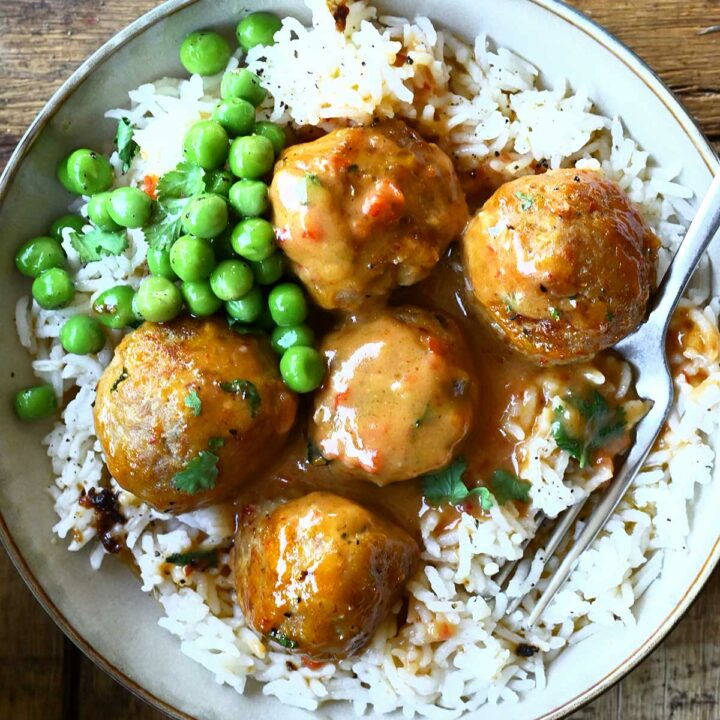 Ingredients
Chicken Meatballs
1.1 pounds/500 g ground chicken
¼ cup/30 g panko breadcrumbs
1 tsp each: garlic powder, ginger powder, soy sauce
1 egg yolk
1 tbsp chopped cilantro, more for serving
2 tbsp sweet chili sauce
½ tbsp vegetabel oil
½ tbsp unsalted butter
Creamy Sweet Chili Sauce
4 garlic cloves, grated
1 cup/250 ml full fat coconut milk
½ cup/120 ml sweet chili sauce
2 tbsp sriracha, less or more to taste
juice from ½ lime
2 tbsp soy sauce
steamed rice, for serving
Instructions
Get all the prep done before you start cooking. Chop the cilantro. Grate the garlic cloves.
Add ground chicken and the ingredients for the meatballs to a bowl. Mix with your hands, just until combined. Roll into 2-tablespoon sized balls. The meatballs are rather soft, but they will get firm as they cook.
Prepare the sauce. To a jar or bowl, add coconut milk, sweet chili sauce, soy sauce, sriracha, lime juice and grated garlic. Whisk to combine.
Heat oil and butter in a nonstick skillet over medium. Gently place the meatballs, brown all over, about 8 minutes. Add the prepared sauce and bring to a boil. Cover and simmer over low for 10 minutes.
When ready, taste and add more lime juice or sriracha. Top with cilantro and serve over rice with your favorite side. Enjoy!
Notes
Calories Per Serving: 560 kcal
Nutritional information is only an estimate. The accuracy of the nutritional information for any recipe on this site is not guaranteed.