Creamy sausage and mushroom soup. Italian sausage and shiitake mushroom soup with chickpeas and thick noodles, made ultra creamy with mild cream cheese. A most comforting bowl of soup, ready in a fraction of time, what's not to like? It's super tasty with a rich, thickened broth that's flavor packed. Oh, and you'll definitely want some crusty bread to mop up some of that delicious broth.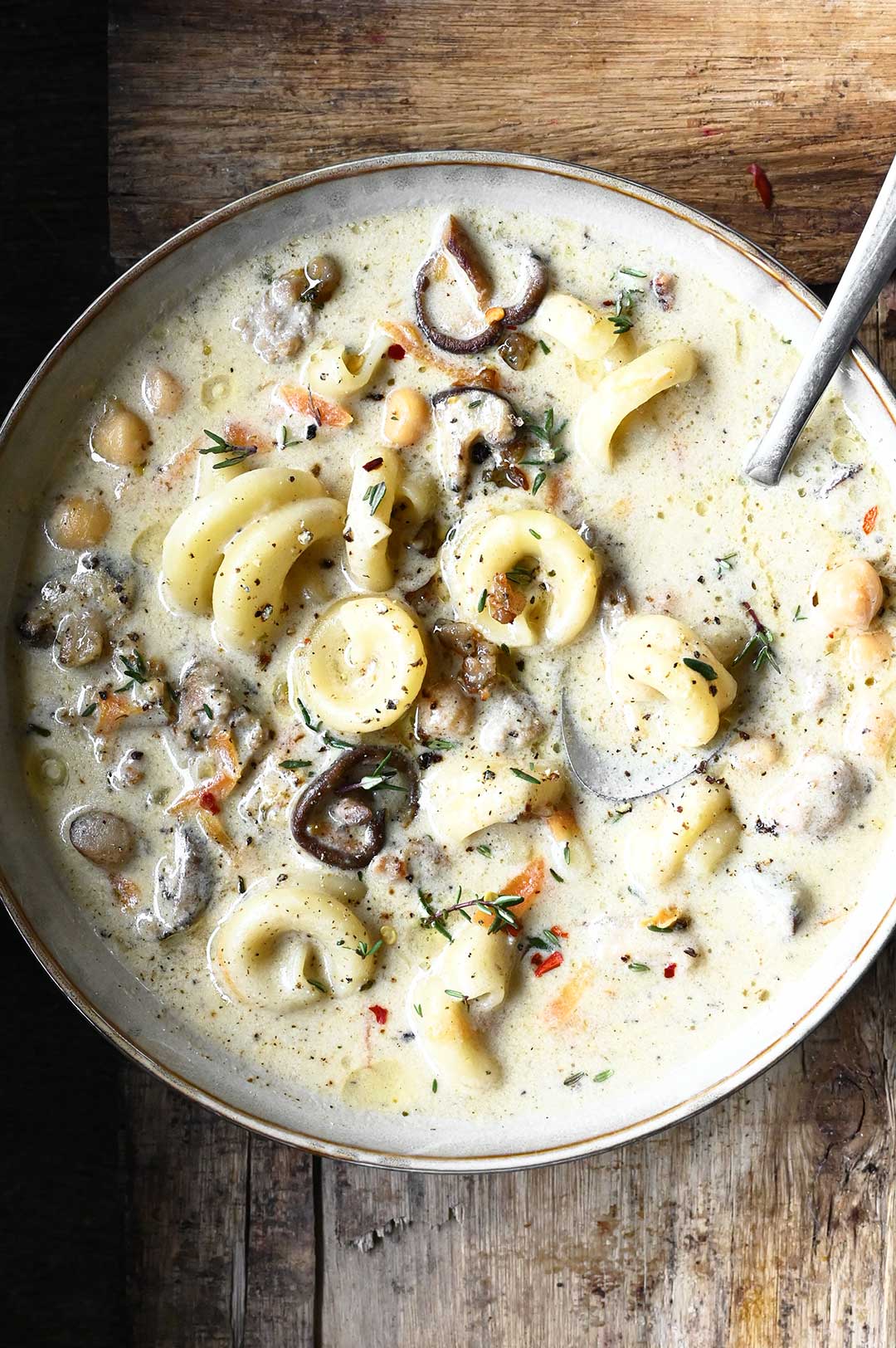 This is a great meal idea if you are looking for a super filling and comforting soup recipe. It's easy to make, comes together really quickly, and the flavor is just perfect.
The contrast of the creamy base alongside the tender bites of mushroom pieces, soft chickpeas and chunky bits of sausage might surprise you. Full flavored with garlic, onion and herbs, subtle enough to shine through. You are minutes away from a satisfying bowl of creamy goodness.
Let me guide you through the recipe with this step-by-step VIDEO.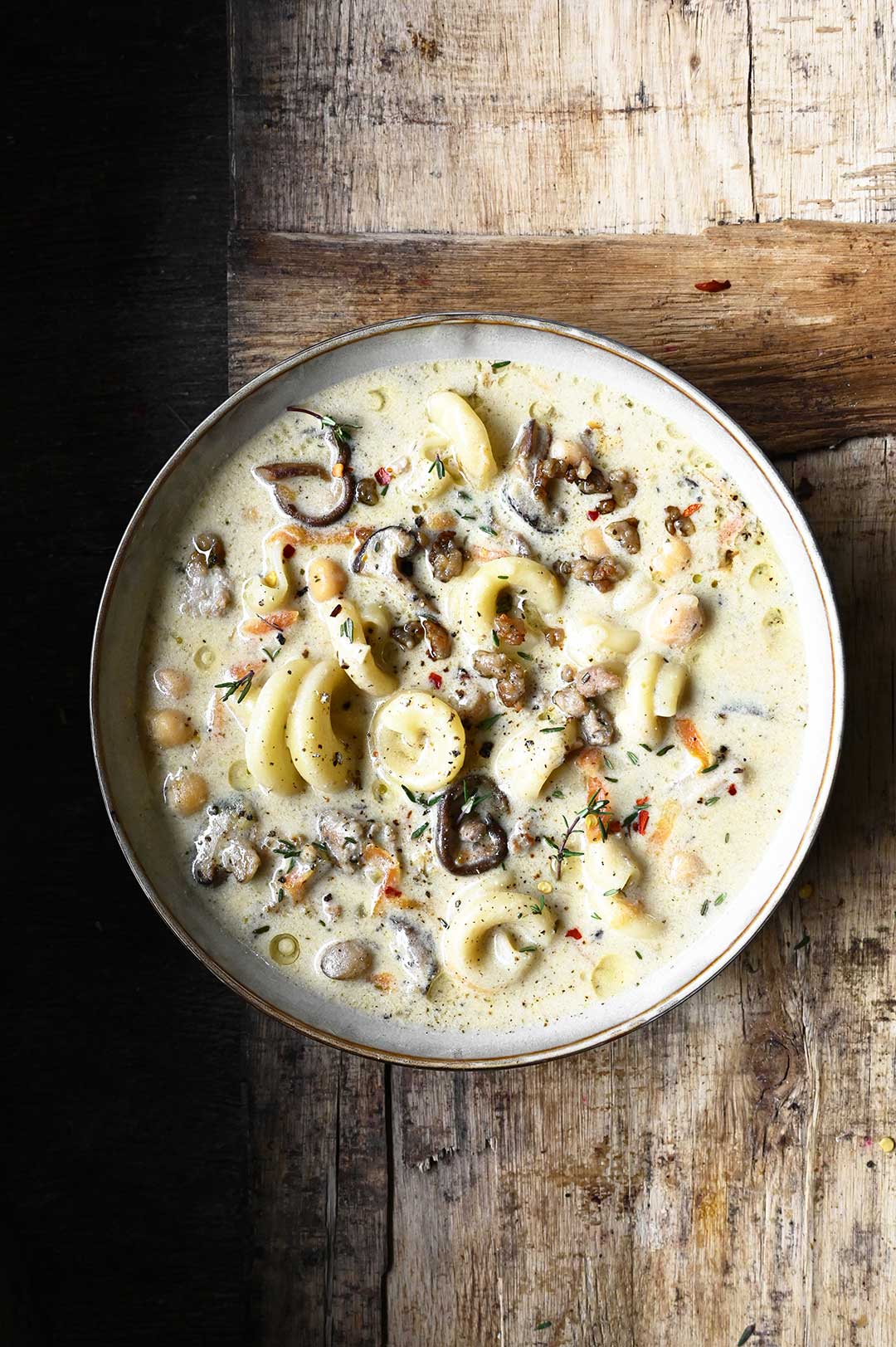 RECIPE NOTES
This is a super versatile recipe!
it's extra-hearty due to the addition of Italian sausage, but the mushrooms are meaty enough on their own to leave out the sausage if you'd like
you can mix it up a little, and use cremini mushrooms and brown button mushrooms together with shiitakes
red pepper flakes give the soup its spiciness, to turn up the heat, use hot Italian sausage instead of mild
and also this, I highly recommend on cooking the pasta separately instead of right in the soup. Pasta will soak up an incredible amount of broth while it cooks, and even more during storage. If you cook it separately, you can spoon it right into serving bowls and store any leftovers in separate containers
instead of short pasta noodles, use rice, orzo, gnocchi, tortellini or add some potatoes
add more veggies! like spinach, zucchini, kale, cannellini beans
serve with some crusty bread to make it a weeknight meal, or, if you're really hungry, a grilled cheese sandwich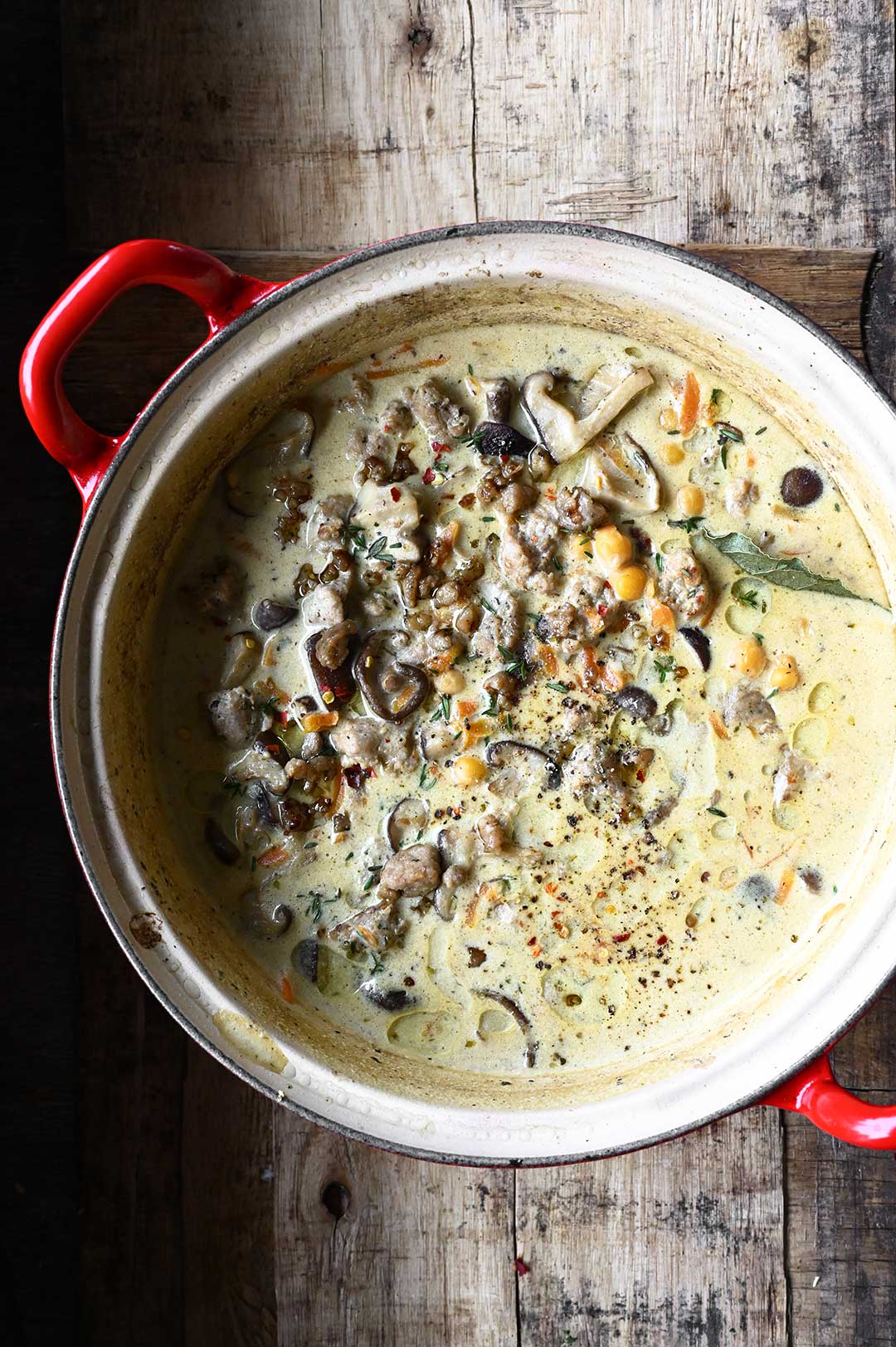 Try These Next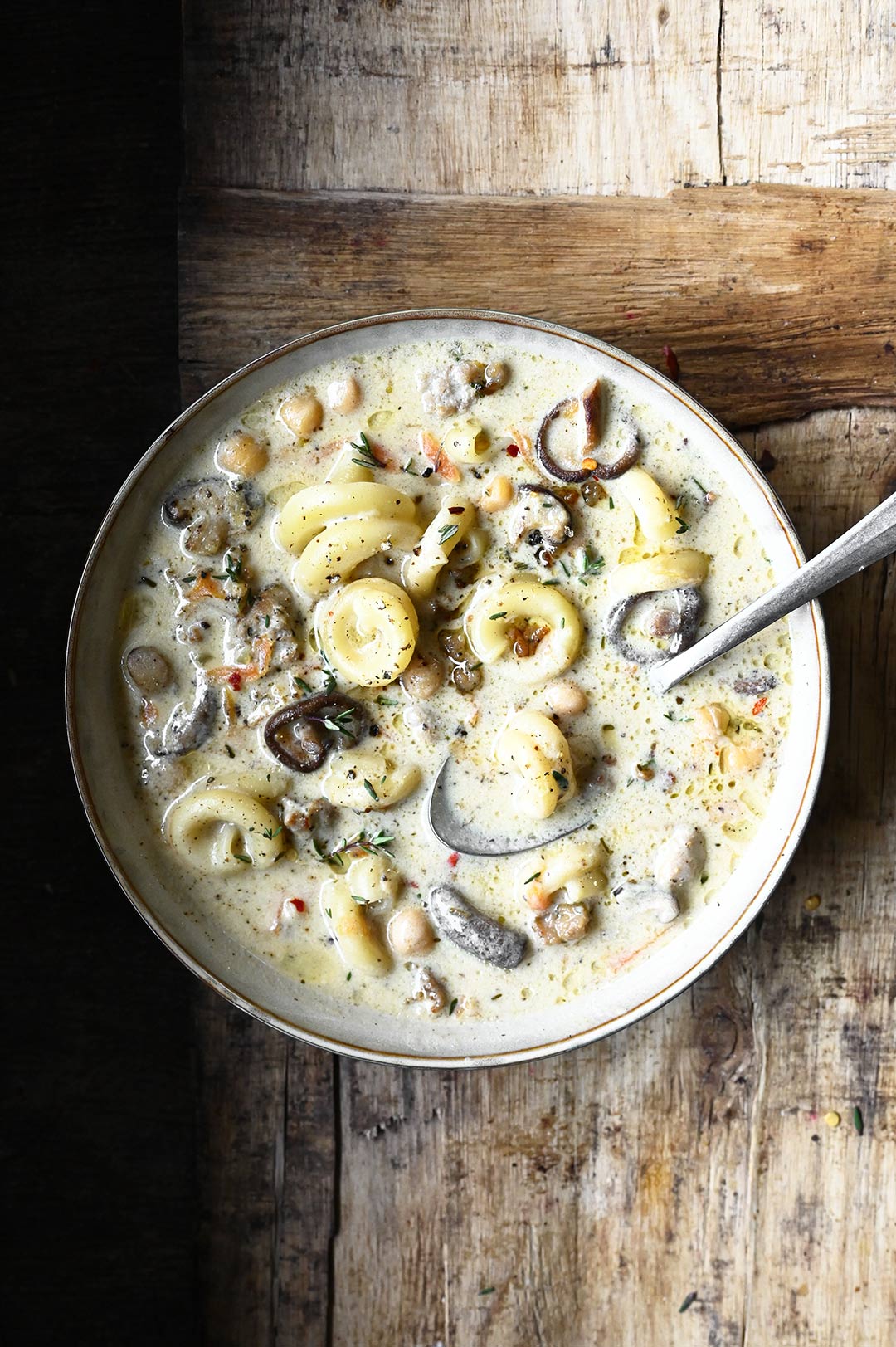 Recipe Video
Yield: serves 4
Creamy Sausage and Mushroom Soup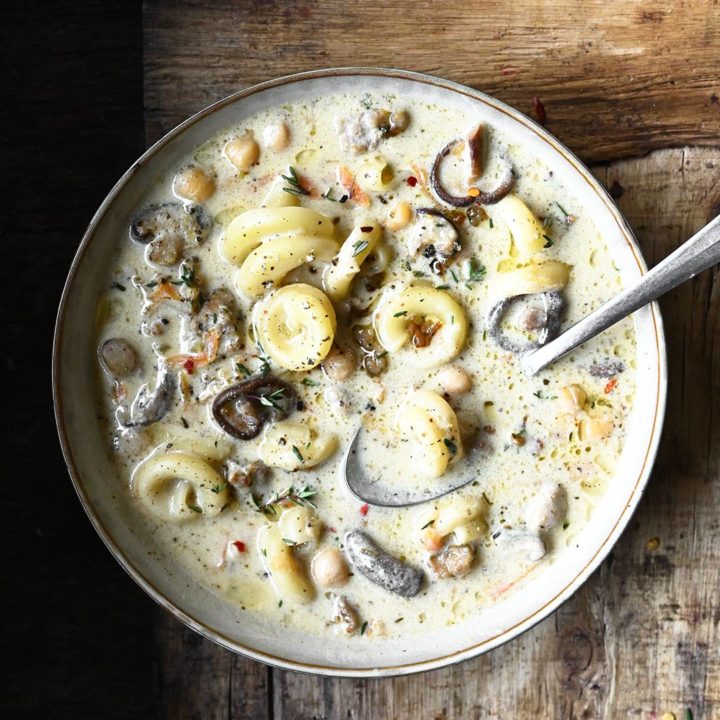 Prep Time 10 minutes

Cook Time 25 minutes

Total Time 35 minutes
Ingredients
450 g/1 pound mild or hot Italian sausage, casings removed
250 g/9 oz shiitake mushrooms, cremini or brown button mushrooms
150 g/5.5 oz cream cheese, I used Boursin
2 medium carrots, grated
1 can (400 g/15 oz) chickpeas, drained
3 tbsp olive oil
1 small onion, finely chopped
4 garlic cloves, minced
1 L/4 cups chicken broth
250 ml/1 cup whole milk
2 tbsp flour
1 tbsp lemon juice
spices: 1 tsp each: dried oregano, dried sage, dried thyme, black pepper
1/2 tsp crushed chili pepper flakes, more for serving
1 tbsp low sodium soy sauce
1 bay leaf
150 g/5.5 oz pasta noodles, I used vesuvio
fresh thyme, for serving (optional)
Instructions
Get all the prep done before you start cooking: mince the garlic, finely chop the onion, grate the carrots and tear the shiitakes into smaller pieces. Remove the casings from your sausage.
Heat 2 tbsp olive oil in a large pot over medium. Add sausage, break up the meat into small pieces with a wooden spoon, and cook until browned and no longer pink, 5 minutes. Remove from pot.
Add shiitake mushrooms to the same pot. Cook until they start to release some moisture, about 3-5 minutes. Add the remaining olive oil and cook until they start to brown. Add garlic and onion, cook until fragrant, about 2 minutes. Stir in spices and flour. Pour in chicken broth, stir the brown bits from the bottom of the pot with a wooden spoon. Bring to a boil, then add soy sauce, carrots and bay leaf. Simmer for 5 minutes.
Meanwhile, bring a large pot of salted water to a boil. Cook the pasta noodles until al dente, drain.
Add sausage, chickpeas and milk to the broth. Bring to a boil and simmer for 5 minutes more. Next add cream cheese, stir until combined. Finally, finish off with lemon juice, extra black pepper, chili flakes and fresh thyme.
Divide the noodles into deep bowls and ladle the soup over top. Enjoy!
Notes
Calories Per Serving: 693 kcal
Nutritional information is only an estimate. The accuracy of the nutritional information for any recipe on this site is not guaranteed.


DOWNLOAD PRINTABLE RECIPE PDF