Looking for an easy pasta dish that doesn't skimp on flavor?
This easy 20 min pasta with roasted red peppers and sun dried tomatoes should be on your weekly menu. It's almost not worth talking about how creamy and tasty this combo is, because, it's essentially fail proof. Roasted red peppers blended with tomatoes, milk, some pasta cooking water and Parmesan then tossed with pasta. Boom, dinner is done!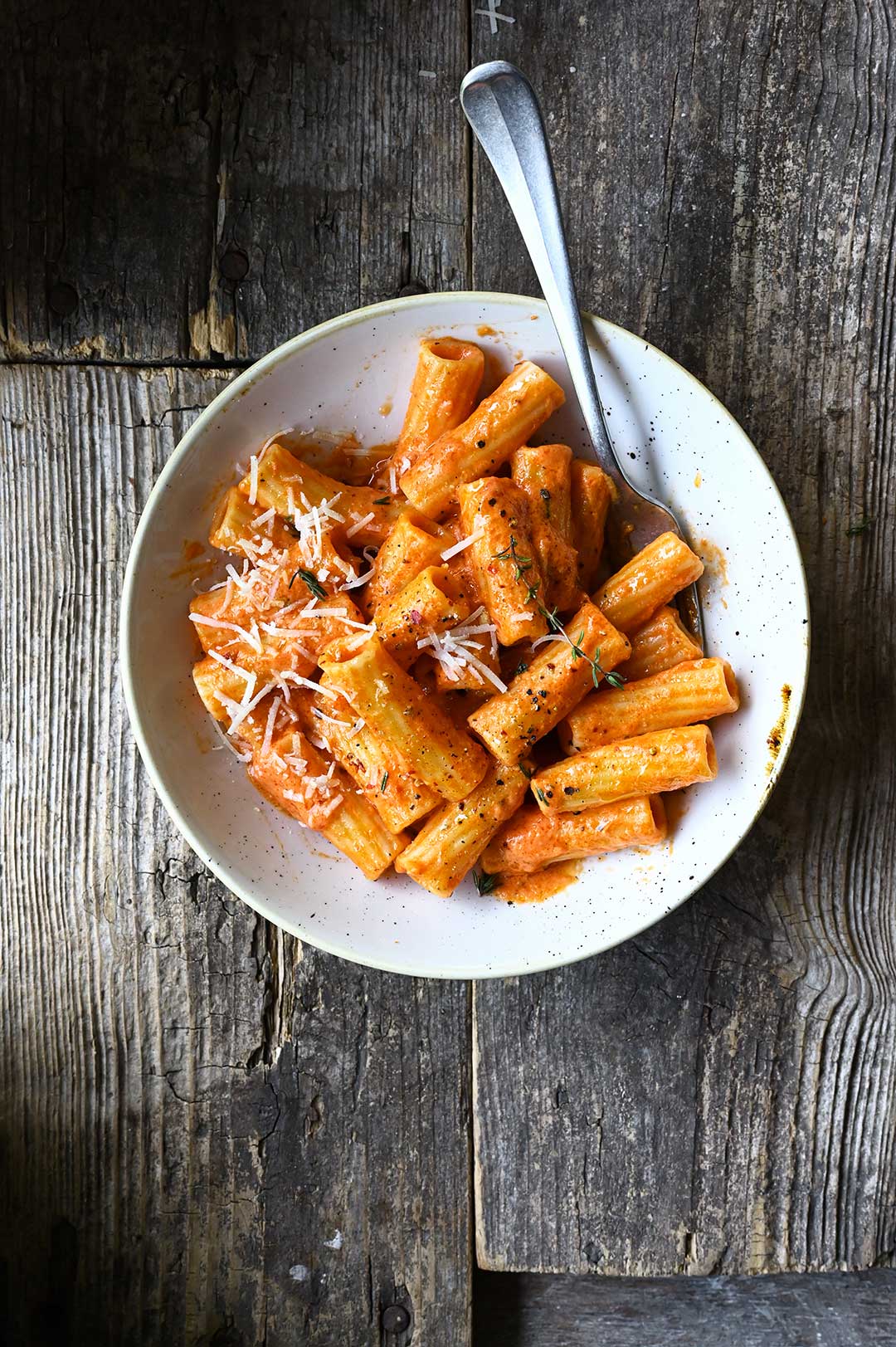 We eat pasta twice a week usually. And this pasta is a variation on one that I do quite often. It's creamy without seeming overly heavy. I like to keep fresh veggies, like broccoli, tomatoes or bell peppers in my refrigerator for all sorts of recipe emergencies.
This recipe stands right at the intersection of quick and easy dishes that makes me grab the peppers and roast them. They're perfect in and on so many things, but pasta is their ultimate final destination for me.
The spring weather has been all over the place here, but lately it's been slightly cooler in the evening, so bring on the creamy pasta. And this one is a winner, crowd-pleaser and a total-shocker-delicious dish. So no complaints over here, we've already reached a solid YUM status. Hope you love this one!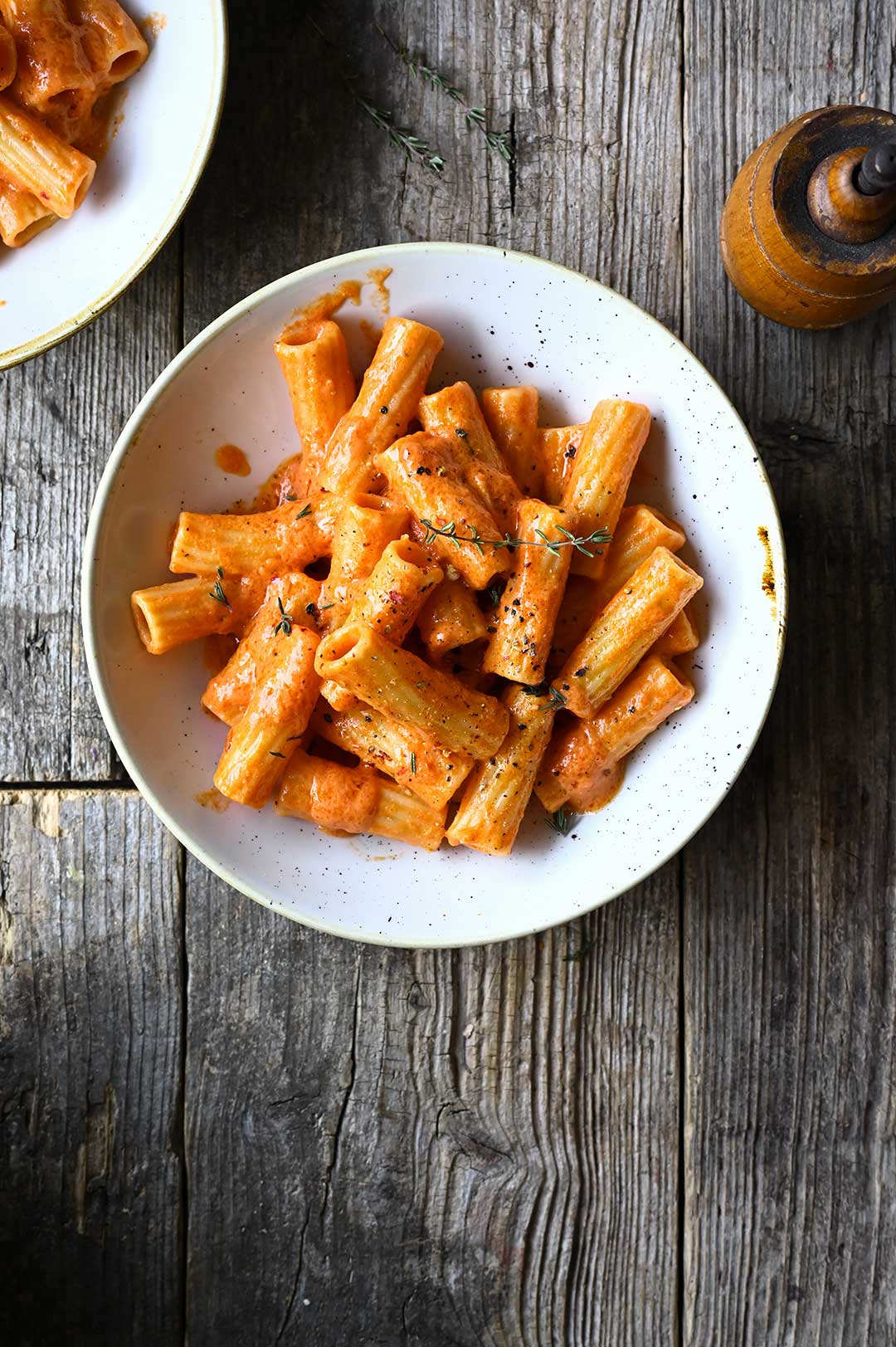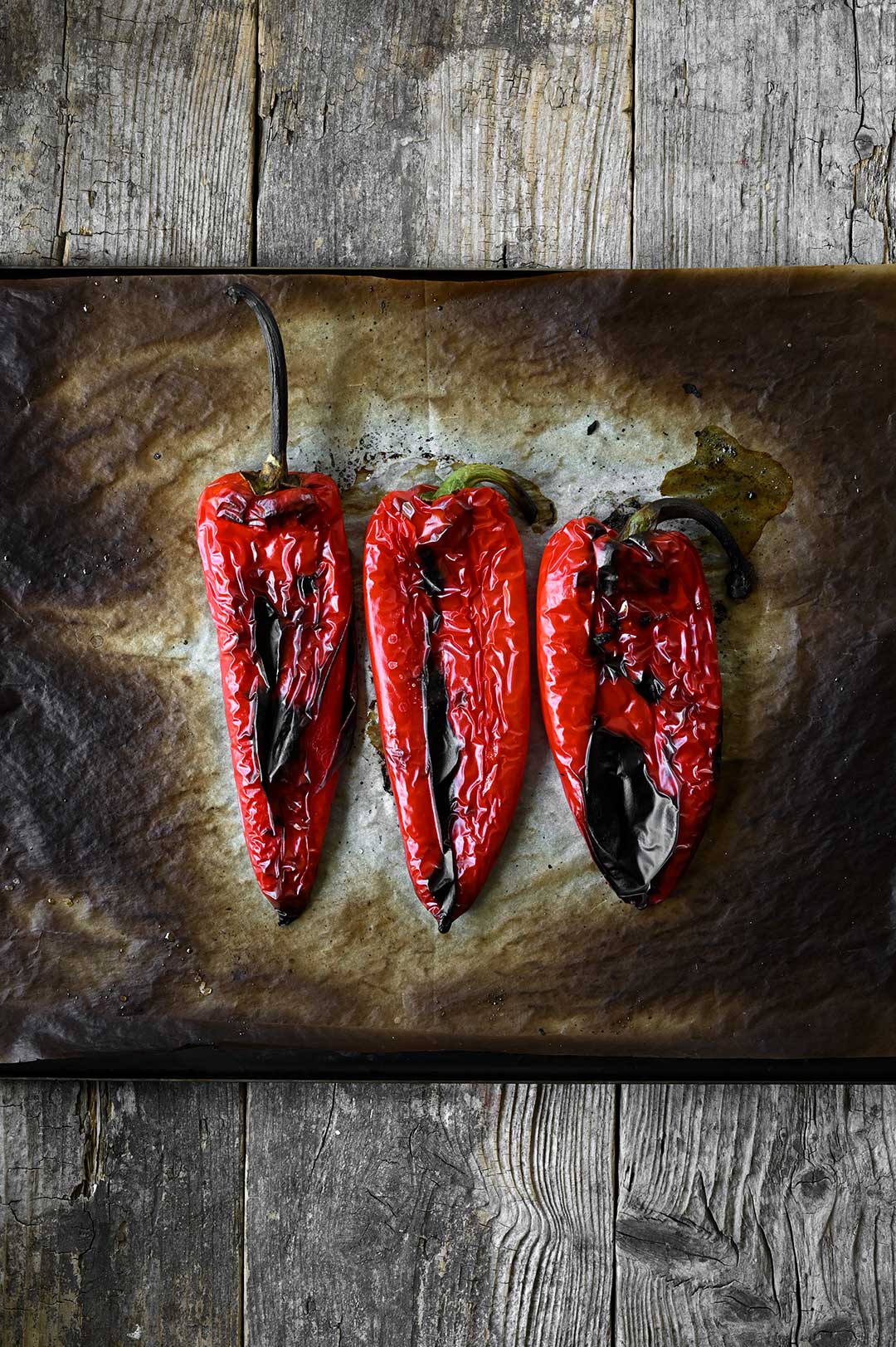 You need
200 g (7 oz) pasta
3 red bell peppers or 1 jar (280 g/ 10 oz) roasted red bell peppers
100 g (3.5 oz) sun dried tomatoes, oil drained but reserved
50 g (1.8 oz) grated parmesan
200 ml (3/4 cup) milk
1 shallot, finely chopped
2 cloves garlic, finely chopped
2 tbsp olive oil
1 tsp lemon juice
1 tbsp tomato paste
sea salt + black pepper
1/2 tsp crushed dried chili
+
thyme + grated parmesan, for sprinkling
How to
Place the bell peppers on a baking sheet lined with parchment paper. Turn on your broiler to 250°C and place the peppers on the highest rack, close to the heating element. Roast for about 5 minutes or until black spots appear, flip the peppers and continue to roast until all sides have been charred. Place bell peppers in a plastic bag. Seal and let steam for about 5 minutes. Pull off the skins and remove the seeds.
In the meantime. Bring a large pot of salted water to a boil. Boil the pasta until al dente, reserve 1 cup of the pasta cooking water and then drain.
In a medium pot, heat the oil and add garlic and shallot. Cook over low heat until soft, for about 5 minutes. Stir in the roasted bell peppers, sun dried tomatoes, lemon juice, tomato paste and Parmesan. Pour milk, 50 ml oil from the sun dried tomatoes and 150 ml cooking water, season with salt and pepper. Bring to a boil. Turn off the heat and mix with an immersion blender until smooth (or use a blender or a food processor). Thin the sauce with more cooking water if desired.
Toss with pasta. Adjust chili, salt and black pepper to your taste and serve immediately with Parmesan and thyme. Enjoy!