This is a simple but delicious dish that mixes pesto with Alfredo sauce. When you combine these two together, magic happens. The result is lighter, but nonetheless packed with nutty, herby flavors.
The addition of crispy seared chicken elevates this dish into something utterly satisfying.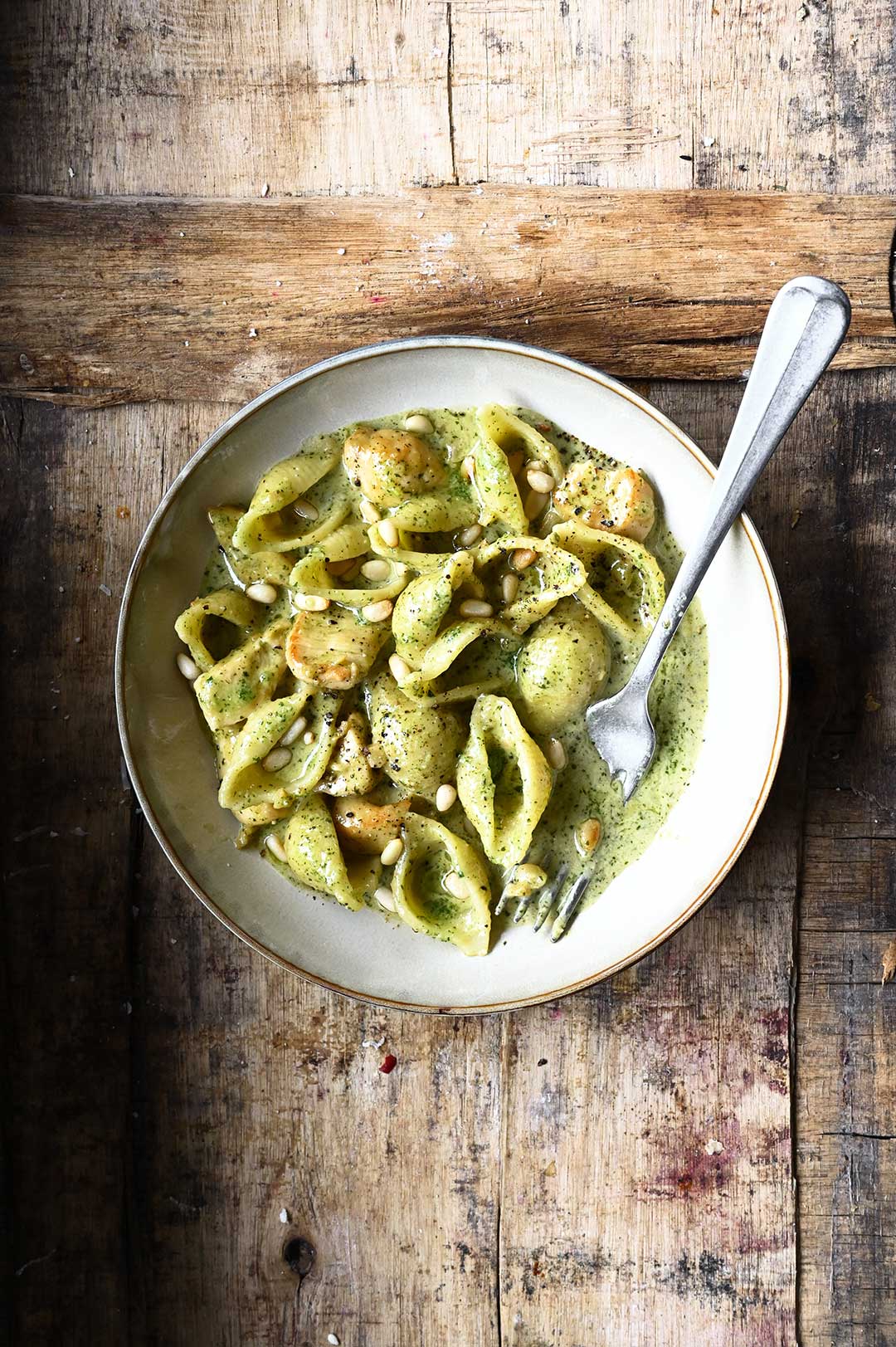 Classic basil pesto, with its mix of pine nuts, Parmesan and garlicky flavor is beyond doubt one of the greatest sauces. But creamy pesto could be even better. It turns this pasta dish into something a little richer and more satisfying, perfect for serving with shells or orecchiette. These pasta shapes are capable to catch so much sauce. And this sauce is everything!
Let me guide you through the recipe with this step-by-step VIDEO.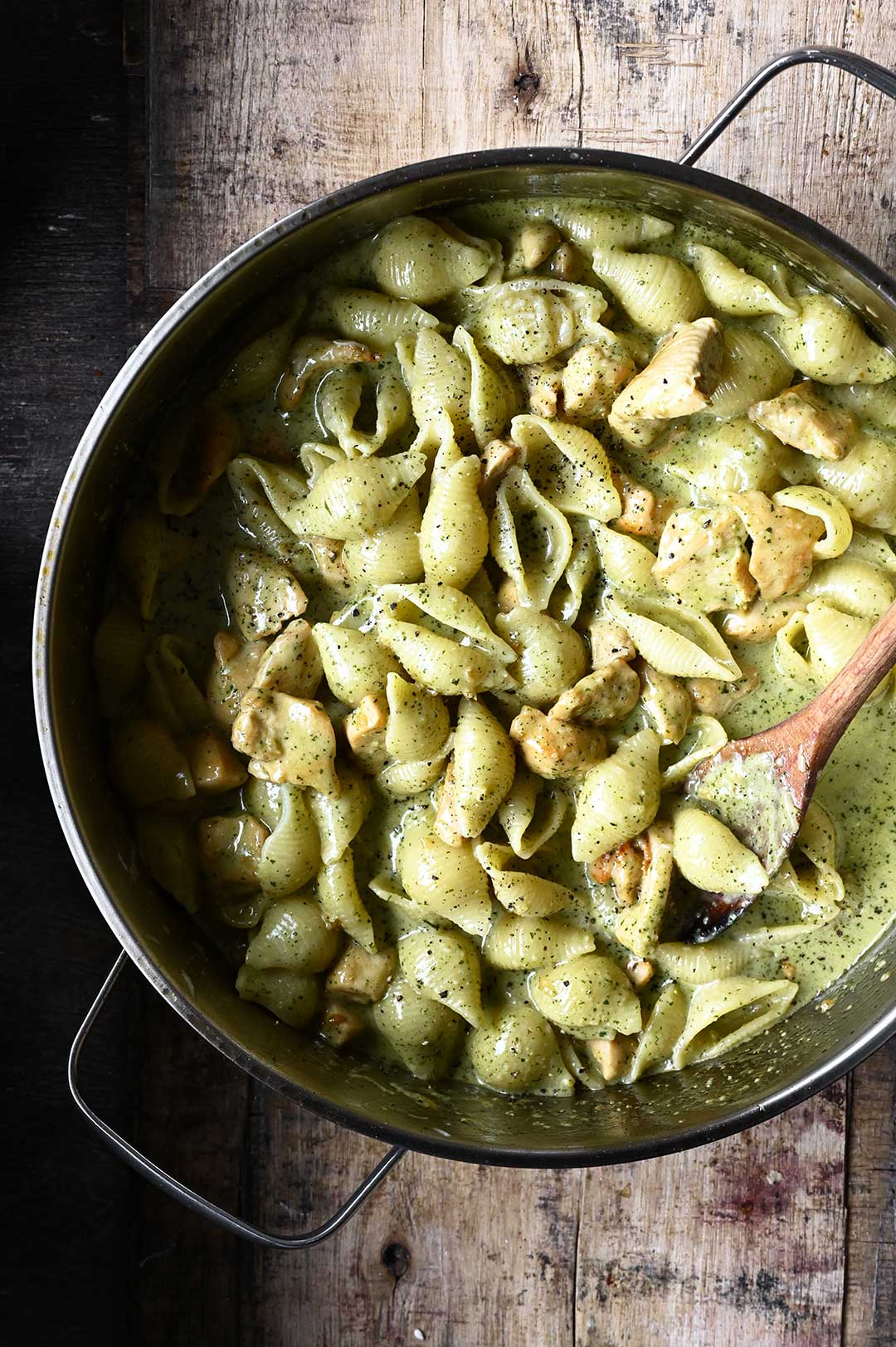 RECIPE NOTES
This recipe works with a homemade pesto or your favorite store-bought pesto.
You can swap heavy cream for half-and-half.
Other Delicious Recipes to Try:
Black Pepper Chicken Alfredo Pasta
Penne with smoked salmon and mascarpone
Eggplant and sun dried tomato pasta with ricotta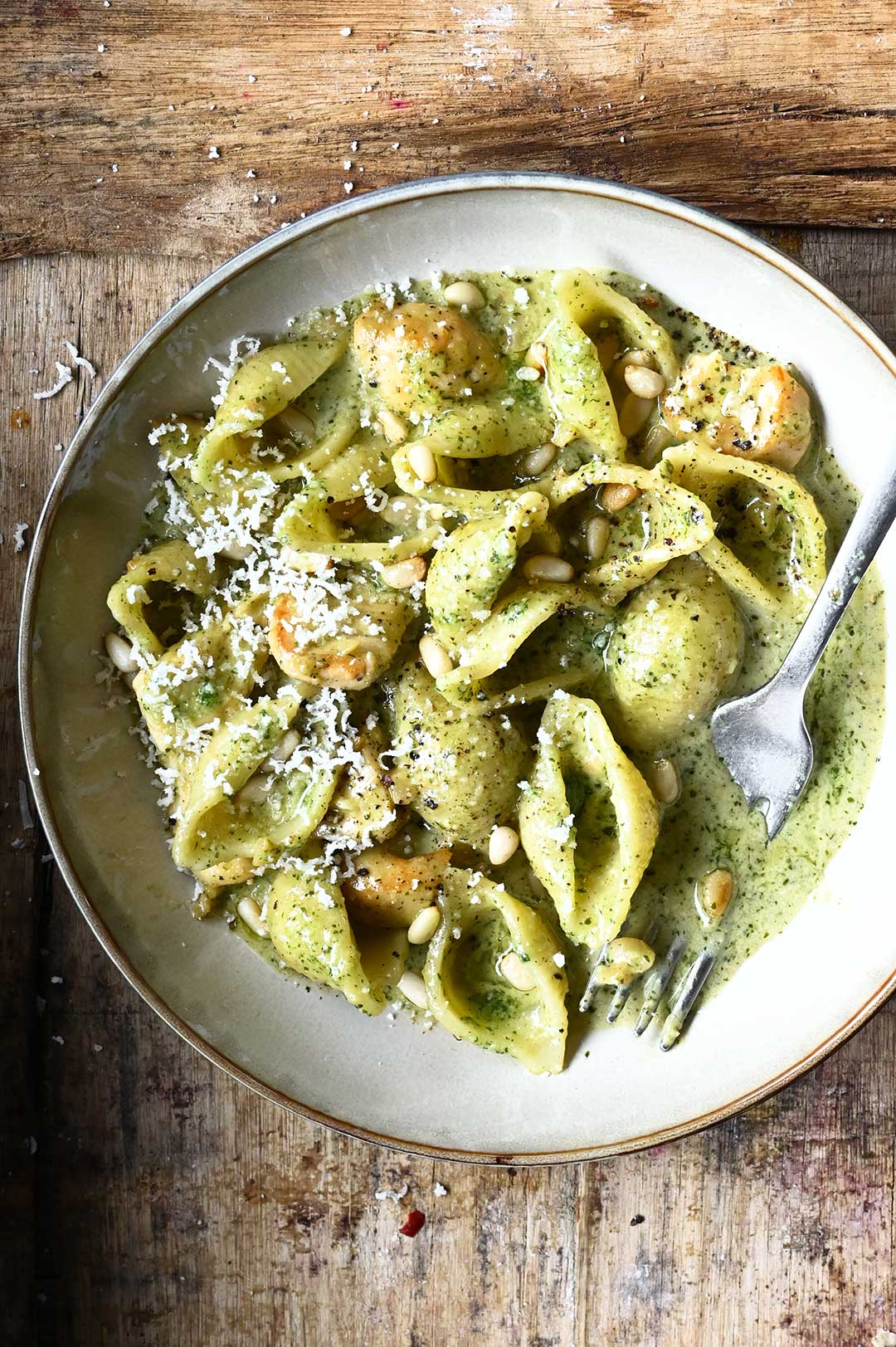 You need
150 g (5.3 oz) pasta, shells or orecchiette
2 boneless, skinless chicken breasts, thinly sliced
3 tbsp olive oil
30 g (2 tbsp) unsalted butter
4 garlic cloves, minced
200 ml (3/4 cup) heavy cream, or half-and-half
40 g (1/3 cup) grated Parmesan
salt + black pepper
toasted pine nuts, for serving
grated Parmesan, for serving
pesto
40 g (1.4 oz) basil
40 g (1.4 oz) toasted pine nuts
80 ml (1/3 cup) olive oil
30 g (1/4 cup) grated Parmesan
salt + black pepper
1 tbsp lemon juice
How to
Let me guide you through the recipe with this step-by-step VIDEO.

Cook the pasta in a large pot of boiling generously salted water, until al dente. Drain, reserving 1/4 cup cooking water.

Make the pesto. Combine the basil, pine nuts, Parmesan, lemon juice, salt and pepper in a food processor or blender. With the machine running, slowly drizzle in the olive oil. Continue blending until the pesto is well blended but still has some texture.

Add olive oil and half of the butter to a deep skillet or pan, melt over medium heat. Add the chicken, season with salt and pepper, cook until the chicken is browned and crispy on the outside, about 5 minutes. Remove from skillet.

Add the remaining butter to the skillet. Add garlic, sauté for 2 minutes. Pour cream and bring to a boil. Stir to dissolve any browned bits from the bottom of the skillet. Add pesto and cooked chicken. Season with extra black pepper. Toss in pasta and add Parmesan, stir until the cheese is melted. Add a splash of cooking water if needed. Remove the pasta from heat.

Serve with grated Parmesan and toasted pine nuts. Enjoy!

//= __('Print recipe (no photos)', 'servingdumplings' );?> //= __('Print recipe (with photos)', 'servingdumplings' );?>