Creamy orzo with charred scallions. So simple, so tasty! This rich orzo is made super smooth with mascarpone, then brightened with charred scallions and crunchy hazelnuts. It's slightly sweet, salty, and wonderfully textured. A crowd-pleasing, comforting dish that can be prepared in just 30 minutes.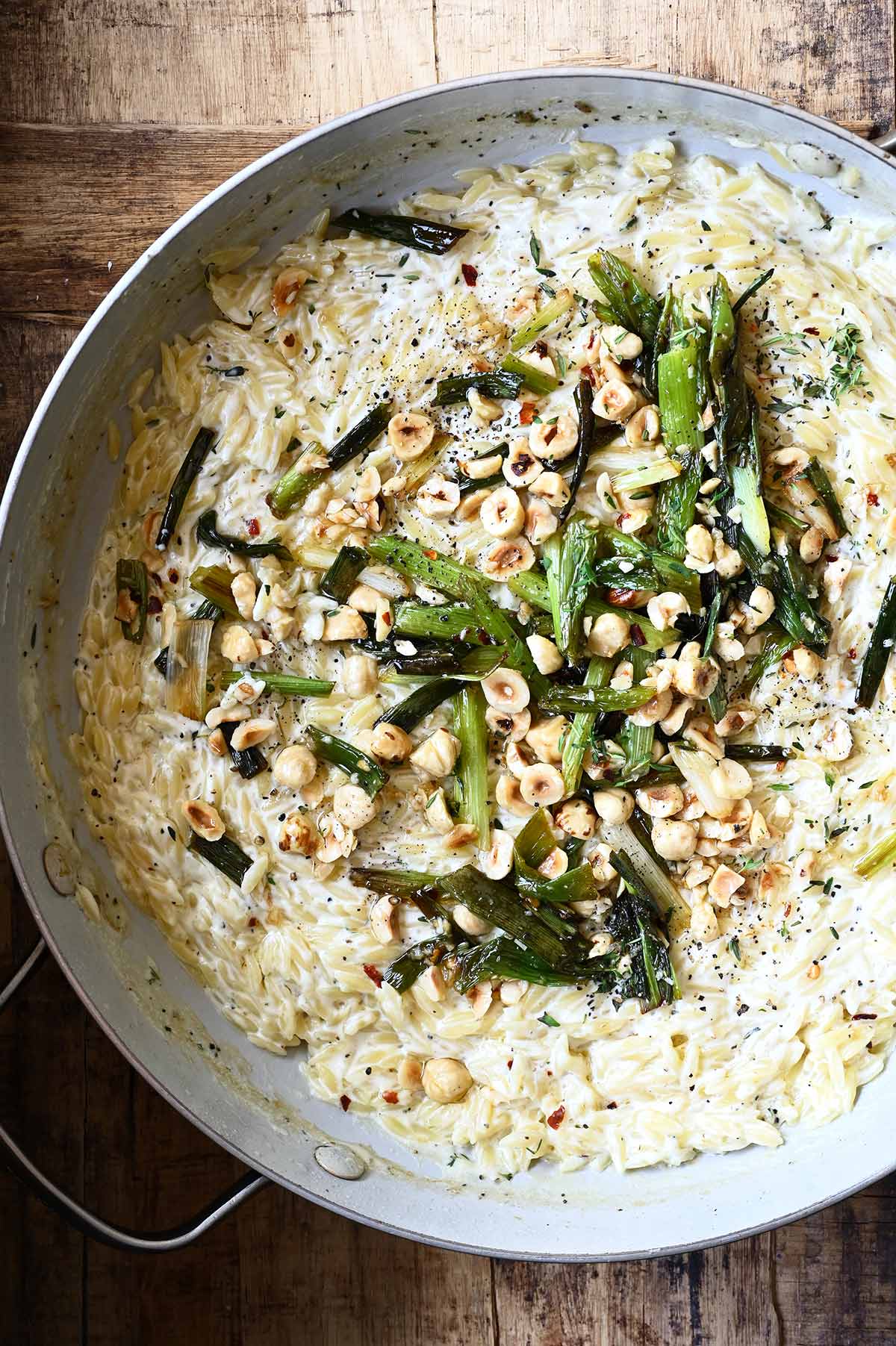 If you want to treat your family and friends, then you should definitely try this recipe. Sublime smooth orzo and charred scallions combined with toasted hazelnuts, garlic, tart lemon juice and maple syrup. Trust me, it's like a hug in a bowl.
Imagine a creamy garlic-kissed orzo for a fast and hearty weeknight dinner. The orzo cooks in the same skillet where we first char the scallions for maximum flavor and so that dinner can be on the table in under 30 minutes… leaving you with an unfussy one-pot meal. It's slightly sweet-salty and savory at the same time, with just a touch of creaminess from the mascarpone and a crunch from the toasted hazelnuts.
To create this dish's creamy texture we make good use of the starch that's released by the orzo, much like it does in risotto. The one thing that's left to do is swirl mascarpone at the end, top with hazelnuts and the charred scallions.
Let me guide you through the recipe with this step-by-step VIDEO.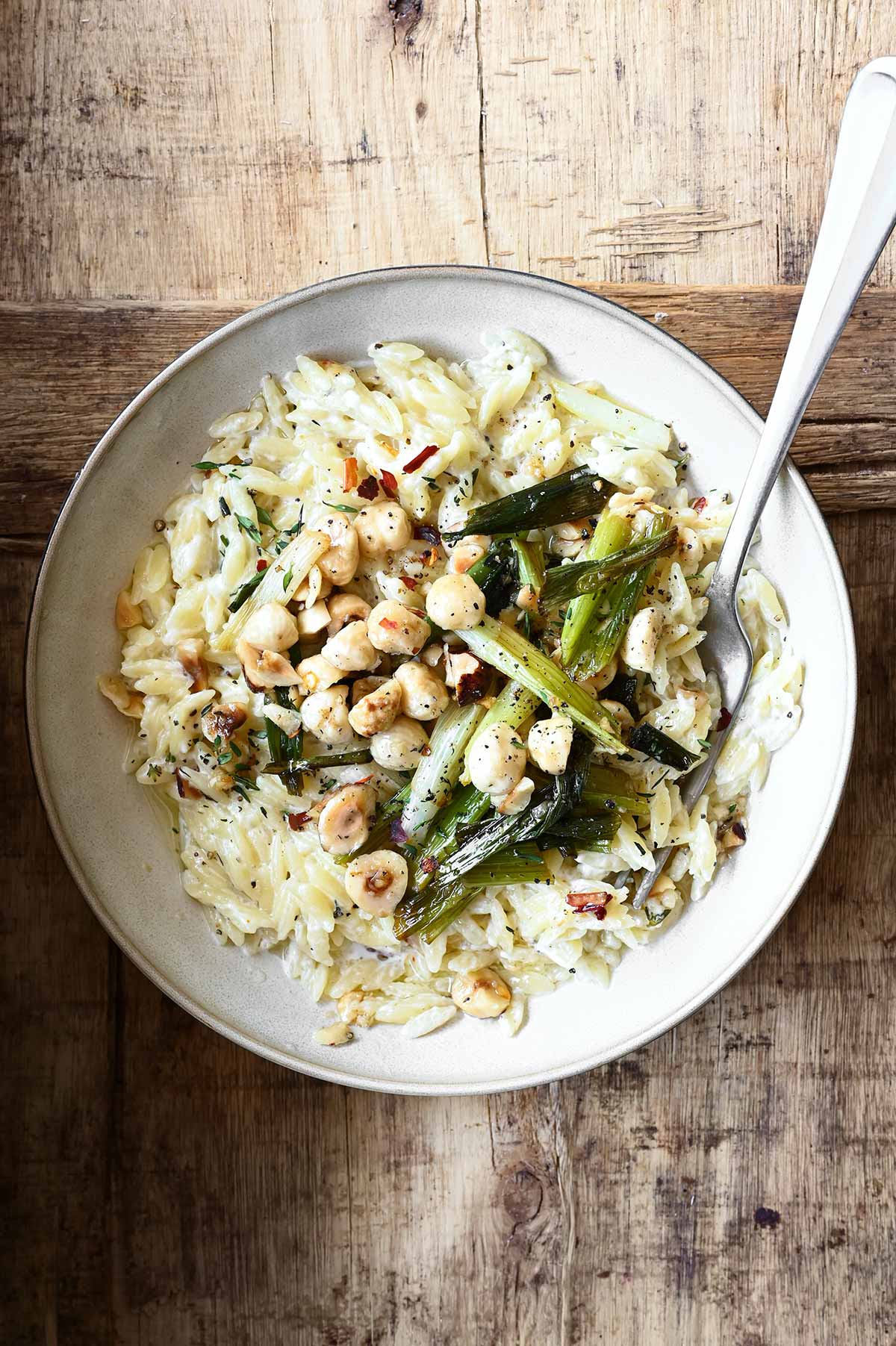 What's About the Charred Scallions?
The taste and texture of the charred scallions adds so much flavor to this dish! The hot skillet makes the scallions tender and sweet with a soft center, so make sure your oil is hot enough before the scallions hit the skillet so they can get a nice char. They create the perfect, mellow oniony flavor that is so delicious on top of the smooth orzo.
That deep char gives off a lovely smokiness and when mixed with toasted hazelnuts, a little salt, fresh garlic, maple syrup and lemon juice, the scallions become simply irresistible.
The charred scallions also pair well with chicken, pork chops or steak.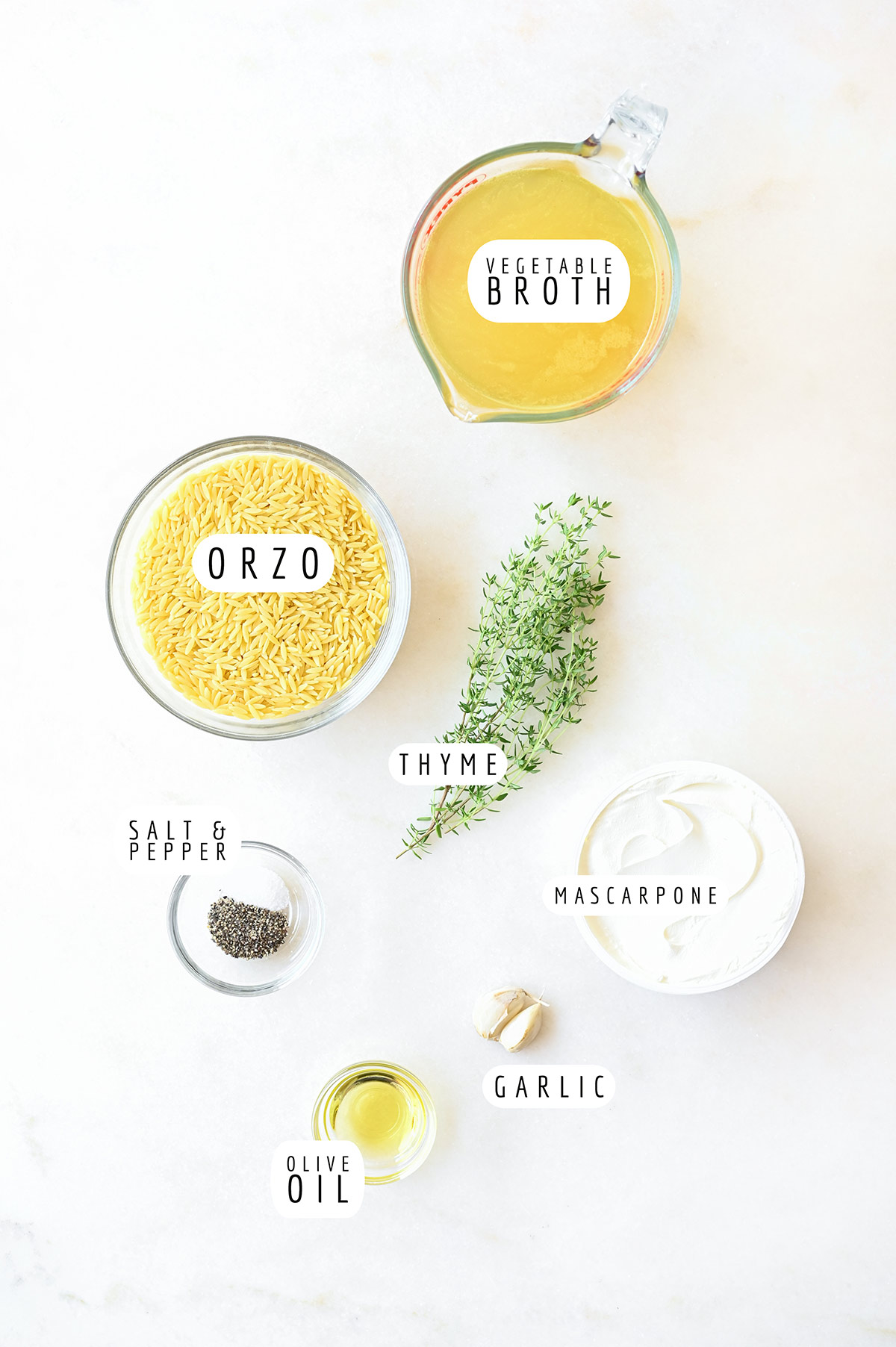 Ingredients, Tips & Substitutions
Smooth Orzo
Orzo: If you can't find orzo, try to go for a pasta variety that's as small as possible or white rice.
Mascarpone: For this recipe's creamy element. We're using mascarpone cheese for its soft, light texture and mild, milky flavor. But this recipe will work just as well with whole-milk ricotta or heavy cream mixed with cream cheese or Parmesan, so use what you've got on hand.
Oil: To cook the garlic.
Garlic: Essential flavor base.
Vegetable Broth: You can also use chicken broth.
Seasoning: Salt and black pepper.
Thyme: Adds flavor and depth with its fresh earthy flavor. You can swap it for oregano.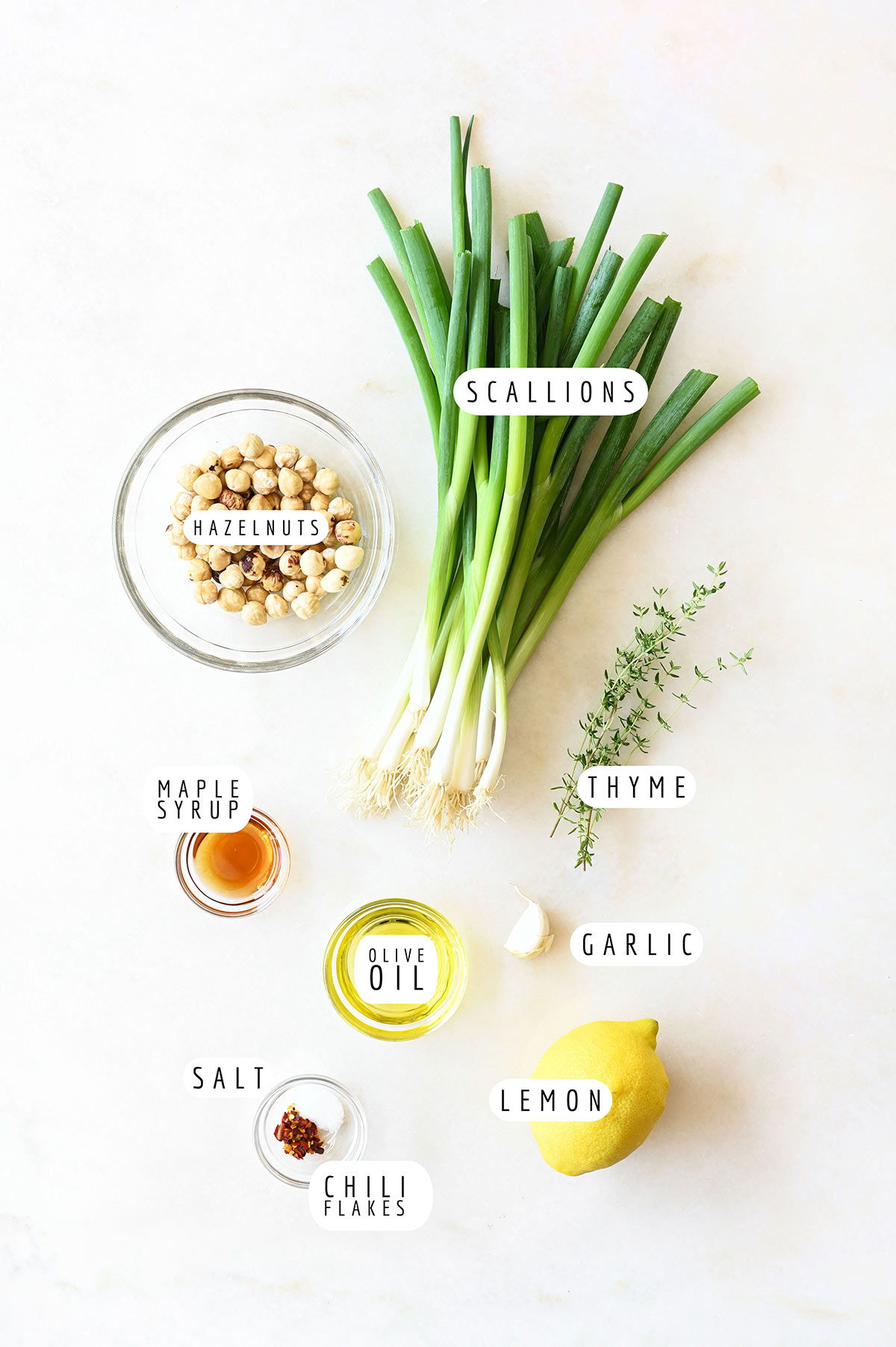 Charred Scallions
Scallions: Use as many scallions as you want. Some people will like just 2 tablespoons alongside the orzo, while others will want a plate piled high with charred scallions. Only you know your family or guests, but remember, the scallions will simply disappear!
Garlic: Aromatic to lift up the flavor.
Hazelnuts: For texture and a nutty touch. You can substitute them for almonds.
Oil: To fry the scallions.
Seasoning: Salt, chili flakes and fresh thyme.
Lime Juice: To add a brightness.
Maple Syrup: To elevate the flavor of the charred scallions.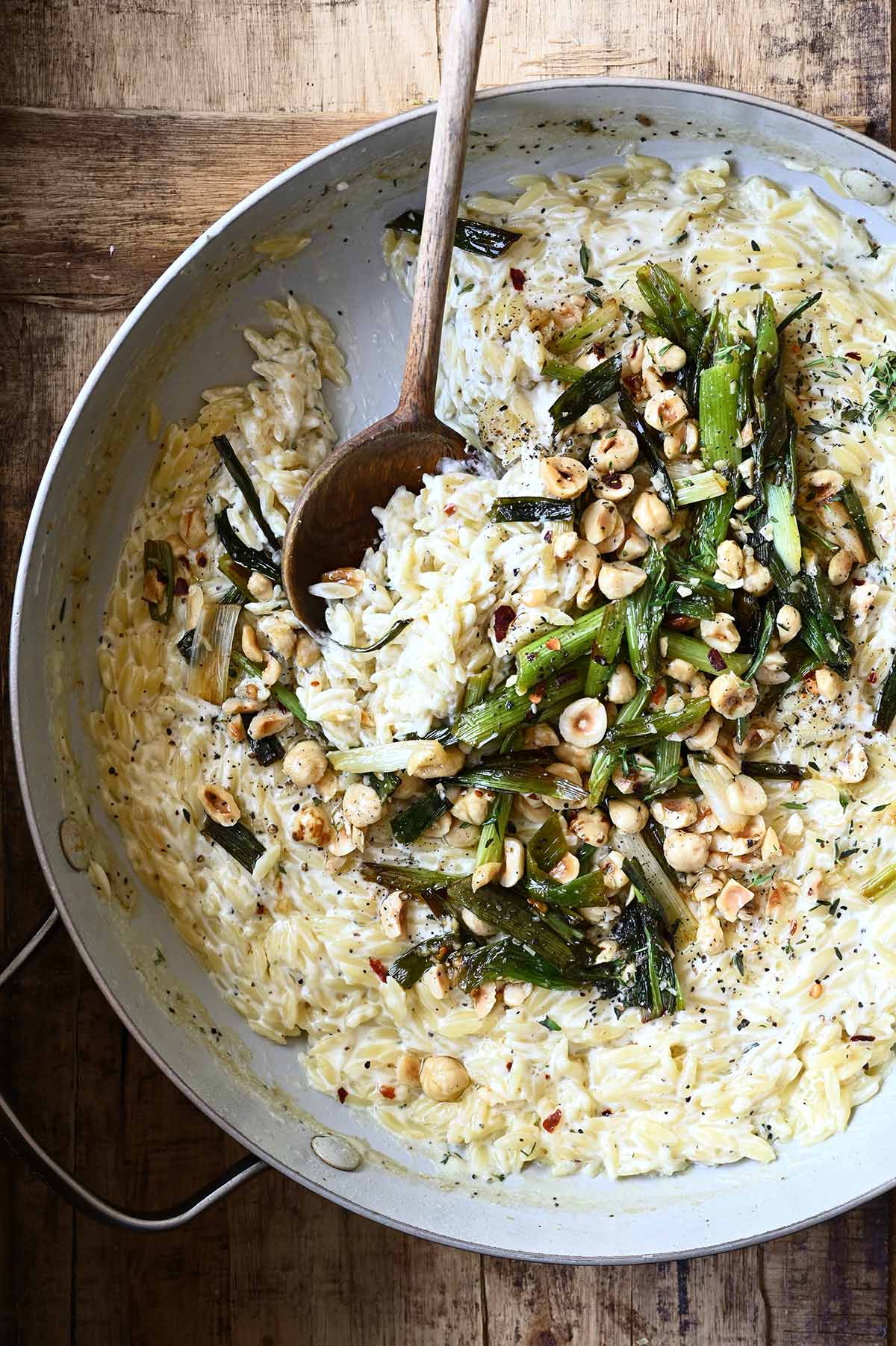 Recipe Notes
Serve as a main dish paired with a leafy salad. Or as a side along chicken, steak or salmon.
Top with crispy bacon bits!
Storage: The leftovers will keep in the refrigerator for up to 3 days.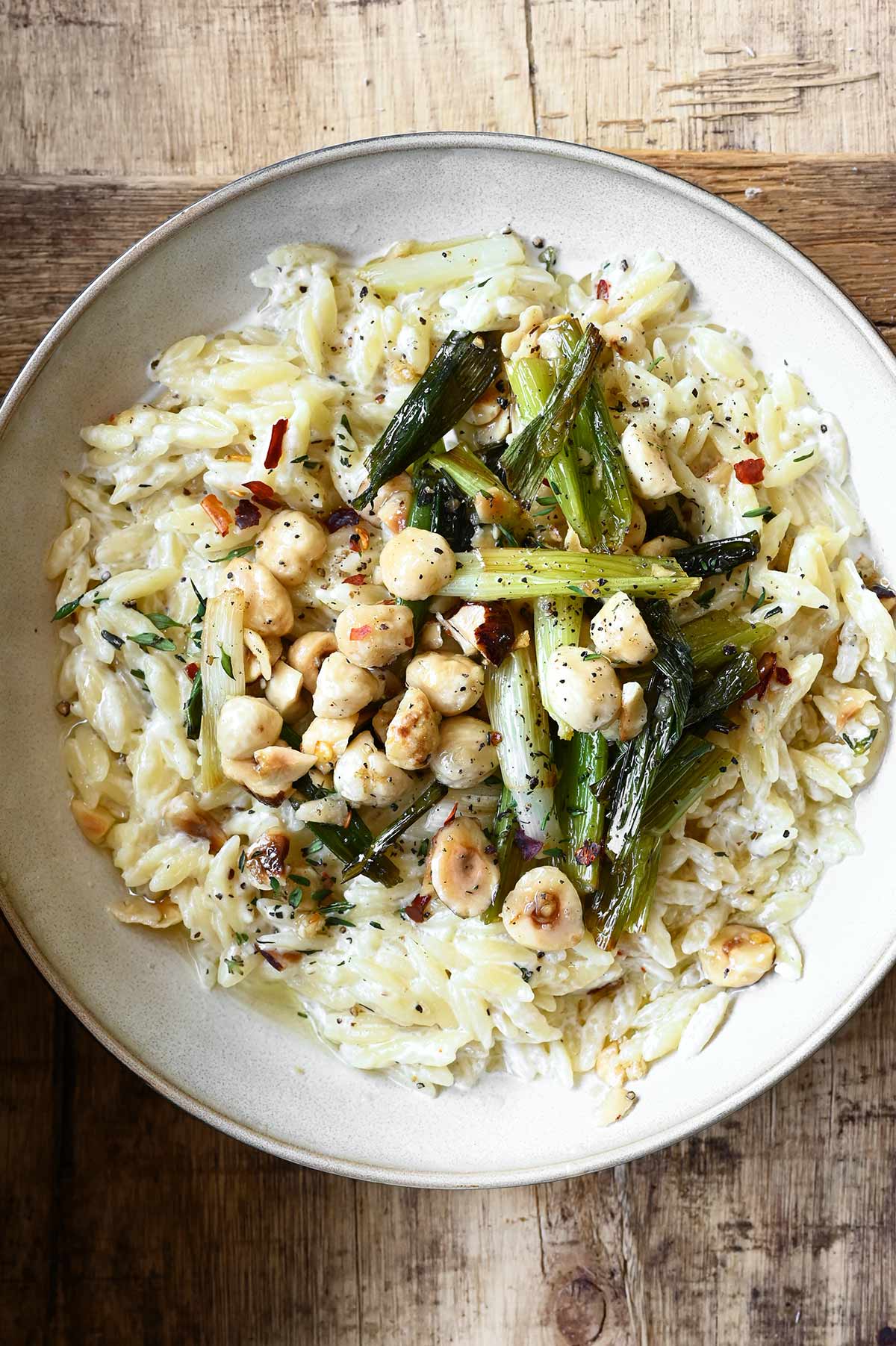 Cooking Video
Yield: serves 4
Creamy Orzo with Charred Scallions
Ingredients
Creamy Orzo
1 tbsp olive oil
2 garlic cloves, minced
1 tbsp chopped thyme leaves, more for serving
1 cup/250 g dry orzo
¼ tsp salt
1 tsp black pepper
2 ½ cups/600 ml vegetable broth
1 cup/250 g mascarpone
Charred Scallions
½ cup roughly chopped hazelnuts
3 tbsp olive oil
12 scallions, cut into large pieces
1 garlic clove, minced
1 tsp maple syrup
¼ tsp each: salt, chili flakes
1 tbsp lemon juice
Instructions
Get your prep done before you start cooking. Roughly chop the hazelnuts, chop the scallions into 1 inch/2,5 cm parts. Chop the thyme leaves and mince the garlic.
Heat a large skillet over high, add hazelnuts and toast until they start to brown. Remove from skillet.
Reduce heat to medium high and add 3 tablespoons oil. Add the scallions and cook while stirring occasionally, until softened and charred, about 5 minutes. Turn off the heat and stir in garlic. Followed by maple syrup, salt, chili flakes and lemon juice. Remove from skillet and combine the scallions with hazelnuts.
In the same skillet, heat 1 tablespoon oil over medium. Add garlic and thyme, cook for 1 minute. Stir in orzo, salt and pepper. Cook for an additional minute. Pour in vegetable broth and bring to a boil. To maintain a simmer, reduce the heat to medium-low. Cook uncovered until almost al dente and most of the liquid is absorbed, about 8 minutes. Stir frequently to keep the orzo from sticking to the bottom of you skillet and to release its starch.
Next, stir in mascarpone and simmer for 2 minutes more.
Finish off with charred scallion-hazelnut mixture. Garnish with fresh thyme and black pepper. Serve!
Notes
Calories Per Serving: 566 kcal
Nutritional information is only an estimate. The accuracy of the nutritional information for any recipe on this site is not guaranteed.

//= __('Print recipe (no photos)', 'servingdumplings' );?> //= __('Print recipe (with photos)', 'servingdumplings' );?>