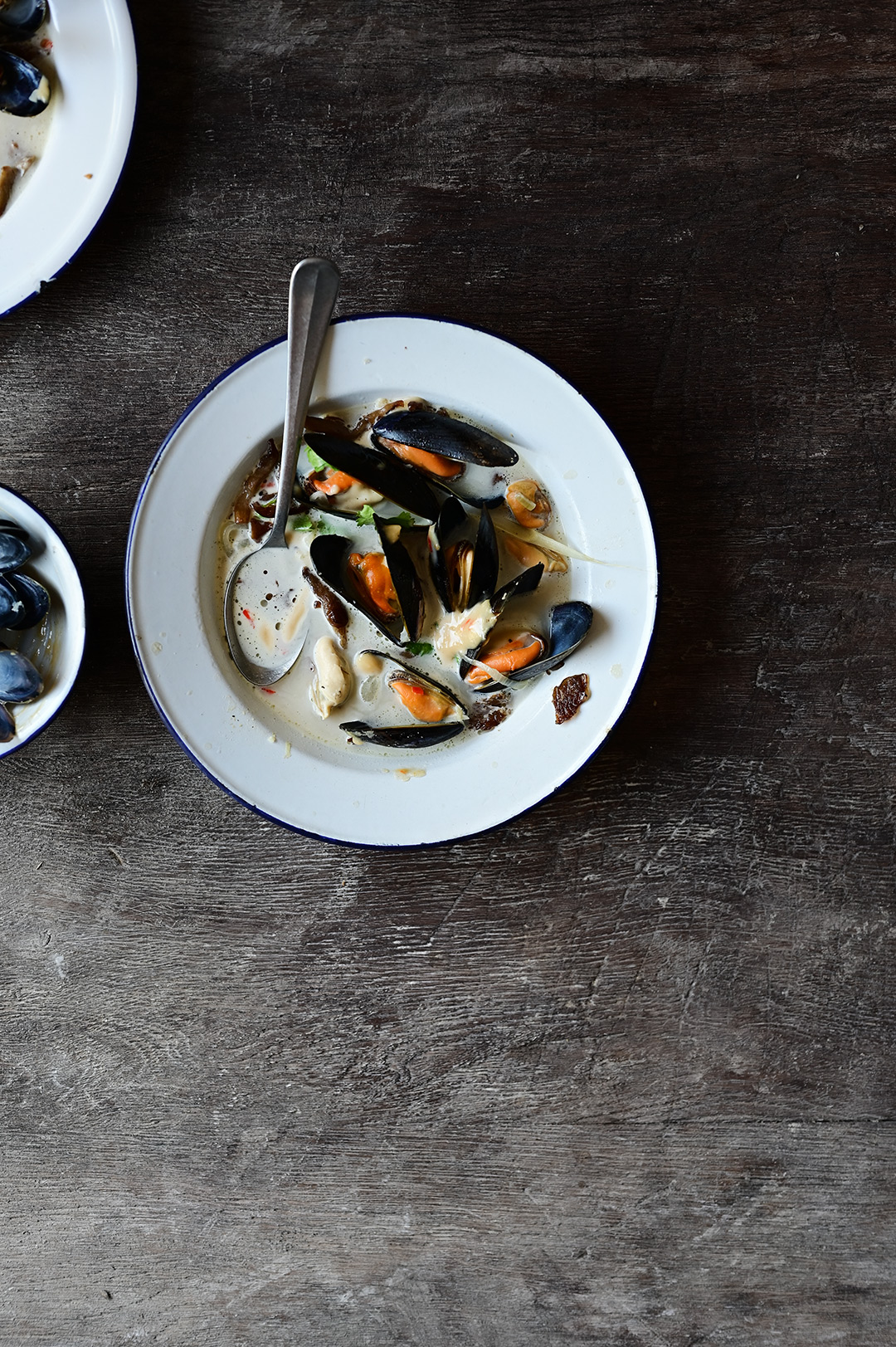 You won't easily forget these plump, juicy mussels with crispy oyster mushrooms in a spicy, creamy broth with garlic, ginger and lemongrass, laced with a crunch of shallots. All topped with a few hand-torn cilantro leaves and miso aïoli, served with a golden crostini fried crispy in butter. Everything but an ordinary dish, yet so simple.
The mussels and oyster mushrooms go so well together, they pair perfectly with the flavorful, briny broth and the miso aïoli that is slightly spicy, thick, tangy and creamy made with an unashamed dose of garlic. Why? Because this dish wouldn't be complete without all that garlic, it gives the whole dish intensity and an appropriate funky kick. With this one, you can simply blow your friends away!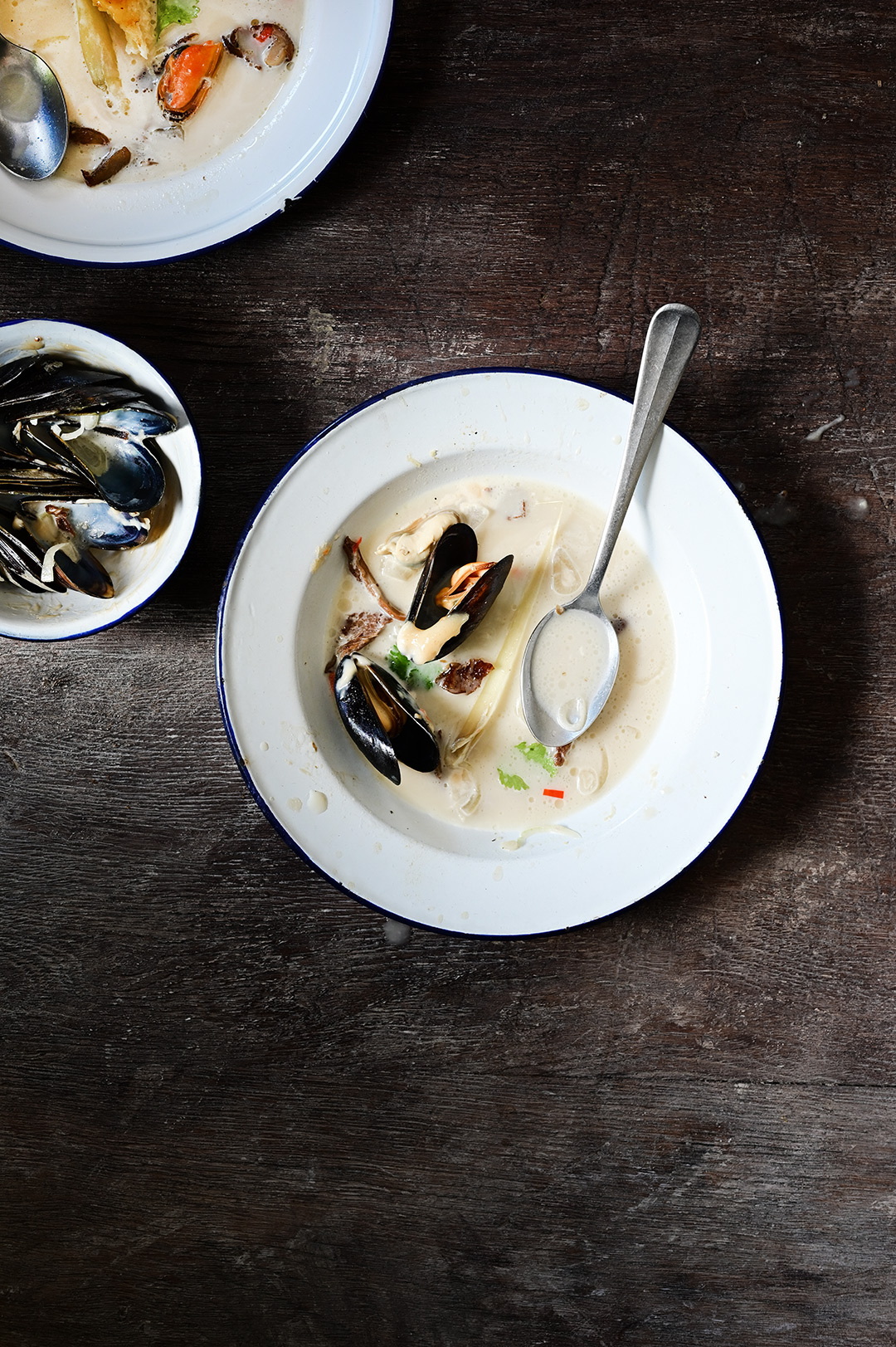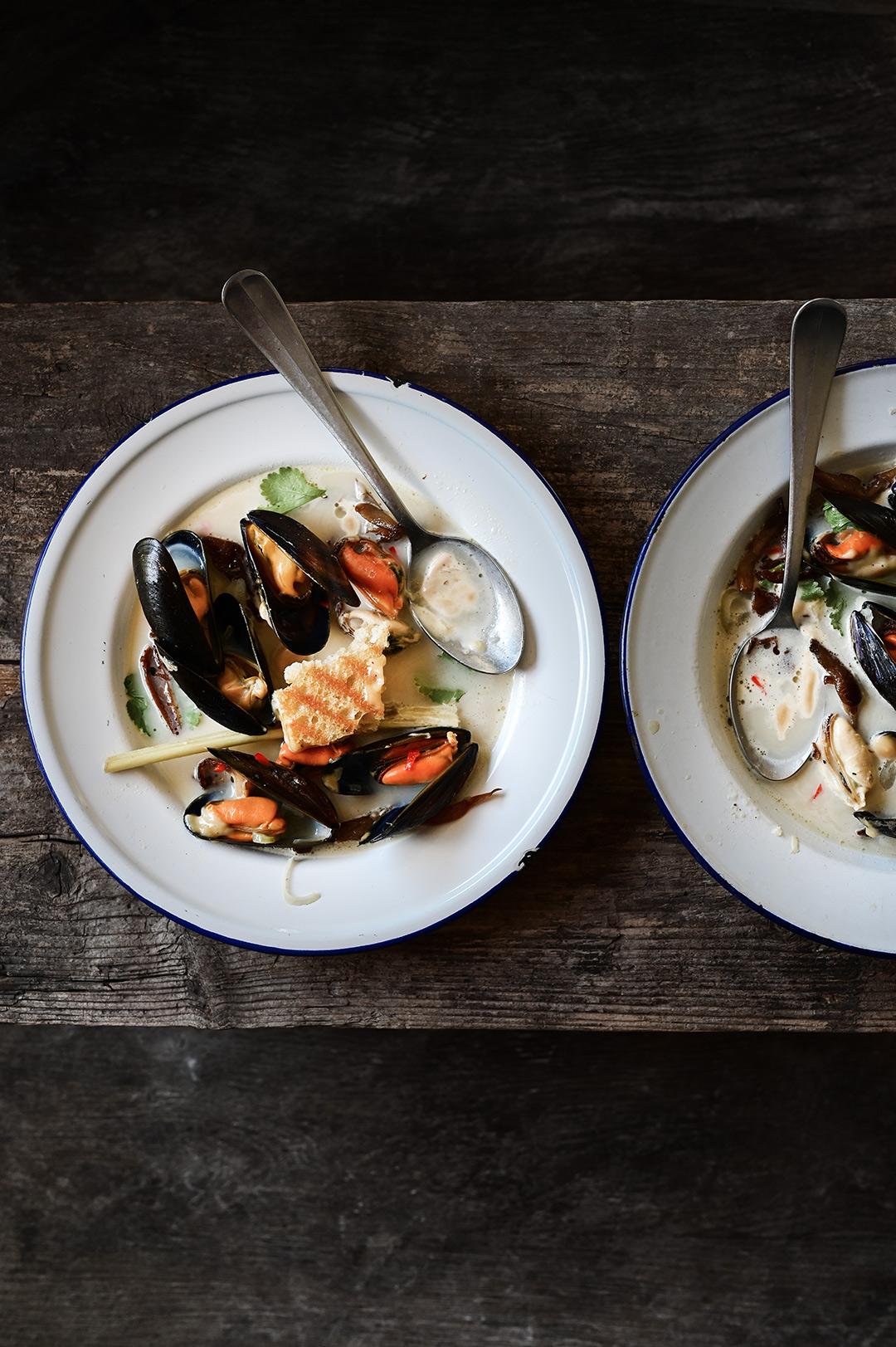 Ingredients
mussels
1 kg fresh mussels
2 shallots, thinly sliced
1 tsp grated ginger
1 garlic clove, finely minced
1 lemongrass
250 ml chicken broth
4 tbsp heavy cream
1 tbsp butter
1 tsp miso
freshly grated black pepper
1 chili pepper, finely chopped
crispy oyster mushrooms
200 g oyster mushrooms, cut into strips
1 garlic clove, finely minced
salt + freshly grated black pepper
vegetable oil
miso aïoli
3 tbsp homemade mayo
1 tsp miso
2 big garlic cloves, finely minced
1 tsp lemon juice
freshly grated black pepper
1/2 tsp soy sauce
finishing touch
hand-torn cilantro leaves
2 thick slices farmers bread
2 tbsp butter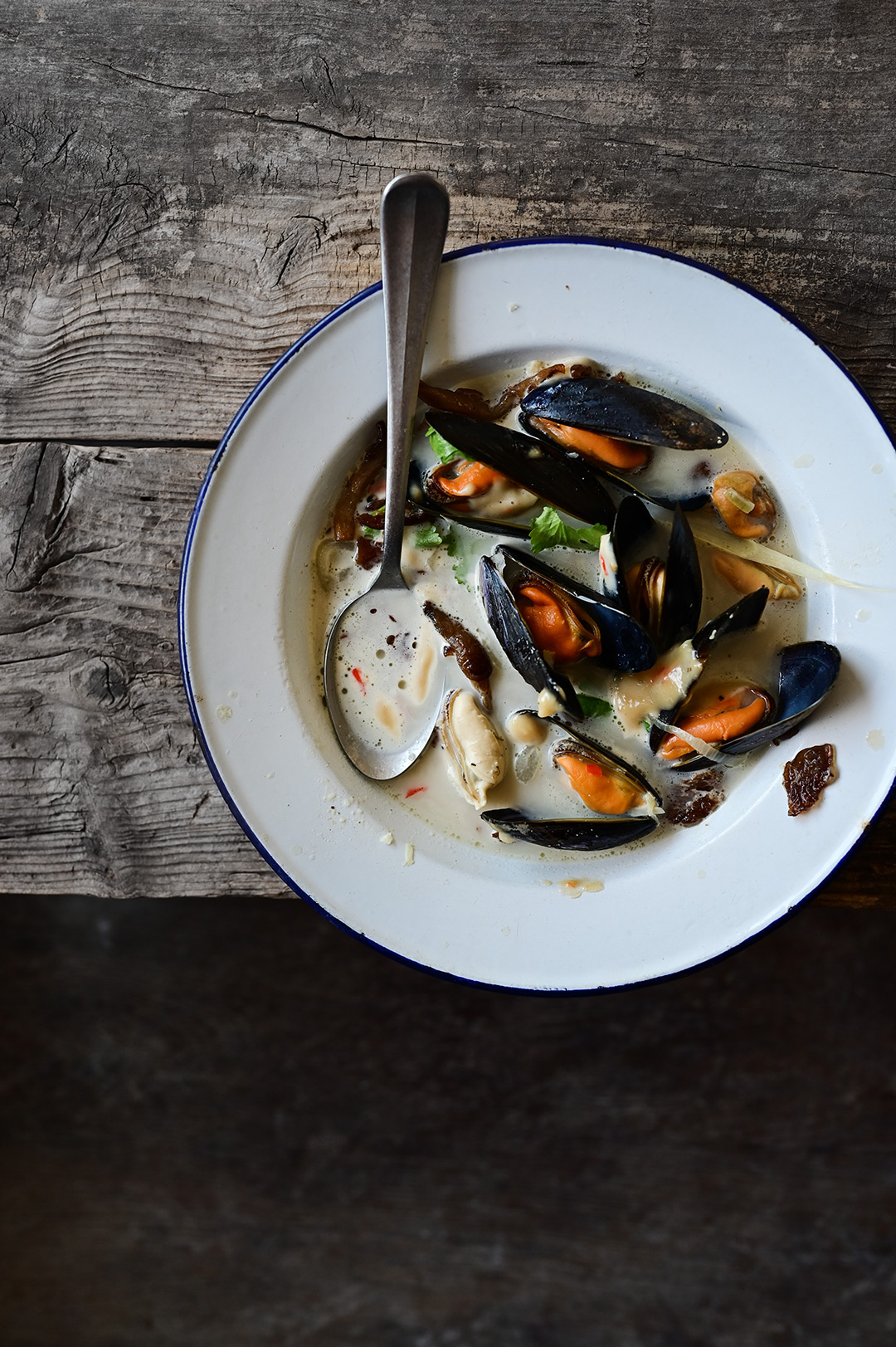 Instructions
Whisk together all ingredients for the aïoli until thoroughly combined.
Heat up a large skillet over high heat, add 2 tbsp oil to coat the skillet. Add mushrooms, toss for a couple times then leave them alone, allowing them to brown. Flip them over and add 1 tbsp oil,  let brown again. Repeat this until the mushrooms are deeply caramelized on all sides. Turn off the heat, add garlic and season with salt and pepper.
In a grilling pan over medium-high heat, melt 1 tbsp butter. Add the bread slices and move around to soak up the butter and toast until crispy and caramelized. Flip, add 1 tbsp butter more and toast until the second side is browned as well.
Clean the mussels: discard cracked mussels or mussels that don't close. Scrub them well under cold water and pull out the beards. In a large pot over high heat, bring shallots, lemongrass, ginger, garlic, miso and chicken broth to a boil, then add all the mussels and the chili pepper. Put the lid on, cook for 5 minutes, toss and cook for 3 minutes more without the lid. Add heavy cream and season with black pepper.
Serve immediately with crispy oyster mushrooms, top with a few hand-torn cilantro leaves and miso aïoli. Serve with a golden crostini. Enjoy.