Creamy mushroom and bacon pasta. It's rich and velvety, packed with sautéed mushrooms and crispy bacon, not to mention that it's made super cheesy with plenty of Parmesan. Oh, and it comes together in 20 minutes! This pasta will beyond doubt become a repeat dinner favorite.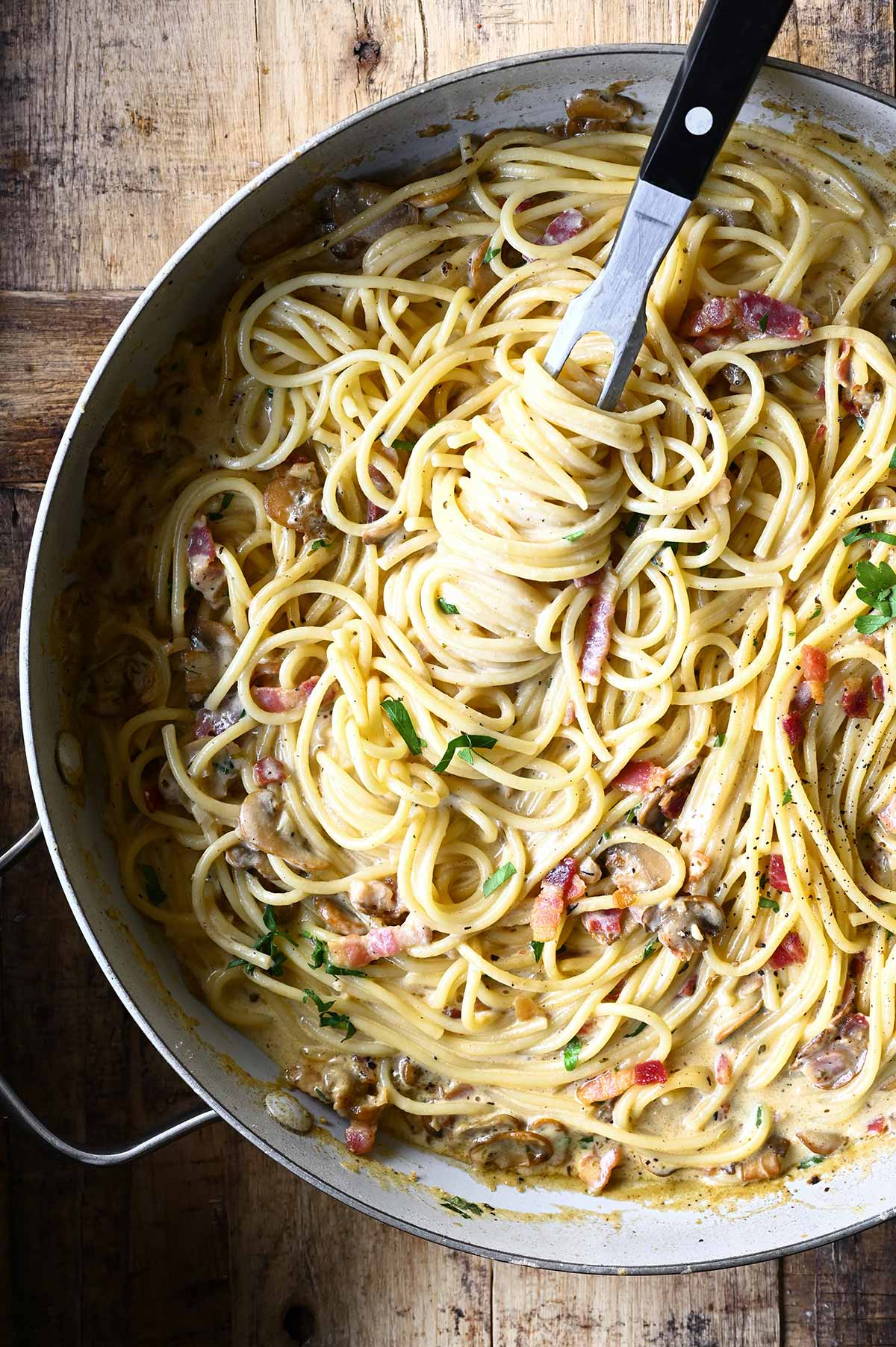 Imagine sautéed mushrooms, crispy bacon and tender spaghetti tossed in a creamy garlic sauce. This creamy mushroom pasta ticks all the boxes. It's delicious, easy to make and ready in a heartbeat. It doesn't get much better than this!
The very best thing about this recipe is the sauce. It's super creamy with lots of garlic, a generous amount of Parmesan and Italian seasoning for an intense flavor explosion. It will definitely fulfill your pasta cravings.
The mushrooms, along with garlic and salty bacon taste so good! You can use any kind of mushrooms, like white button, portobello or shiitakes, or use a mix.
Let me guide you through the recipe with this step-by-step VIDEO.
This is a busy weeknight's dinner dream. Try it with an addition of spinach or with some crunchy breadcrumbs on top. You're the chef!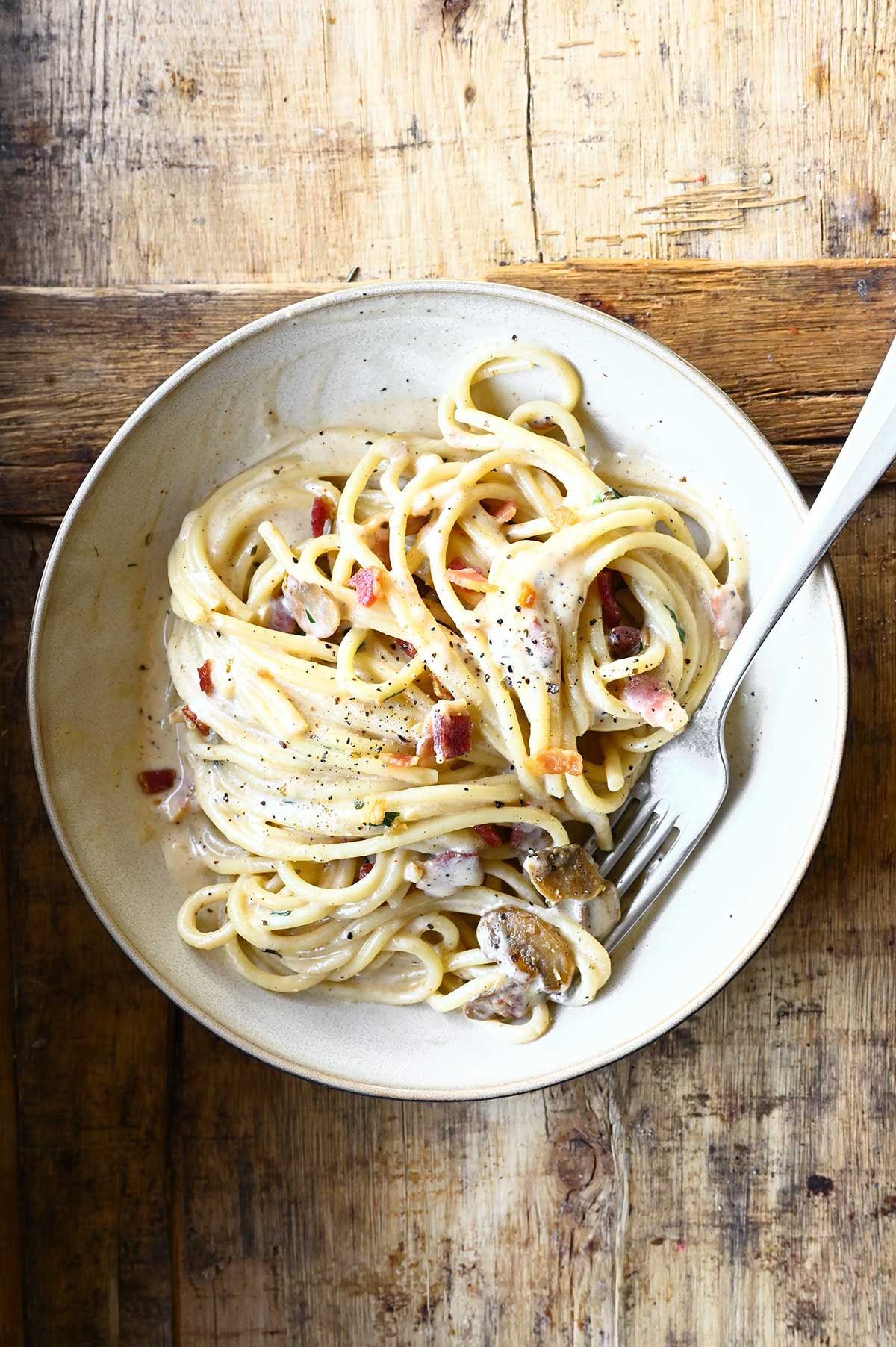 How To Make Creamy Mushroom and Bacon Pasta?
We start off with a big pot of salted water which we bring to a boil. Add spaghetti and cook until al dente. In the meantime, we fry the bacon until it's crisp and has rendered off all its delicious fat. Next we sauté the mushrooms in some of that bacon fat, add garlic and the seasonings. Deglaze the skillet with white wine and scrape up the bits on the bottom of the skillet to form a delicious base for the sauce. When the wine is fully evaporated, we stir in some flour and add milk, followed by heavy cream. Finish with a generous amount of grated Parmesan and toss in the spaghetti together with a splash of its cooking water for a glossy finishing touch. Add a sprinkle of chopped parsley, freshly ground black pepper and you have comfort in a bowl.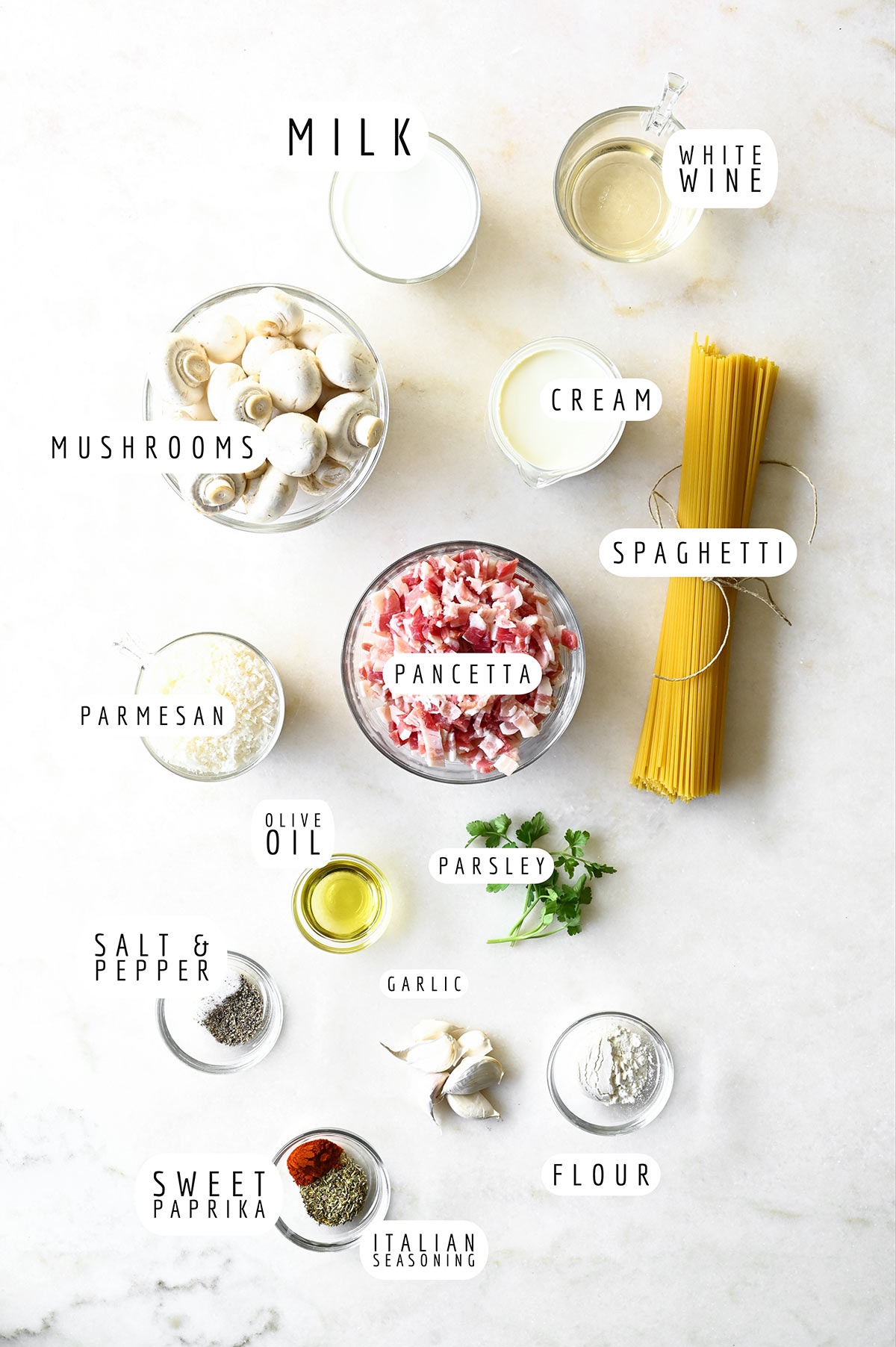 INGREDIENTS, TIPS & SUBSTITUTIONS
Pasta: Use linguine, spaghetti, fettuccine or any of your favorite pasta shapes.
Bacon: Use pancetta, salted bacon bits or turkey bacon. I don't recommend using smoked bacon, as it would totally change the taste.
Mushrooms: You can use brown mushrooms, cremini mushrooms, portobello or shiitake mushrooms.
Oil: For frying the mushrooms, this one is optional. It might be that you have enough fat from the bacon.
Garlic: Used as a base flavoring element, and above all, it's mighty delicious.
Flour: Use all-purpose-flour to thicken the sauce.
Seasoning: Salt, black pepper, sweet paprika and Italian seasoning. The last one can be substituted for dried thyme or oregano.
White Wine: To deglaze the skillet. Use dry white wine, you want to add acidity, not sweetness. If you want to cook without alcohol, use chicken broth and 1 tsp lemon juice.
Milk: Use whole milk.
Cream: We use heavy cream for a rich, thick sauce.
Parmesan: To add a deep savory note and also to help thicken the sauce. Use freshly grated. You can also use Pecorino Romano cheese.
Herbs: Fresh parsley.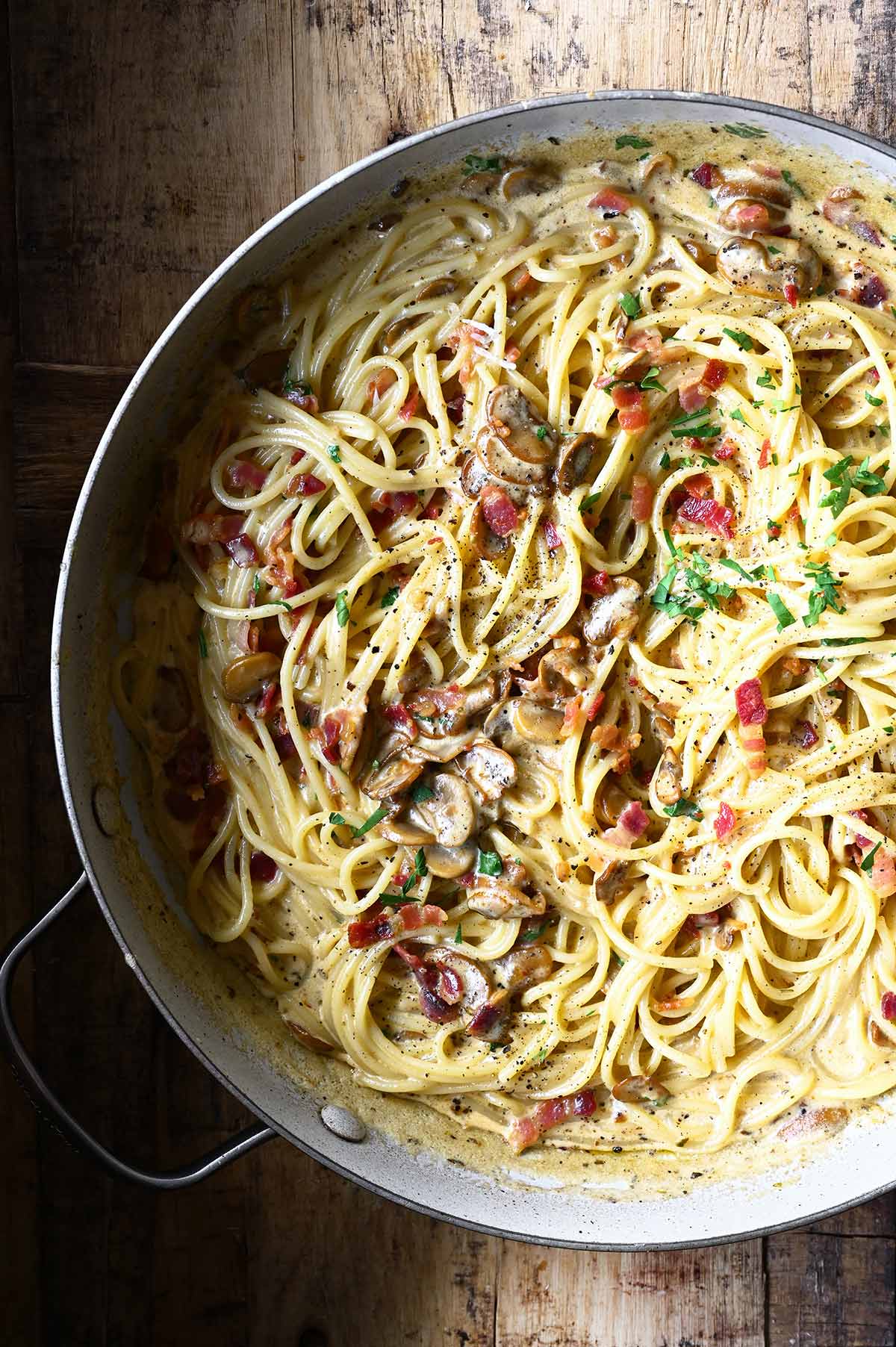 RECIPE NOTES
Pair with a simple side salad drizzled with olive oil and balsamic vinegar.
If you don't like to cook with wine, you can use the same amount of chicken broth and 1 teaspoon of lemon juice.
Italian seasoning mixture: 2 tbsp dried basil + dried oregano, 1 tbsp dried rosemary + dried thyme + dried sage. Store leftovers in a closed jar.
Add some veggies like kale or spinach.
Top with crunchy breadcrumbs.
Storage: Leftovers can be stored in an airtight container and refrigerated for up to 3 days.
To reheat: Always save some pasta cooking water to reheat your pasta and thin out the sauce.
TRY THESE NEXT
COOKING VIDEO
Yield: serves 4
Creamy Mushroom and Bacon Pasta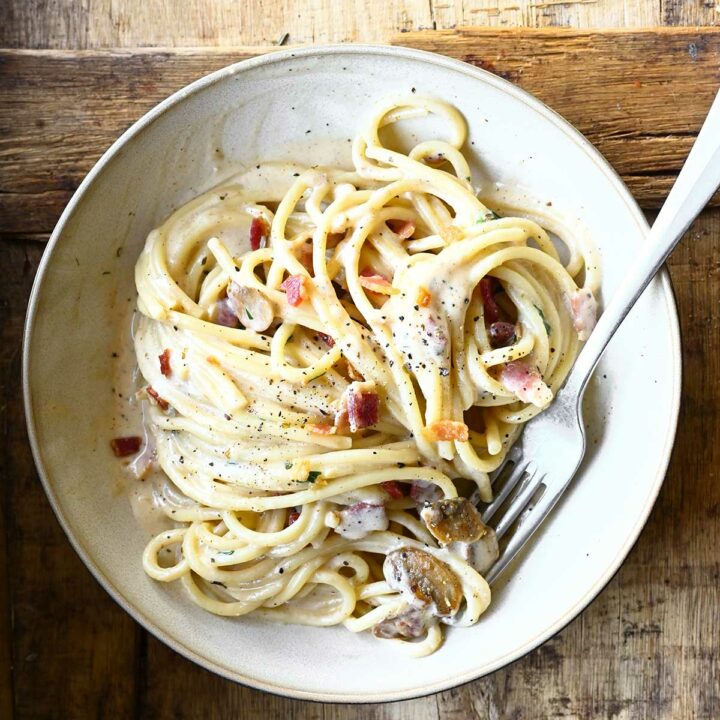 Ingredients
14 ounces/400 g dry spaghetti
7 ounces/200 g salted bacon bits
9 ounces/250 g mushrooms, sliced
1 tbsp olive oil, optional
6 garlic cloves, minced
1 tsp each: black pepper, Italian seasoning
½ tsp each: salt, sweet paprika
¼ cup/50 ml dry white wine
½ cup/120 ml whole milk
1 cup/240 ml heavy cream
½ cup/50 g freshly grated Parmesan
1 tbsp chopped parsley, more for serving
Instructions
Get your prep before you start cooking. Thinly slice the mushrooms, mince the garlic and chop the parsley.
Bring a large pot with salted water to a boil, add spaghetti and cook until al dente according the package instructions. Drain, reserving ½ cup cooking water.
While the pasta is cooking, heat a large skillet over medium-high. Add bacon and cook until crispy and golden brown. Transfer to a plate layered with a paper towel. Try to leave 1 tbsp bacon grease in the skillet.
Add mushrooms, cook until they release their moisture and start to brown. Add oil if the skillet is too dry. Add garlic and cook for 1 minute. Stir in salt, pepper, paprika and Italian seasoning. Deglaze with white wine, while stirring with a wooden spoon to dissolve the browned bits on the bottom of the skillet. Simmer for 2 minutes.
Reduce heat to medium low and add flour, stir until incorporated. Add milk and stir until combined. Pour in cream and then stir in Parmesan. Bring to a simmer and let it bubble for 2 minutes.
Toss in spaghetti, bacon and parsley. Add a generous splash of the pasta cooking water and toss until glossy. Add more cooking water, if needed. Finish off with black pepper and some extra parsley on top. Serve immediately. Enjoy!
Notes
Calories Per Serving: 594 kcal
Nutritional information is only an estimate. The accuracy of the nutritional information for any recipe on this site is not guaranteed.