Creamy lemon Parmesan chicken with spaghetti. Simple, creamy and so dang satisfying. This recipe takes about 30 minutes to make and has the most luxurious cream sauce to toss with spaghetti. Made delicious with a hint of garlic, capers, spinach and fresh lemon juice. Finish the pasta off with toasted breadcrumbs for a super tasty crunch. When it comes to weeknight dinners, you can't go wrong with this one.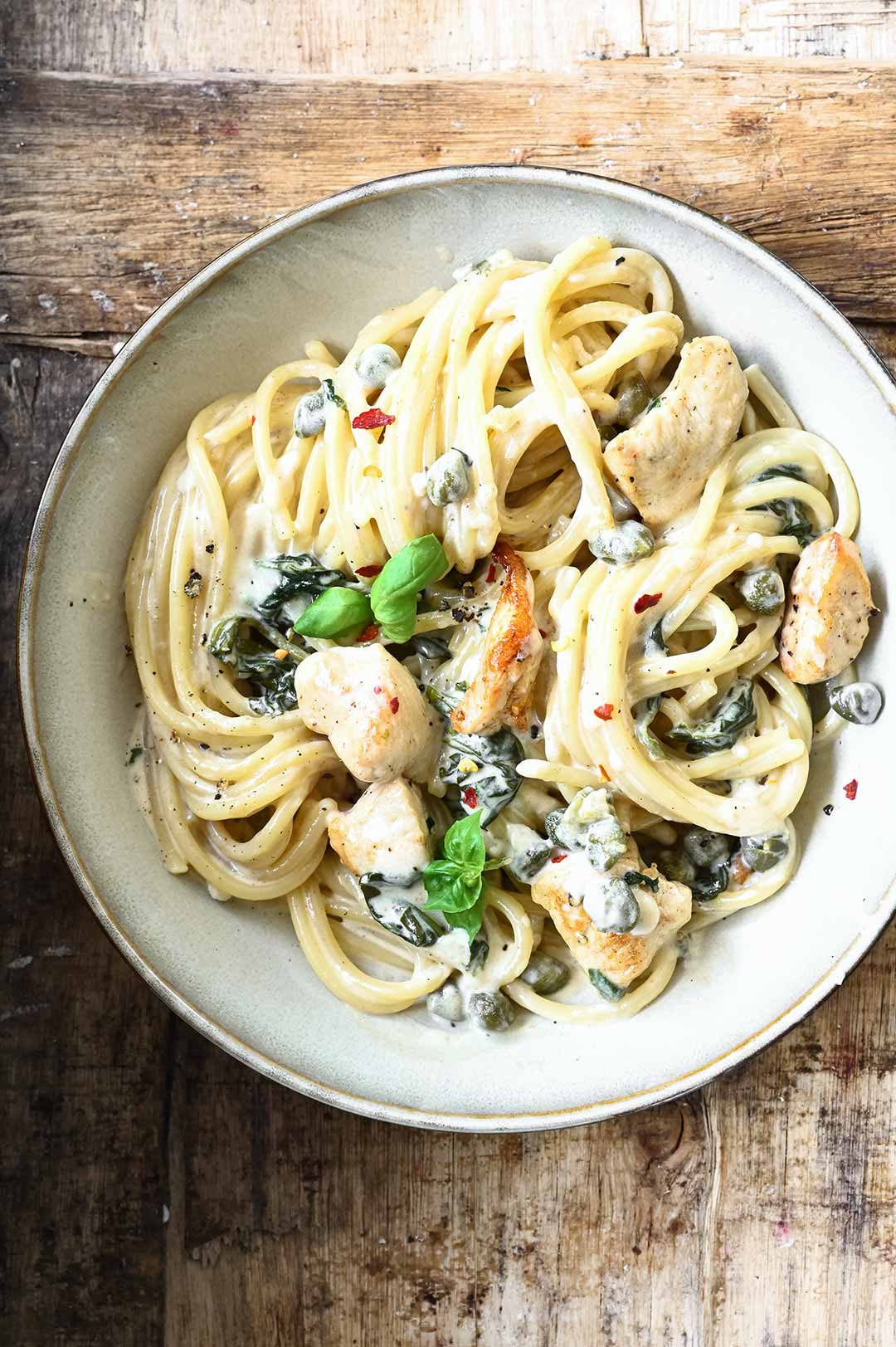 This dish looks fancy but stealthily it's a weeknight hero, one look at the recipe reveals this fancy food is also a one-pan chicken breast dinner that comes together in a blitz.
To start, we cook the chicken in butter and olive oil for a golden-brown and crisp look. In the same pan, we cook the garlic until fragrant, then deglaze it with white wine. Next we add spinach, some pasta cooking water and cream, then capers and lemon juice. We toss in the spaghetti and grated Parmesan, once the sauce is slightly thickened, we add the chicken and let the flavors blend together to create a really great pasta sauce.
Let me guide you through the recipe with this step-by-step VIDEO.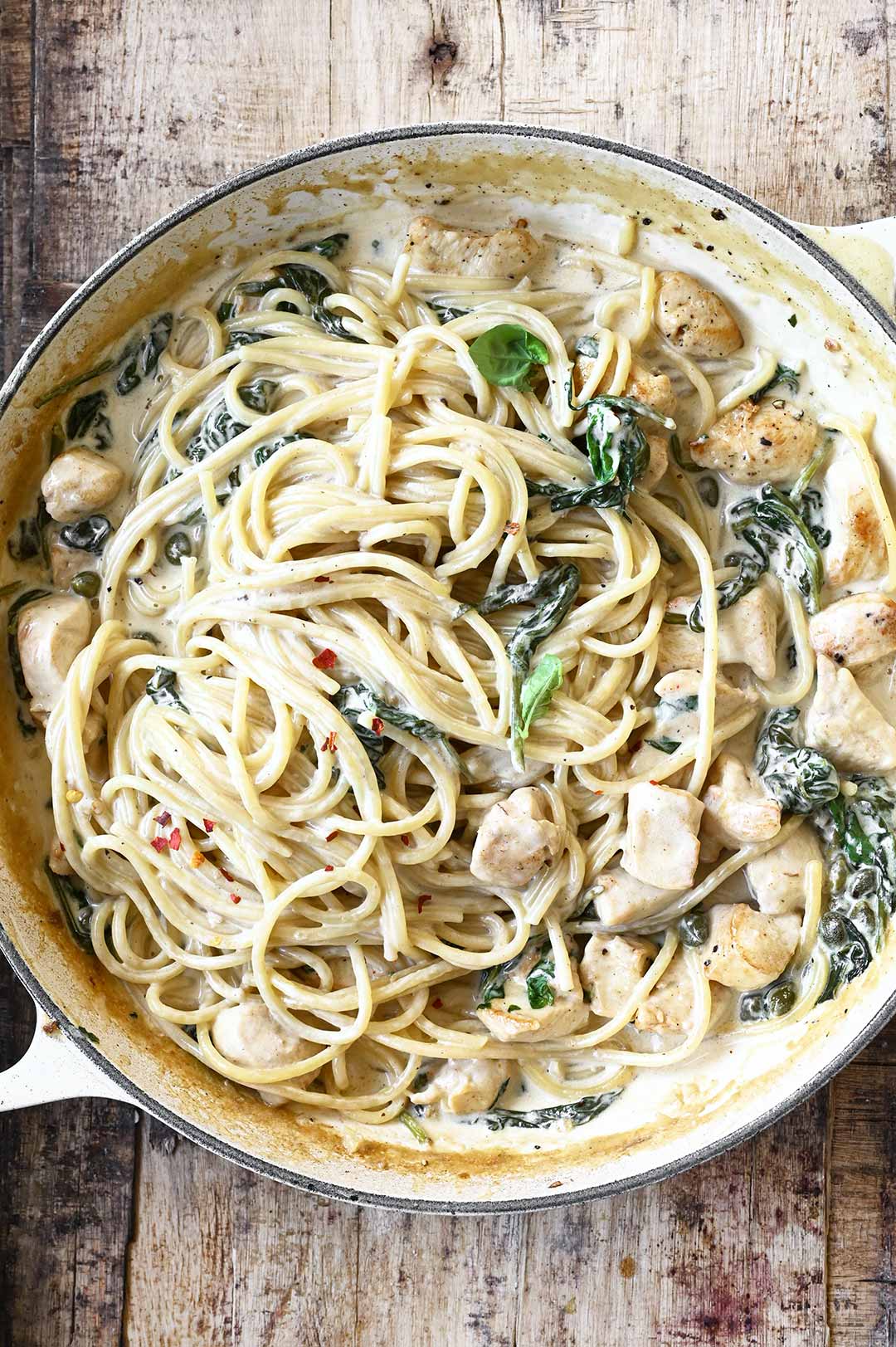 RECIPE NOTES
instead of spaghetti, use any pasta shape you love, like fettuccine, penne, rigatoni, shells…
or leave the pasta out and serve over rice, zucchini noodles, steamed vegetables, or with bread
for a super zingy lemon taste, I suggest using 4 tablespoons of lemon juice for a less lemon flavor, use 2 tablespoons
you can use boneless/skinless chicken thighs instead of chicken breasts, or use turkey fillets
serve with a simple side salad drizzled with olive oil and lemon juice
no time for breadcrumbs? serve it with some crusty bread
swap basil for parsley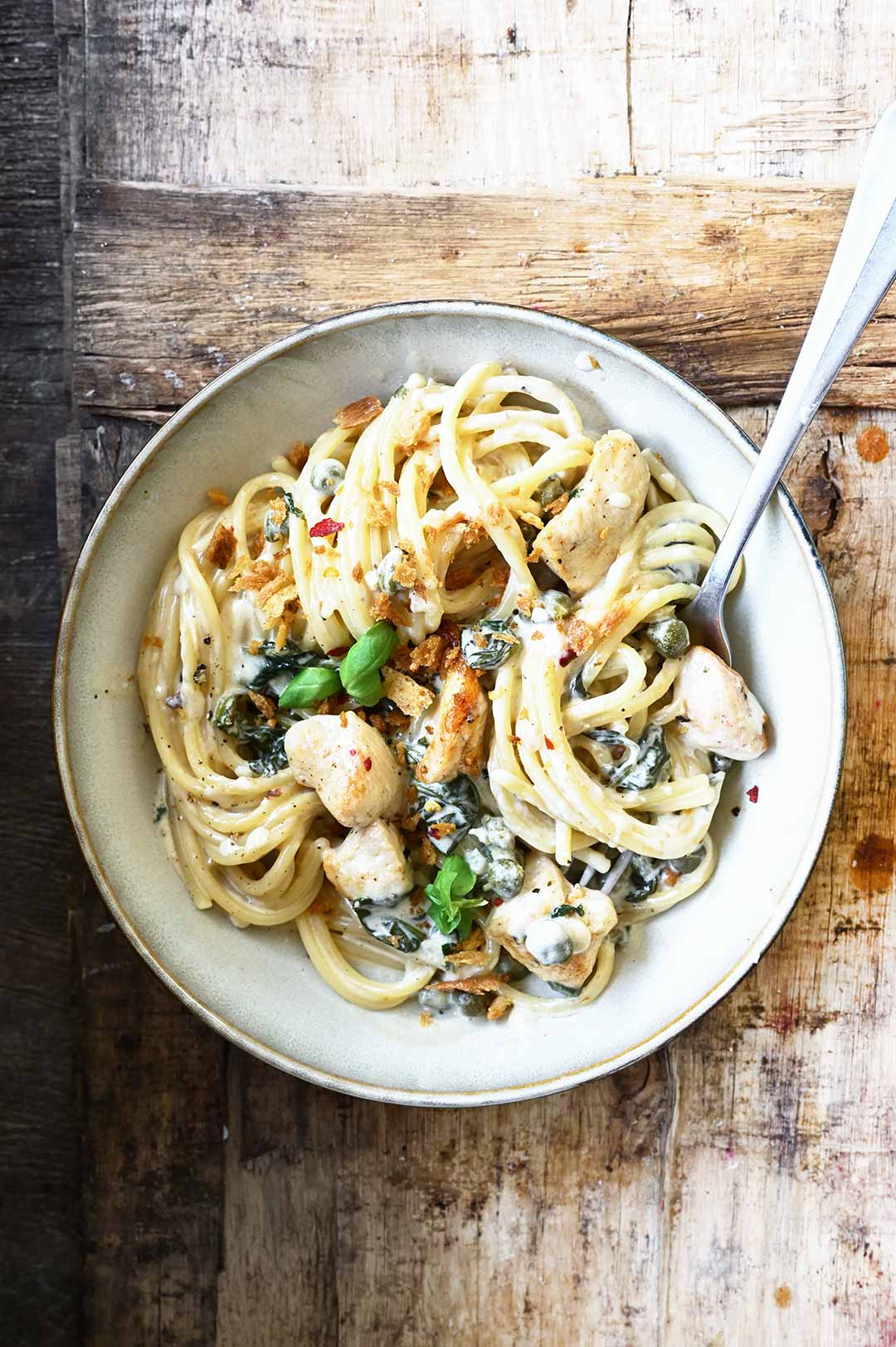 More creamy recipes, please!
Recipe Video
Yield: serves 4
Creamy Lemon Parmesan Chicken Spaghetti
Ingredients
250 g (8.8 oz) spaghetti
2 chicken breasts, cut into bite-sized pieces
100 g (3.5 oz) spinach
2-3 tbsp lemon juice
2 garlic cloves, minced
1 tsp each: salt, black pepper, sweet paprika, red pepper flakes
2 tbsp olive oil
1 tbsp unsalted butter
2 tbsp capers
250 ml (1 cup) cream 20 % fat
50 ml (1/4 cup) dry white wine
60 g (2.1 oz) grated Parmesan
basil leaves
crunchy breadcrumbs
3 tbsp olive oil
1/2 cup panko breadcrumbs
1/2 tsp salt + black pepper
Instructions
First make the breadcrumbs. Heat oil in a non-stick skillet. Then add panko. Cook over medium-high heat, while tossing frequently, until crunchy and golden brown, about 5 minutes. Season with salt and black pepper. Transfer the breadcrumbs onto a plate.
Bring a large pot of salted water to a boil. Cook the spaghetti until al dente. Drain, reserving 1/2 cup cooking water.
Heat oil and butter in the same skillet, add chicken. Fry until golden on each side and cooked through, about 5 minutes, depending on the thickness of your chicken. Transfer onto a plate.
Lower the heat, add garlic and cook until fragrant, about 1-2 minutes. Deglaze with white wine, stir with a wooden spoon to dissolve the browned bits from the bottom. Add spinach, stir until slightly wilted. Stir in capers and lemon juice.
Pour in 1/4 cup cooking water and cream, bring to a boil. Toss with spaghetti, then gradually stir in the Parmesan until it melts into the sauce.
Slide chicken back into the skillet and stir, simmer for 1 minute. Finish off with basil leaves. Taste and adjust salt and pepper. If needed, add more pasta water to thin the sauce.
Serve immediately. Top with breadcrumbs, extra black pepper and red chili flakes, if desired. Enjoy!
Notes
Calories Per Serving: 415 kcal
Nutritional information is only an estimate. The accuracy of the nutritional information for any recipe on this site is not guaranteed.