Creamy garlic shrimps with fettuccine. This might become your favorite weeknight pasta. Easy to make but decadent enough for a date night. It's ready in about 20 minutes, simple, indulging and comforting. Serve with a side salad and enjoy.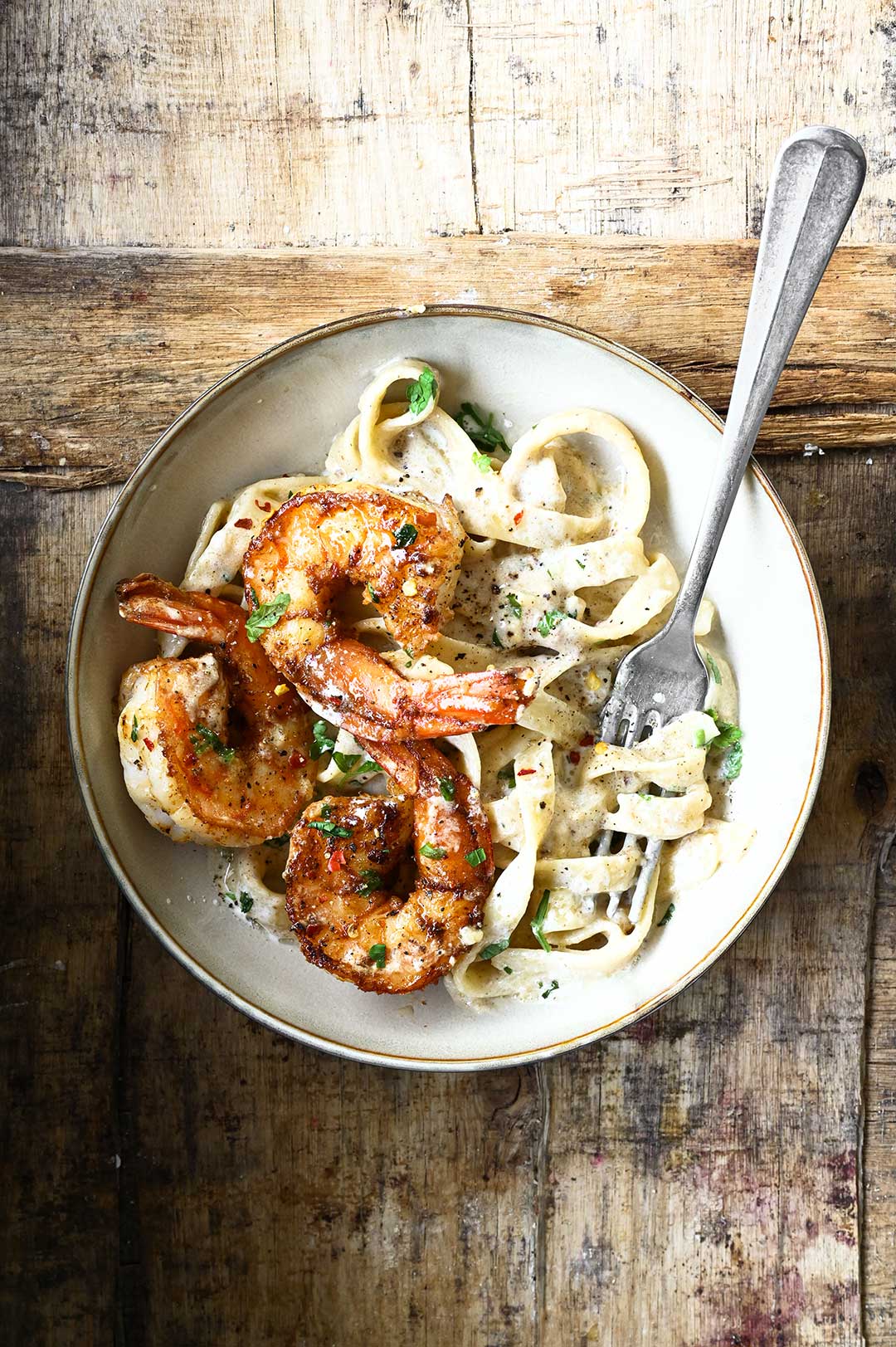 We give this sauce more dimension with Parmesan, Cheddar and cracked black pepper. Fresh parsley helps to brighten this pasta and lifts it up like none other. We serve the shrimp atop al dente fettuccine, but this dish is equally great with zucchini noodles for a low-carb alternative. Serve with a simple side salad drizzled with olive oil and balsamic vinegar. Let me walk you through making this Creamy Shrimp Pasta, step by step in this video.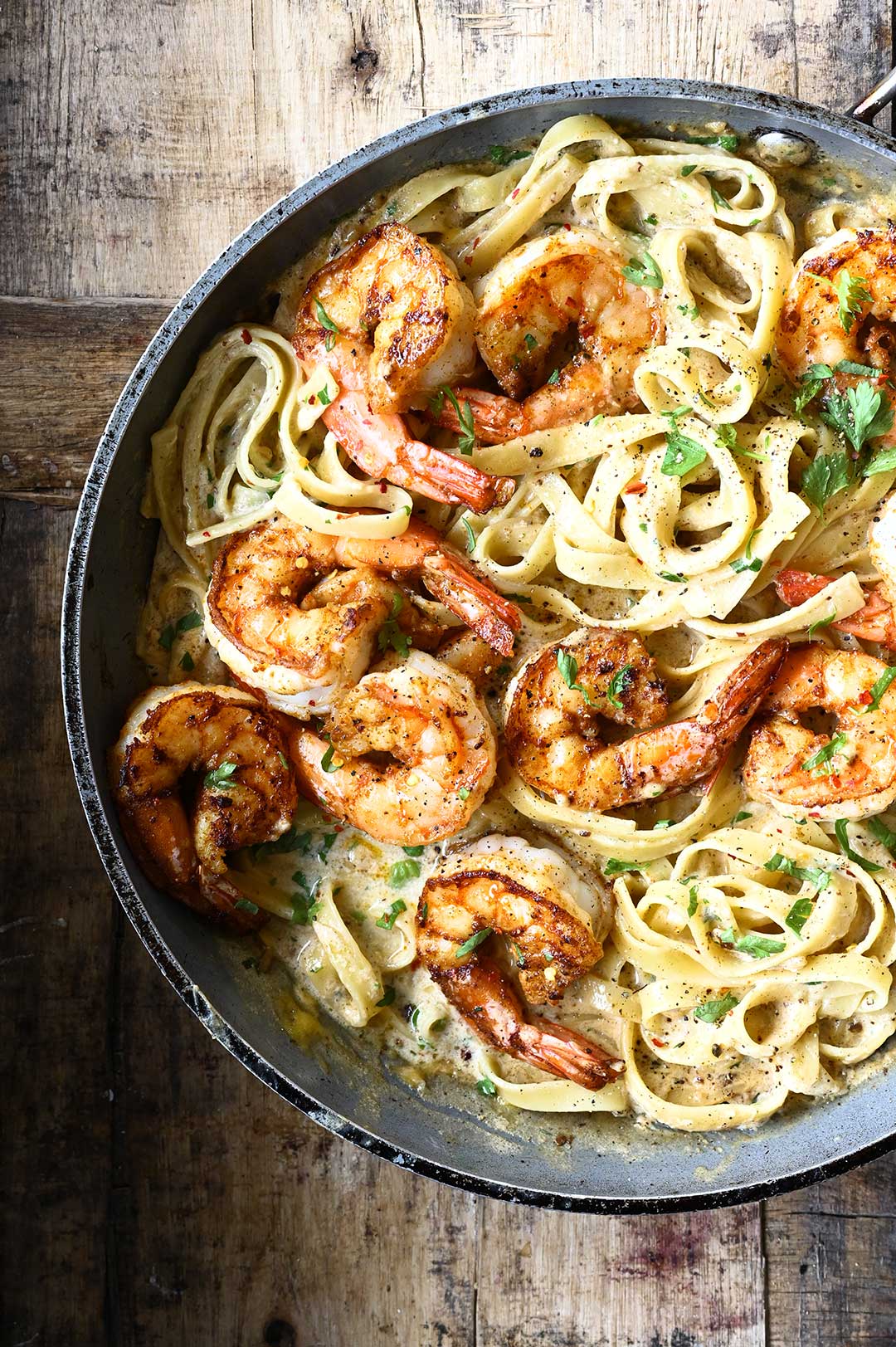 More pasta, please! 
Creamy Pesto Chicken Pasta
Spicy Shrimp Pasta in Tomato Cream Sauce
Brown Butter Orecchiette with Walnuts and Sage
Craving more? Sign up for my NEWSLETTER to receive the latest recipes delivered straight to your inbox. And stay in touch on Facebook, Pinterest and Instagram for all of the latest updates.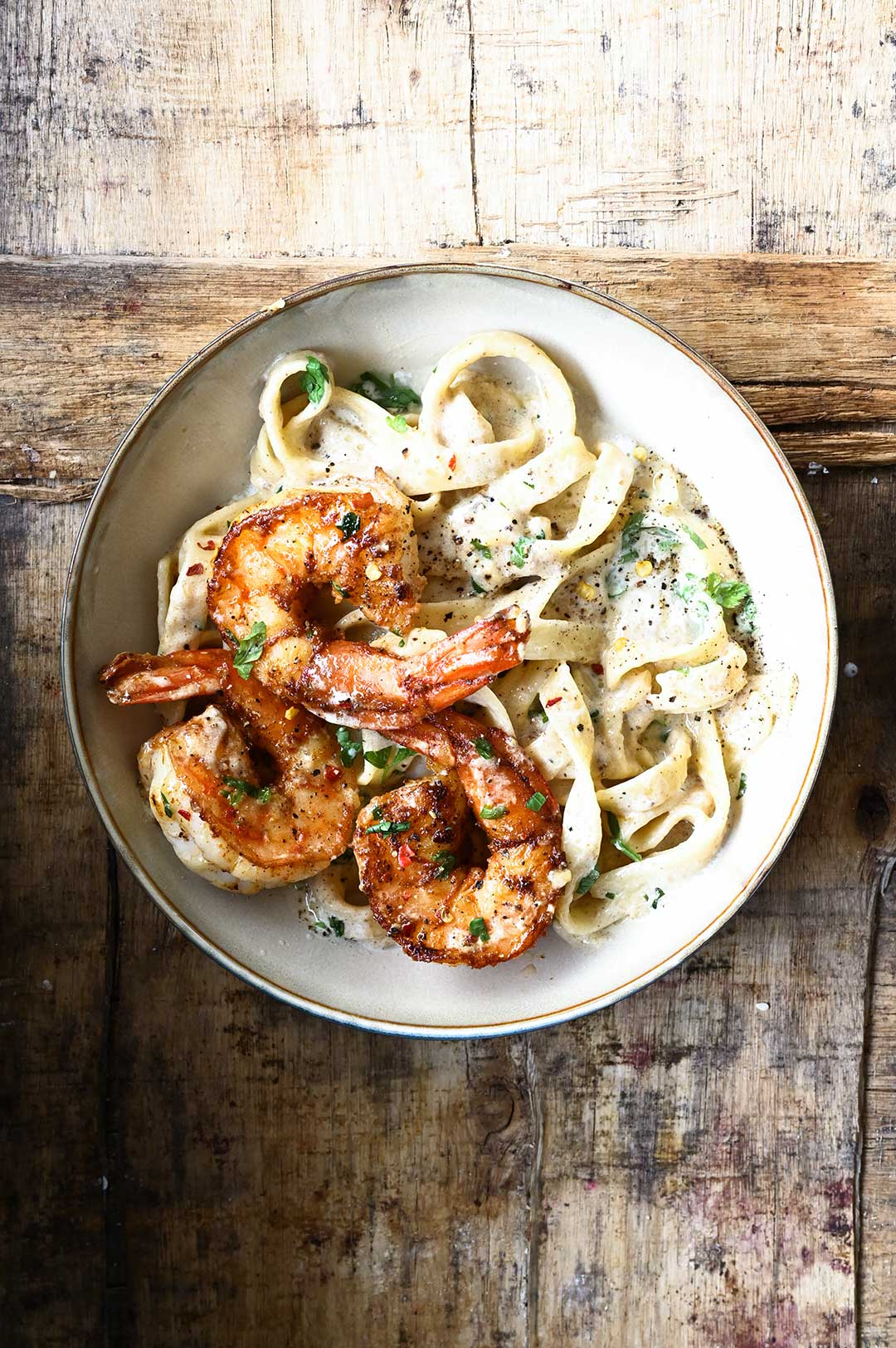 You need
200 g (7 oz) fettuccine pasta
400 g (14 oz) shrimp, peeled and deveined
3 tbsp olive oil
1 tbsp unsalted butter
2 garlic cloves, minced
250 ml (1 cup) whole milk
40 g (1.4 oz) grated Parmesan
40 g (1.4 oz) grated Cheddar, or mozzarella
1 tsp mild mustard
spices, 1 tsp each: garlic powder, onion powder, sweet paprika, salt, black pepper, cayenne pepper
2 tbsp chopped fresh parsley
chili flakes, for serving
salt + black pepper
grated Parmesan, for serving (optional)
How to
Cook the pasta in a large pot of boiling generously salted water. Drain, reserving 1 cup cooking water.
Combine the shrimps with the spices. Toss and set aside while you mince the garlic and chop the parsley.
Heat 1 tbsp olive oil and the butter in a large skillet. Place the shrimps in a single layer, sear for 1 minute. Flip and sear the other side, 1 minute. Remove from skillet.
In the same skillet, heat 2 tbsp olive oil. Add garlic and cook for 2 minutes over low heat, until soft and fragrant. Pour milk, bring to a simmer. Stir in mustard, parsley, salt and black pepper.
Add pasta, and toss to coat the noodles. Turn off the heat. Stir in the cheese, and 1/2 cup of the reserved pasta water. Stir until combined. Add extra pasta water, stir until creamy. Add more pasta water if needed. Add shrimp back to the skillet, toss until combined. Taste, add more salt and pepper if needed.
Divide pasta among bowls, top with chili flakes and serve right away. Enjoy!
Let me walk you through making this Creamy Shrimp Pasta, step by step in this video.
And …IF YOU LOVE THESE RECIPES … please consider supporting my work for just the cost of a cup of coffee.

If you try this recipe, let me know! Leave a comment and don't forget to tag me in your picture on Instagram with @anna_s_table or mention with #servingdumplings. I'd love to see what you're making. Happy cooking!