One-skillet creamy red pesto chicken with cherry tomatoes. You're in for a dinner that's pure comfort. This chicken with sun-dried tomato pesto in a creamy garlic sauce is simply amazing, it infuses every single bite of this fail-proof dinner.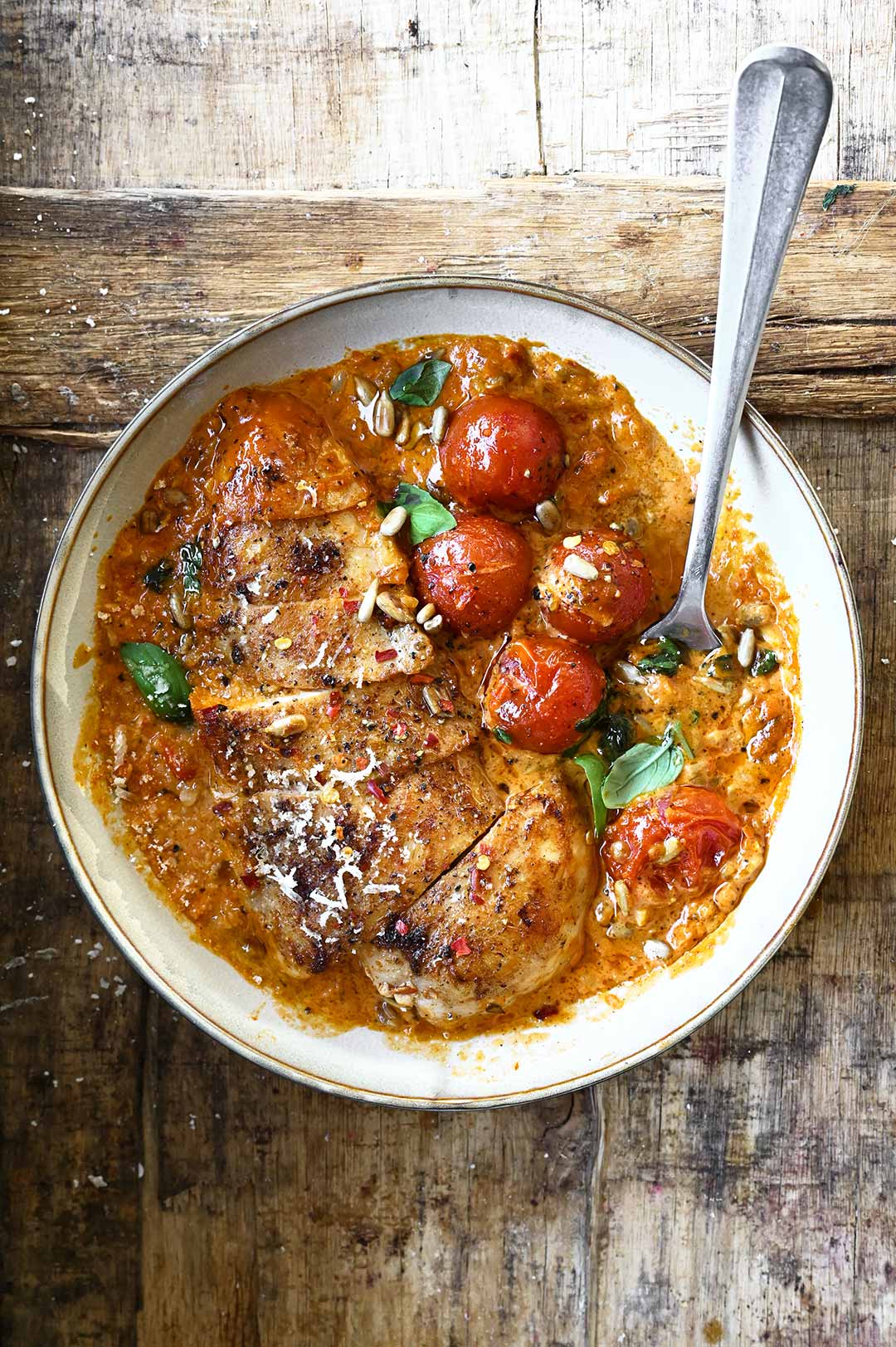 The chicken is golden-brown on the outside, perfectly juicy on the inside and tastes like a dream when combined with that utterly delicious red pesto sauce. This dish comes together easily together in just about 30 minutes.
It feels fancy, yet requires hardly any effort to pull together, making it ideal for weeknights or for a last-minute dinner party.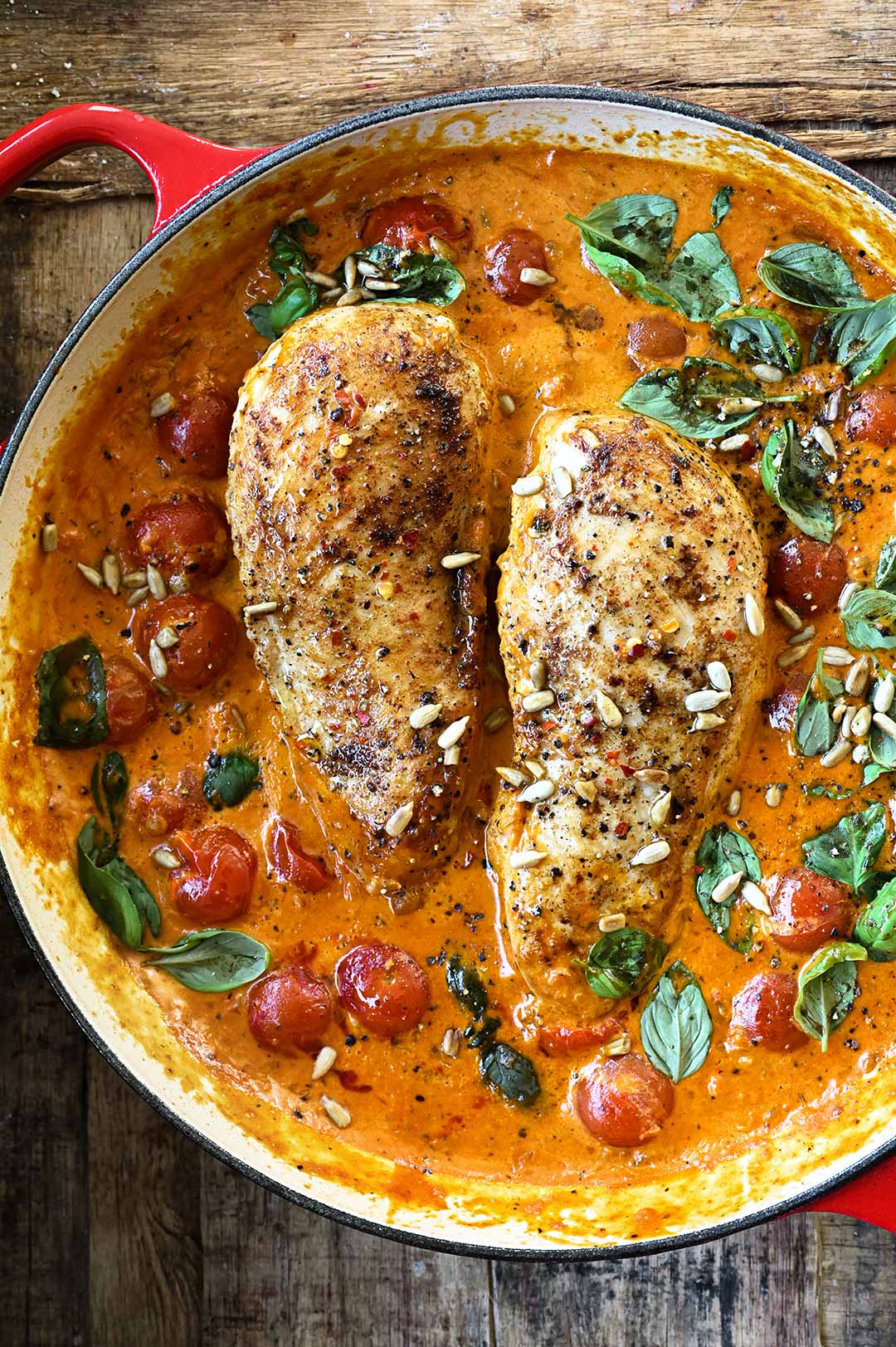 The sauce is fragrant with plenty of garlic and made rich with cream and sun-dried tomato pesto, which adds a nice crunchy bite from the sunflower seeds and a surprising tang that keeps everything in balance.
Serve with some mashed potatoes, rice or bread to mop up that delicious sauce, because every bit of it is worth it.
Let me guide you through the recipe with this step-by-step VIDEO.
RECIPE NOTES
you can use boneless/skinless chicken thighs
serve with mashed potatoes, orzo, rice or some crusty bread and a simple side salad
add more veggies to the sauce like sun-dried tomatoes, bell peppers or spinach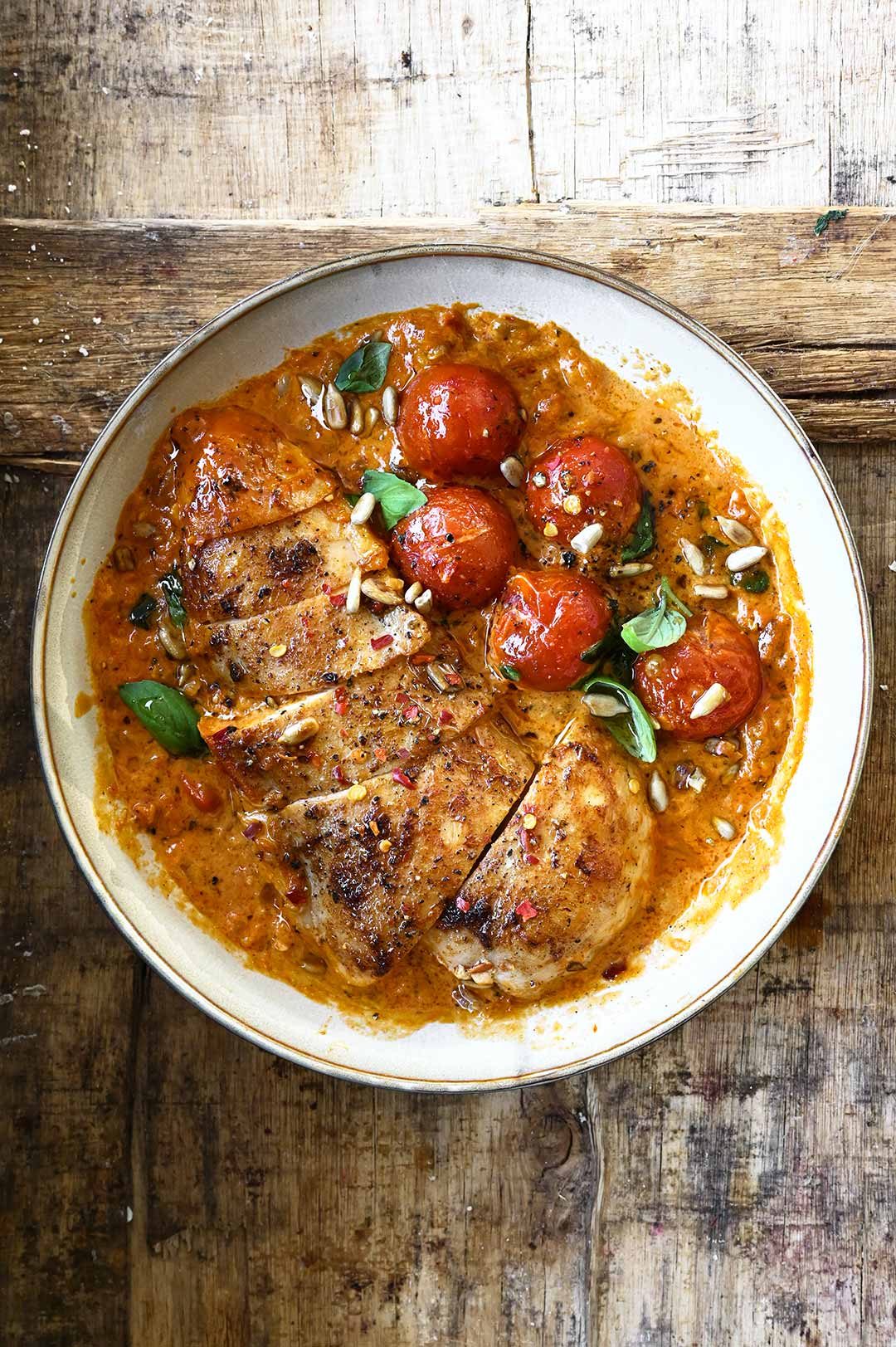 More chicken, please!
Cooking Video
Yield: serves 2
Creamy Red Pesto Chicken
One-skillet creamy red pesto chicken with cherry tomatoes.

Prep Time 10 minutes

Cook Time 20 minutes

Total Time 30 minutes
Ingredients
2 chicken breast fillets
250 g/9 oz cherry tomatoes
2 tbsp unsalted butter
2 tbsp oil from sun-dried tomatoes
4 garlic cloves, minced
1 small onion, finely chopped
salt + black pepper
a pinch of sweet paprika
1 tsp red pepper flakes
2 tbsp tomato paste
1/2 cup/125 ml cream with 20% fat, or half-and-half
1/2 cup/125 ml chicken broth
20 basil leaves
grated Parmesan, for serving (optional)
toasted sunflower seeds, for serving
red pesto (equal to 1/2 cup store-bought pesto)
40 g/1.5 oz toasted sunflower seeds, or toasted pine nuts
10 semi sun-dried tomatoes
3 tbsp oil from sun-dried tomatoes
1 tsp dried basil
30 g/1 oz grated Parmesan
1 tbsp tomato paste
Instructions
Make the pesto. Combine the ingredients in a food processor or blender. Blend, until everything is thoroughly combined, but still has some texture.
Season the chicken fillets all over with sweet paprika powder, salt and pepper.Heat the oil and butter in a non-stick frying pan over medium heat. Add the chicken and cook, for 5-8 minutes per side or until fully cooked and browned on both sides. Remove from skillet and place on a plate. Cover with foil.
In the same skillet, add onion and garlic, cook until softened over low heat, about 2 minutes. Deglaze with 2 tbsp water. Add cherry tomatoes, cook for about 2 minutes or until the tomatoes start to burst. Press on the back of the tomatoes with a fork to release their juices and stir to combine.
Stir in tomato paste, season with salt, pepper and red pepper flakes. Pour chicken broth and bring to a simmer. Stir in red pesto. Then add cream, stir to combine.
Add chicken back into the skillet. Allow to cook for 5 more minutes or until the chicken is cooked through and the sauce is slightly thickened.
Stir in basil leaves and top with toasted sunflower seeds. Sprinkle with some red pepper flakes and grated Parmesan. Enjoy!
Notes
Calories Per Serving: 763 kcal
Nutritional information is only an estimate. The accuracy of the nutritional information for any recipe on this site is not guaranteed.

DOWNLOAD PRINTABLE RECIPE PDF