This might become your favorite chicken soup.
I never had a chicken soup I didn't like! Except maybe the kind with the super tough, dry breast meat and overcooked vegetables. But this is not that kind of soup. It's my chicken thigh soup with gnocchi, my go-to lunch when I'm craving a tasty soup.
Chicken simmered in broth with carrots, a little lemon and plenty of pillowy gnocchi. Finish each bowl off with a splash of cream and a sprinkle of Parmesan and serve with crusty bread. It's hearty, full of flavor and deliciousness. Creamy yet light and fresh. Great for just any day of the week. 
Add spinach or white beans for a richer soup, use your creative freedom for whatever add-ins or aromatics you want to use.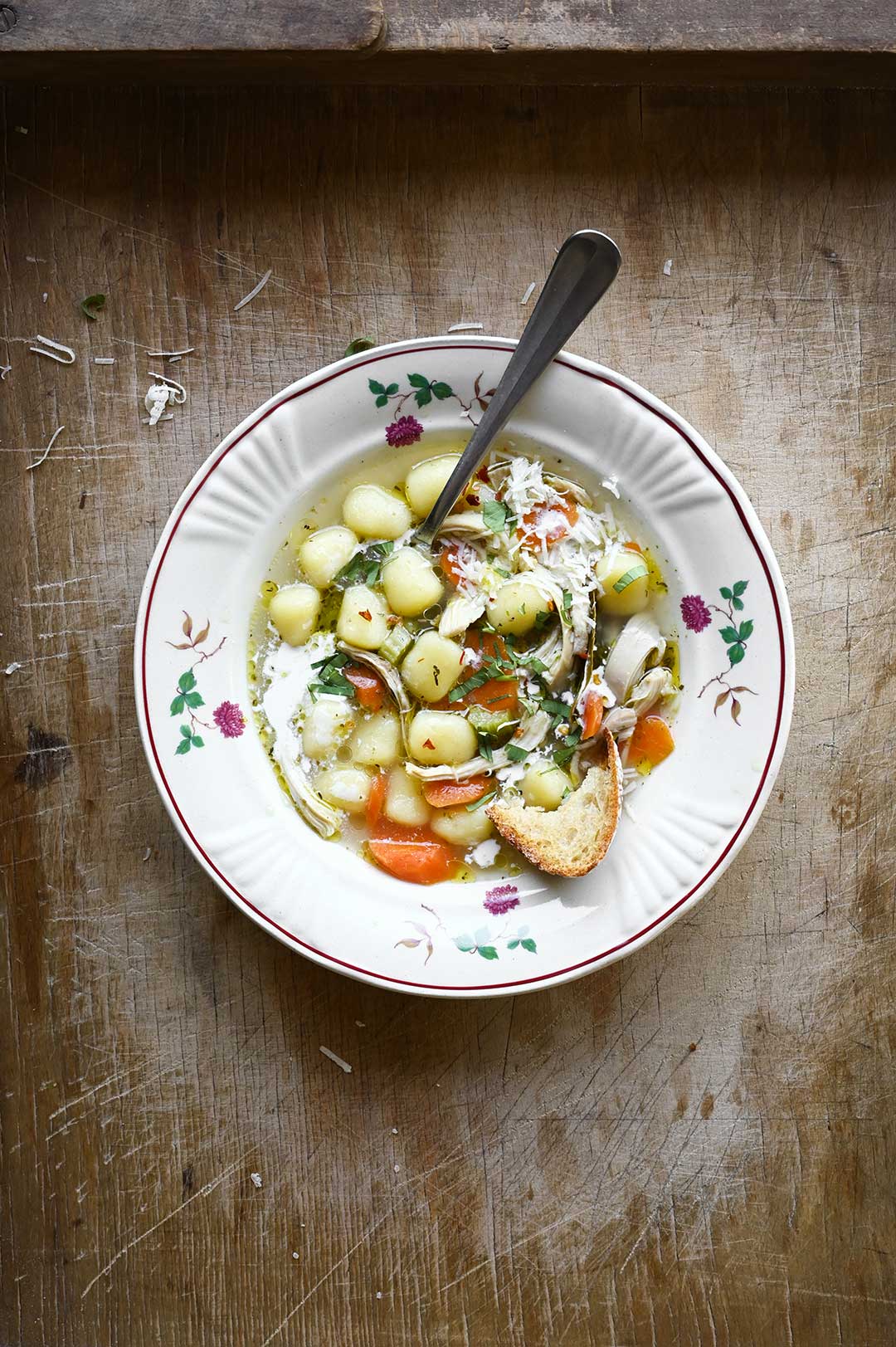 You need
4 boneless chicken thigh fillets
300 g gnocchi
1 L chicken broth
2 shallots, finely chopped
4 garlic cloves, minced
2 carrots, chopped
1/4 celery stalk, chopped
2 tbsp olive oil
1/4 tsp oregano, thyme, marjoram
1 bay leaf
2 tbsp lemon juice
sea salt + black pepper
+ soy cream, grated parmesan, chopped parsley, chili flakes to serve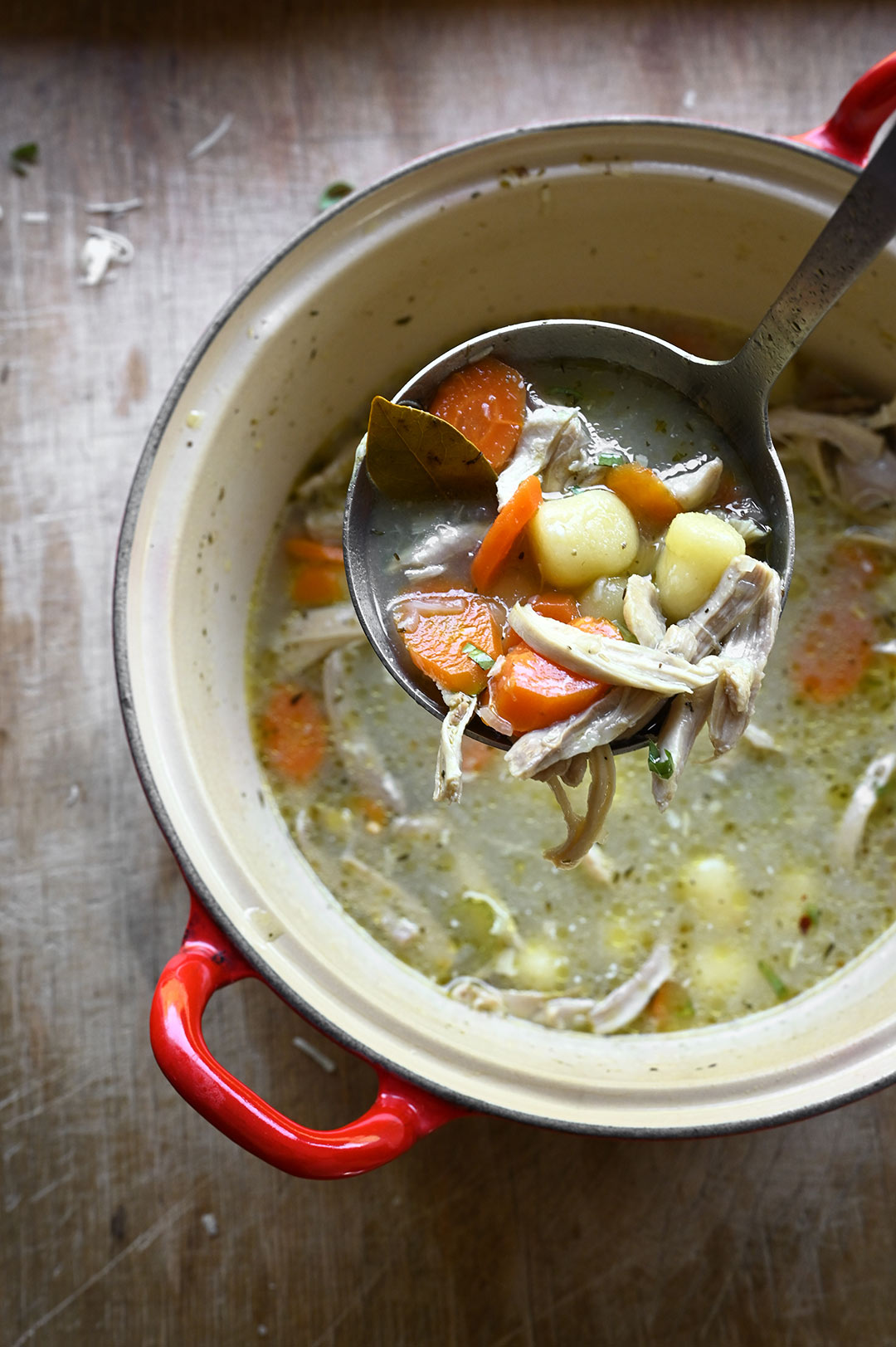 How to
Heat the olive oil in a large pot over low heat. Add shallot, garlic, carrots and celery. Simmer for 5 minutes. Add the broth, thyme, oregano and marjoram, bring to a boil. Add the chicken thighs, lemon juice and bay leaf. Cover and simmer over medium heat for 20 minutes.
Remove the thighs and shred the chicken with 2 forks into bite-sized pieces. Return the shredded chicken to the pot. Add gnocchi and cook for 10 minutes more. Taste and season with salt and pepper.
Divide the soup among bowls and add some cream. Top each bowl off with cheese, chili flakes and chopped parsley. Serve with crusty bread. Enjoy!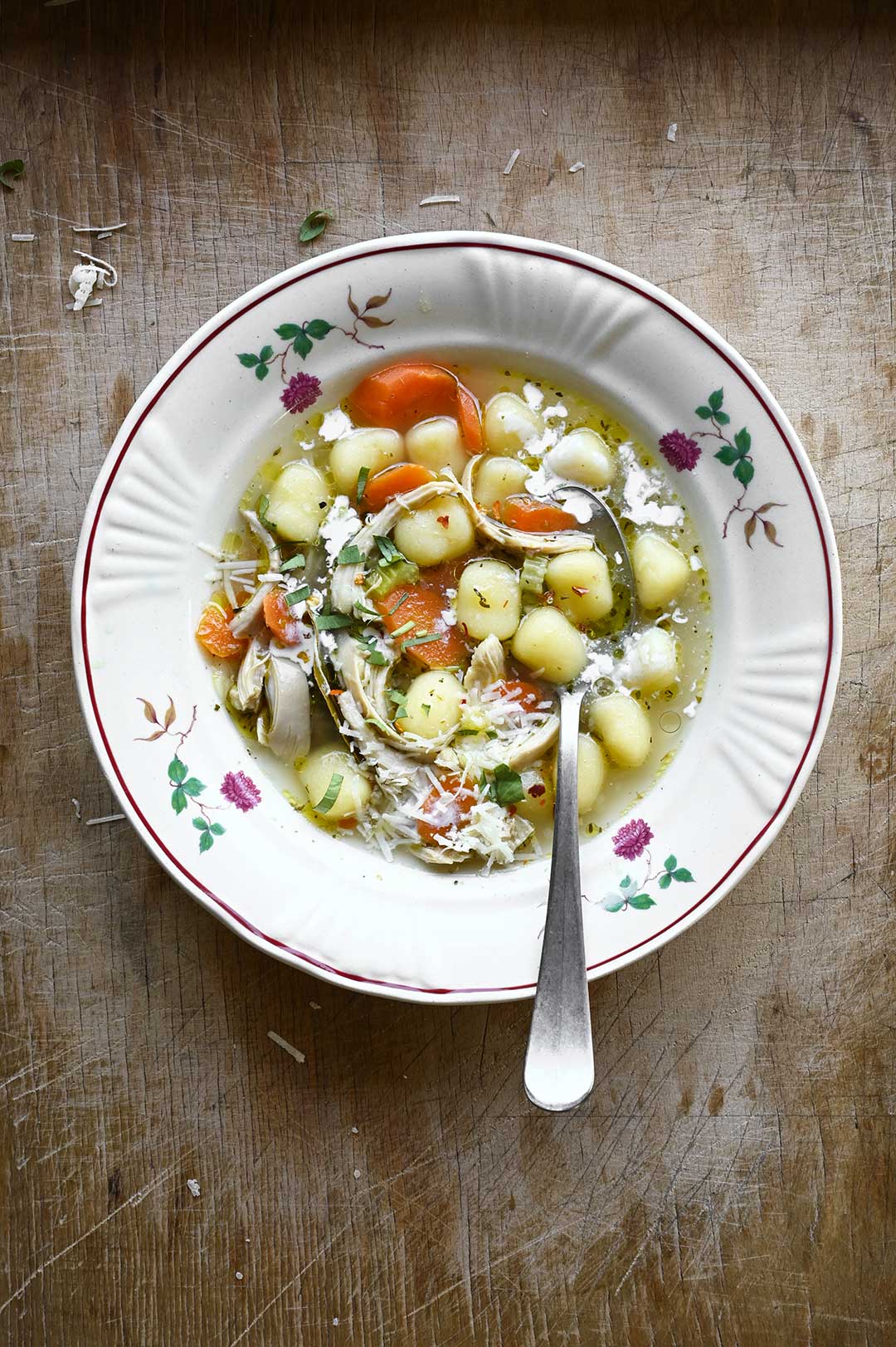 //= __('Print recipe (no photos)', 'servingdumplings' );?> //= __('Print recipe (with photos)', 'servingdumplings' );?>