One-skillet oven baked chicken drumsticks with a creamy black pepper sauce and roasted bell peppers. It's made with extra coarse ground black peppercorns and pickled green peppercorns for a knock-out dish. It's slightly decadent and more than satisfying, just pure joy.
It's an easy pan sauce made with chicken stock, a splash of milk and soft cheese with cracked black peppercorns. It has a nice peppery kick and a delicious garlicky note. We're serving this sauce with a bunch of golden crispy chicken drumsticks for a meal that can make even a regular weeknight dinner feel extra special.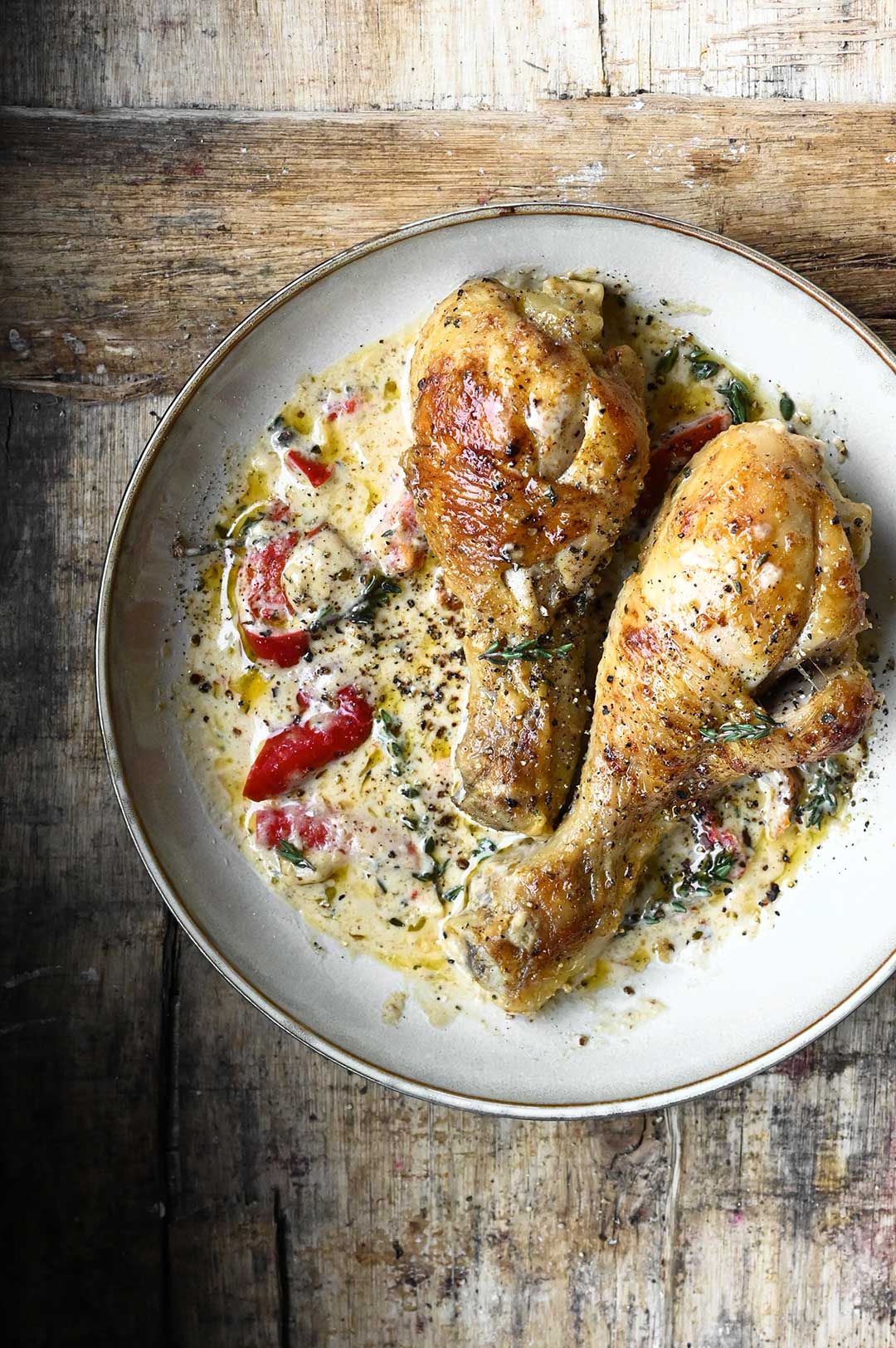 This one skillet meal is absolutely amazing. The chicken is incredibly juicy and infused with the most delicious flavors. We add roasted bell peppers (from a jar – super easy!) to brighten up this indulgent dish. While the soft cheese makes a bold flavor statement enhanced with lively black peppercorns that add character and intensity. It's fuss-free and tastes so good.  A crowd-pleasing dish, a true back-pocket recipe to have in your arsenal. And it's super versatile too, if you swap the bell peppers for sun-dried tomatoes, you'll effortlessly create a totally different dish. Let's make this delicious chicken dish, shall we? Hands down. It's amazing. Let me walk you through making these Creamy Black Pepper Drumsticks, step by step in this video.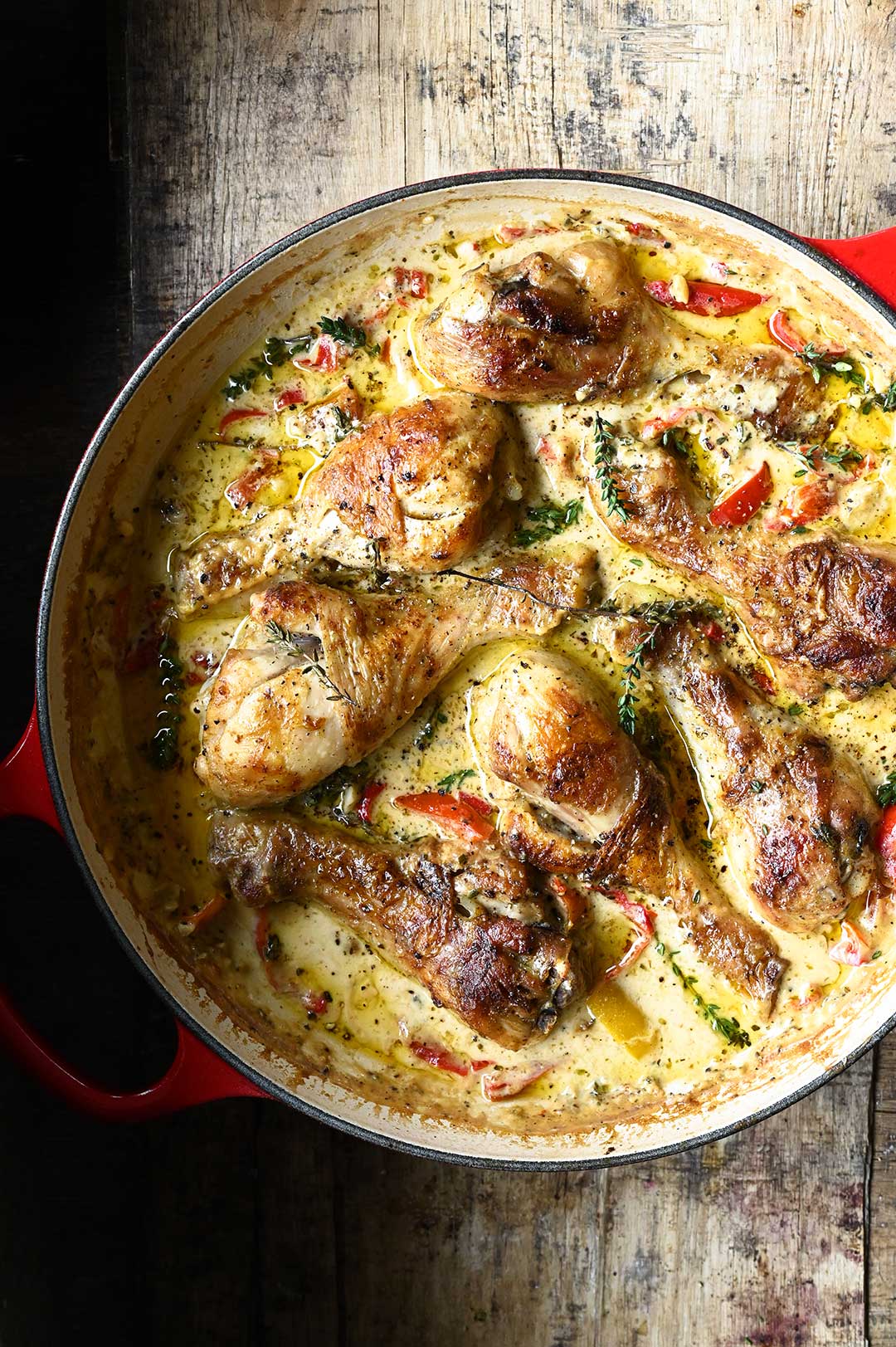 TIPS
You can serve it with orzo, baked or mashed potatoes.
Or use broccoli, or a simple side salad and bread to mop up that amazing sauce.
Instead of drumstick, you can use chicken thighs or chicken breasts. If you use chicken breasts, you can make this dish without using the oven. Just follow the steps, then add the seared breasts back to the skillet and cook for 5-10 minutes along with the sauce.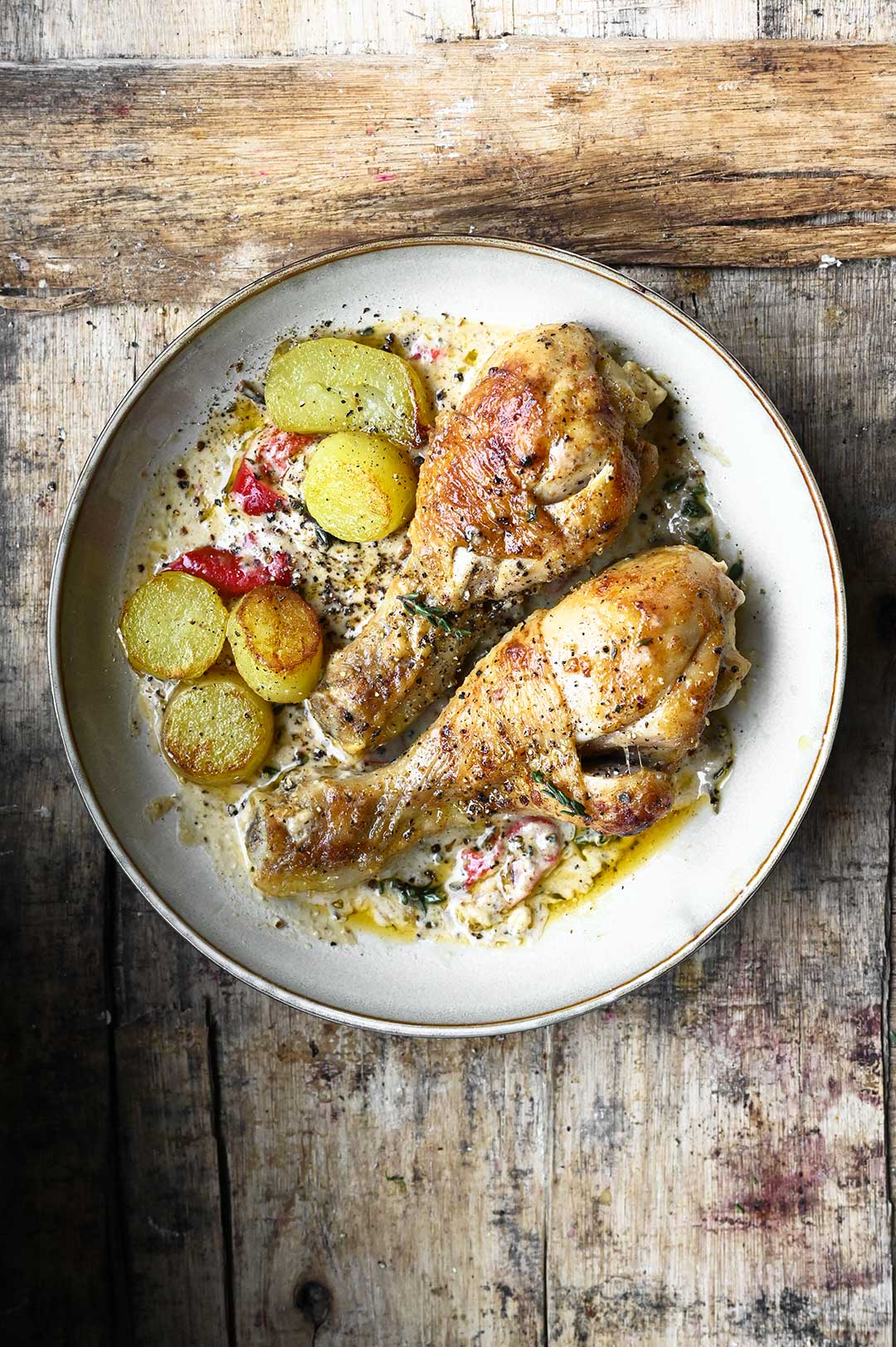 More chicken, please!
One Skillet Parmesan Chicken and Orzo
Easy Peanut Butter Chicken
Roasted chicken with grapes and orzo
Craving more? Sign up for my NEWSLETTER to receive the latest recipes delivered straight to your inbox. And stay in touch on Facebook, Pinterest and Instagram for all of the latest updates.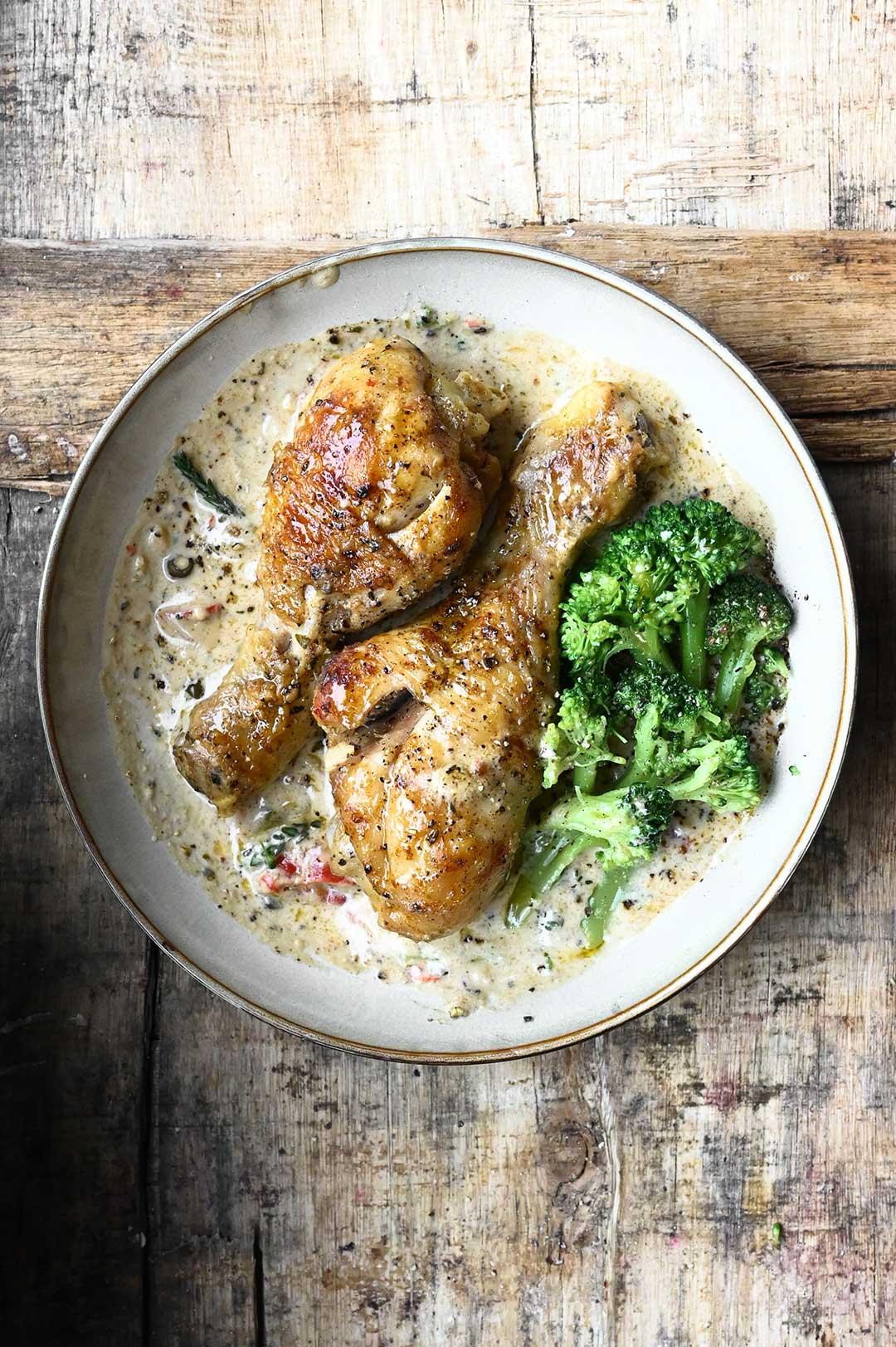 You need
8 chicken drumsticks
chicken seasoning: 1 tsp each: sweet paprika, dried thyme, garlic powder, ground cumin, cayenne pepper, salt, black pepper)
1 package soft cheese with cracked black pepper corns, I used Boursin
1 jar (280 g/ 10 oz) roasted bell peppers, cut into thin slices, excess oil drained
250 ml (1 cup) chicken broth
200 ml (3/4 cup) milk
2 tbsp salted butter
1 tbsp olive oil
4 garlic cloves, minced
1 tsp freshly ground black pepper
1 tsp pickled green peppercorns, chopped (young green peppercorns in brine), optional
1 tsp each: dried oregano, dried thyme
fresh thyme sprigs, optional
How to make
Preheat the oven to 200°C (400°F).
Combine the ingredients for the seasoning, then rub in the chicken drumsticks on all sides.
Heat olive oil and butter in a large oven-proof skillet over medium high heat. Add drumsticks and sear both sides until golden brown, about 8 minutes per side. Remove from skillet.
In the same skillet, add garlic, cook over low heat until soft, 2 minutes. Add ground black pepper and green peppercorns, sauté for 1 minute. Stir in thyme and oregano. Pour chicken stock and bring to a boil. Stir in the cheese, add milk and roasted bell peppers. Give it a taste and season with salt, if needed.
Return chicken to the skillet. Sprinkle with fresh thyme. Place the skillet in the oven and roast until completely cooked through, about 30 minutes. Enjoy!
Serve with orzo, baked/mashed potatoes or bread and broccoli or a simple side salad. Let me walk you through making these Creamy Black Pepper Drumsticks, step by step in this video.
And …IF YOU LOVE THESE RECIPES … please consider supporting my work for just the cost of a cup of coffee.

If you try this recipe, let me know! Leave a comment and don't forget to tag me in your picture on Instagram with @anna_s_table or mention with #servingdumplings I'd love to see what you're making. Happy cooking!