Creamy beef bolognese with roasted peppers. Like regular bolognese but pimped up with cream, cheddar and roasted bell peppers. This creamy, cheesy beef pasta is pure joy. Seriously delicious and easy to make. It requires only a handful of simple ingredients and comes together in just 30 minutes. This dish has it all – pasta, ground beef, a creamy tomato sauce and melted cheese. And the roasted bell peppers? They come from a jar, so no preparation needed.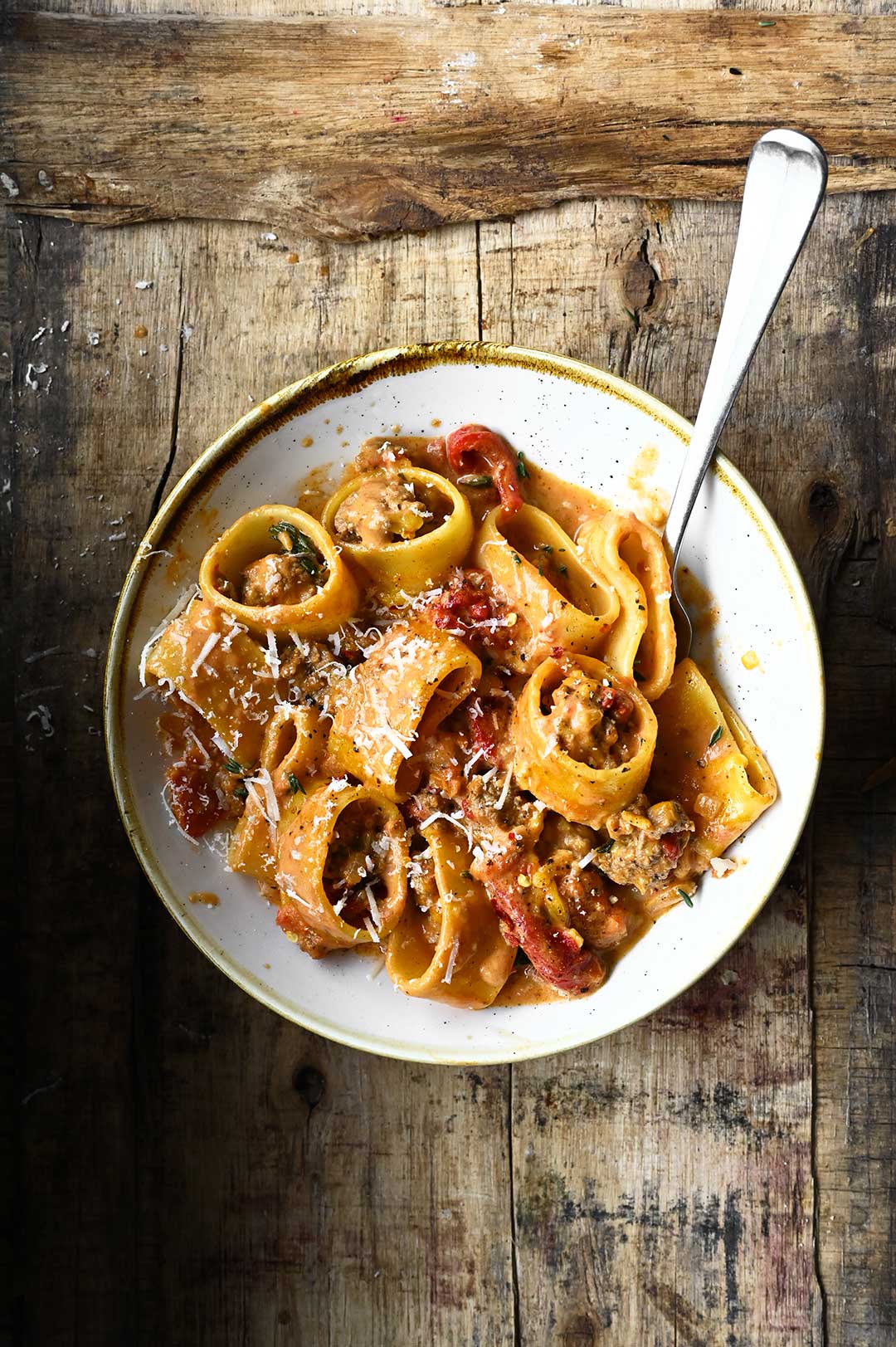 This recipe couldn't be easier. We sauté some garlic and onion, brown ground beef, add a little broth, roasted peppers and crushed tomatoes. The addition of chicken broth rounds out the meat flavor and gives the beef something to cook down in without drying out. We let it simmer, then finish off with a little cream and lots of cheese to elevate the creaminess factor. Toss in pasta, done! Serve with a side salad drizzled with olive oil and balsamic vinegar.
Let me guide you through the recipe with this step-by-step VIDEO.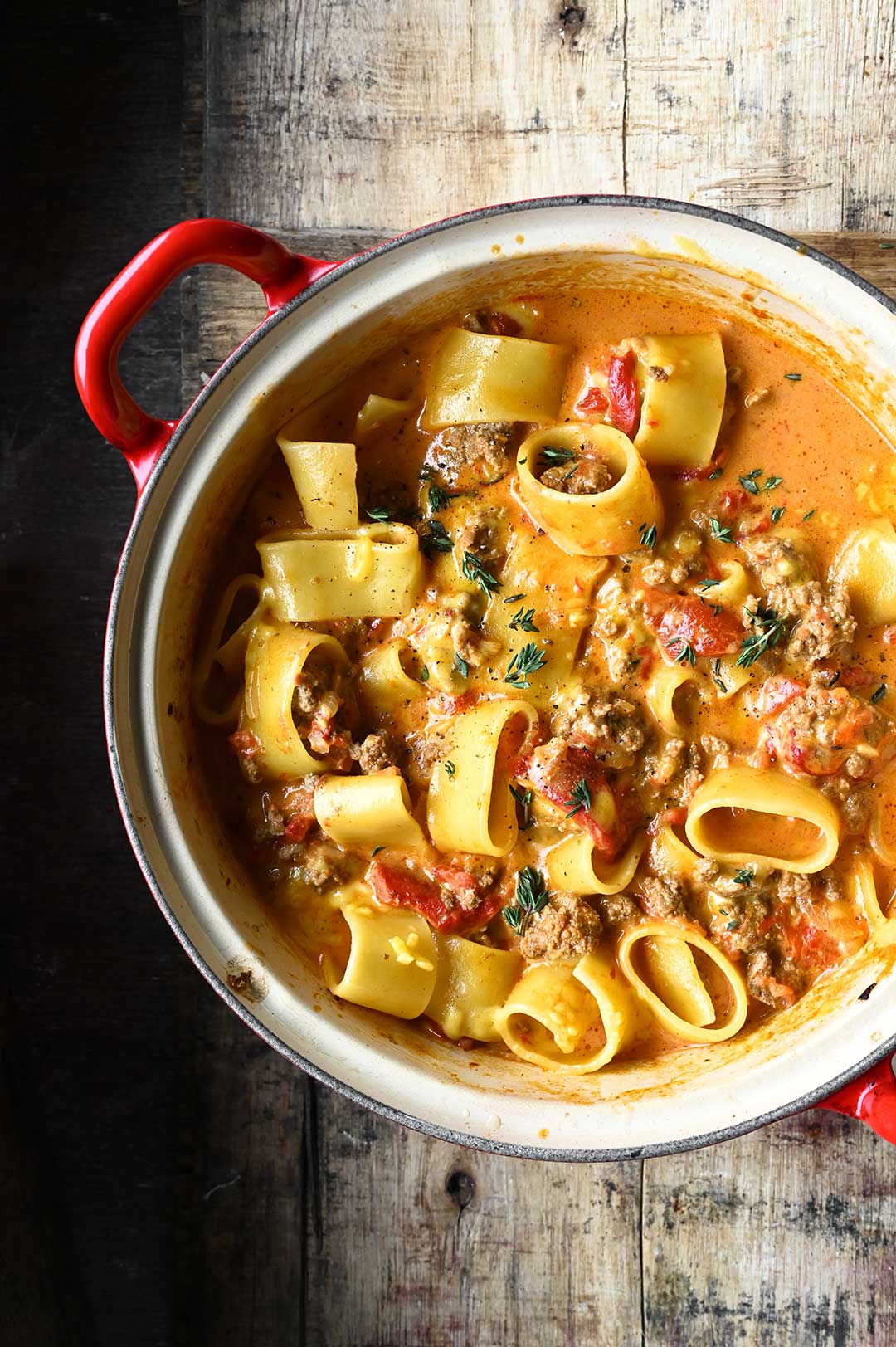 Recipe Notes
You can use half-and-half, but heavy cream has more fat and doesn't curdle in the tomato sauce.
As for the cheese, sharp cheddar is the best, but you can swap it for Parmesan. Whatever you do, don't skimp!
If you can't find calamarata pasta, just use tagliatelle, rigatoni or penne.
And for the meat, you can combine ground beef and pork, or use ground chicken.
Leftovers can be refrigerated in an airtight container for up to 3 days.

Other Delicious Recipes to Try: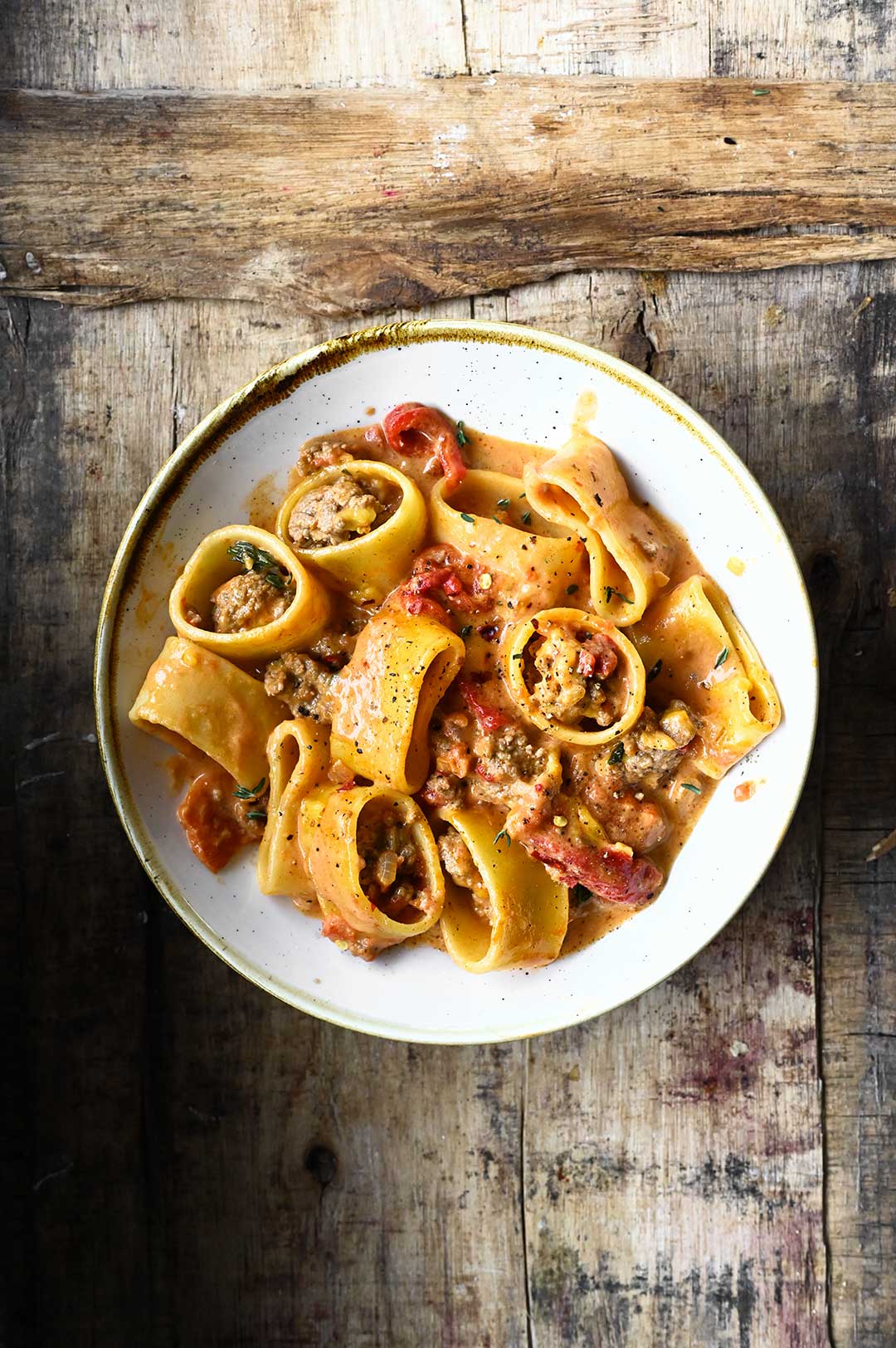 Cooking Video
Yield: serves 4
Creamy Beef Bolognese with Roasted Peppers
Ingredients
250 g/9 oz pasta
500 g/1.1 pounds ground beef
1 small jar (290 g/10 oz) roasted bell peppers, drained
½ cup/120 ml chicken broth
250 ml/1 cup crushed tomatoes
¾ cup/200 ml heavy cream
150 g/5.5 ounces grated cheddar
3 tbsp olive oil
1 small onion, finely diced
3 garlic cloves, minced
2 tbsp tomato paste
spices: 1 tsp each: sweet paprika, crushed red pepper flakes, dried oregano, salt, black pepper
grated Parmesan, for serving
fresh thyme, for serving (optional)
Instructions
Cook the pasta in a large pot of boiling generously salted water, until al dente, about 1 minute less than package directions (pasta will finish cooking in the sauce).
In a large pot, heat olive oil over low heat. Add onion and garlic, sauté for 2 minutes. Add beef, cook over medium heat, break up into small pieces with a wooden spoon. Add spices, fry until cooked through and browned. Stir in roasted peppers. Pour broth and crushed tomatoes, add tomato paste. Cover and cook for 10 minutes.
Add cream, bring to a boil and toss with pasta. Cook for 1-2 minutes. Remove from the heat. Add cheddar, stir until the cheese is melted.
Serve immediately with grated Parmesan and fresh thyme. Enjoy!
Notes
Calories Per Serving: 610 kcal
Nutritional information is only an estimate. The accuracy of the nutritional information for any recipe on this site is not guaranteed.