Cowboy beans is a hearty dish featuring ground beef, bacon, two types of beans and barbecue sauce. Thanks to the smoky bacon and a touch of brown sugar, these beans have a rich and delicious flavor. Whether you're looking for a make-ahead main dish or a crowd-pleasing side for your next potluck party, this recipe is one you'll be making over and over again.
Try also my 'Spicy Tomato Beans with 'Nduja', 'Middle Eastern Chicken Stew with White Beans' or 'White Bean Stew with Feta and Poached Egg' for another crowd pleasing bean dish.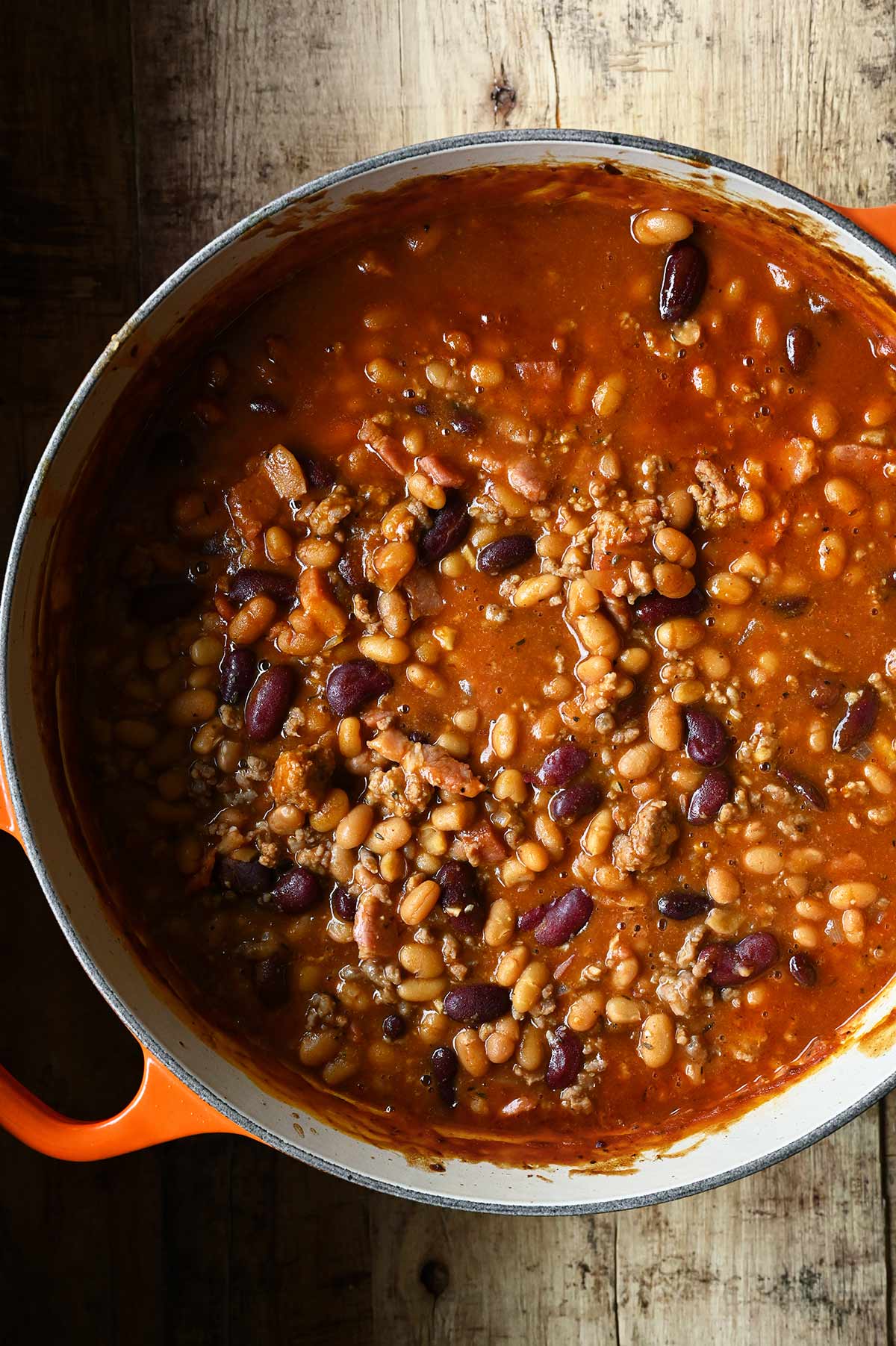 Why You'll Love Cowboy Beans
If you want a tasty, filling dish the whole family will enjoy, cowboy beans are the way to go! These beans combine baked beans and kidney beans with smoked bacon, ground beef, garlic and onions in a sweet and tangy barbecue sauce.
They're perfect for planning ahead and a real crowd pleaser! Cowboy beans are the equivalent heartiness, making them great for both kids and adults.
Easy peasy! This recipe is pretty hands-off. After putting everything in the pot, cover it, and let the oven do the work. No need to fuss around.
One-pot wonder! This dish is super easy to make with ingredients you probably already have in your pantry. Plus, cleanup is a breeze!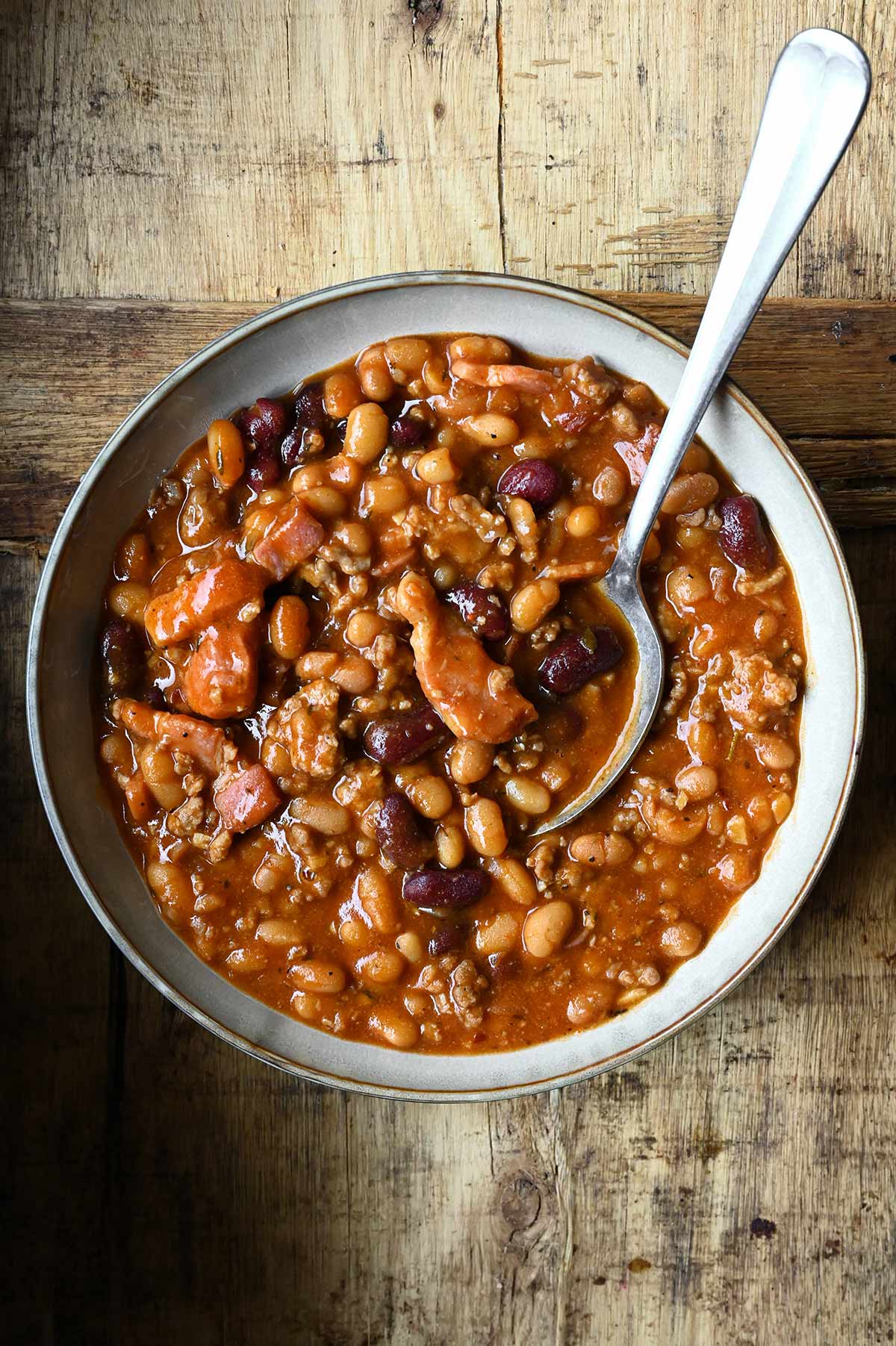 What are cowboy beans?
Cowboy beans are a super hearty bean dish that typically includes pinto beans, baked beans and ground beef simmered in a sweet and tangy sauce. These beans are slow-cooked in the oven until all the aromas blend together. They have a flavor similar to baked beans but with a Southwestern twist. This dish is quite flexible, you can use different meats or add vegetables and adjust the sauce's sweetness or spiciness.
If you haven't had cowboy beans before, you're in for a treat. They're like an upgraded version of baked beans. My take on cowboy beans uses canned kidney and cannellini beans in tomato sauce for a perfect texture, along with bacon and beef. Combined with barbecue sauce, these cowboy beans are a hit. Your friends and family will absolutely love them!
Cowboy beans can be enjoyed as either a main dish or a side dish:
As a main dish: Cowboy beans are hearty and satisfying, making them an excellent choice for the main course. They pair well with cornbread, crusty bread or warm tortillas.
As a side dish: Cowboy beans are also a popular for barbecue, parties and potlucks.
How To Make Cowboy Beans
This is a super easy recipe, just follow these simple steps to build layers of amazing flavors.
Begin by adding bacon to the pot, and watch as it infuses the dish with its smoky goodness.
Next, add the ground beef, cooking it until it begins to brown.
Add garlic, onion and the seasonings to the mix.
The stars of this dish are the canned beans. I recommend using cannellini beans in tomato sauce (baked beans) and kidney beans. Elevate the flavor with barbecue sauce and mustard.
That's pretty much it, the rest is hands-off! Cover the pot, transfer it to the oven, and let it slowly simmer for 45-60 minutes.
The end result is so delicious you'll be tempted to savor every last bite. Give these cowboy beans a try at your next gathering, I guarantee they won't disappointed!
Let me guide you through the recipe with this step-by-step VIDEO or follow along on YouTube.
What Are Cowboy Beans Made Of?
Bacon: Thick-cut smoked bacon for the best flavor. Smoked bacon bits can also be used as an alternative.
Ground Beef: I used lean ground beef, but you can substitute it with ground pork or a combination of both. For a leaner option, consider ground chicken or turkey.
Baked Beans: Canned white beans simmered in tomato sauce. Use your preferred brand.
Kidney Beans: Alternatively, you can use pinto beans, black-eyed peas or black beans.
Onion and Garlic: Freshly chopped onion and garlic are essential for the best flavor. Avoid store-bought pre-chopped onion or garlic.
Flavor Enhancers: A mixture of salt, black pepper, chili powder, dried oregano, brown sugar, sweet paprika and Dijon mustard.
Barbecue Sauce: Use a good-quality brand or make your own barbecue sauce.
Helpful Tips
Crock-Pot Option: You can prepare your cowboy beans in a crock-pot. After following the initial steps of cooking bacon, ground beef, garlic and onion, transfer everything to your crock pot, and then add the other ingredients. Cook on high for 3 hours or on low for 5 hours.
Get Creative with Veggies: Feel free to enhance your cowboy beans with additional veggies like green or red bell peppers, or even potatoes.
More Beans, More Flavor: Increasing the variety of beans can add even more depth to your dish. Try mixing in four different kinds of beans for extra variety and flavor.
Experiment with Meats: For a different flavor twist, consider incorporating smoked sausage or ham into your cowboy beans.
Sweetening Options: If you prefer, you can substitute brown sugar with honey, maple syrup or molasses.
Customize the Spice Level: Adjust the spiciness to your liking by tweaking the amount of chili powder in your recipe.
Add a Tangy Twist: For an extra tangy kick, consider adding a dash of Worcestershire sauce or apple cider vinegar to your cowboy beans.
Toppings: Serve with a variety of toppings, such as chopped onions, shredded cheese or sour cream.
Storage
Refrigerator: Store your cowboy beans in an airtight container in the refrigerator. They can be kept fresh for up to 3 days.
Freezer Option: To store for longer periods, use an airtight container and freeze your cowboy beans for up to 3 months. When you're ready to enjoy them, thaw overnight in the fridge and then reheat on your stovetop.
Make Ahead for Enhanced Flavor: This recipe actually gets better with time. Consider preparing it one day before serving, and when you're ready to enjoy it, simply reheat it on your stovetop over medium-low until heated through, allowing the flavors to meld and intensify.
Cooking Video: How to Make Cowboy Beans
Yield: serves 6-8
Cowboy Beans
A hearty dish made with ground beef, bacon, two kinds of beans and barbecue sauce. Smoky and slightly sweet, these beans have a real depth of flavor. A perfect make-ahead main or side dish for any potluck or party.
Additional Time
45 minutes
Ingredients
8 ounces/225 g thick-cut smoked bacon, chopped
1 pound/450 g ground beef
1 medium yellow onion, finely chopped
8 garlic cloves, minced
1 tsp each: salt, black pepper, chili powder, sweet paprika, dried oregano
2 tbsp dark brown sugar
2 can (28 oz/800 g) baked beans
1 can (14 oz/400 g) kidney beans, drained and rinsed
½ cup barbecue sauce
2 tbsp dijon mustard
Instructions
Preheat the oven to 350°F/180°C.
Get your prep done before you start cooking. Chop the bacon, mince the garlic cloves and finely chop the onion.
Heat a large oven-proof pot or Dutch oven over medium high. Add bacon and cook until golden brown. Add ground beef and break up into pieces. Cook until it begins to brown, but ensure it's not fully cooked through.
Add onion and garlic, cook for 3 minutes. Stir in salt, pepper, chili powder, paprika, oregano and brown sugar. Add baked beans and kidney beans, stir to combine. Rinse the baked bean cans with ½ cup water, and then pour that rinsing water into the pot.
Add barbecue sauce and mustard. Stir well to combine, then turn off the heat and cover the pot with a lid. Transfer to the oven and bake for 45 minutes to 1 hour. The beans should be steaming and bubbly, and the sauce thickened. Enjoy!
Nutrition Information:
Yield:
8
Serving Size:
1
Amount Per Serving:
Calories:

432
Total Fat:

21g
Saturated Fat:

7g
Trans Fat:

0g
Unsaturated Fat:

11g
Cholesterol:

79mg
Sodium:

1441mg
Carbohydrates:

34g
Fiber:

5g
Sugar:

17g
Protein:

30g
Nutritional information is only an estimate. The accuracy of the nutritional information for any recipe on this site is not guaranteed.