See this salad? I just ate leftovers for breakfast. It's fresh, bright with satisfyingly crunchy things and bursting with fresh flavors. A really great peanut corn salad, perfect for hot summer days.
Sautéed corn and crunchy romaine, dressed with a creamy spicy garlic peanut dressing and a squeeze of lemon juice then topped with toasted peanuts.
Every bite is filled with delicious crunchy vegetables, and hints of salty peanuts. It's a fast, easy summer salad you'll be making on every barbecue or picnic.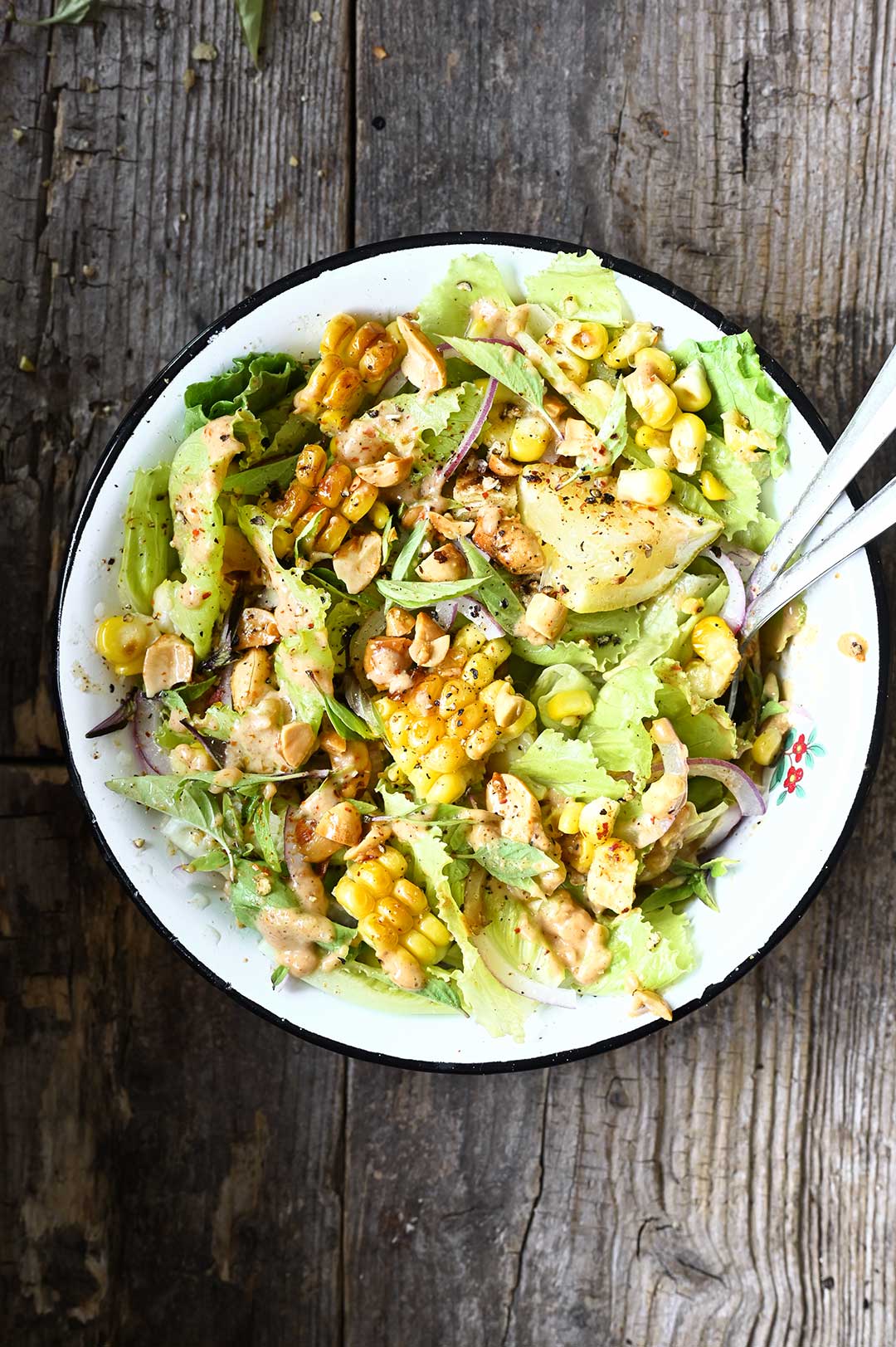 Here's how it goes. Two ears of corn, shaved, then sautéed in a bit of olive oil, lemon juice and garlic. Then we pimp the salad with summer basil, red onions and toasted peanuts. Simple and tasty.
You can add more vegetables like fresh cucumber or make the salad less or more spicy. Or add cilantro instead of basil. Then serve it as a main dish with roasted potatoes or as a side with grilled meat or fish. The best part? The leftovers are seriously delicious. Perfect for packing up for lunch the following day.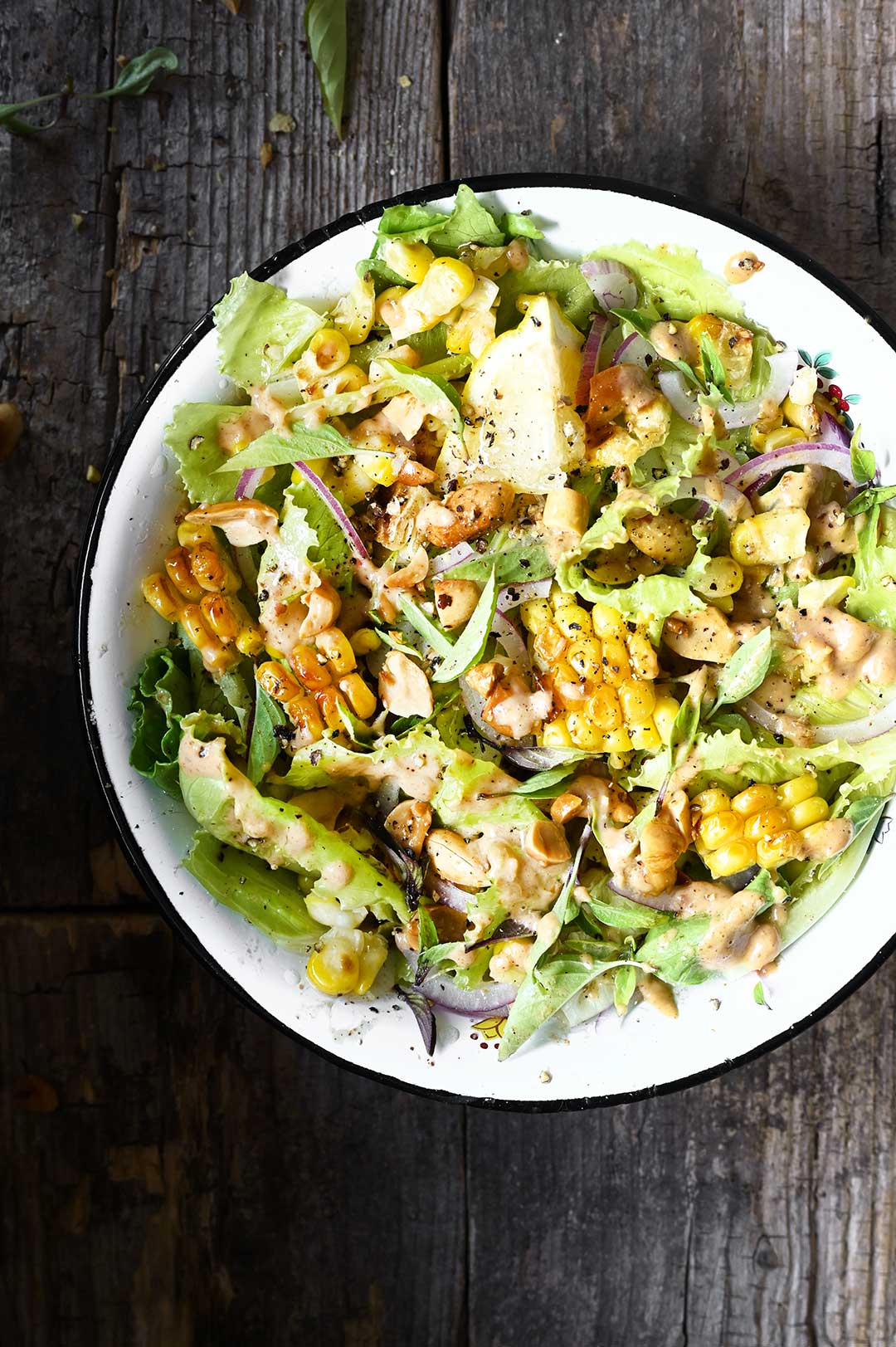 Hungry for more?
Tahini peanut zucchini noodle bowl
Nectarine and peanut chicken salad
Roasted salmon with black bean corn salsa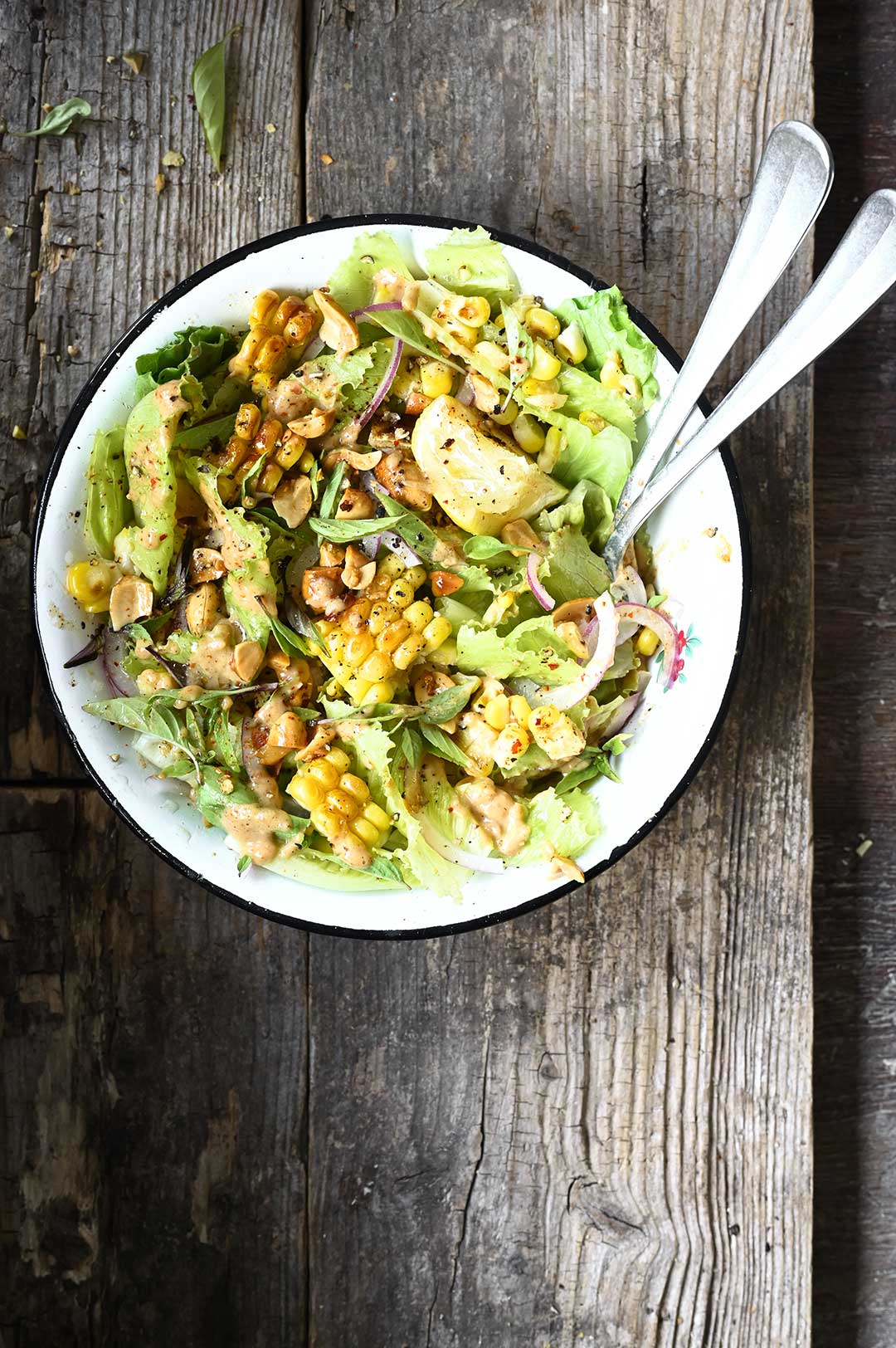 You need
2 ears of corn
1 head of Romaine, roughly torn
20 g ( 1 cup) basil leaves or 1 tbsp chopped cilantro
4 tbsp peanuts
1 red onion, thinly sliced
3 tbsp olive oil
big squeeze of lemon juice
1/2 tsp chili flakes, more to taste
1 garlic, finely chopped
salt + black pepper
spicy peanut dressing
1/4 cup peanut butter
1/2 cup water
2 tbsp lemon juice
1 tbsp rice vinegar
2 tbsp soy sauce
1 tbsp sesame oil
1/2 tsp grated ginger
1 garlic clove
1 tsp sambal, more to taste
salt + black pepper
How to
Make the spicy peanut dressing. Add all of the ingredients to your blender and blend until the dressing thickens, about 30 seconds. Add more water, if needed. Season with salt and pepper to taste.
Cut the kernels off of the cob. Heat 2 tbsp olive oil in large cast iron skillet over high heat. Add the corn and cook, stirring occasionally, until corn starts to char about 5 minutes. Add garlic and 1 tbsp lemon juice, season with salt and pepper. Cook for 30 seconds. Transfer kernels to a large bowl.
In the same skillet, heat 1 tablespoon olive oil. Add peanuts and chili flakes. Cook until lightly toasted, about 3 minutes. Watch closely. Spoon the peanuts out of the skillet onto a parchment-lined plate. Sprinkle with salt.
Add romaine, peanuts, red onion and basil (or cilantro) to the corn and toss with the peanut dressing. Season with salt and pepper to taste. Squeeze some lemon juice on top. Enjoy!
//= __('Print recipe (no photos)', 'servingdumplings' );?> //= __('Print recipe (with photos)', 'servingdumplings' );?>