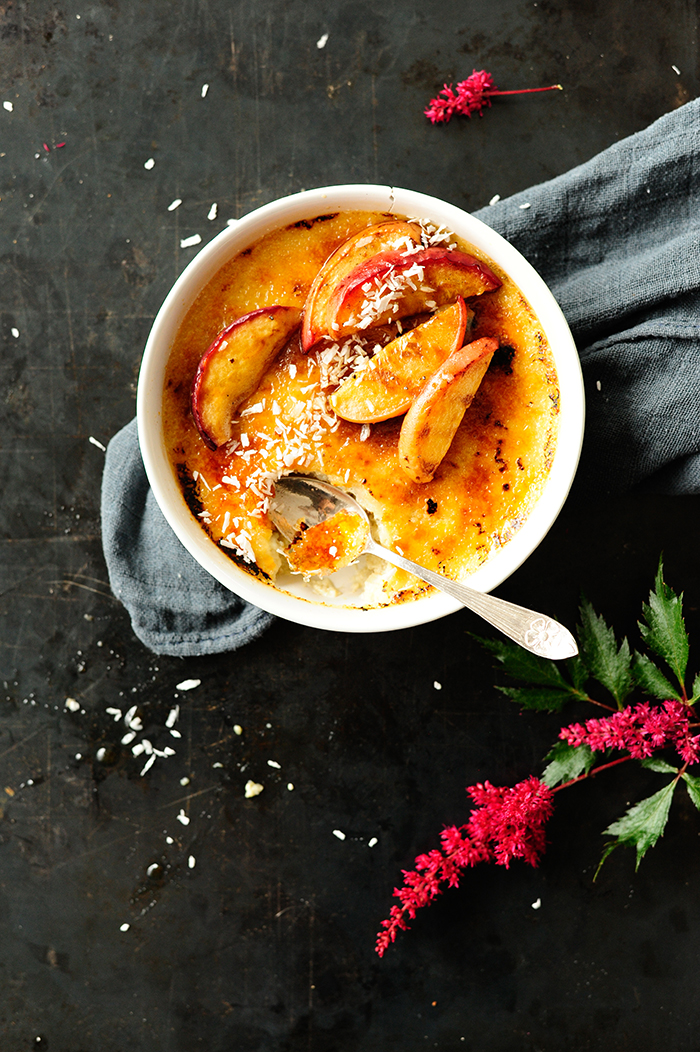 Did you ever tried crème brûlée for breakfast?  You definitely need to try this one! It's coconut flavored with a crunchy caramelized top. It's the perfect dessert breakfast, which is totally my thing:)
Ingredients
oatmeal crème brûlée
1/3 cup oatmeal
400 ml coconut milk
3 tablespoons sugar
2 egg yolks
roasted peaches
2 peaches
1 tablespoon olive oil
2 tablespoons honey
Przygotowanie
Place the oats in a foodprocessor and blend. Put into a saucepan, pour coconut milk and add sugar. Heat over low heat for 5 minutes, stirring frequently, but do not boil.
In a bowl, beat the egg yolks and add the hot oatmeal, stirring constantly.
Pour into molds and put in the oven. Bake for 40 minutes at 100 degrees.
When ready, evenly sprinkle each mold with sugar and caramelize until golden brown using a kitchen torch.
Cut the peaches in half, heat the oil in a pan and fry the peaches on both sides until amber brown. Then sprinkle with honey.
Serve the oatmeal crème brûlée warm with the roasted peaches. Enjoy!!