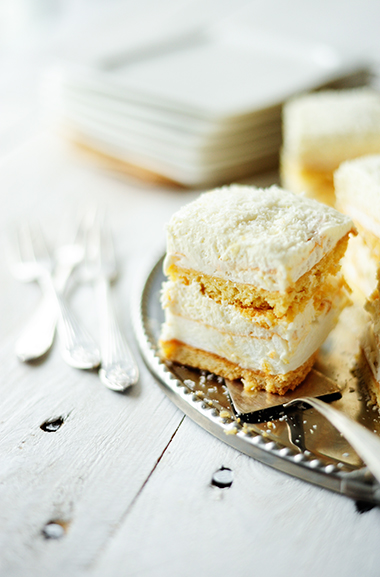 Meringue bites layered with a creamy lime custard and coconut shavings. A delicious combination of sweet and sour. It's a great, impressive cake for less-sweet dessert lovers. 
Ingredients
biscuit
5 egg yolks
125 g butter at room temperature
180 g sugar
200 g all-purpose flour
80 g potato starch
2 tbsp  baking powder
2 tbsp cold water
meringue
5 egg whites
200 g sugar
1 tbsp cornstarch
lime custard
3 limes
100 g sugar
2 heaped tbsp corn starch
500 ml heavy cream
2 tbsp sugar
also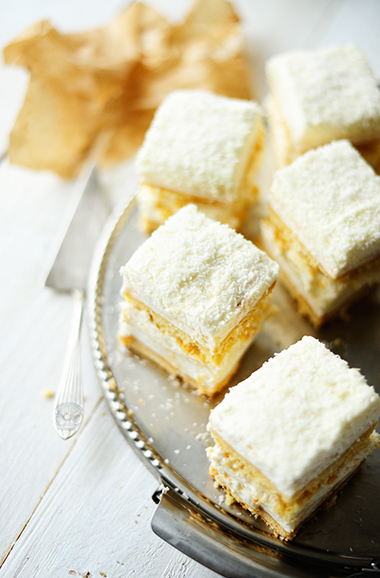 Instructions
Preheat the oven to 180°C.
Mix the butter and sugar together until well blend, light and fluffy. Add half of the flour and mix. Then add the egg yolks, one at a time, stirring constantly. Add the rest of the flour, cornstarch and baking powder. Mix until smooth. Pour half of the batter into a greased and lined with baking paper 20×30 cm mold.  Place in the oven for 10 minutes.
In the meantime, beat the egg whites with sugar and potato starch until stiff. Remove the cake from the oven, put half of the egg white mixture on top of the warm cake and place back in the oven for 10-15 minutes. Remove and cool. Bake the other half of the batter the same way with the rest of the egg white mixture and cool.
Make the custard. Squeeze the lime juice into a saucepan, add 1/2 cup water and sugar and bring to a boil. Then add cornstarch and cook for one minute. Remove from heat and cool. Beat the cream with powdered sugar until soft peaks form. Gently stir with the cold lime mixture.
Transfer the first cake into a cake plate, spread half of the lime custard and place the other cake on top. Spread the remaining lime custard and sprinkle with shredded coconut. Chill the cake before serving.
Bon Appetit!