Do you even need an occasion for cake? You can enjoy it any day of the week.
Marble cake is a childhood memory. Whether using coconut or just chocolate and vanilla, it's a teatime treat, a super delicious dessert or breakfast. Yes, I do eat cake in the morning!
This recipe swirls together coconut and chocolate-coconut batters to make a delicious and striking marbled pound cake. It's moist but not heavy, buttery but not too rich. It's dense with a close crumb and spongy, made with a flavorsome mix of coconut and vanilla, melted chocolate and coconut oil. 
I switched butter for coconut oil and used cocoa powder and chocolate to give the swirl a richer, deeper chocolate flavor and a dash of espresso powder, which enhances the taste of chocolate. 
My advice for getting a nice swirl is to not swirl the batters too much. This batter has a thick texture, that helps to keep the two colors intact and create that specific look.

You need
210 g (7.4 oz) all-purpose flour
225 g (7.9 oz) coconut oil, melted
225 (8 oz) sugar
4 eggs
50 g (1.7 oz) desiccated coconut
2 tbsp coconut cream
1 tsp baking powder
1 tsp vanilla extract
25 g (0.9 oz) cocoa powder
50 g (1.7 oz) bitter sweet chocolate, chopped
1 tsp espresso powder
+
20 g (0.7 oz) chopped bitter sweet chocolate, for sprinkling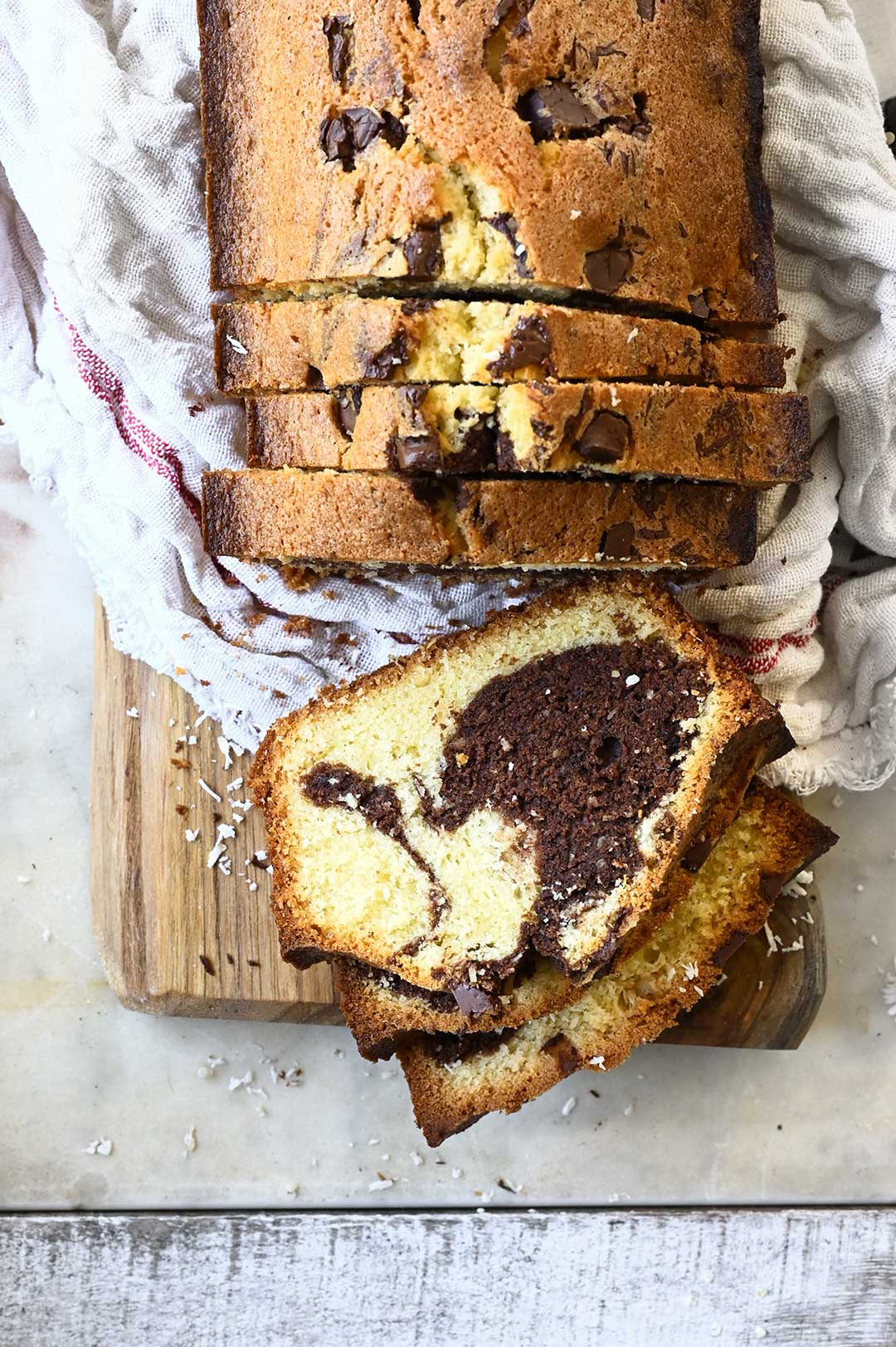 How to
Heat oven to 160°C. Grease a 22 cm loaf pan with butter.
Melt the chocolate by bringing a medium saucepan, filled a little less than halfway with water, to a simmer. Place a metal or glass heatproof bowl that's just big enough to sit on top of the pan and add the chopped chocolate to the bowl. Keep the saucepan over low heat and stir the chocolate with a wooden spoon until silky smooth. Stir in the espresso powder. Set aside.
In a large bowl, beat the eggs with the sugar. Add melted coconut oil, vanilla extract and coconut cream. Beat to combine. Sift the flour and baking powder, mix until a fluffy batter. Then fold in the desiccated coconut.
Divide half of the batter into another bowl. Stir in the cocoa powder and melted chocolate until smooth. Spoon half of the coconut batter into the prepared loaf pan. Drop spoonfuls of the chocolate batter on top of the coconut batter. Finish by spooning the remaining coconut batter over the chocolate. Using a knife or a skewer, swirl the batters together with a figure-eight motion. It may not look like the batters are swirled, but that's okay. It's important not to over-swirl. Sprinkle with chopped chocolate.
Bake for 70-80 minutes, or until a cake tester comes out clean.
Remove from the oven and let the cake cool in the pan for 10 minutes, then turn out onto a cooling rack and leave to cool completely.