An aromatic coconut curry packed with tender eggplant and topped with boiled eggs. It's creamy, hearty, a little spicy and comes together in about 30 minutes, making it a flavor-packed meal ideal on a weekday that calls for something special.
Coconut milk and eggplant go so well together, they're rounded out with a garlic note combined with a carpet of spices. Just add boiled eggs, serve with naan and get ready to be blown away!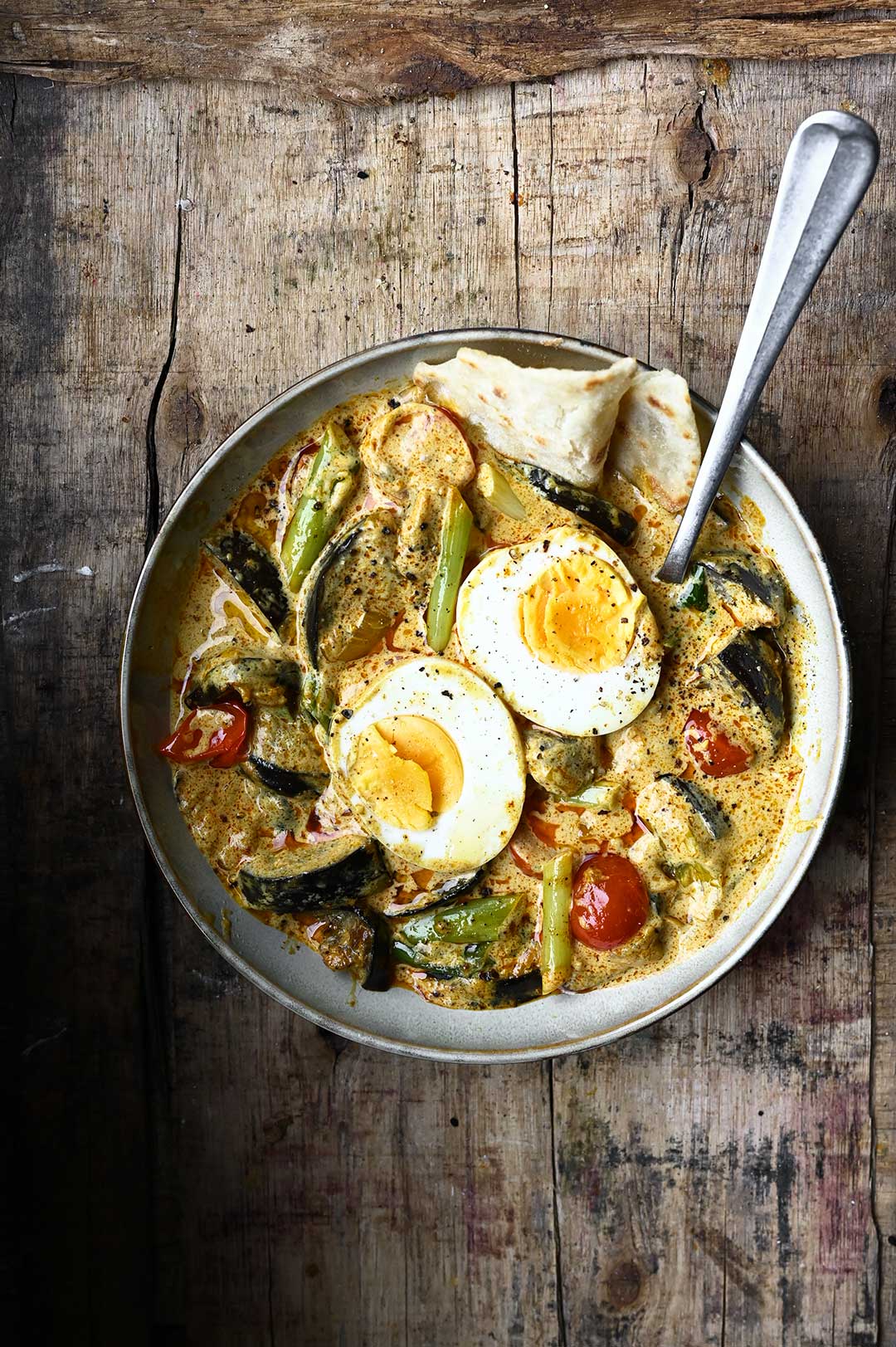 This is a very versatile dish, skip the eggplant or tomatoes and add cauliflower, cubed pumpkin, spinach, broccoli, sweet potato or zucchini instead.
Let me guide you through the recipe with this step-by-step VIDEO.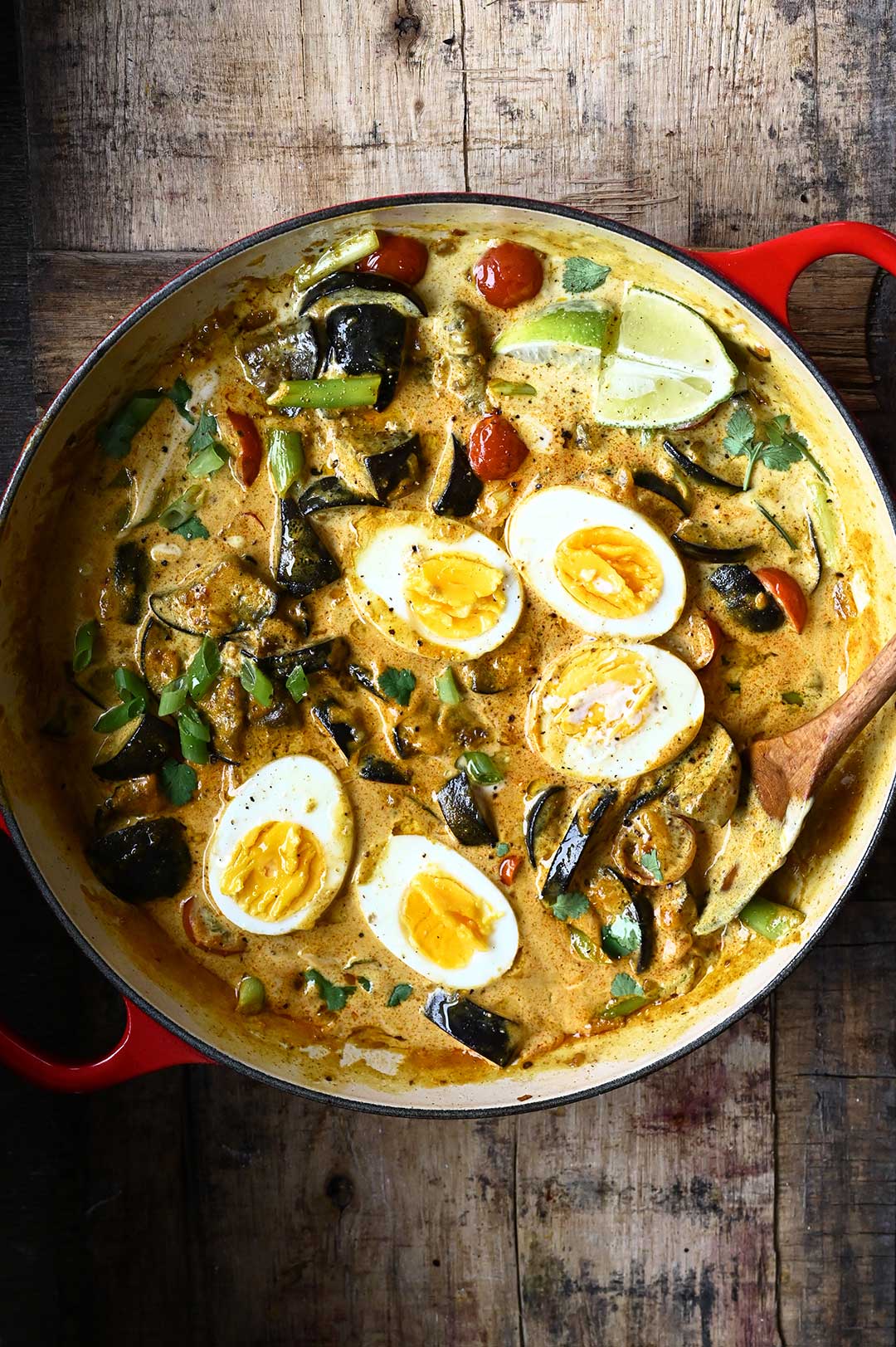 You might also like:
Easy Peanut Butter Chicken
Kung Pao Cauliflower
Coconut wasabi cod with asparagus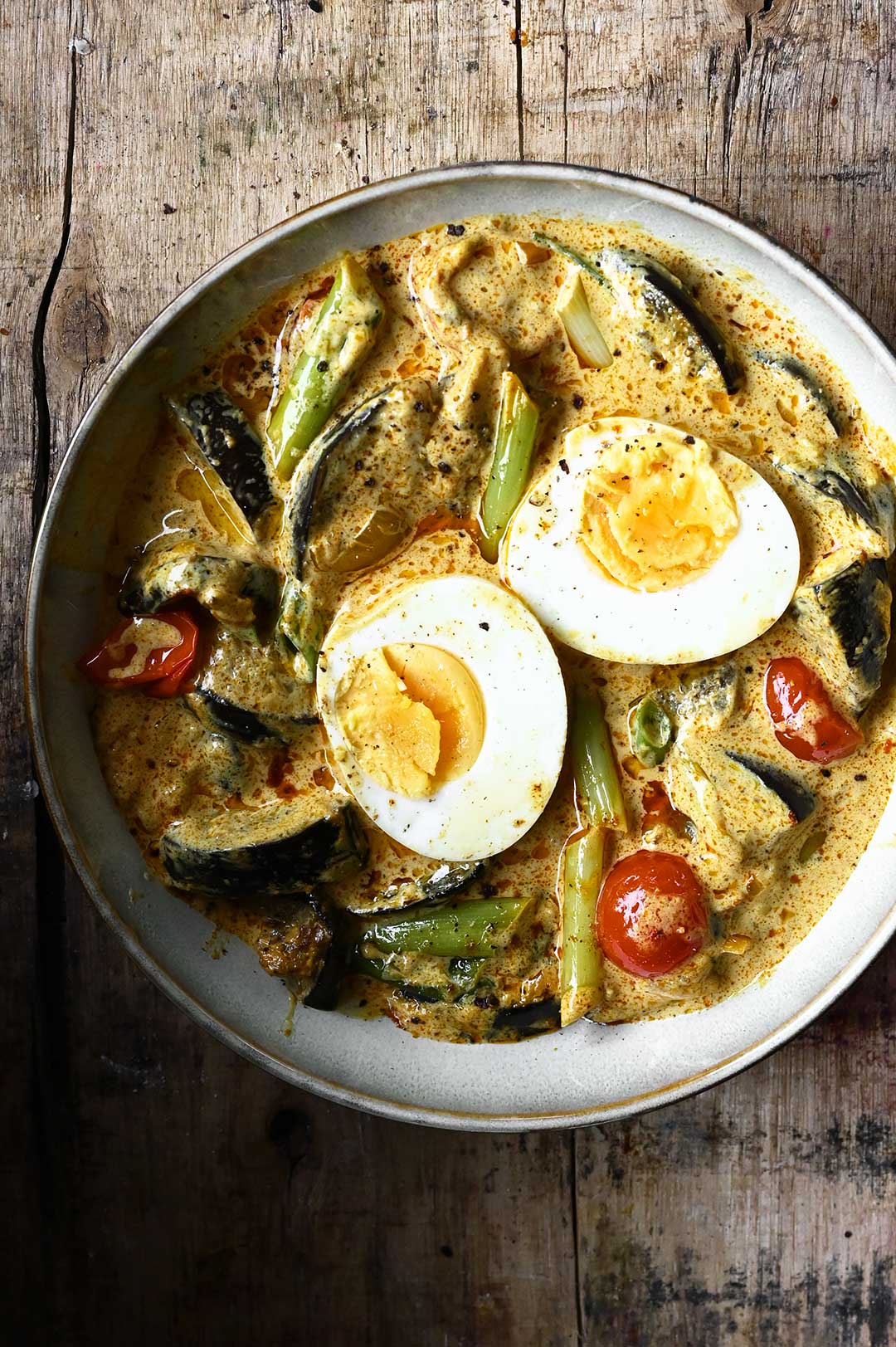 You need
1 large eggplant, cut into bite-size pieces
100 g (3.5 oz) cherry tomatoes, cut in half
4 garlic cloves, minced
1 small onion, finely chopped
1 tsp grated ginger
3 tbsp coconut oil, or vegetable oil
1 can (400 ml/13.5-oz) unsweetened coconut milk
2 tbsp lime juice
1 tbsp red curry paste
5 scallions, chopped
4 eggs, hard-boiled
salt + black pepper
cilantro, for serving (optional)
seasoning
1 tsp each: ground turmeric, ground coriander, ground cumin, smoked paprika
2 tsp cayenne pepper
How to
Let me guide you through the recipe with this step-by-step VIDEO.
In a small bowl, combine all the ingredients for the seasoning.
Add water to a small sauce pan, once boiling, add eggs, simmer for 10 minutes. Run under cool water, set aside.
Heat 1 tbsp coconut oil in a large pan over medium-high heat. Add eggplant, cook until golden brown and tender but do not overcook, about 10-15 minutes. Lower the heat if the eggplant starts to get dark brown and add 1 tbsp coconut oil, if needed. Transfer to a plate.
If pan looks dry, add another 1 tbsp coconut oil. Add garlic, ginger and onion. Sauté over low heat for 1 minute, add the seasoning and cook for 1 minute more. Stir in cherry tomatoes and scallions, cook for 2 minutes. Add eggplant back to the pan. Season with salt and black pepper. Pour coconut milk, bring to a light simmer, reduce the heat and add red curry paste. Cook, scraping up any bits stuck to the pan until flavors come together and curry is slightly thickened, about 10 minutes. Remove from the heat and add lime juice. Taste and add salt and black pepper.
Peel the eggs and cut them in half. Top the curry with eggs, let sit for 5 minutes before serving.
Divide curry among bowls and top with cilantro or scallions. Serve with lime wedges, naan or rice. Enjoy!
//= __('Print recipe (no photos)', 'servingdumplings' );?> //= __('Print recipe (with photos)', 'servingdumplings' );?>