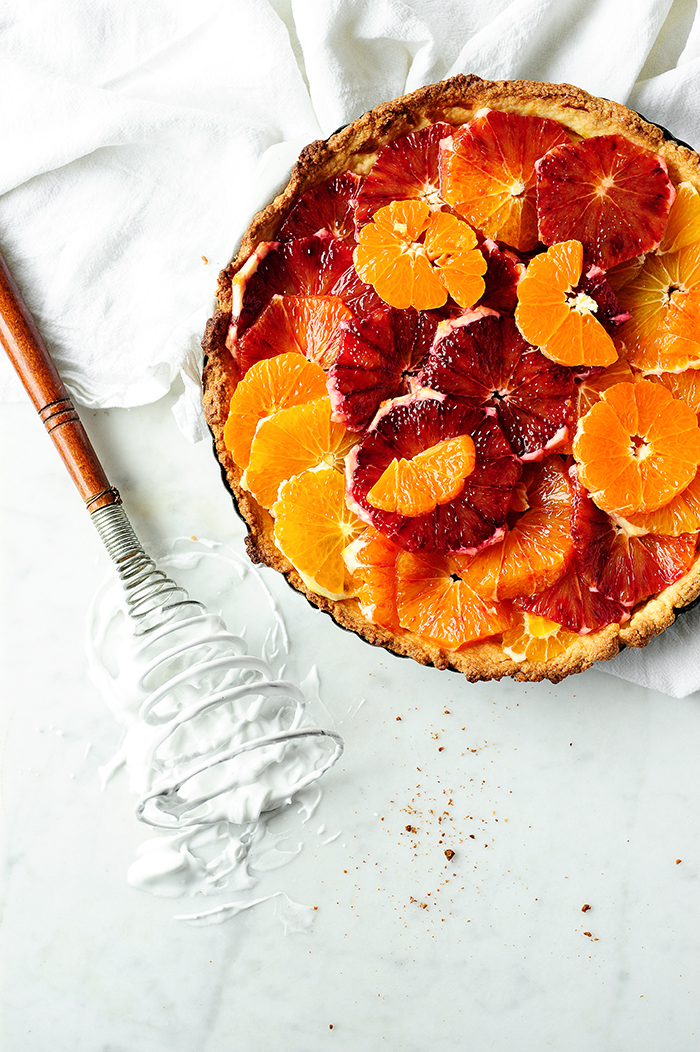 Golden brown shortbread crust with a rich vanilla filling. Full of juicy blood oranges, tangerines and a red grapefruit. Baked underneath a crispy meringue. Light and delicate, sweet tart with a subtle hint of bitterness from the grapefruit.  It's everything I like in one cake, the juicy sweetness and a crunchy bite. After taking the pictures I ate up the rest straight from the pan. The tart lived only for one day.
Ingredients
shortbread crust
250 g flour
125 g cold butter, diced
80 g sugar
2 eggs
vanilla cream
250 ml milk
3 eggs
40 g sugar
10 g corn starch
10 g flour
seeds of 1 vanilla pod
meringue
also
4 blood oranges
2 tangerines
1 grapefruit
Instructions
In a large bowl, mix together the butter and sugar. Add the egg and one egg yolk (leave the egg white for the meringue). Sift half of the flour into the bowl and begin to knead. Add the remaining flour and knead the dough. Chill for 30 minutes.
In the meantime you can make the cream, heat the milk with the vanilla seeds in a saucepan. Turn off the burner when the milk starts to boil. In a separate bowl, beat the yolks with sugar (leave the egg whites for the meringue), add the flour and corn starch. Stir, add a little hot milk and stir again. Then pour the egg mixture into the saucepan with the milk and thicken the cream over low heat, stirring constantly until it starts to bubble.
Preheat the oven to 200 degrees. Remove the dough from the fridge.
Grease a 20 cm pie pan and sprinkle with flour. Roll out the dough and place onto the pan. Prick with a fork and pour the cream. Bake for 20 minutes. Considering that the cream will not burn, you can reduce the temperature to 180 degrees.
In the meantime, peel the citrus fruits and cut into thin slices.
Beat the egg whites with sugar to stiff peaks.
Remove the cake from the oven, decorate with citrus fruits and egg whites. Reduce the oven temperature to 150 degrees and bake the tart for 15 minutes. Then lower the temperature to 70 degrees and leave the tart for 50 minutes in the oven. Then turn it off, leave the door open and leave the cake inside the oven to cool.
Bon Appetit!