Citrus ginger chicken. An amazing 30 minute dish that combines zingy flavors with just the right amount of sweetness. Imagine chicken fillets smothered in a mouthwatering sauce made with just a few simple ingredients. The result is tender chicken with a delicate touch of zesty and sweet flavors in every bite. Make sure to spoon a little extra sauce over your rice, it might be the best part.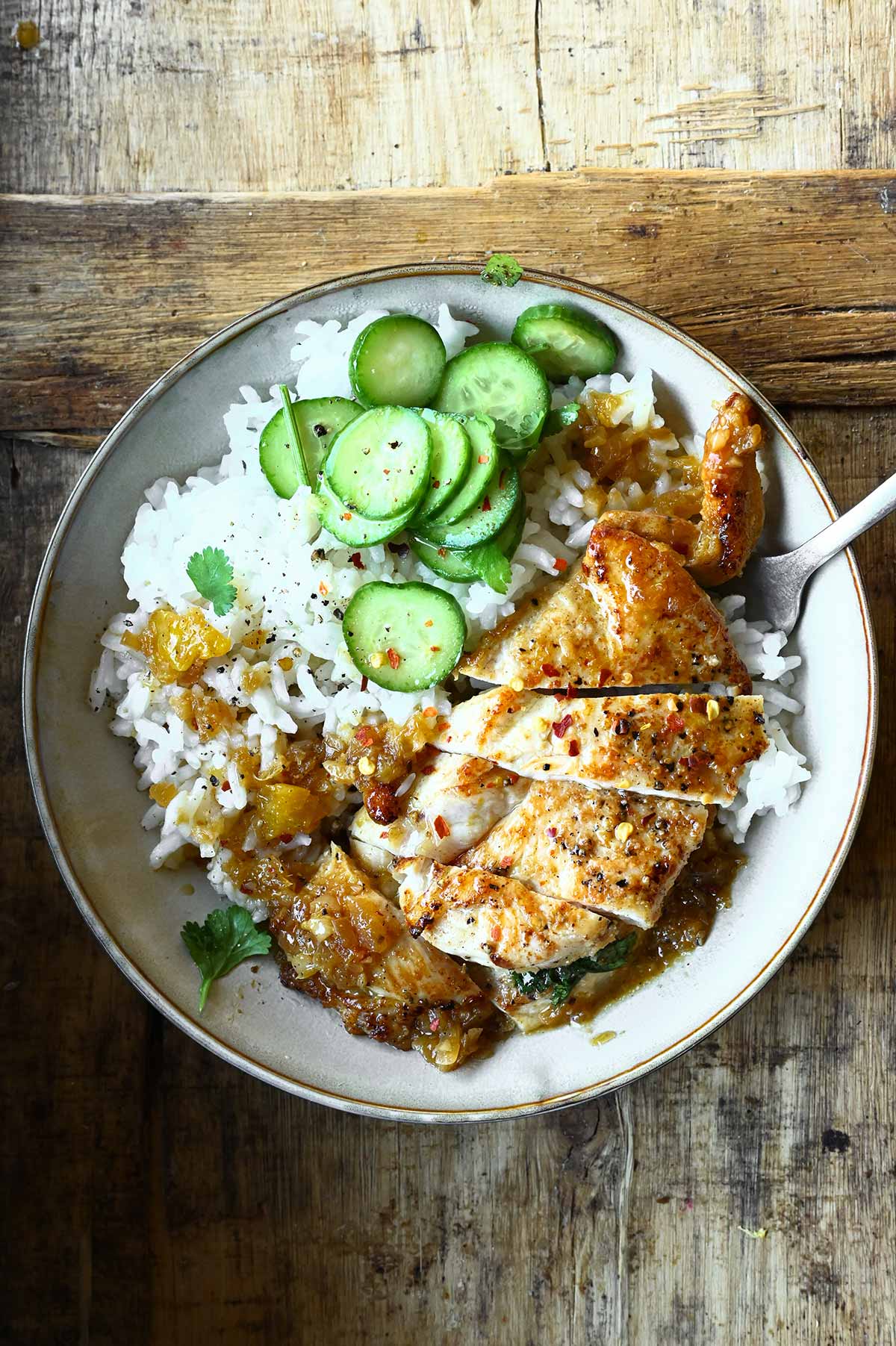 Why You'll Love this Citrus Ginger Chicken Recipe
Pungent ginger, tangy orange, hot chili and sticky honey are a great combo to turn your chicken dinner into something rather special for those evenings when you're in a hurry. It takes minutes to prepare, because sometimes, things just have to be that simple. You can also use chicken thighs or pork tenderloin, but the cooking times will vary.
This easy citrus ginger sauce gives the chicken breasts an instant flavor boost. It's also a super-simple recipe that comes together in no-time. It has that tangy-sweet-spicy flavor that we love. Sautéed onion and garlic elevate the dish with a tasty boost. A delicious balance of flavors, especially when served with a side of rice and vegetables like steamed broccoli, green beans or a cucumber salad.
Let me guide you through the recipe with this step-by-step VIDEO.
Why You Should Use Fresh Orange Juice
Because this sauce is made with only a handful of ingredients, I highly recommend using fresh orange juice instead of the bottled variety. Juice from fresh oranges and limes is more fragrant and nuanced. It gives this sauce a bright citrusy flavor that pairs perfectly with the sweetness of honey.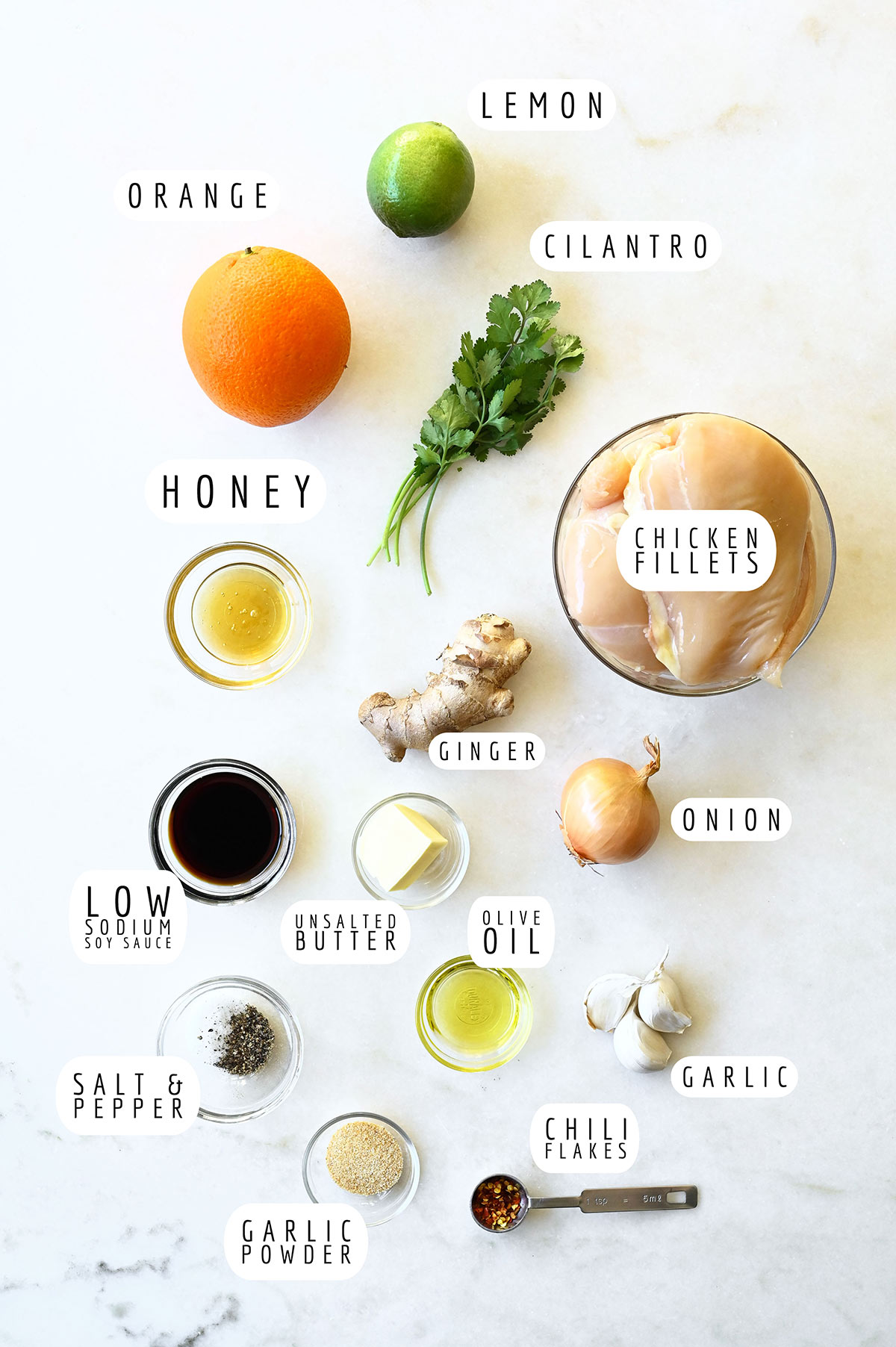 Ingredients Needed for this Citrus Ginger Chicken
Oil and Butter: We need them to sear the chicken but also to add a buttery flavor to the sauce.
Chicken: I used chicken breast fillets, but you could use boneless/skinless chicken thighs or tenderloins.
Orange and lime juice: We use freshly squeezed juice, as it adds the necessary acidity and just tastes better.
Seasoning: Salt, black pepper, chili flakes and garlic powder.
Onion, garlic and ginger: Flavor essentials.
Honey: Adds sweetness which complements the acidity of the oranges and lime. Maple syrup can be used in stead of honey.
Soy Sauce: Gives the needed saltiness to the sauce. If gluten-free is important to you, you can substitute soy sauce for tamari sauce.
Cilantro: For sprinkling, you can also use chives or scallions.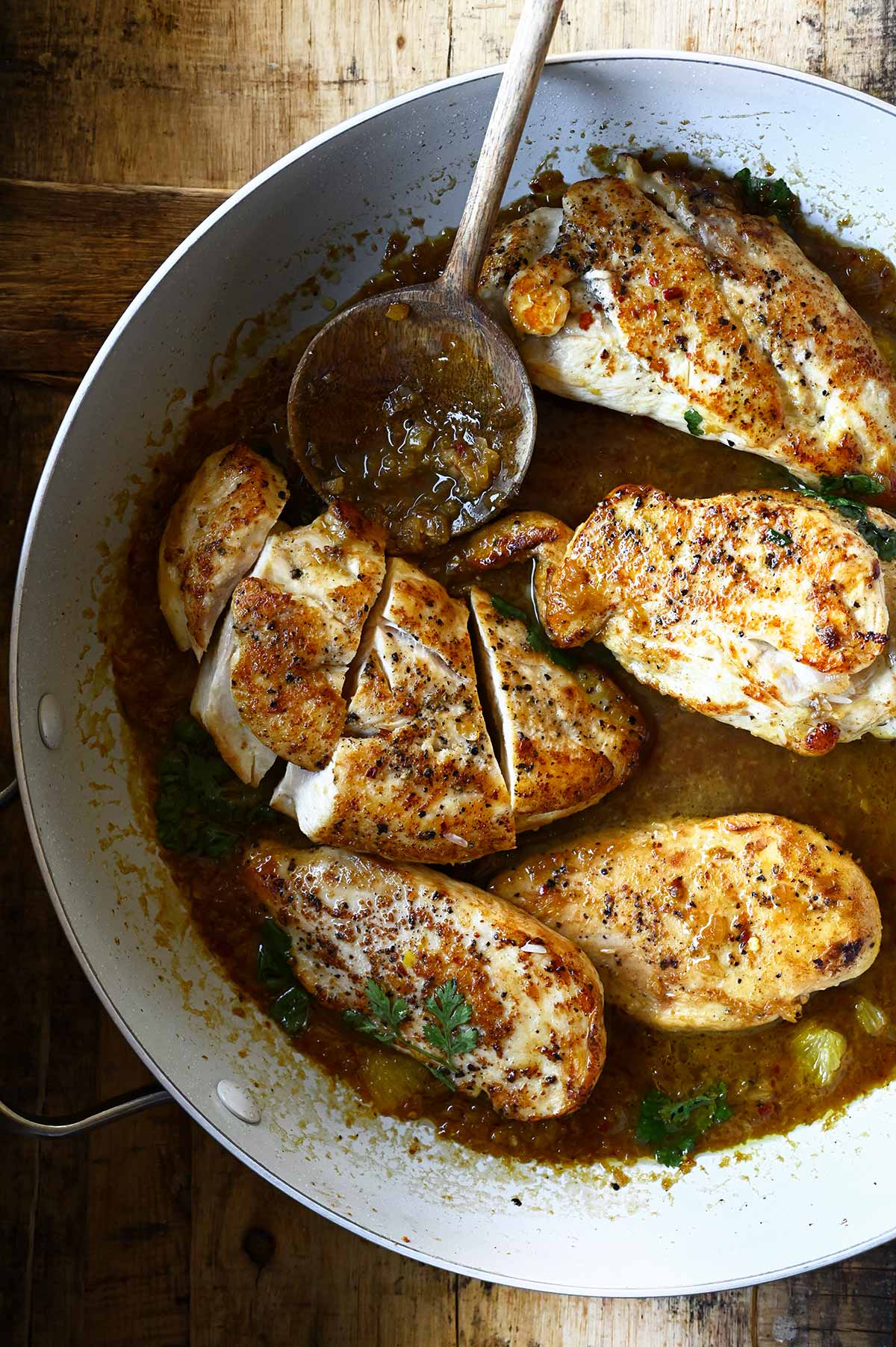 Helpful Tips
Instead of chicken, you can also use pork tenderloin or shrimp.
Serve over rice, noodles or mashed cauliflower.
Add a healthy side of your favorite vegetables, like steamed broccoli, green peas, carrots, sautéed bok choy or a fresh cucumber salad.
Storage: Leftovers can be stored in an airtight container in the refrigerator for up to 3 days.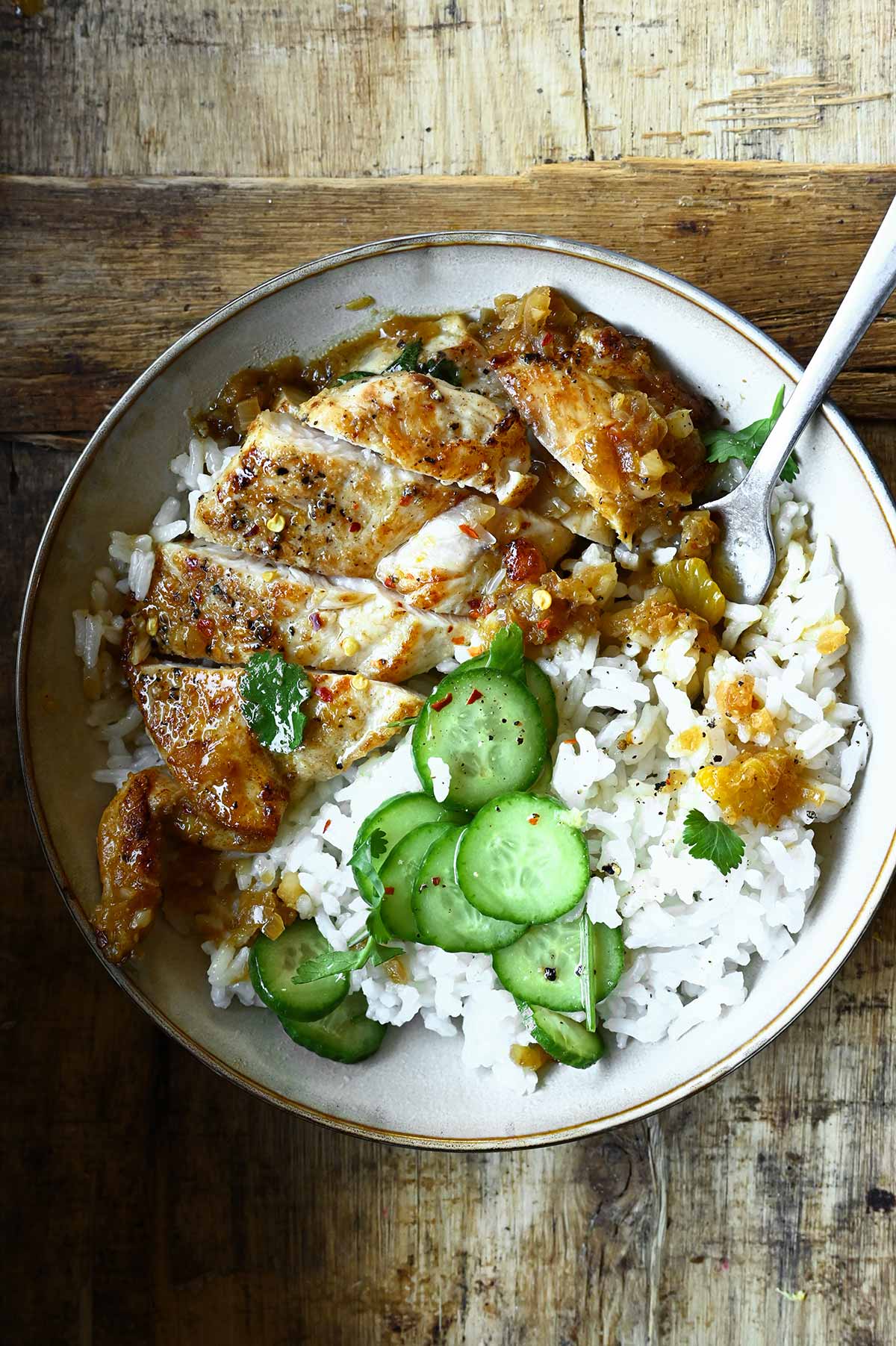 Cooking Video: How to Make Citrus Ginger Chicken
Yield: serves 4
Citrus Ginger Chicken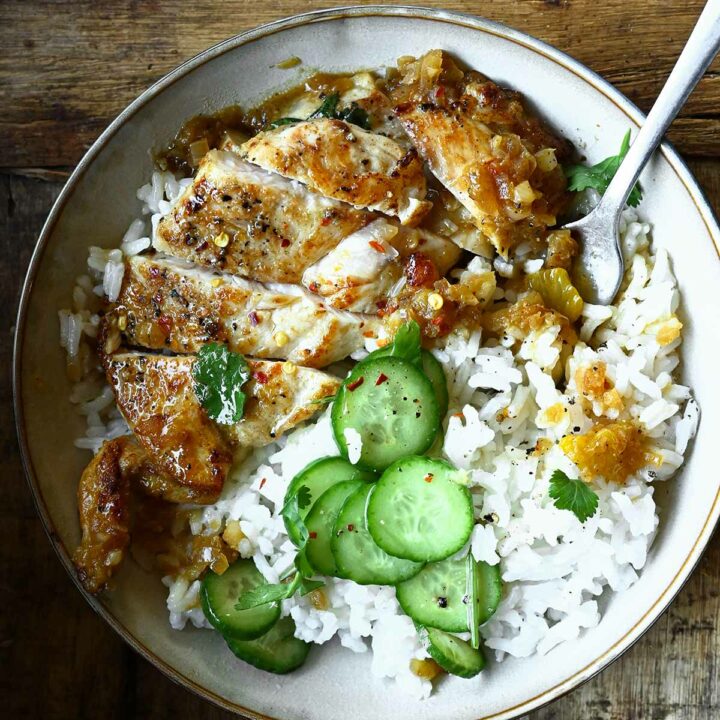 A fantastic 30-minute meal with zesty yet subtly sweet flavors. Tender chicken fillets coated in a tantalizing sauce using minimal ingredients with delightful zesty and sweet notes in every bite. Don't forget to drizzle a bit more sauce over your rice—it's a highlight worth savoring.
Ingredients
2 tbsp unsalted butter
1 tbsp olive oil
4 chicken breast fillets
chicken seasoning: 1 tsp salt, black pepper and garlic powder
1 small yellow onion, finely chopped
3 large garlic cloves, minced
1 tsp freshly grated ginger
2 tbsp honey, more to taste
2 tbsp low sodium soy sauce
¼ tsp chili flakes
1 tsp black pepper
juice from 2 large oranges
2 tbsp lime juice
cilantro leaves, optional
Instructions
Cut the oranges in half with a sharp knife. Using a hand held citrus reamer or an electric juicer, twist the flesh of the oranges on the reamer to extract the juice and pulp. Add lime juice.
Finely chop the onion, mince the garlic and grate the ginger.
Rub both sides of the chicken fillets with the chicken seasoning.
Heat oil and butter over medium in a nonstick skillet. Add chicken fillets and cook for 5-8 minutes. The cooking time depends of the thickness of your fillets. Remove from skillet onto a clean plate.
Reduce the heat. Add garlic, onion and ginger. Cook for 3 minutes until soft and fragrant. Stir in honey, soy sauce, chili flakes and black pepper. Add the prepared citrus juice and bring to a boil.
Return chicken and the released juices to the skillet. Top with cilantro and simmer for 3 minutes, or until the chicken is heated through.
Serve with rice and a cucumber salad. Enjoy!
Nutrition Information:
Yield:
4
Serving Size:
1
Amount Per Serving:
Calories:

421
Total Fat:

16g
Saturated Fat:

6g
Trans Fat:

0g
Unsaturated Fat:

9g
Cholesterol:

119mg
Sodium:

965mg
Carbohydrates:

33g
Fiber:

3g
Sugar:

25g
Protein:

38g
Nutritional information is only an estimate. The accuracy of the nutritional information for any recipe on this site is not guaranteed.