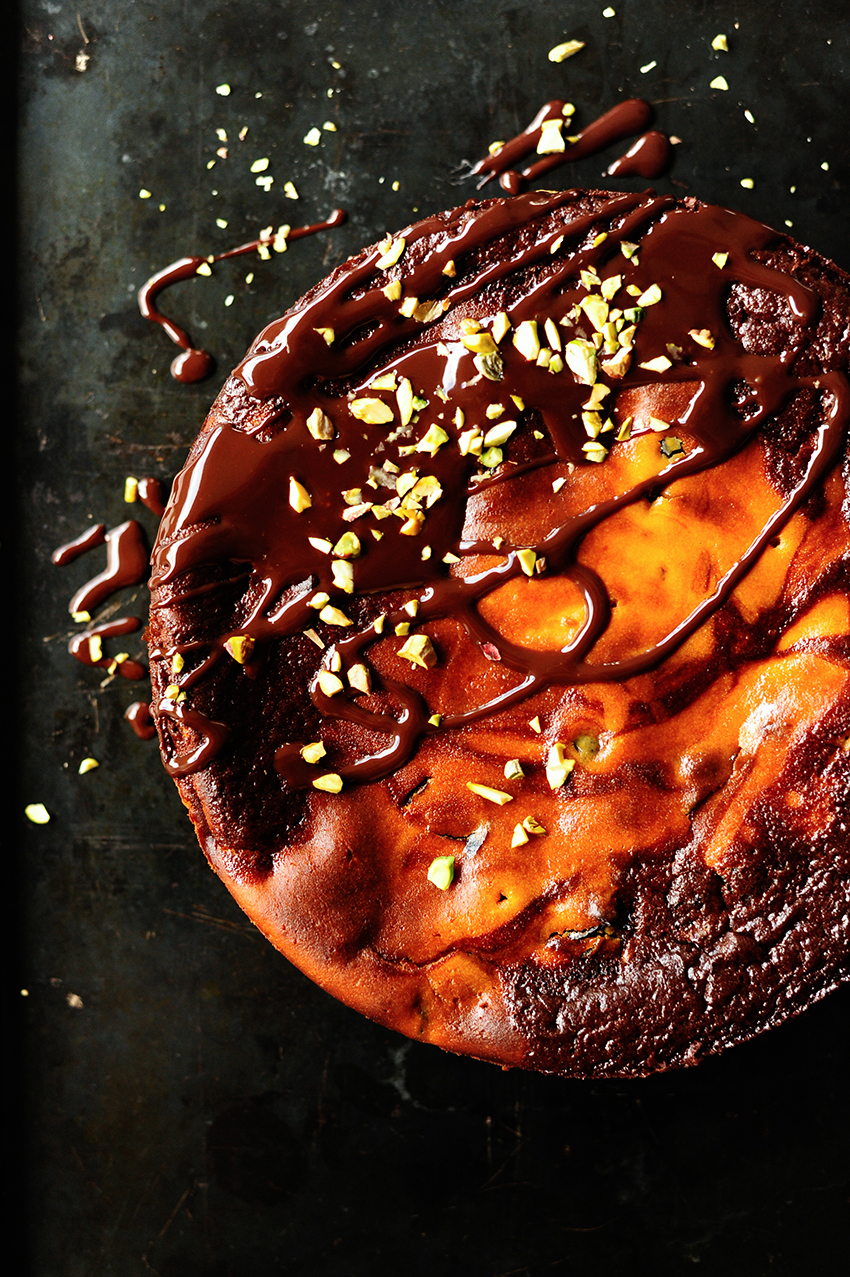 I've been dreaming about this cheesecake for a long time. Actually everything started with this chocolate cake and two failed attempts later I'm looking at this fluffy, fudgy and creamy cheesecake. But the combo with the chocolate, the cheese filling and wodka soaked plums is just addictive! And it doesn't end here, once the cheesecake is baked, you add a generous drizzle of chocolate sauce and a sprinkle of pistachios. I love dried plums, chocolate and cheesecake, so for me this lusciousness is just perfect!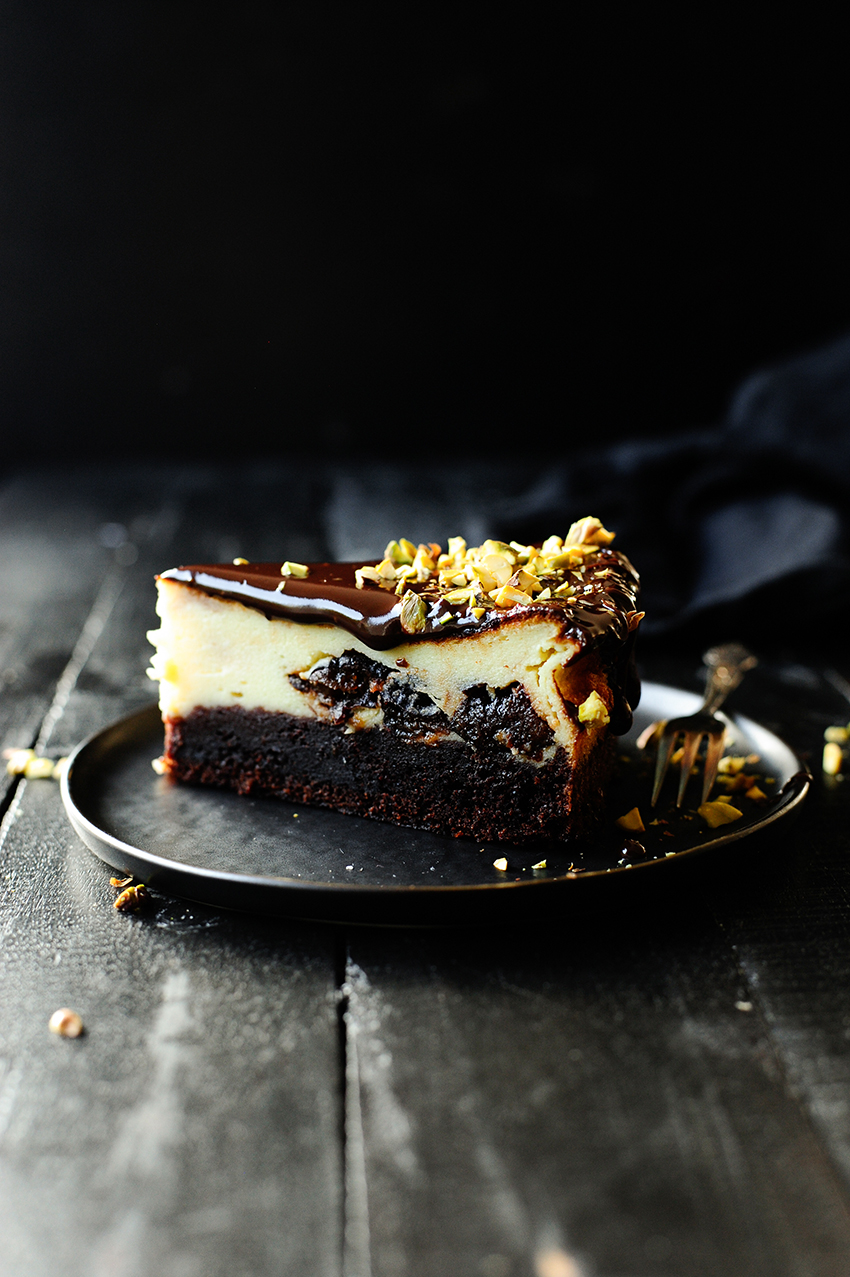 Ingredients
chocolate cake
130 g flour
40 g cocoa powder
160 g sugar
45 ml vegetable oil
150 g Greek yoghurt
1 organic egg
90 ml espresso
1 teaspoon baking soda
1/2 teaspoon baking powder
1/2 teaspoon vanilla
pinch of salt
cheese filling
500 g ricotta
160 g sugar
1 teaspoon potato starch
3 organic eggs
1/2 teaspoon vanilla
vodka plums
200 g dried plumes
100 ml vodka
ganache
80 ml heavy cream
100 g dark chocolate
1 tablespoon butter
also
4 tablespoons chopped pistachios
Instructions
Cut the plums into small pieces, pour wodka and set aside for an hour.
In a large bowl, combine the egg with sugar, vanilla, oil and yogurt. Sift flour, cocoa, baking powder and soda. Stir and add coffee.
Line a 24 cm springform pan with baking paper and grease the sides with butter. Pour the batter into the pan, place in the oven and bake for 20 minutes at 180°C.
Place the ingredients for the cheese filling in a bowl and stir to combine. Add the plums and stir gently.
Pour the cheese filling  onto the chocolate cake and place back in the oven for 50-60 minutes. Allow to cool.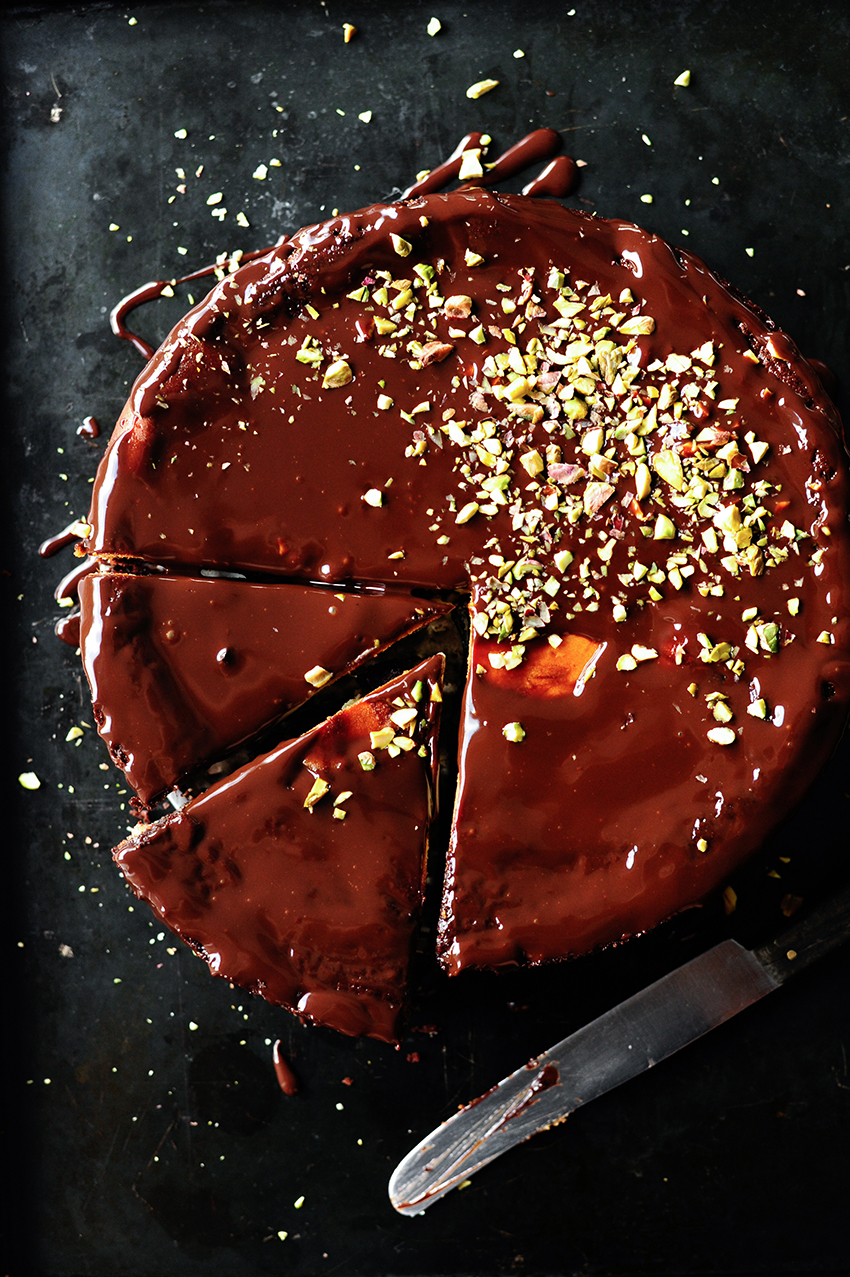 Pour the cream into a saucepan, bring to a boil,  set aside and add chocolate and butter. Stir until melted and smooth.
Pour the ganache over the top of the chilled cheesecake, sprinkle with pistachios. Chill 30 minutes or until ready to serve. Enjoy!
//= __('Print recipe (no photos)', 'servingdumplings' );?> //= __('Print recipe (with photos)', 'servingdumplings' );?>