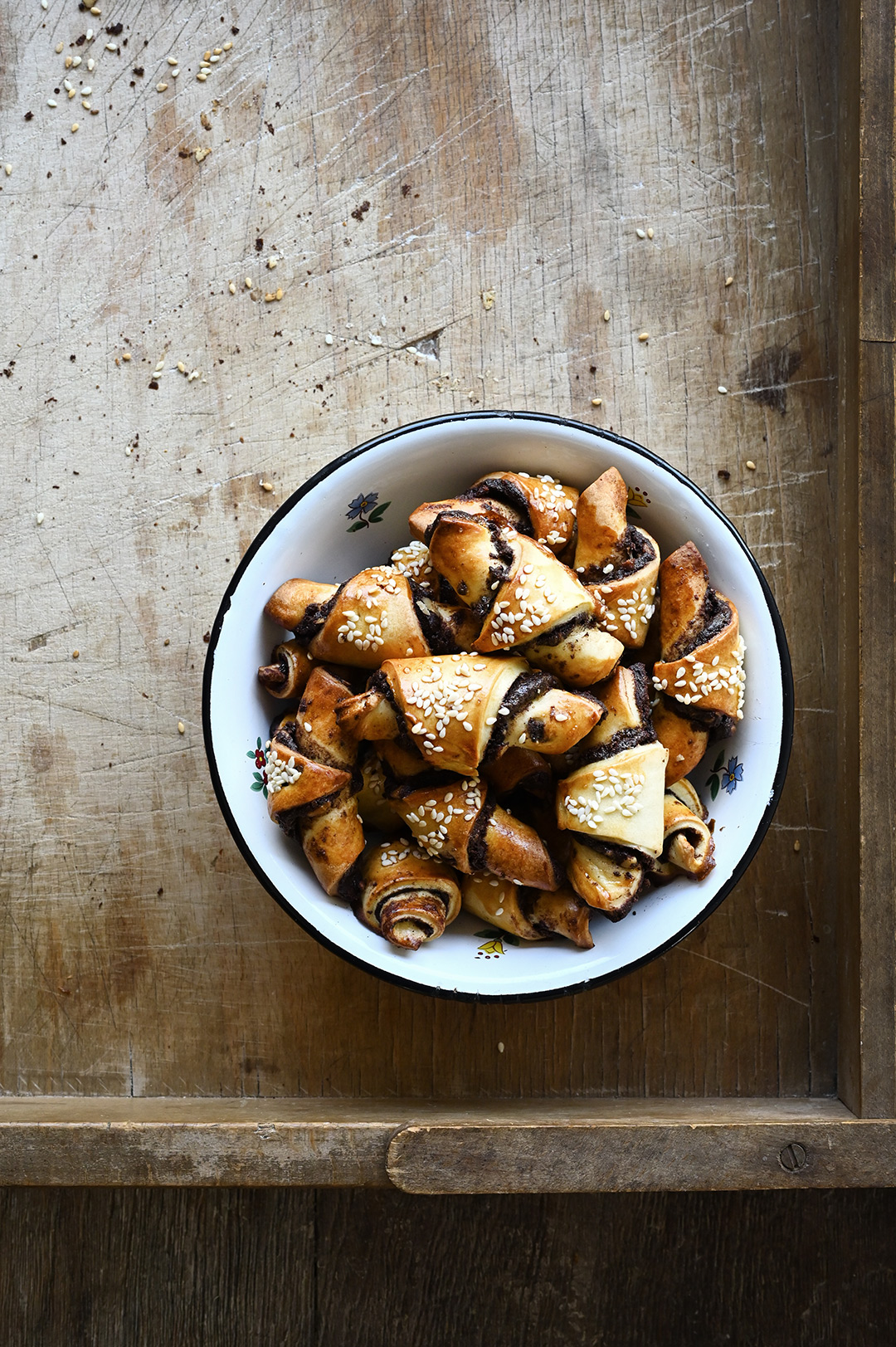 All my favorite flavors rolled up into delicious cookies. 
I like to think of these Jewish treats as dainty tea cookies, which owe much of their elegance to their delicate buttery dough and cute croissant shape. I made the dough with sour cream instead of cream cheese as the classic recipe does, this makes the pastry lighter, crunchy on the outside and still soft on the inside. Sour cream also gives a tangy flavor, easier rolling, and a sturdy pastry that holds its shape for a bronzed buttery cookie. I made a fancy filling of tahini, cinnamon, sugar, cocoa powder and toasted walnuts that perfectly complements the delicate dough.
The croissant shape and layers of filling might look complicated, but the dough is quite simple to make and easy to work with. Beyond that, it's really just a matter of rolling, spreading and cutting. The best and easy way to shape the cookies is to roll the chilled dough into a circle, spread the filling, then slice it into wedges and roll the cookies into little twists.
Once the cookies are baked and cooled,  just store them in a jar or cookie box, rugelach have a long shelf life.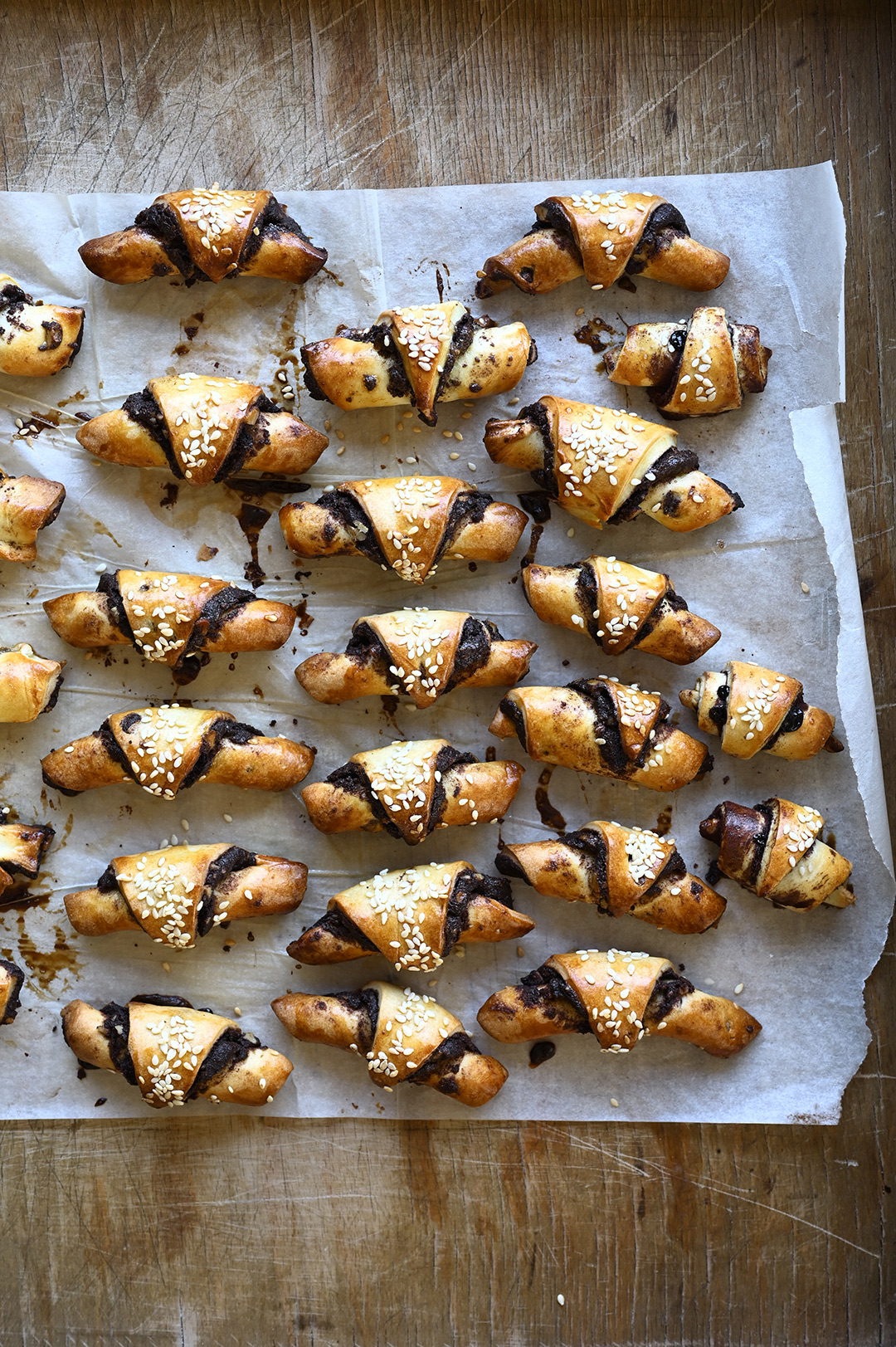 You need
rugelach
60 g cold butter, cut into cubes
2 egg yolks
50 g sugar
120 g sour cream
350 g flour
1 tsp vanilla extract
a pinch of salt
tahini chocolate filling
8 tbsp tahini
70 g brown sugar
4 tbsp cacao powder
1 tbsp cinnamon
1 tbsp instant coffee
40 g toasted walnuts, chopped
also
1 egg
1 tbsp milk
sesame seeds, to sprinkle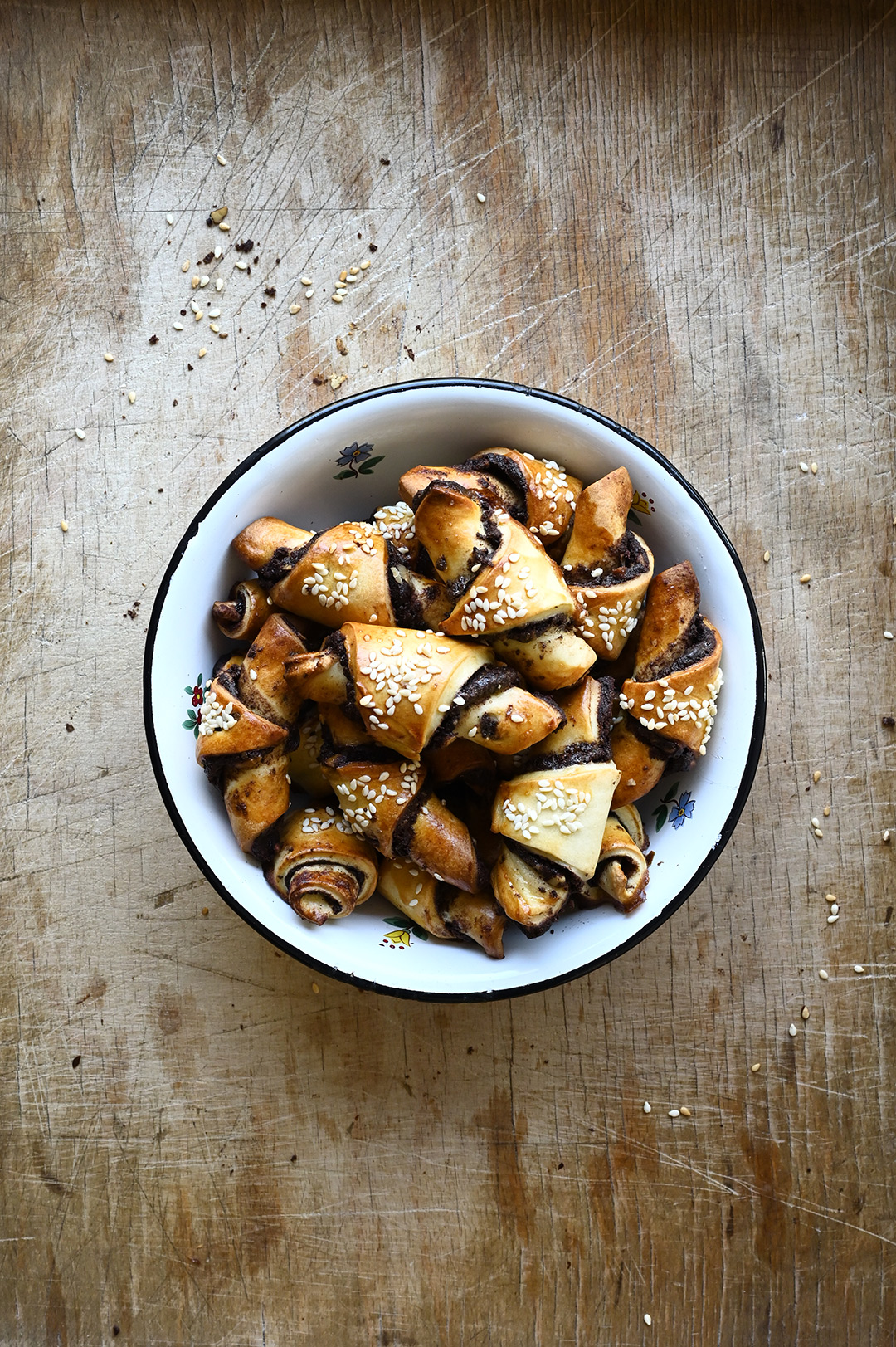 How to
Sift the flour onto a clean work surface, combine with the rest of the ingredients. Knead quickly until a dough forms. Shape the dough into a disc, then divide the disk into 4 balls and wrap each in plastic. Refrigerate for 1 hour.
In the meantime, prepare the filling. Combine sugar with cinnamon, instant coffee, cacao powder and walnuts.
Roll out each portion of dough into a 20 cm circle on a clean and floured work surface. Smear each circle with 2 tbsp tahini, covering the surface of the dough, and then evenly sprinkle the cocoa-sugar mixture. Use a sharp knife to cut the dough into 8 wedges, like pizza. Working with 1 wedge at a time, roll up from wide end to narrow end, place on a baking sheet lined with parchment paper. Refrigerate for 30 minutes.
When ready to bake, preheat the oven to 180 degrees C.
Whisk together the egg and milk in a small bowl. Brush each rugelach with the egg wash, sprinkle with sesame seeds. Bake for 15-20 minutes or until the pastries are nicely browned. Transfer to a wire rack and let cool completely before serving.
Store in airtight containers.