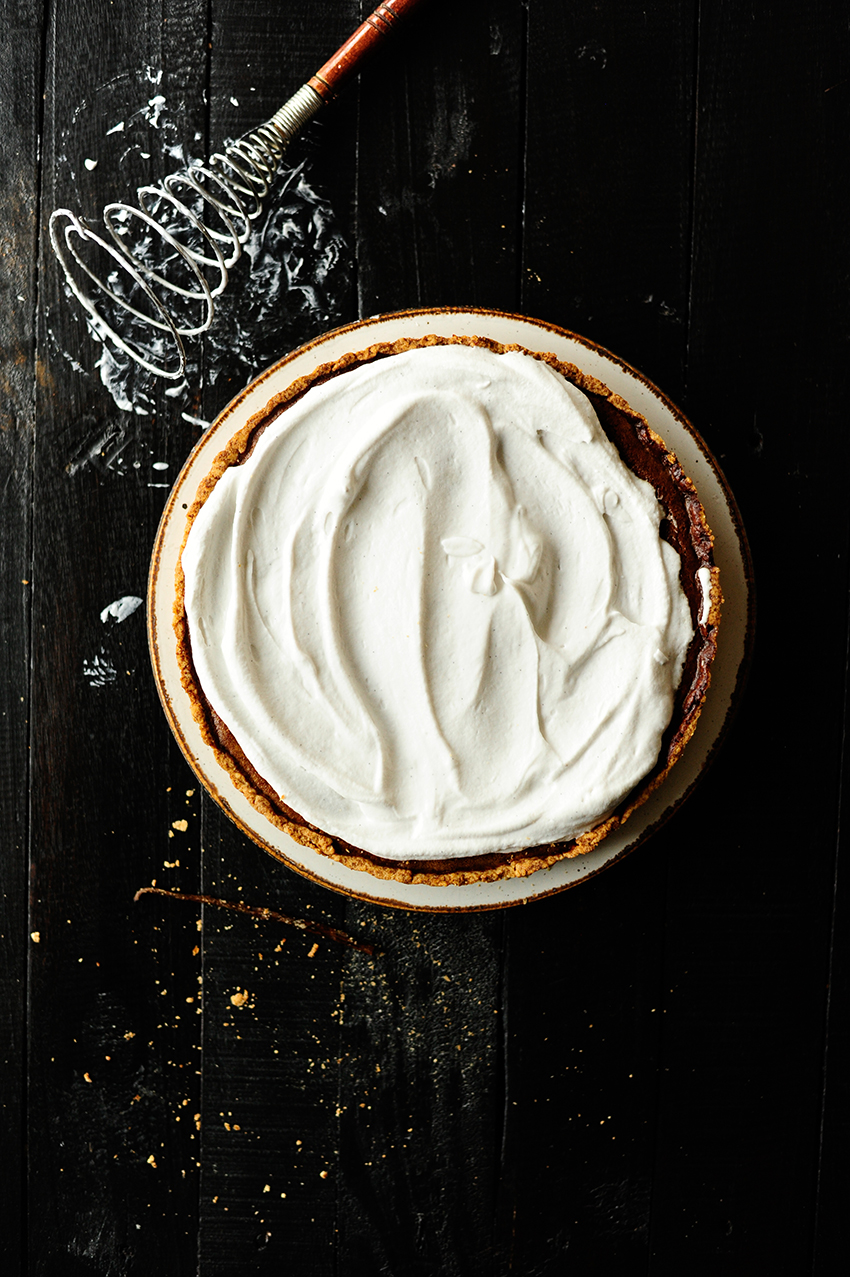 Chocolate pumpkin pie with an airy coconut whipped cream. The pumpkin filling is smooth and velvety and tastes incredible on my homemade pie crust. This cake is easy to prepare and even easier to enjoy with a cup of coffee.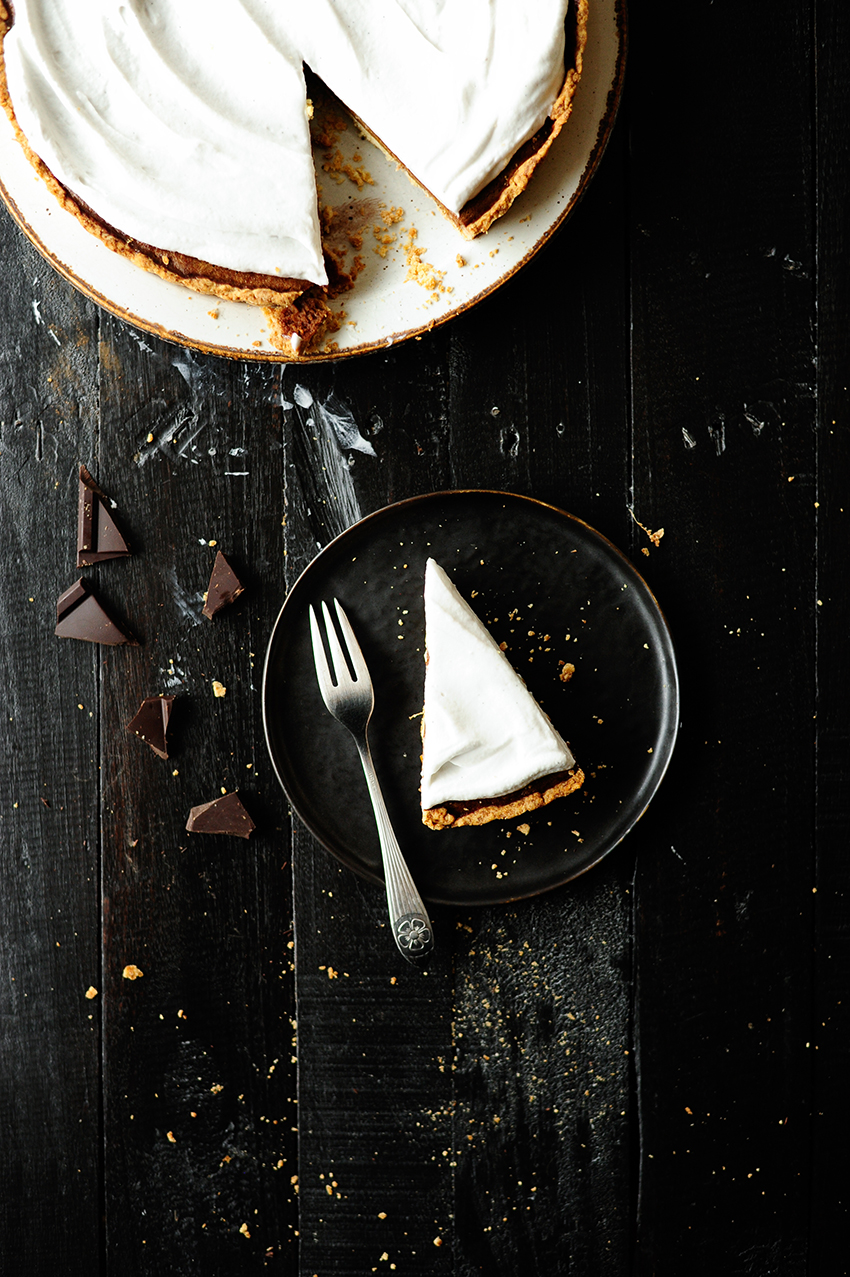 Ingredients
the pie crust
250 g flour
125 g cold butter
2 egg yolks
80 g sugar
pinch of salt
the pumpkin filling
500 g pumpkin, peeled and seedless
3 farmers eggs
100 g sugar
100 g dark chocolate
300 ml evaporated milk
1 tablespoon potato starch
1 teaspoon cinnamon
1 teaspoon grated ginger
seeds from one vanilla pod
pinch of salt
coconut whipped cream
1 can cold(!) coconut milk (450 ml) , chilled overnight
2 tablespoons icing sugar
seeds from one vanilla pod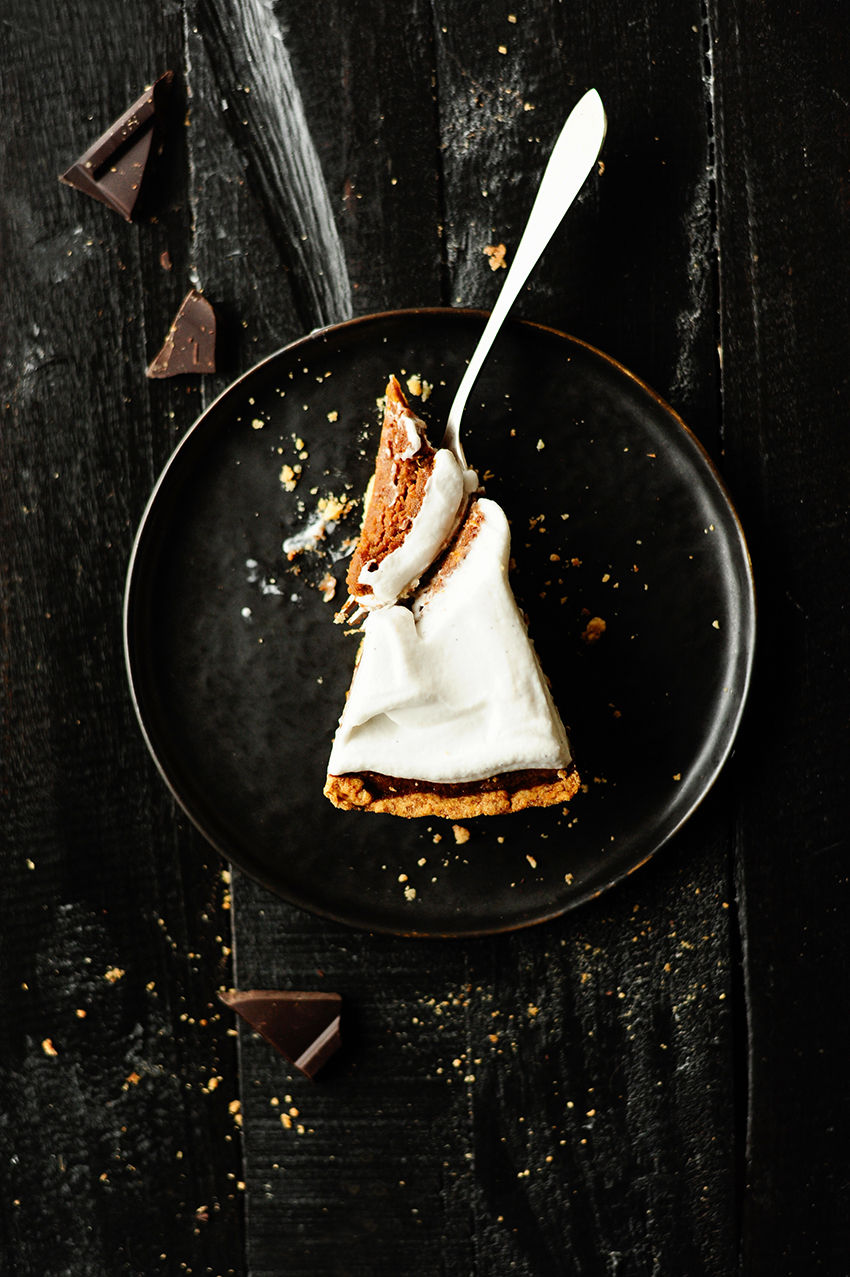 Instructions
In a large bowl, mix together the butter, salt and sugar. Add the egg yolks, sift half of the flour into the bowl and start to knead. Add the remaining flour and knead the dough. Chill for 30 minutes.
Cut the pumpkin into cubes, place in a frying pan, add 2 tablespoons of water and simmer until tender. This takes about 15 minutes, then add the cinnamon and ginger and simmer for 3 minutes more. Mash to a puree.
Place the chocolate in a saucepan and add the evaporated milk, heat and stir until the chocolate is dissolved. Stir together with the pumpkin puree and combine all the ingredients for the filling.
Grease the bottom and sides of a 28 cm pie plate with butter. Remove the dough from the refrigerator and roll out on a floured pastry board into a 1/2 cm thick circle. Cover the bottom and sides of the pie plate, make holes with a fork, sprinkle with flour, cover with baking paper and put weights on the cake. Bake for 20 minutes at 200°C. Then remove the paper and weights, bake for another 5 minutes until golden brown.
Remove from the oven, fill the half-bakedcrust with the pumpkin filling andflattenthe surface. Bake for 10 minutes at 200°C, lower the oven temperature to 180°C and bake for 40 minutes more. Remove and cool.
Carefully open the can with coconut milk, scoop out the thick coconut fat, leaving the watery part in the can. Beat with the icing sugar and vanilla seeds util stiff. Spread on the cooled cake. Enjoy!