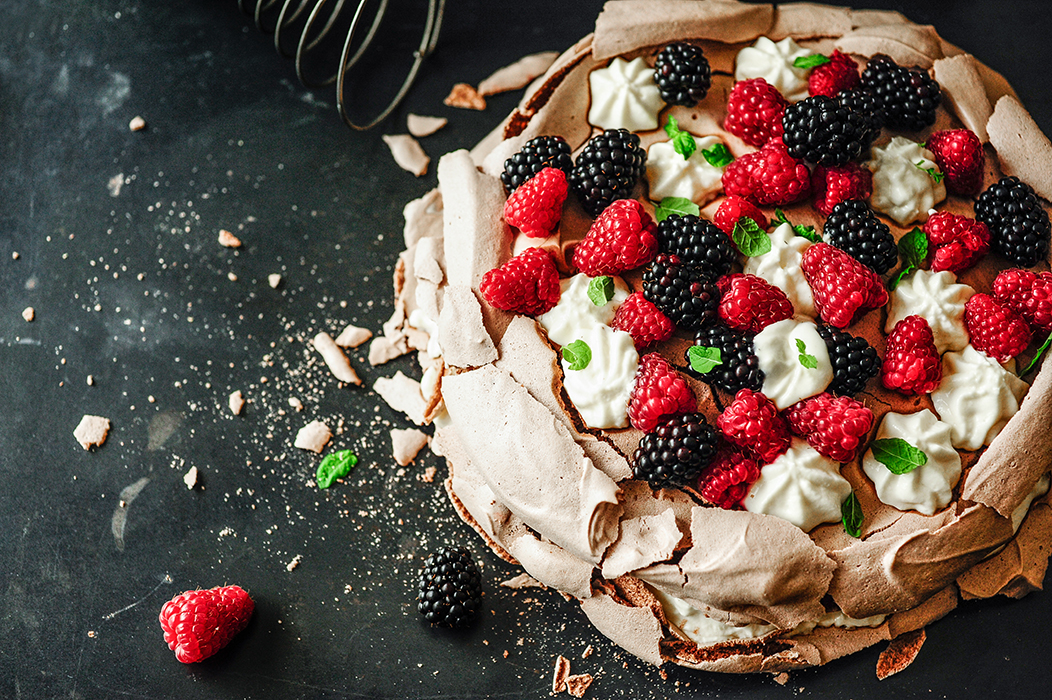 Thanks to the addition of buttermilk to the cream, the pavlova is a little lighter. The combination with the chocolate flavor, fruit and mint will blow your mind!  For the decoration you can use every seasonal fruit.
Ingredients
meringue
6 egg whites
300 g icing sugar
1 heaped tablespoon potato starch
2 tablespoons wine vinegar
3 tablespoons cocoa powder
pinch of salt
buttermilk cream
250 ml buttermilk
250 ml cream
40 g sugar
5 gelatin sheets, softened in cool water
1 tablespoon vanilla extract
raspberries, blackberries and mint leaves for decoration
Instructions
Heat the buttermilk in a saucepan (do not bring it to the boiling point). Squeeze all water out of gelatin sheets, add to the warm buttermilk and stir until gelatin has dissolved, set aside to cool.
Meanwhile beat the cream with the sugar and vanilla extract. Gently stir with the buttermilk and allow to cool for 2 hours in the fridge.
Beat the egg whites with the salt until stiff with a mixer on high speed. Little by little, add the sugar beating constantly. Then add the flour, vinegar and cocoa powder. Beat until you achieve a thick and glossy texture.
Prepare a baking tray lined with baking paper and draw two circles with a diameter of 20 cm. Put the meringue mixture on the drawn circles and smooth the top.
Dry for about one hour at 110°C. Then reduce the temperature to 90°C and dry for an hour and a half. Turn off the oven, open the door and leave the meringues to cool.
Fill the buttermilk cream in a pastry bag and squeeze on the first meringue (leave a little cream in the bag for decoration). Cover with the second disc and arrange the fruit. Squeeze the rest of the cream between the fruit and garnish with mint. Enjoy!