20-minute Chimichurri-style shrimp. Quickly seared shrimp in a herby, buttery sauce. The combination with garlic, bright white wine and citrus pairs wonderfully well with sweet, briny shrimp.
This dish has enough bold flavors to make you feel like a kitchen rockstar, even though it takes only a few minutes to prepare. Serve them for dinner on a busy weeknight or as a fast and fancy appetizer at your next dinner party.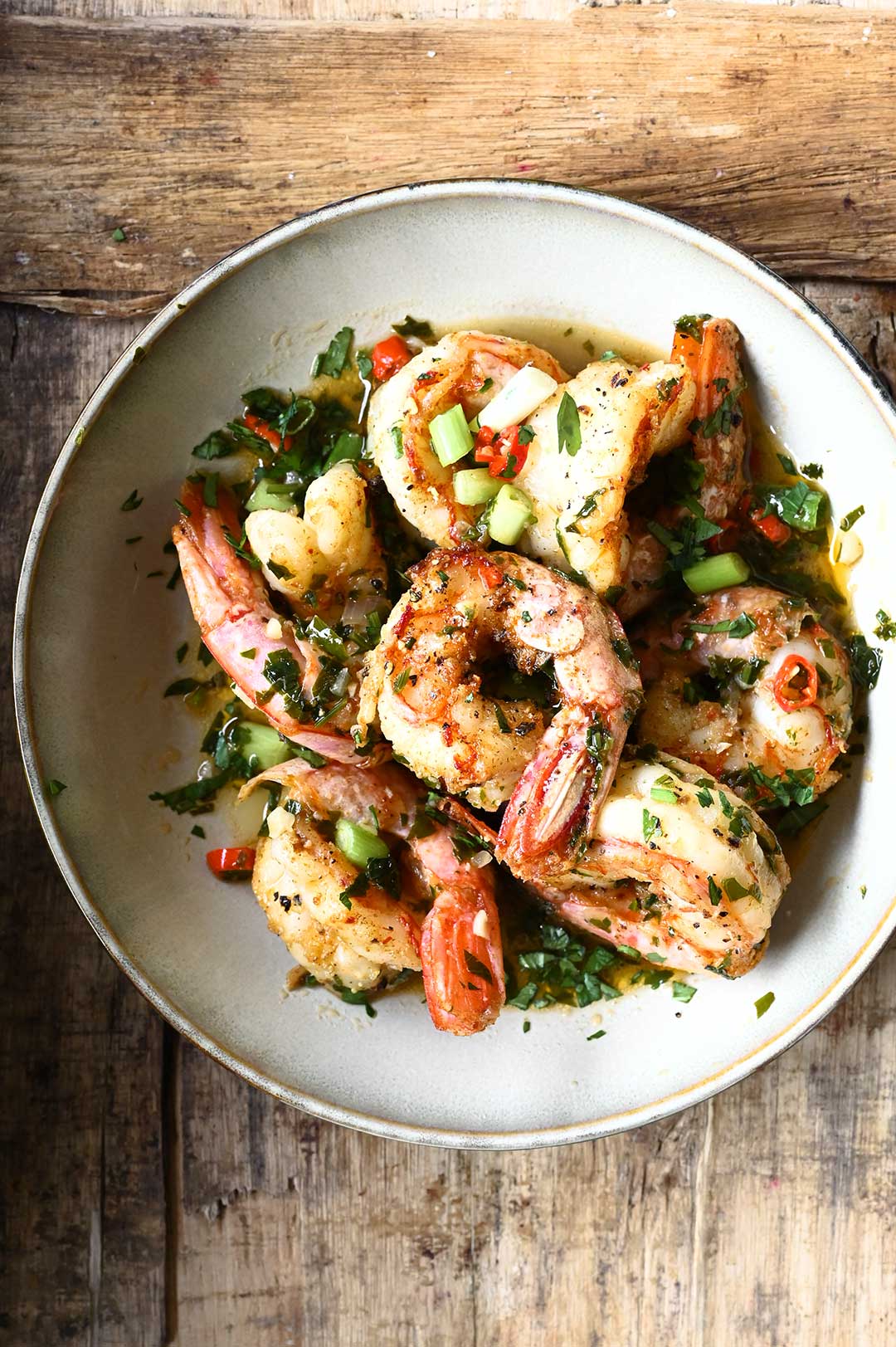 Chimichurri is a herby sauce made with parsley, garlic and oil, and sometimes fresh chili. Usually with vinegar, but here we're using lemon juice and some white wine. It's packed with intense flavors and it tastes just as bright and bold as it looks.
The heat from the red pepper cuts through all the richness in this dish, but if you're spice-sensitive, you can leave out the extra chili and serve it on the side.
This recipe comes together really fast. We start by marinating the shrimp briefly with some spices and oil. Don't skip the marinade step, it really gives the shrimp lots of flavor and elevates the whole dish into a stunner. Then we sear the shrimp, make the sauce, and done.
This is one of the easiest shrimp recipes ever, and the payoff is huge. Try making this one for your next dinner party, because it's easy to prepare and it's a real show-stopper.
Let me guide you through the recipe with this step-by-step VIDEO.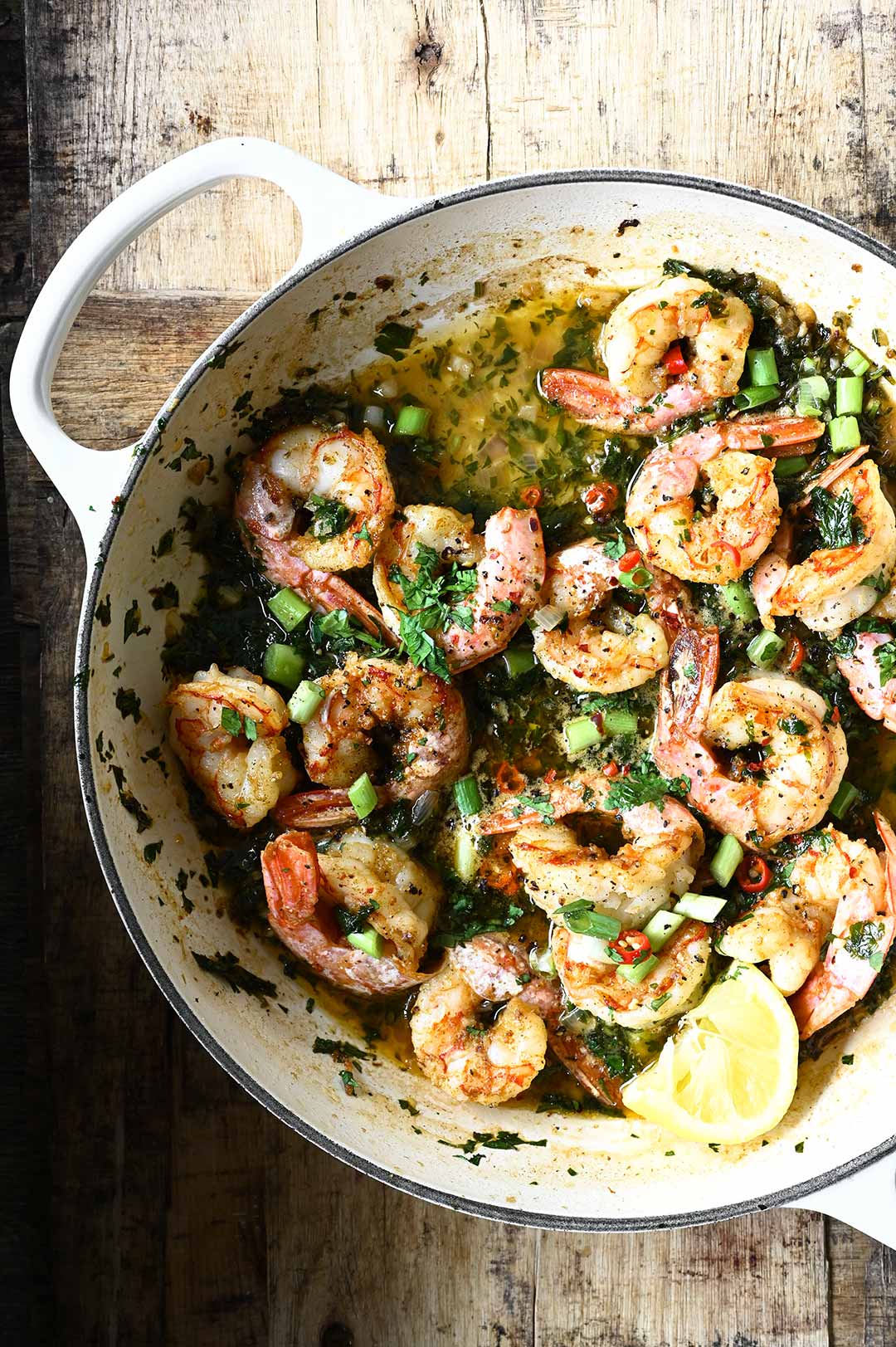 What to serve with Chimichurri shrimp?
bread, polenta, rice, orzo, pasta, mashed potatoes
lettuce salad with yogurt dressing
RECIPE NOTES
feel free to add more herbs like fresh oregano, basil or mint
swap shrimp for steak, chicken, lobster or white fish
as a quick and flavorful sauce for tacos, or a marinade for meat or tofu
serve as a light lunch with bread and a side salad, a quick weeknight dinner with polenta or orzo. Or as an appetizer on your next dinner party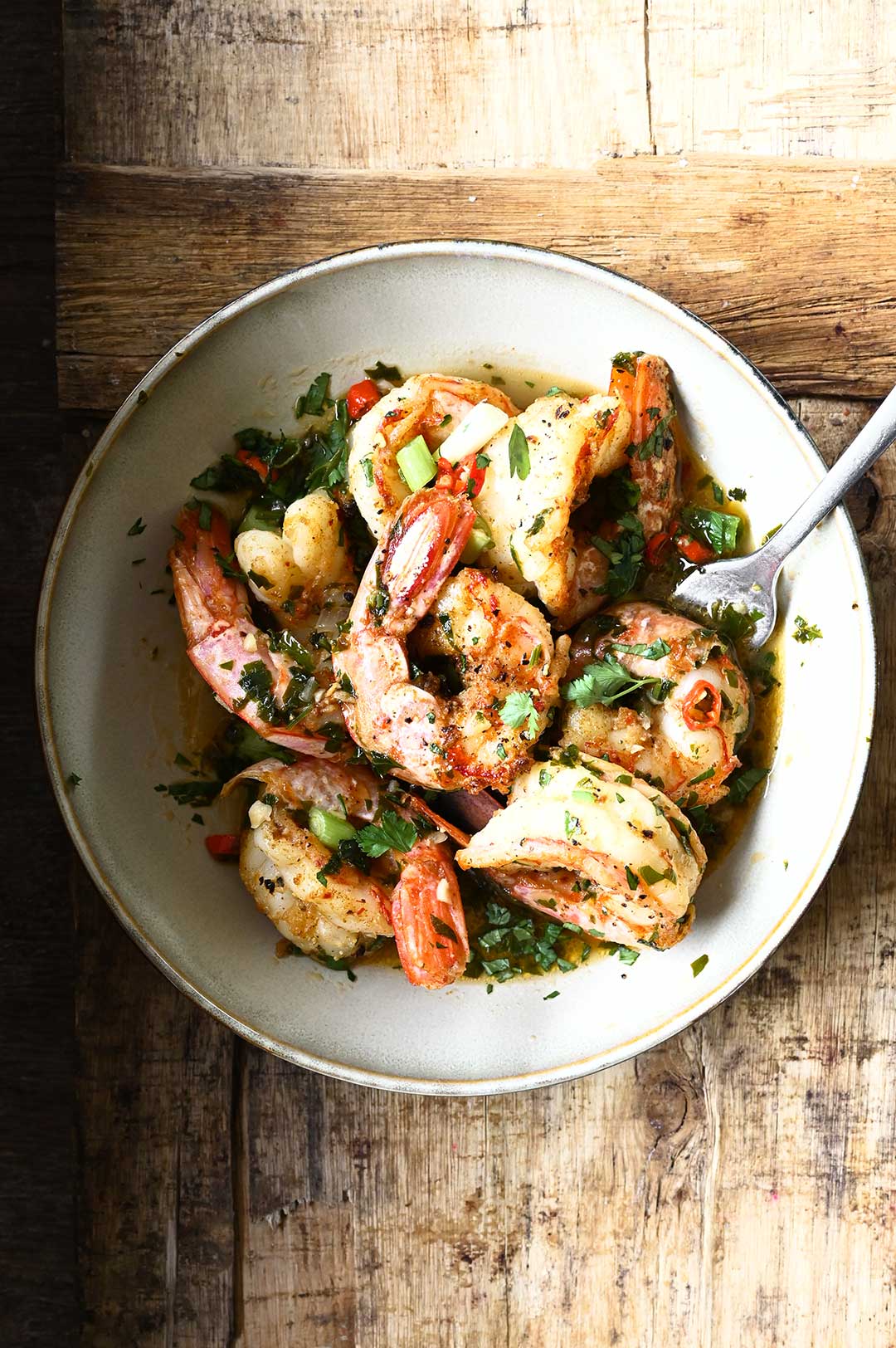 More shrimp recipes, please!
Cooking Video
Yield: serves 4
20 Minute Chimichurri Shrimp
Ingredients
450g/1 lbs shrimp, peeled and deveined

4 garlic cloves, minced

1 shallot, finely chopped

1/2 cup/120 ml white wine, like Pinot Grigio
4 tbsp olive oil

2 tbsp butter
1/2 cup/30 g chopped parsley

1/2 cup/30 g chopped cilantro
1 tsp honey

2 tbsp lemon juice

1 tsp each: salt, black pepper, smoked paprika, garlic powder

1/2 tsp crushed red pepper flakes, more for serving
1 mild fresh red chili pepper, thinly sliced, optional

4 scallions, thinly sliced
warm crusty bread, for serving
Instructions
Combine shrimp with 3 tbsp olive oil, salt, garlic powder, red pepper flakes, smoked paprika and black pepper. Toss and set aside for 15 minutes. If you want to marinate them longer, no problem, transfer the shrimp to the fridge and chill for 30 minutes or up to 1 hour.
Meanwhile, mince the garlic, chop the shallot, parsley and cilantro.
Heat 1 tbsp butter and the remaining olive oil in a skillet over high heat. Place shrimp in a single layer, sear for 1 minute. Turn and sear the other side, 1 minute. Remove from skillet.
Lower the heat. Add garlic and shallot, sauté until fragrant, 1 minute. Deglaze the skillet with white wine. Stir with a wooden spoon to dissolve the browned bits from the bottom of the skillet. Add the remaining butter, lemon juice and honey. Stir until the butter is melted.
Add parsley and cilantro. Slide shrimp back into the skillet together with the remaining marinade. Simmer over low heat, for 30 seconds. Turn off the heat. Adjust salt and pepper.
Top with scallions, red pepper flakes and chili pepper. Serve immediately with some bread and a side salad. Enjoy!
Notes
Calories Per Serving: 409 kcal
Nutritional information is only an estimate. The accuracy of the nutritional information for any recipe on this site is not guaranteed.