Chili garlic chicken. This recipe is quick and easy to prepare, with a flavor punch that's exciting and deeply comforting. It's perfectly spicy and the chicken just melts in your mouth. Add as much garlic and chili as you like or use bell pepper instead. This flavor explosion will wow your taste buds!⁠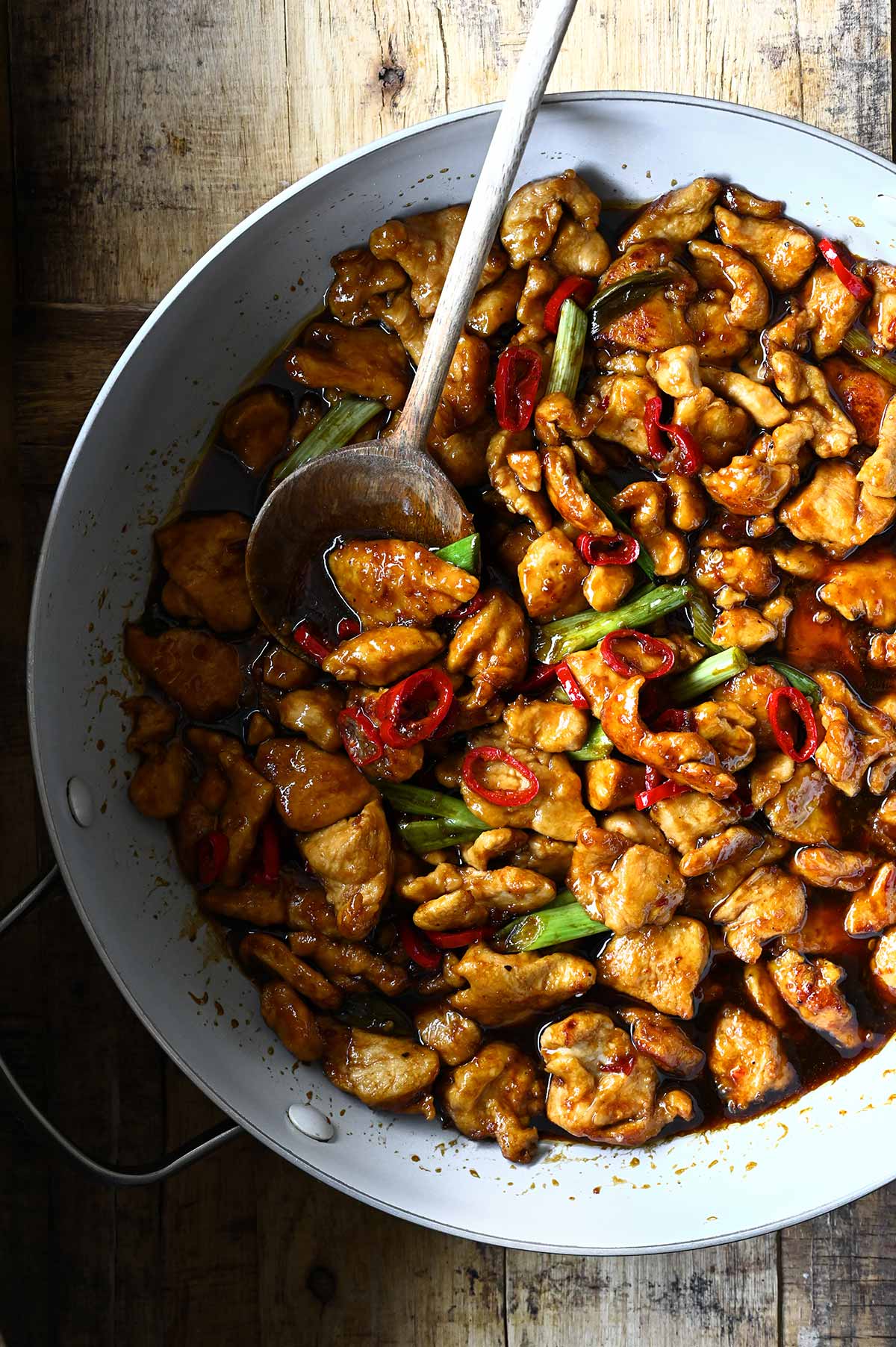 Thin, tender strips of chicken get a sharp sear in the wok, before being combined with garlic and chili. The dark, rich sauce clings to the chicken, with just an undertone of heat from the chilis.
This is one of my favorite wok recipes. Like most stir-fries, the ingredient list is short and simple, but a magical transformation occurs once everything hits the wok, resulting in a dish that's more than the sum of its parts. It's so good and it also works with beef or shrimp, just customize it to your suit.
Let me guide you through the recipe with this step-by-step video.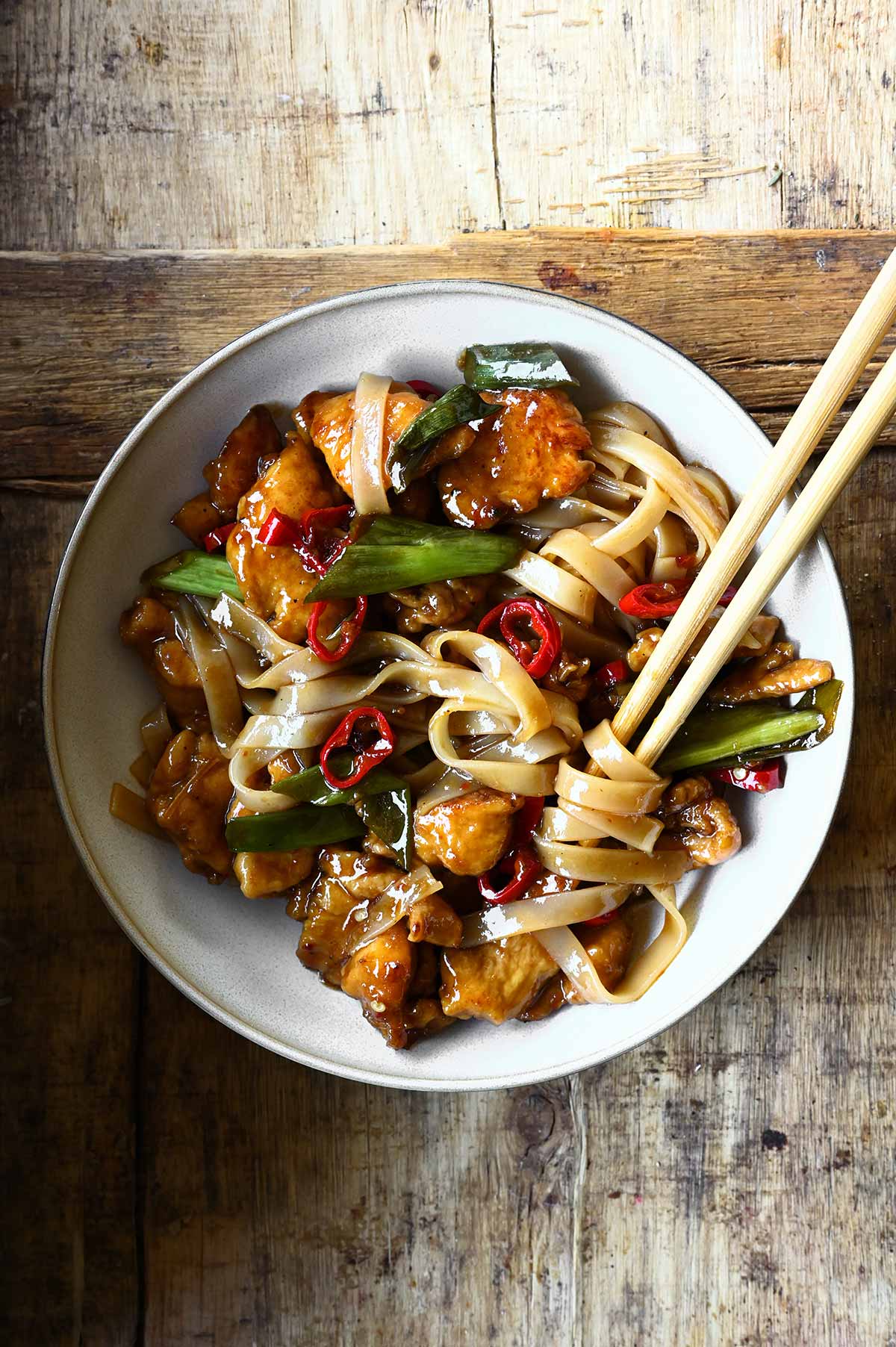 HOW TO STIR-FRY?
If you are new to stir-frying, here's one basics rule before you get started.
Get all the prep done before you start frying. The actual cook time is fairly short and straight forward, it only takes about 5 minutes. So you'll need to cut the chicken beforehand in equal bite-sized pieces. Have the garlic, ginger, chili peppers and scallions chopped and ready. And the sauce prepared. That's it! With this simple rule, you'll be ready in a blitz.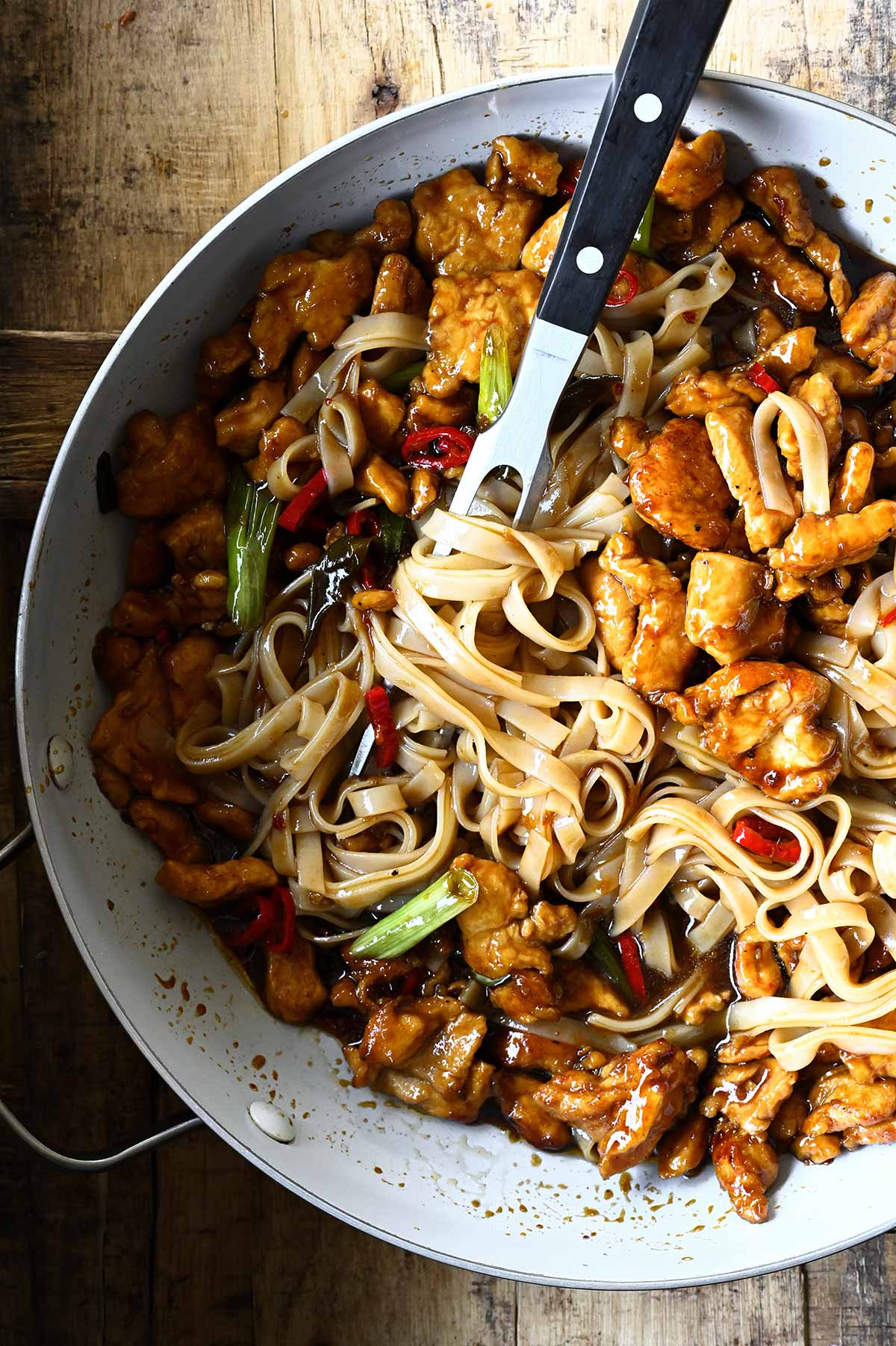 How to Make Super Tender Chicken?
First, cut your chicken in thin slices.
Second, add cornstarch to your chicken. Cornstarch will seal in the juices of the chicken which helps to tenderize the meat and prevents it from drying out.
Finally, sear the chicken in a hot wok. It will bring out the flavor and create a crispy crust. This crust will eventually melt in the sauce. The result is a tender mouthfeel and a flavor bomb in each bite.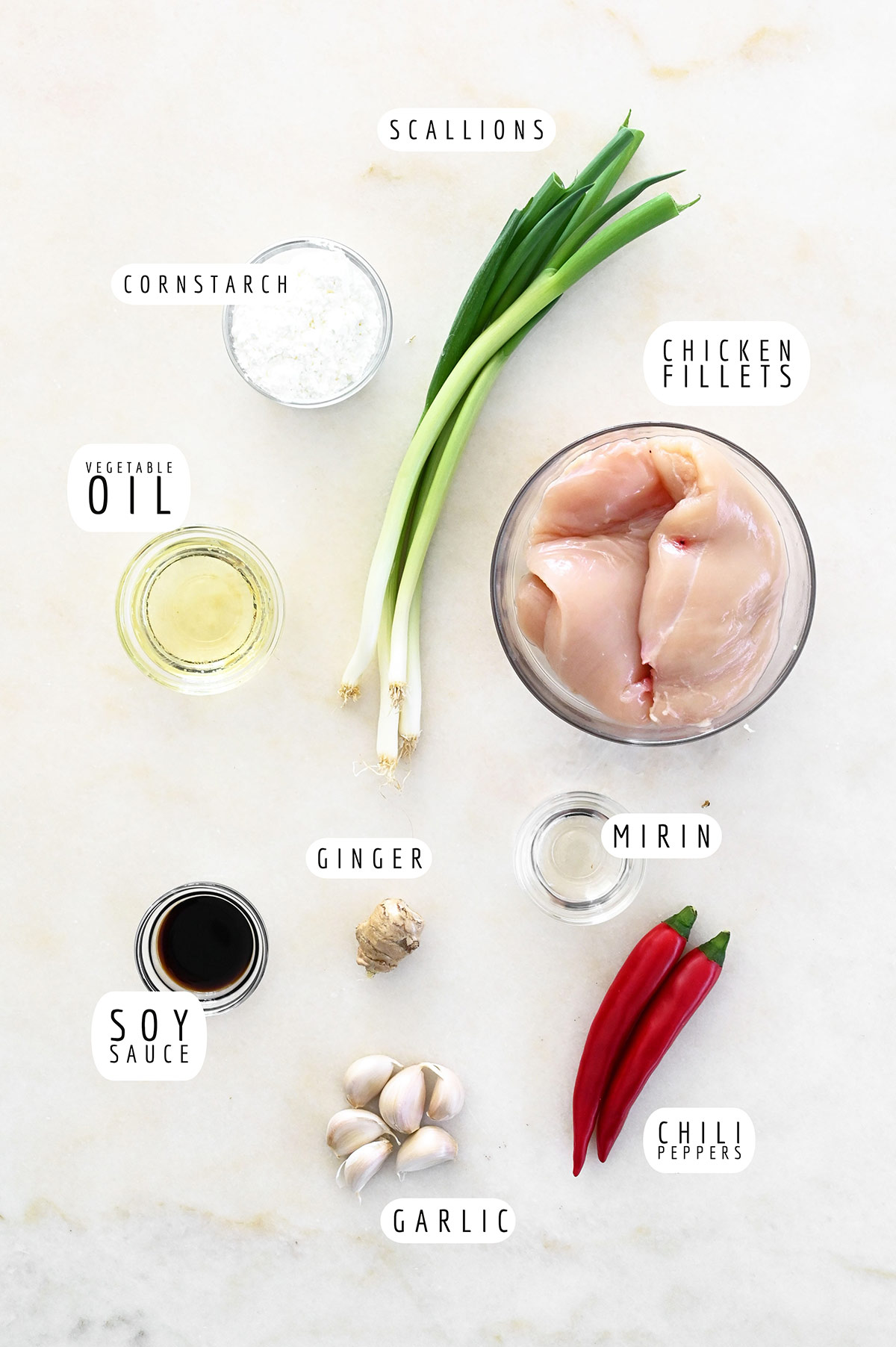 INGREDIENTS, TIPS & SUBSTITUTIONS
CHICKEN
Chicken: You can use chicken breast fillets or boneless/skinless chicken thighs. Pork, turkey, beef, salmon or shrimp are also good choices.
Cornstarch: Helps to tenderize the chicken and prevents it from drying out.
Soy Sauce: Adds saltiness and turns the chicken into tiny flavor bombs.
Mirin: To balance out the soy sauce.
Vegetable oil: For frying.
Garlic: I recommend grating the cloves to bring more flavor of the dish. Add more if you're a garlic lover.
Ginger: For a warming and fiery taste that gives an unmistakable kick.
Scallions: They add a slightly sweet flavor and soft texture once cooked.
Chili peppers: I used mildl chili peppers. You can add as much as you like and use any kind of chili pepper. You can also use bell pepper instead of chili for an even milder version.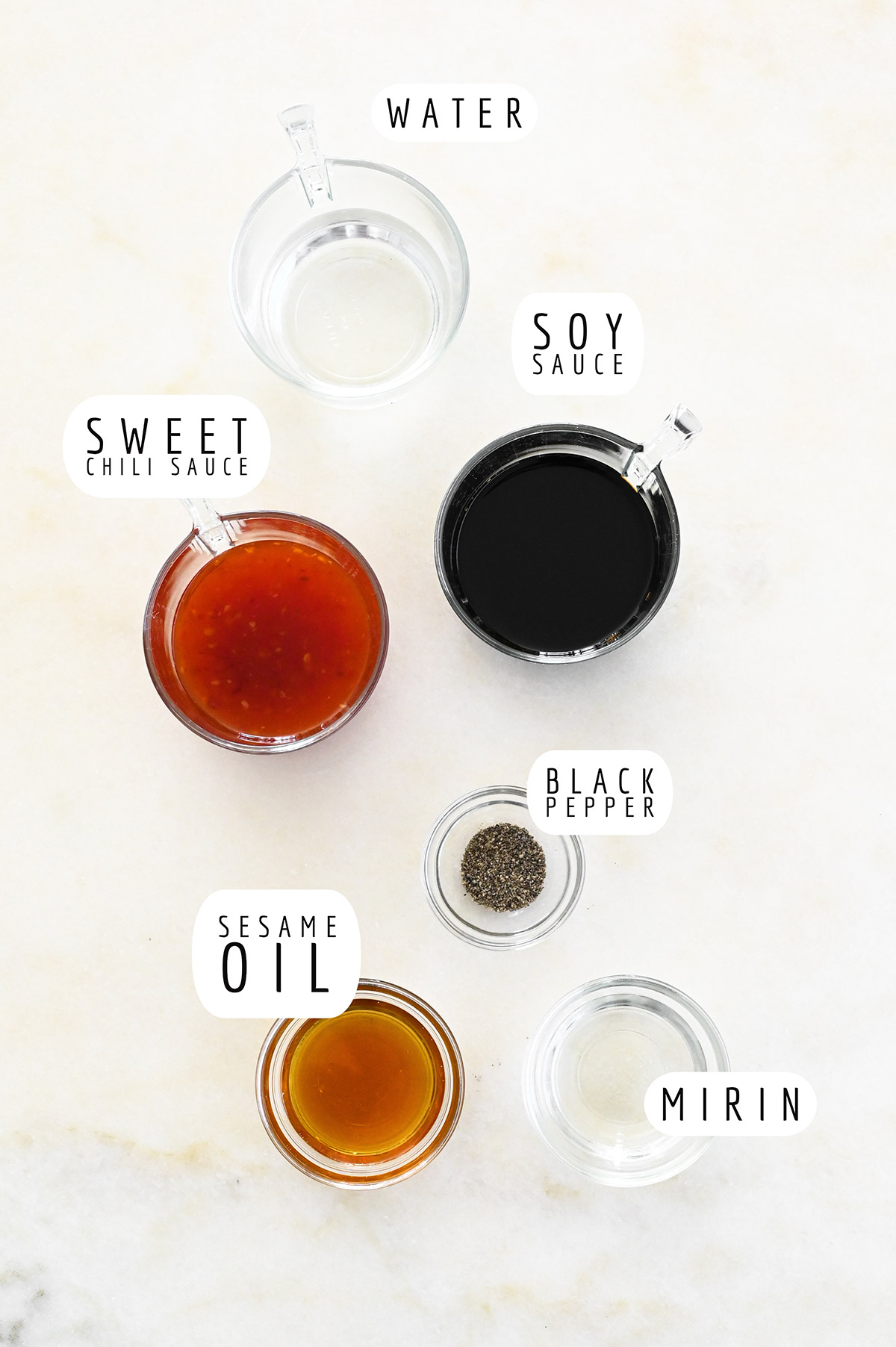 SAUCE
Soy Sauce: Low sodium soy sauce.
Sweet Chili Sauce: It is a great way to add flavor. It's a thick, red sauce that is sweet and spicy at the same time.
Sesame Oil: Toasted sesame oil is the go-to in this recipe.
Mirin: It adds a sweet-tangy flavor.
Black Pepper.
Water.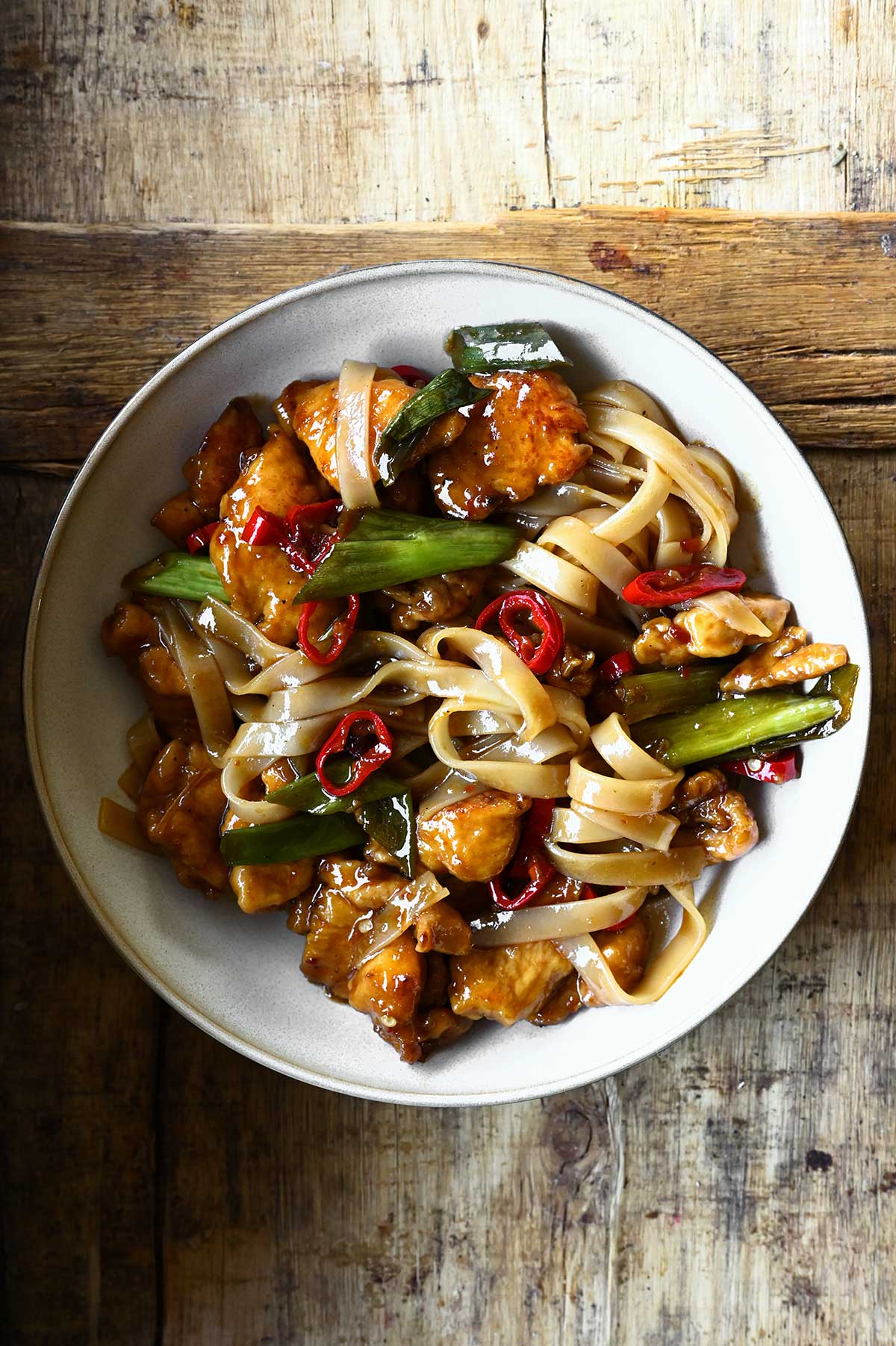 RECIPE NOTES
Adjust the spice level to your liking.
You can try it with broccoli, bell peppers, zucchini, carrots, bamboo shoots or sugar snap peas.
Serve with steamed rice, jasmine rice, rice noodles or egg noodles.
Storage: Leftovers can be stored in the fridge for up to 3 days.
TRY THESE NEXT
COOKING VIDEO
Yield: serves 4
Chili Garlic Chicken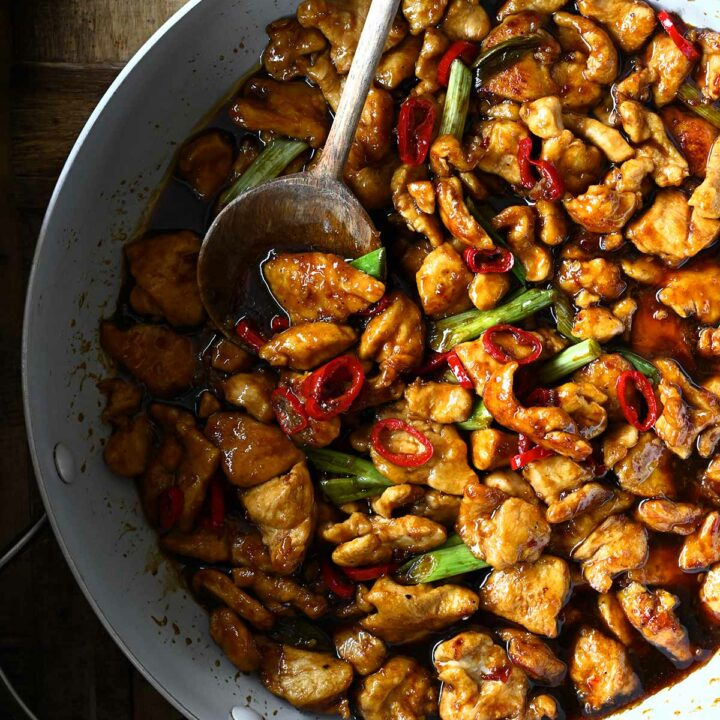 Ingredients
Chicken
1.1 pounds/500 g chicken breast fillets
¼ cup cornstarch
1 tbsp low sodium soy sauce
1 tbsp mirin
3 tbsp vegetable oil
1 tsp grated ginger
6 garlic cloves, grated
2 mild chili peppers, chopped, more or less to taste
4 scallions
noodles or rice, for serving
Sauce
½ cup/120 ml low sodium soy sauce
½ cup/120 ml sweet chili sauce
2 tbsp toasted sesame oil
2 tbsp mirin
⅓ cup/150 ml water
1 tsp black pepper
Instructions
Get all your prep done before you start cooking. Cut the chicken fillets into thin slices. In a bowl, combine chicken with cornstarch, soy sauce and mirin. Set aside.
Chop the chili peppers, remove the seeds if needed. Thinly chop the white parts of the scallions, and slice the dark parts into larger pieces. Grate the ginger and garlic cloves.
Prepare the sauce by combining the ingredients in a jar or a bowl.
Cook noodles or rice according package directions.
In a wok or skillet, heat oil over high. Place chicken in a single layer and sear, undisturbed for 1 minute. Then start stirring and fry the chicken for 2 minutes until nearly cooked.
Add garlic, ginger and chili peppers. Cook for 30 seconds, stirring constantly. Add scallions, stir to combine.
Pour in the prepared sauce and cook for 1 minute or until the sauce starts to thicken. Serve with noodles or rice. Enjoy!
Notes
Calories Per Serving: 526 kcal
Nutritional information is only an estimate. The accuracy of the nutritional information for any recipe on this site is not guaranteed.