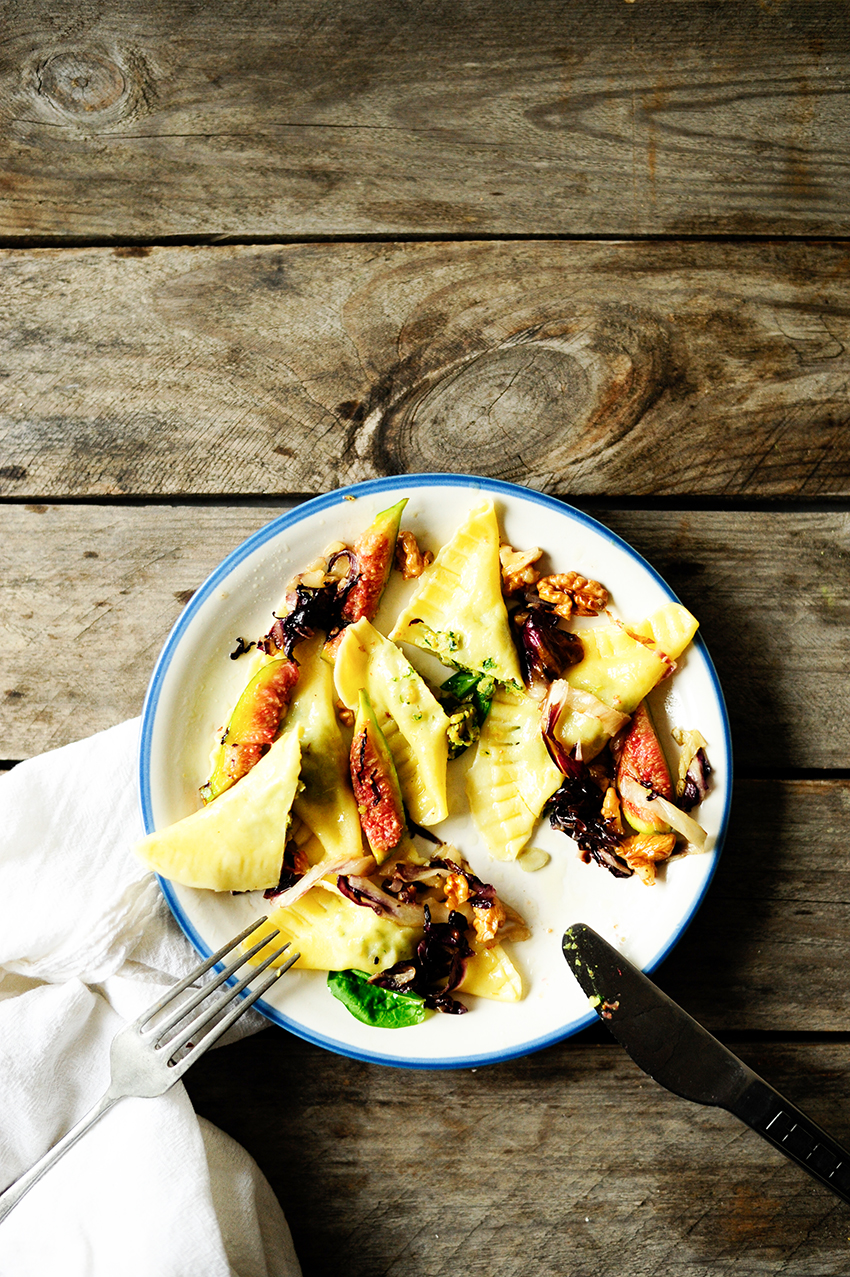 Chickpea and spinach ravioli is exactly what you need to cozy up with on cold autumn evenings. They're served with roasted figs, radicchio and walnuts. They are bitter sweet with a hint of salt, just awesome:)

Ingredients
the dough
400 g flour type 500 or semola rimacinata
4 organic eggs
4 tablespoons extra virgin oil
4 tablespoons water
pinch of salt
the filling
100 g spinach, finely chopped
200 g cooked chickpeas
2 cloves garlic, finely chopped
1 shallot, finely chopped
1/2 teaspoon cumin
1 teaspoon thyme
salt and black pepper
1 tablespoon butter
also
4 figs, quartered
50 g radicchio
40 g chopped walnuts
1 teaspoon oregano
2 tablespoons butter
salt and black pepper
Instructions
Put the flour, eggs, oil, water and salt in the bowl of your food processor and turn 5 minutes at medium speed. Remove the dough and knead by hand for 2 minutes. Cover and set aside.
In a skillet, heat the butter and fry the shallot and garlic. Add the spinach and simmer for 10 minutes. Season with thyme, cumin, salt and pepper and add the cooked chickpeas, mash to a puree.
Divide the dough into 4 pieces. Take one of the pieces and flatten it out, brushing some flour on both sides. Roll out into a thin sheet or feed it through the pasta roller. Repeat with the remaining dough. Cut pasta sheets in squares and place filling in the middle of the square. Brush the dough with water and fold the opposite side of the square over, pushing down on the seams to form a seal. Stick the edges together using a fork.
Cook in salted water for about 3-5 minutes. Remove from the water with a slotted spoon.
In a skillet, heat the butter, add figs, radicchio and nuts. Season with oregano, salt and pepper. Simmer over high heat for 5 minutes. Mix with dumplings and serve immediately. Enjoy!