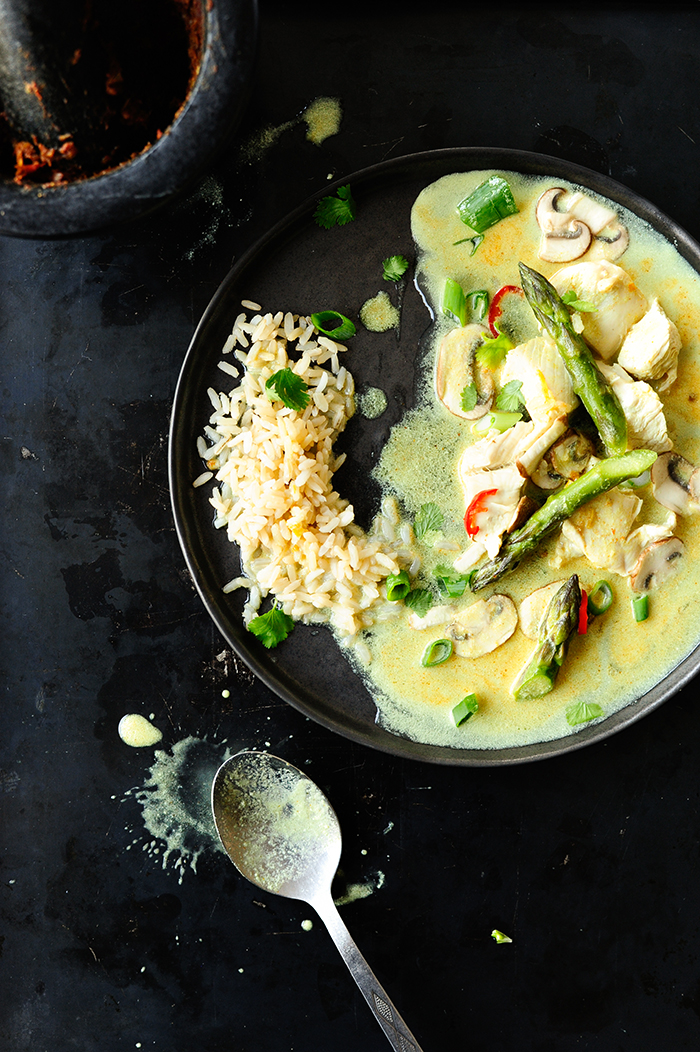 Chicken in coconut milk with asparagus and brown mushrooms. It's not only  a super flavorful Asian dish, but it's also easy and fast to prepare.
A healthy meal, a little bit spicy with a subtle coconut flavor, and it smells amazing;)
Ingredients
120 g rice
150 g chicken fillets
400 ml coconut milk
200 ml chicken broth
100 g brown mushrooms, sliced
200 g green asparagus, cut into pieces
2 tablespoons chopped spring onions
1 tablespoon lime juice
1 chilli, finely chopped
2 cloves garlic, finely chopped
1 shallot, finely chopped
1 teaspoon grated ginger
1 teaspoon turmeric
1 teaspoon curry
1/2 teaspoon cumin
1/2 teaspoon cilantro seeds
1 tablespoon fish sauce
2 tablespoons paprika
salt and pepper
1 tablespoon vegetable oil
fresh cilantro
Instructions
Boil the rice until tender in salted water.
Heat the oil in a pot, add the shallot, garlic, chili and ginger. Fry over low heat. Add the turmeric, curry, cumin, cilantro seeds and chili pepper, simmer for 5 minutes. Transfer to a foodprocessor, add the fish sauce and blend.
Pour the broth and coconut milk in the same pot, add sliced chicken and bring to boil. Reduce heat, add the lime juice, salt and pepper. Boil for 15 minutes. Add the mushrooms, asparagus and spices. Boil for 5 minutes.
Serve with rice, garnish with spring onion and cilantro leaves.
Enjoy:)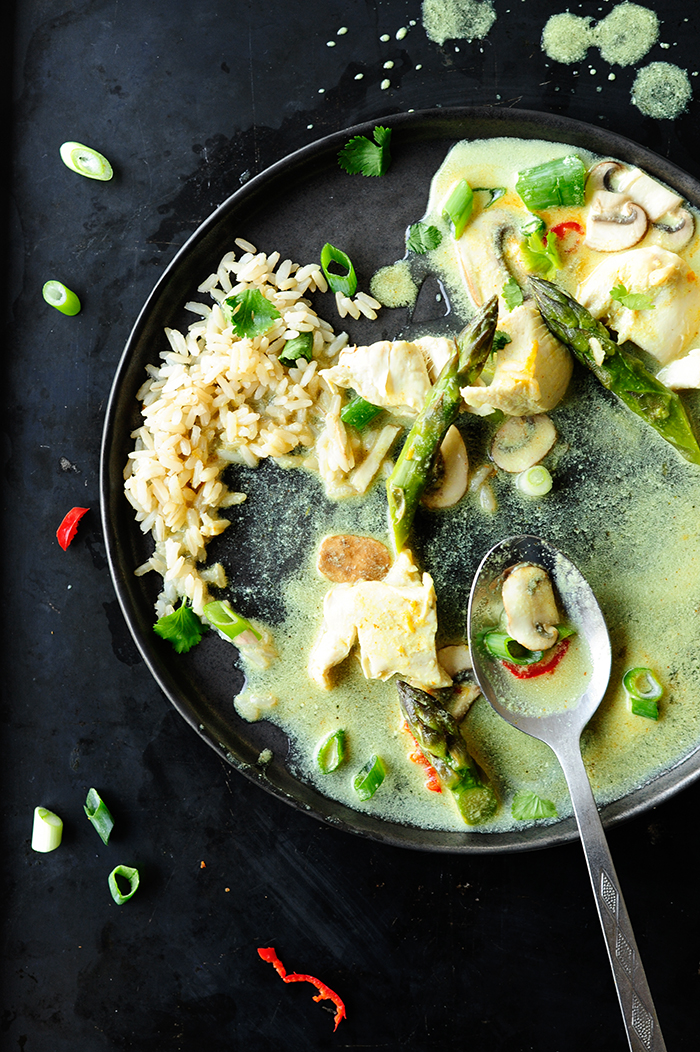 //= __('Print recipe (no photos)', 'servingdumplings' );?> //= __('Print recipe (with photos)', 'servingdumplings' );?>