This hearty chicken stew recipe is super flavorful and simmered to perfection in a single pot. Tender chunks of chicken and baby potatoes nestled in a savory broth that's bursting with flavor. The best part? This stew practically cooks itself, making it perfect for busy weeknights. So grab a hunk of crusty bread and dig in!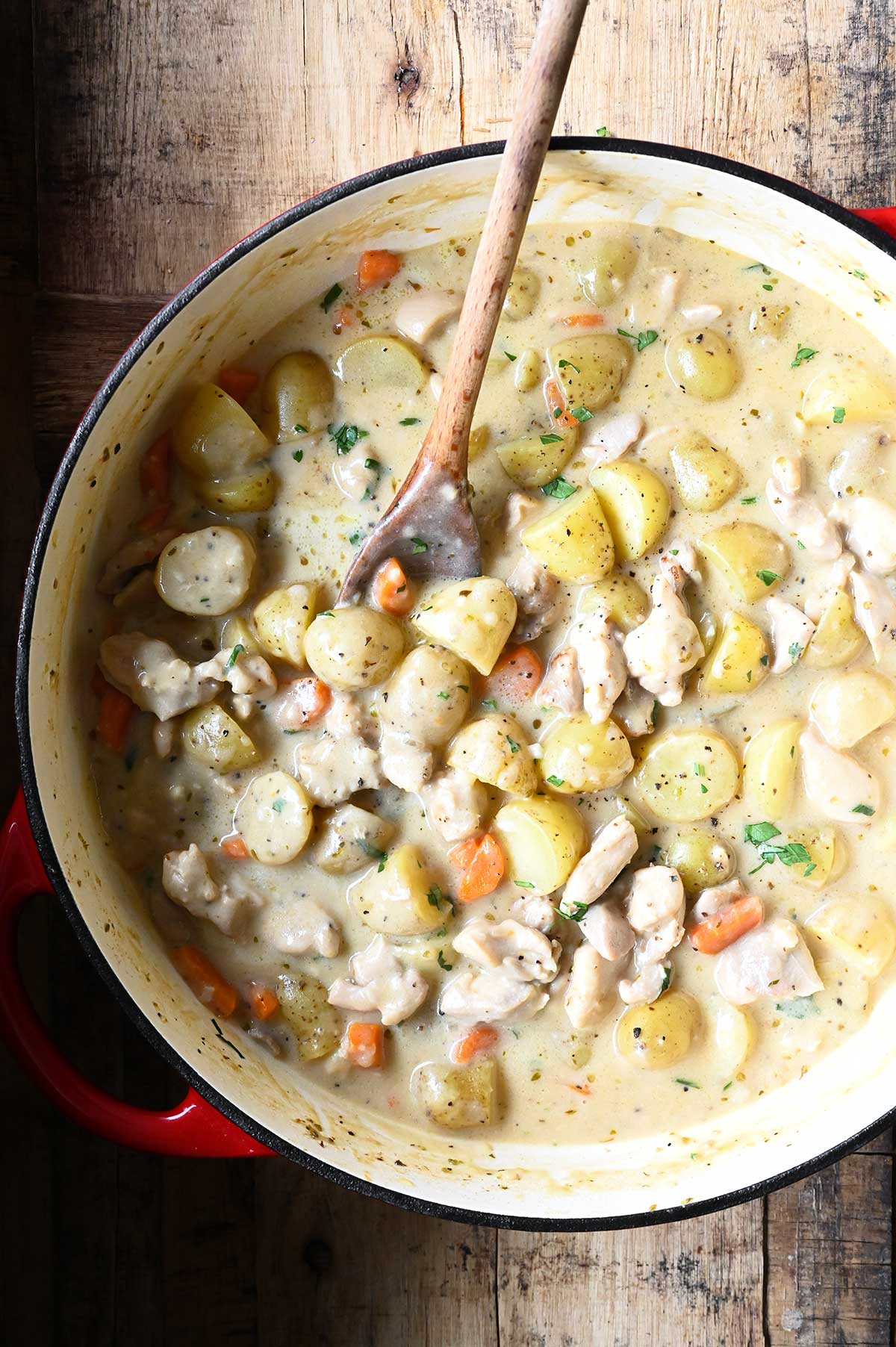 Why You'll Love This Delicious Chicken Stew
Nothing beats the coziness of a hot bowl of chicken stew. It's the epitome of rustic charm with a touch of gravy-like goodness.
Hearty and Flavorful: This stew is more substantial and way tastier than chicken soup. It's like a warm hug.
Effortless Cooking: No master chef skills required! Throw simple ingredients like chicken thighs and veggies into a single pot, let them mingle in a savory broth, et voilà!
Versatile Vibes: Get creative! Use bone-in chicken thighs for extra flavor or toss in any veggies you have on hand.
Pair with Perfection: All you need is some crusty bread to complete this comfort meal.
This chicken stew recipe is all about easy, delicious, and versatile comfort. Dive into the world of hearty satisfaction and elevate your mealtime!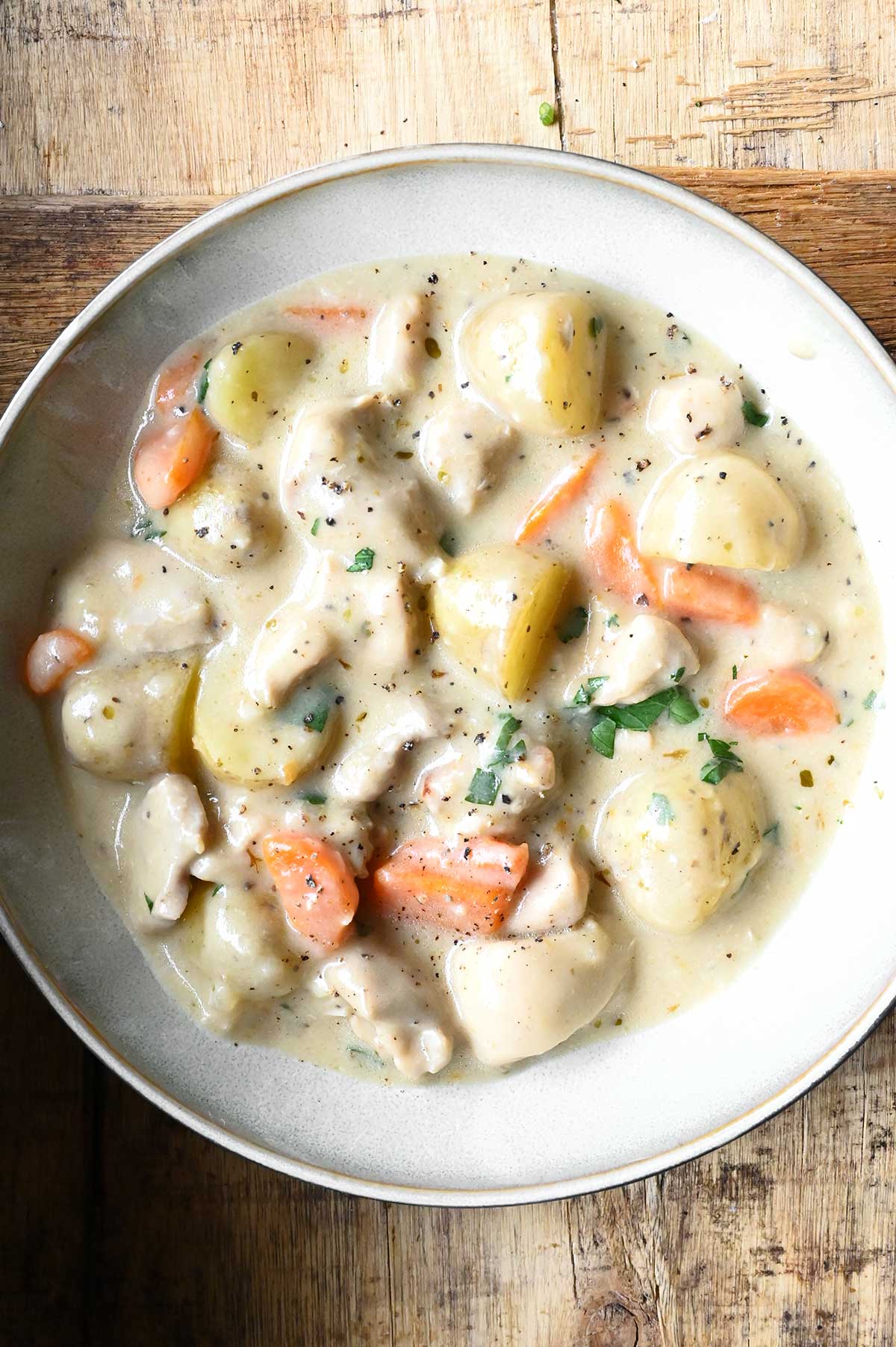 How to Make Chicken Stew
This recipe is all about the magic of your stovetop to unlock incredible flavors, that involves searing chicken and sautéing aromatics, resulting in a taste that the crockpot simply can't replicate. Therefore, I do not recommend making this stew in a slow cooker.
Searing for Flavor: We kick things off by searing chicken thighs in a tantalizing mix of oil and butter. It's the key to a flavor-packed foundation.
Aromatic Alchemy: After removing the chicken, we sauté garlic, onion, and carrots in that flavor-packed base. It's like creating a delicious canvas for your stew.
Seasoning Stars: We then sprinkle in the seasonings, add the potatoes, and return the chicken to the pot.
Simmering Bliss: It's time to pour in the broth, drop a bay leaf in the mix, and let everything simmer for 20 minutes, allowing the flavors to blend together.
Creamy Twist: Once the broth reduces slightly, the stew thickens, and the potatoes turn tender, we add a touch of half-and-half.
Finishing Touch: A sprinkle of lemon juice and a dash of parsley for the grand finale, and you're ready to enjoy!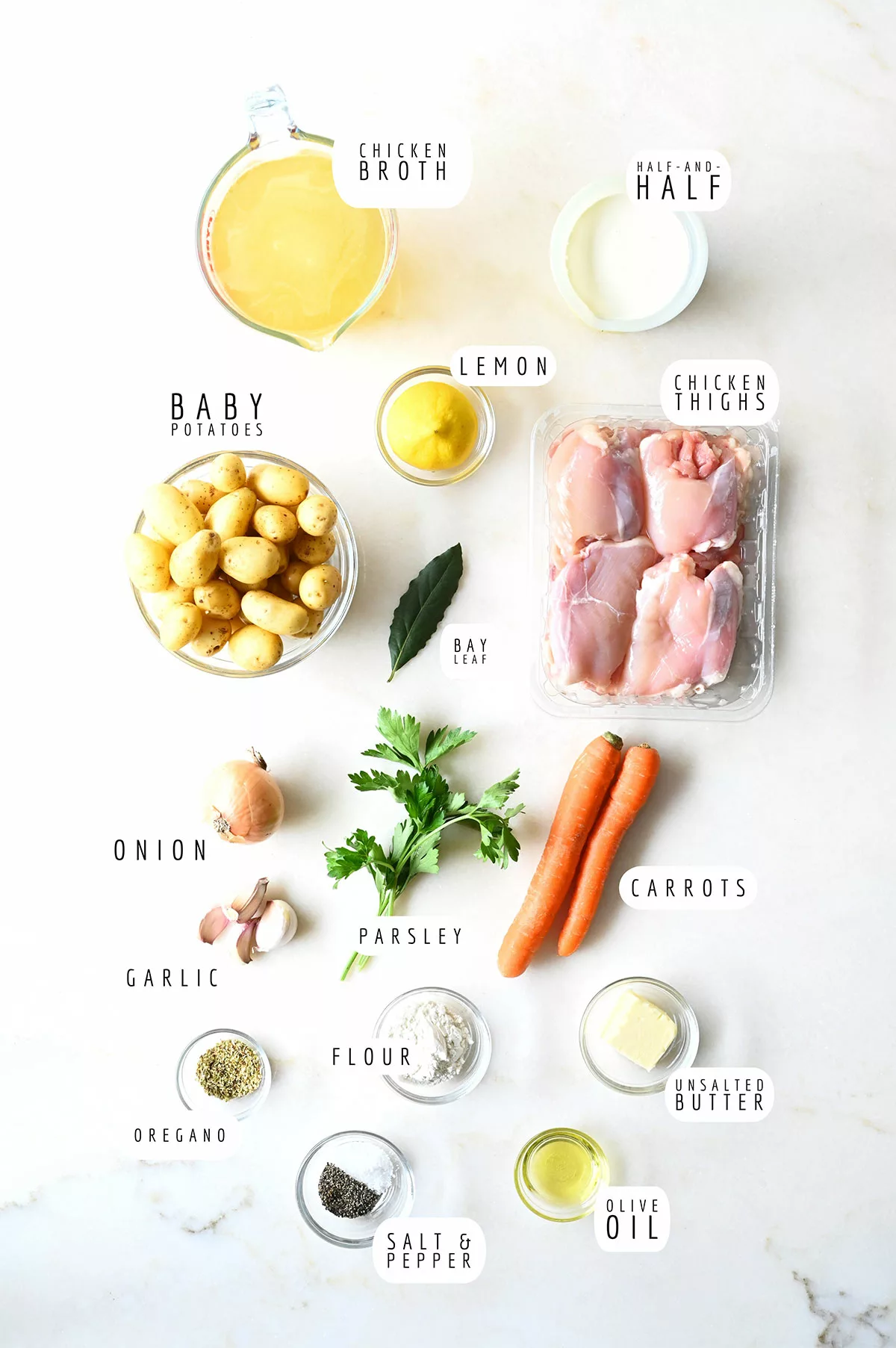 Ingredients and Substitutions for Chicken Stew
Chicken Thighs: Go for boneless/skinless chicken thighs. They bring extra flavor and simmer into melt-in-your-mouth tenderness. While you could also use bone-in thighs, try to avoid chicken breasts, they won't be as tender and might become dry.
Potatoes: Baby potatoes are the heart of this delicious stew recipe, but you can also opt for red potatoes, Yukon Gold or Russets.
Garlic and Onion: Freshly chopped garlic and onion are the heroes here. Avoid the jarred or pre-chopped stuff for the best results.
Carrots: These add a rich flavor, a burst of color and a delightful texture to your stew.
Oil and Unsalted Butter: To help sear the chicken and set the stage for a flavorful roux.
Flour: It's your secret weapon for thickening the stew.
Chicken Broth: Opt for high-quality, store-bought chicken broth or, if you're feeling fancy, whip up some homemade bone chicken broth.
Seasoning: This tantalizing mix includes salt, black pepper, bay leaf, and dried oregano. Feel free to swap out oregano for dried thyme or marjoram.
Cream: Choose between half-and-half, 20% fat cream, or whole milk. For a dairy-free twist, full-fat unsweetened coconut milk does the trick.
Lemon Juice: A zesty touch to elevate the flavors.
Herbs: Fresh parsley or dill for a garnish that brings it all together.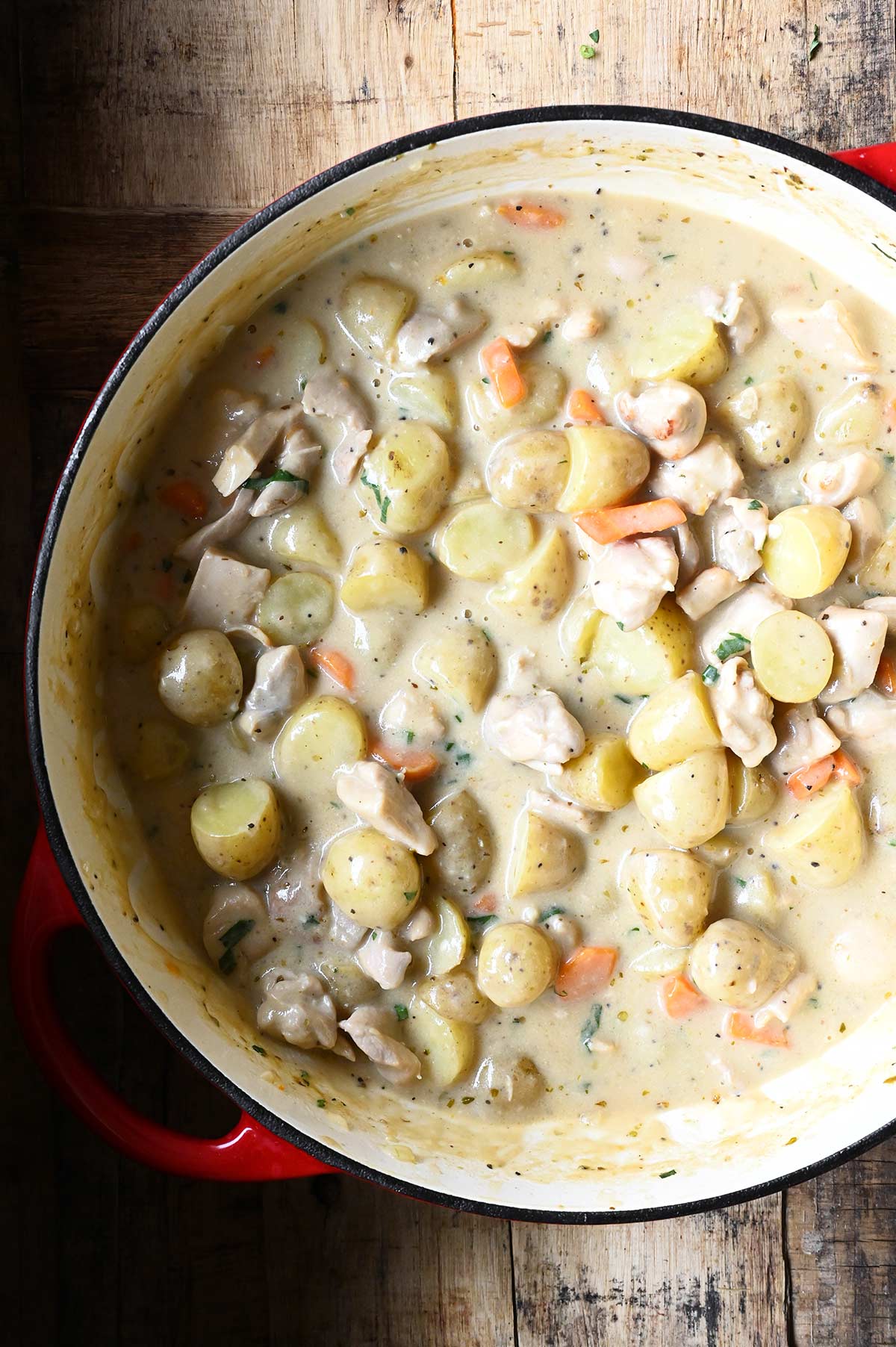 Helpful Tips
Lid Off, Flavor On: When simmering your stew, keep the lid off. This allows more broth to evaporate, leading to a thicker, richer stew. You'll love the intensified flavors!
Veggie Variety: Don't be afraid to get creative with your veggies. You could add mushrooms or celery, just after you removed the chicken from the pot. If you've got green peas, corn, white or green beans, green bell peppers, sweet potato or zucchini on hand, toss them in for extra texture and flavor. It's a great way to use up what's in your fridge.
Sides that Shine: To complement your amazing chicken stew, serve it up with a side of crusty bread or garlic bread. The perfect partners for dipping. And don't forget a vibrant green side salad, drizzled with olive oil and balsamic vinegar. It's that fresh, zesty touch that makes your meal complete.
Make Ahead: Because this stew gets even better the next day, you can make it 1 day ahead. Store covered in the fridge.
Storage
In the Fridge: Store refrigerated in air tight containers for up to 3 days.
Into the Freezer: If you're thinking long-term, chill your stew first, then pop it into airtight containers. It's good in the freezer for about 3 months, ready to surprise your future self with a delightful meal.
Reheat Right: Whether it's from the fridge or freezer, opt for a saucepan on the stove over medium-low heat.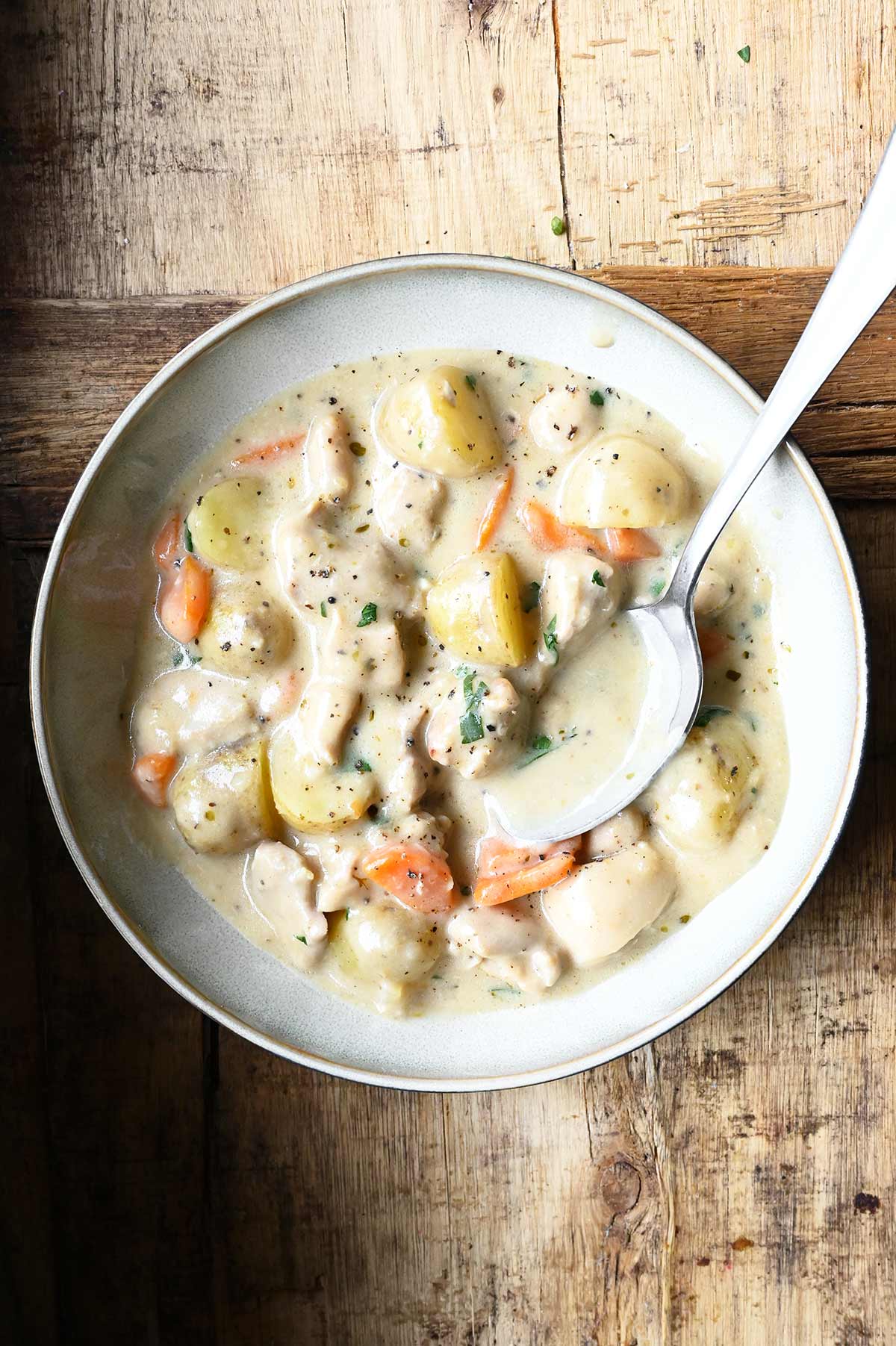 Try These Next
Cooking Video: How to Make Chicken Stew
Yield: serves 4
Chicken Stew
Hearty one-pot chicken stew: Tender chicken and baby potatoes simmered in a flavorful broth. Easy for busy weeknights. Serve with crusty bread and enjoy a flavorful meal with minimal effort.
Ingredients
1 tbsp olive oil
1 tbsp unsalted butter
1 ½ pounds boneless/skinless chicken thighs, cut into bite-sized pieces
4 garlic cloves, minced
1 yellow onion, finely chopped
2 medium carrots, peeled thinly sliced
1 tsp each: salt, black pepper, dried oregano
3 tbsp all-purpose flour
1.1 pounds baby potatoes, cut in half
3 cups chicken broth
1 bay leaf
½ cup half-and-half
1 tbsp lemon juice
2 tbsp chopped parsley
Instructions
Get your prep done before you start cooking. Cut the chicken thighs into bite-sized pieces, about 1 ½ inch/4 cm thick. Cut the baby potatoes in half. Peel and slice the carrots. Mince the garlic, finely chop the onion and chop the parsley.
Heat oil and butter over medium high in a large heavy bottomed pot, add chicken and place in a single layer. Sear undisturbed for 3 minutes, then stir for 1 minute. Remove chicken before it's cooked through, we will finish it later while simmering in broth. Transfer to a clean bowl.
Add garlic, onion and carrots. Cook for 2 minutes over medium. Stir in salt, pepper and oregano. Next add flour and stir until fully incorporated. Add potatoes and chicken, then pour in broth and add the bay leaf. Bring to a boil, reduce heat to medium low and simmer for 20 minutes, or until the potatoes are tender.
When ready, add half-and-half and simmer for 5 minutes more. Finish off with lemon juice and parsley. Taste and add any additional seasonings. Enjoy!
Nutrition Information:
Yield:
4
Serving Size:
1
Amount Per Serving:
Calories:

546
Total Fat:

23g
Saturated Fat:

9g
Trans Fat:

0g
Unsaturated Fat:

14g
Cholesterol:

229mg
Sodium:

1623mg
Carbohydrates:

39g
Fiber:

4g
Sugar:

6g
Protein:

48g
Nutritional information is only an estimate. The accuracy of the nutritional information for any recipe on this site is not guaranteed.