I truly love salads. I could happily eat a salad every single day. A salad has unlimited possibilities. You can basically put anything in a bowl, drizzle it with a dressing and call it a salad. It can be served as the main dish, but it's just as delightful as a side. When done right, it's one of life's greatest pleasures. But when done wrong, it's a disappointment, a bowl of lost potential. I've eaten a lot of salads, but the most important part is the dressing and the seasoning. You should treat a salad dressing with respect. It needs to be a flavor-packed homemade vinaigrette. And this parmesan dressing has it all. It's creamy, tangy and salty with a garlic touch. It ticks all the boxes. I'm not saying I'm some kind of salad expert, I'm just trying to say that a really good dressing has the power to change your salad.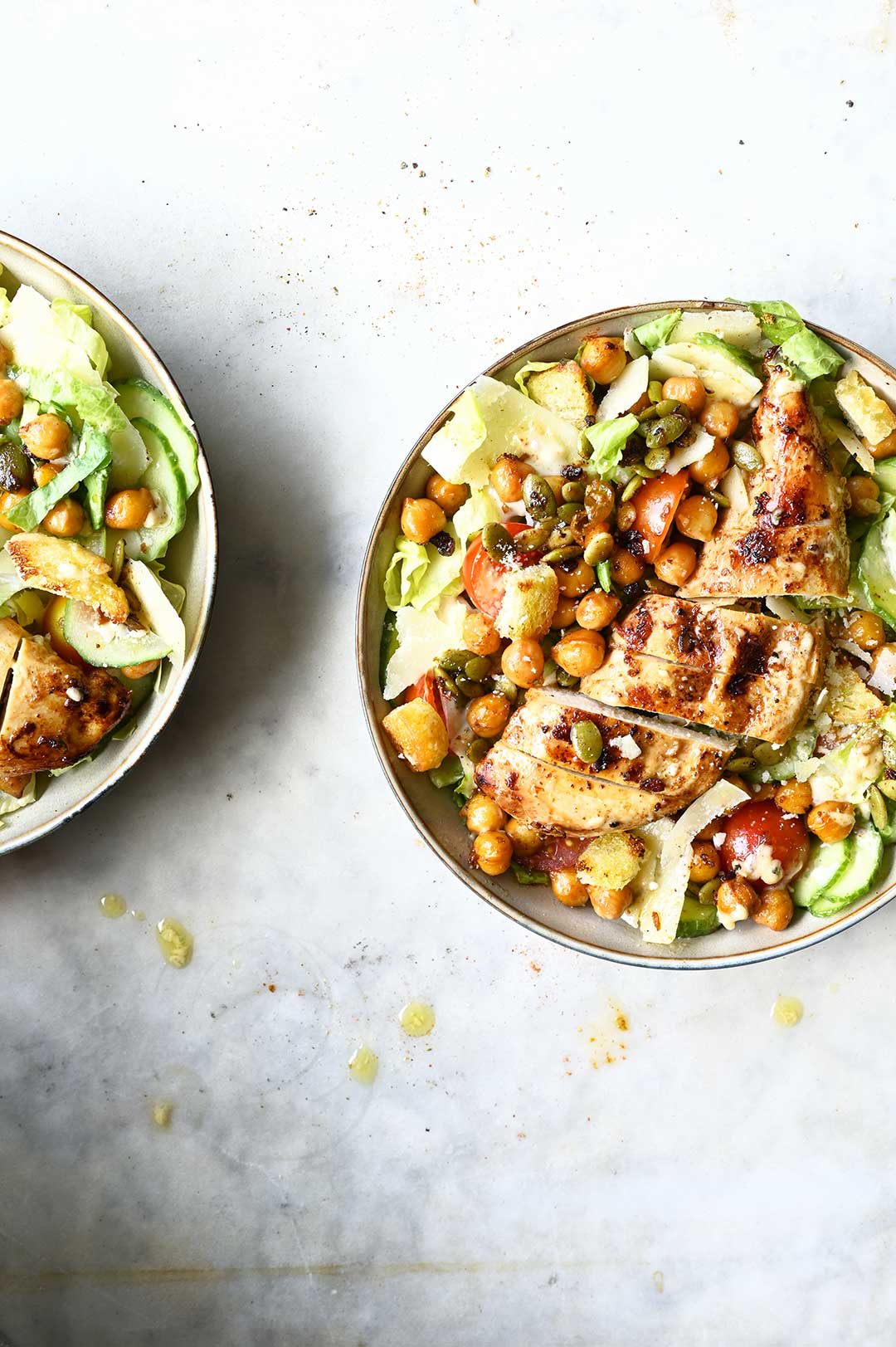 So let's talk about this chicken salad. The pan-seared chicken gets tossed together with greens, tomatoes, cucumbers, pumpkin seeds and the most delicious addicting parmesan dressing. It doesn't get better than this. There are crispy cumin chickpeas and carbs in the form of croutons and an abundance of parmesan which is, by my account, the king of cheeses and always very welcome on my plate. And that's it. Nothing else. It's simple to toss together and super flavorful. Perfect to serve any day of the week from now through summertime. It's the most satisfying and delicious salad I've probably ever made.
You may also like:
Very juicy kale salad with plums
Chicken salad with fruit
Smoked salmon salad with blueberry vinaigrette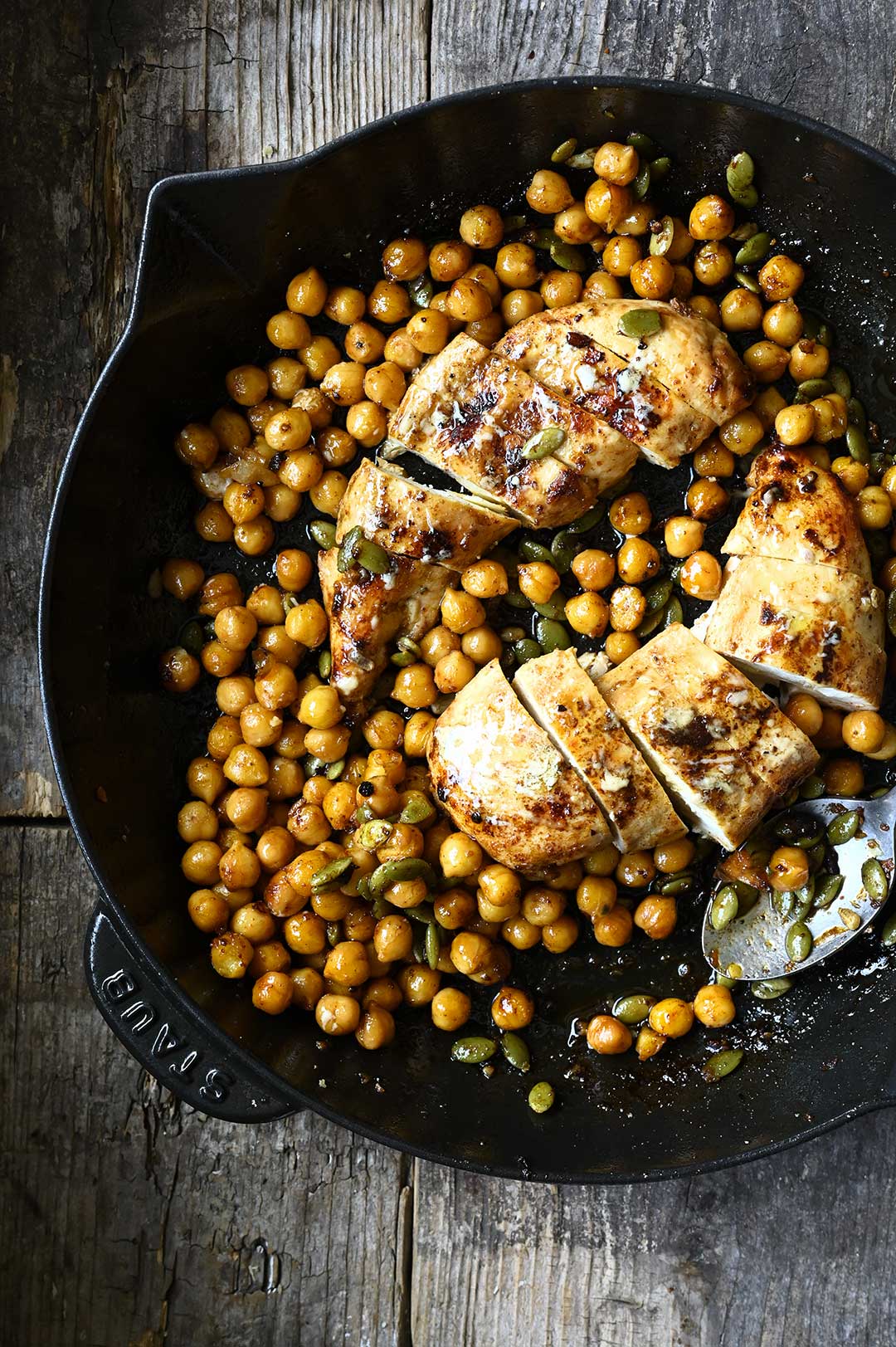 You need
salad
1 small romaine lettuce, chopped
1/2 cucumber, sliced
100 g cherry tomatoes, halved
50 g parmesan, shaved
1 ciabatta, cut into cubes
olive oil
chicken
2 chicken breasts, boneless and skinless
2 garlic cloves, minced
2 tbsp olive oil
2 tbsp unsalted butter
1 tbsp lemon juice
1 tsp honey
1 tsp cumin
1/2 tsp each: paprika, cayenne pepper, onion powder
salt and black pepper
chickpeas
200 g chickpeas, drained
30 g pumpkin seeds
1 garlic clove, minced
1 tsp lemon juice
1 tsp cumin
1/2 tsp each: paprika, cayenne pepper, onion powder
salt and black pepper
parmesan dressing
3 anchovy fillets, finely chopped
5 tbsp mayo
1 tsp honey
1 tbsp lemon juice
1 tbsp mustard
2 tbsp grated parmesan
1 garlic clove, minced
1 tbsp yogurt
black pepper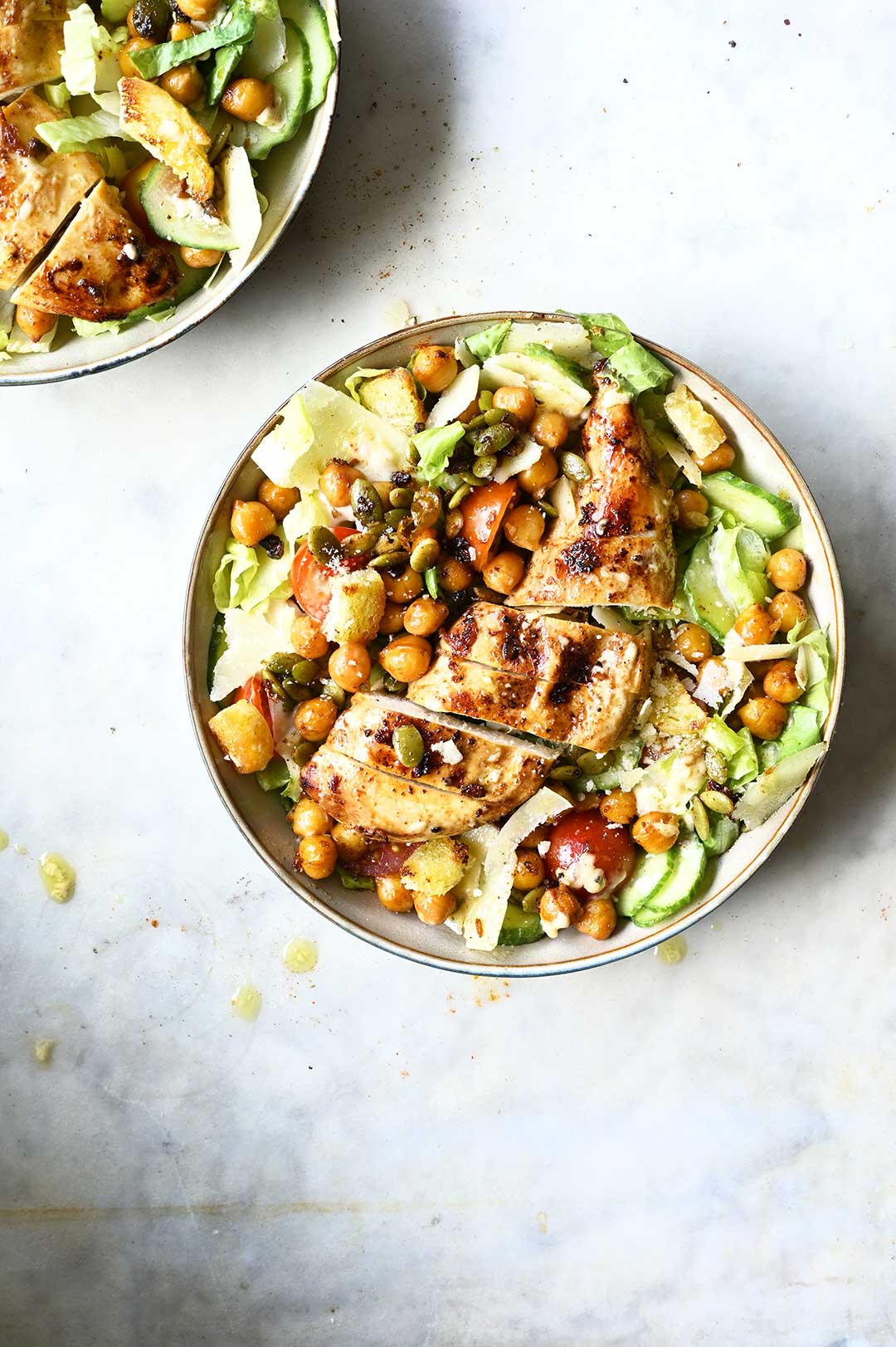 How to
In a bowl, combine the chicken with all the spices. Set aside for 15 minutes.
Meantime, make the croutons. Heat 2 tbsp olive oil in a small skillet over medium heat. Add the ciabatta and fry, stirring occasionally until golden about 5 minutes. Remove from the heat, transfer onto a plate and season with salt.
Heat the same skillet over medium heat. Add 2 tbsp olive oil and butter, cook the chicken for 8 minutes, then flip and cook 8 or 10 minutes more or until both sides are lightly browned and the chicken is cooked through. Transfer to a plate and cover.
Now add the chickpeas and pumpkin seeds to the skillet, season with the spices. Toast on high heat until crispy for about 5 minutes.
To make the dressing. Combine all ingredients in a cup and whisk until completely smooth. Taste and adjust the salt and pepper. Thin the vinaigrette as needed with 2-3 tablespoons yogurt.
Toss the romaine lettuce with tomatoes and cucumber. Add the chicken, croutons and chickpeas, drizzle with the dressing. Then top off with the shaved parmesan. Serve immediately. Enjoy!