Chicken paprikash meatballs. Give your paprikash a makeover with this chicken meatball version that's packed with earthy mushrooms and tender bell pepper. Simmered in an amazingly rich and flavorful paprika -infused tomato sauce with sour cream. Serve over buttered noodles for an all time favorite that everyone at your table will love. It's pure heaven!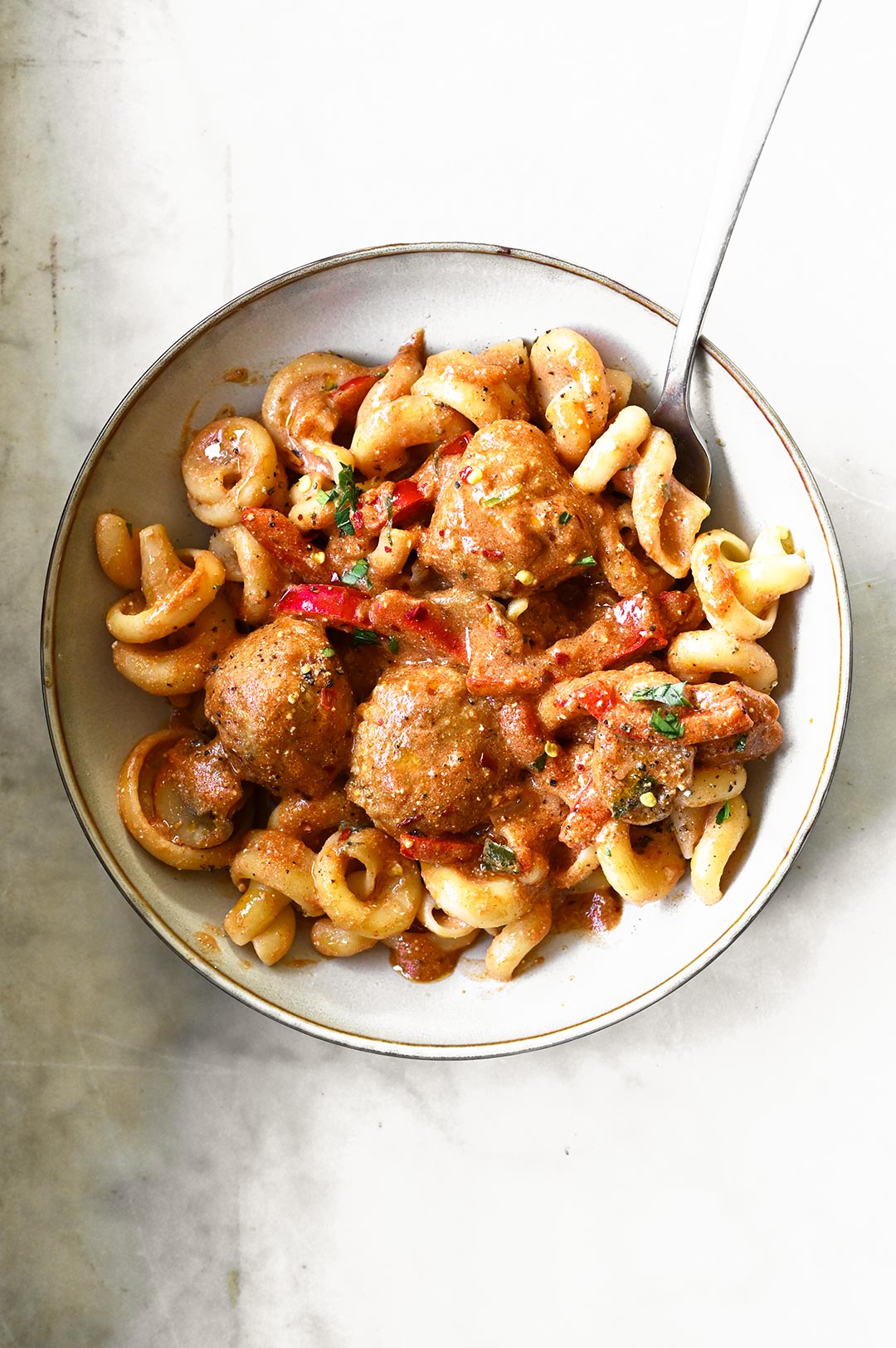 With luscious, tender chicken meatballs in a fragrant sauce, this dish is the embodiment of comfort food. It's packed with flavor, calls for minimal ingredients, and can be made as spicy as you can handle.
Sautéed bell pepper gives this sauce a natural sweetness and the earthy mushrooms add that extra special taste. But the key ingredient is undoubtedly the paprika as it gives a warm touch to the smooth tomato sauce.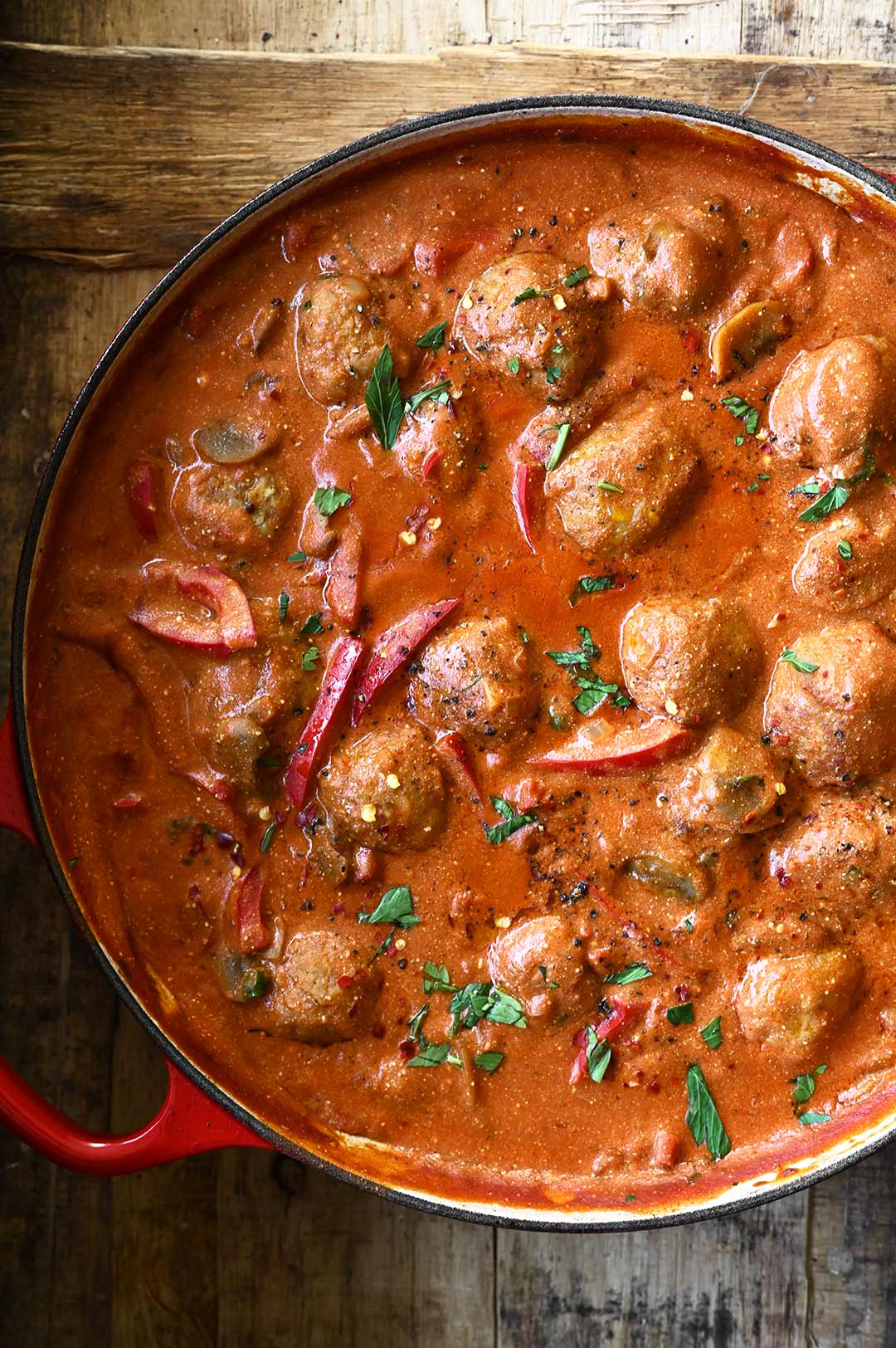 This delicious dish also relies on sour cream, to thicken the sauce and to balance the warmth of the paprika. Serve it with some buttered noodles, boiled potatoes or some bread for a fabulous weeknight meal.
Let me guide you through the recipe with this step-by-step VIDEO.
RECIPE NOTES
this is a super versatile recipe!
you can leave out the mushrooms or bell pepper
use red and green bell peppers, or add roasted bell peppers
add potatoes to the sauce and turn these chicken meatballs into a complete one-pot meal
if you can find it, use Hungarian mild or hot paprika
use boneless/skinless chicken thighs
serve with buttered egg noodles, crusty bread, rice or mashed potatoes
add a big side salad tossed with a sour cream dressing or a cucumber salad
Try These Next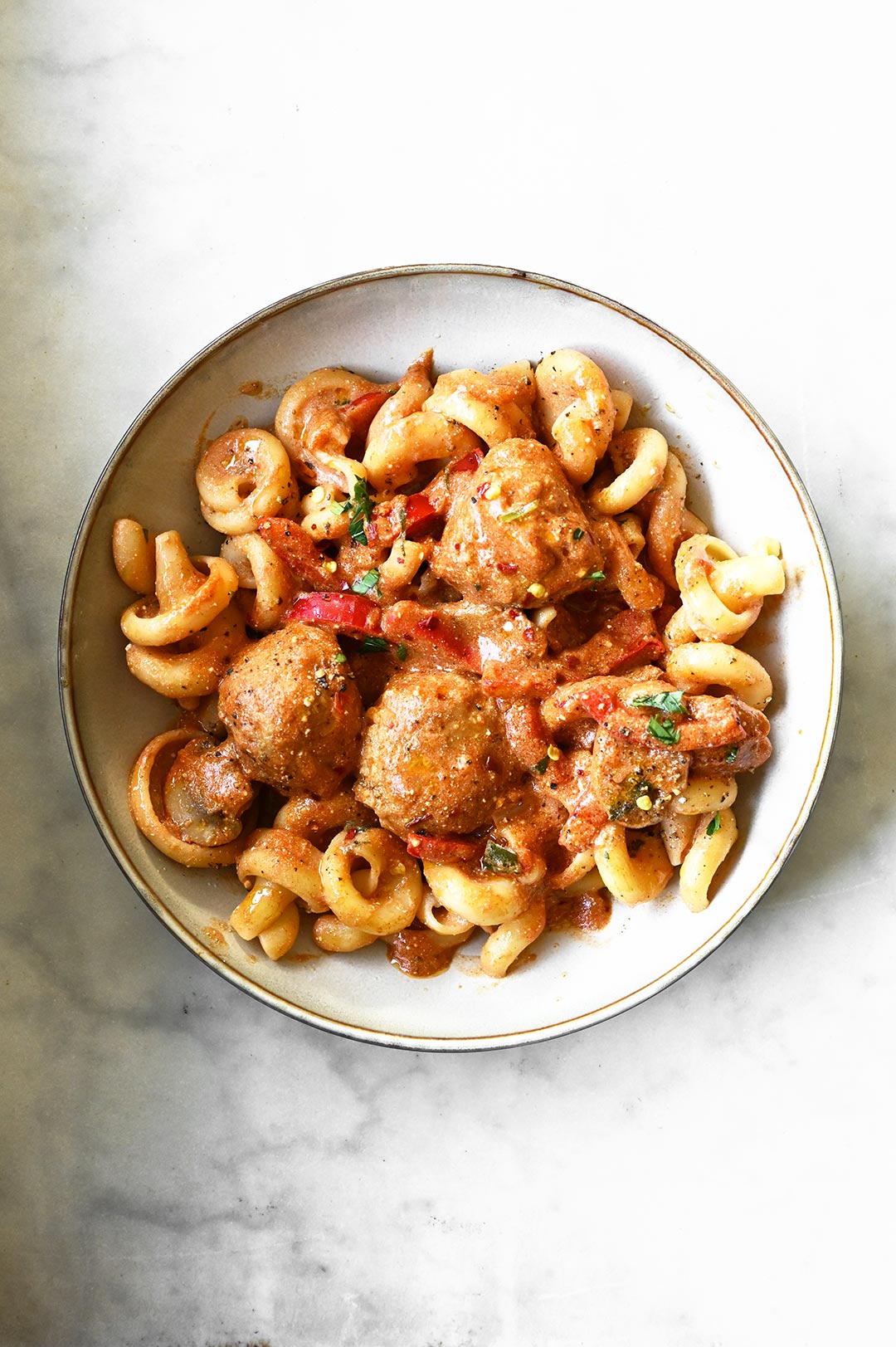 Cooking Video
Yield: serves 4
Chicken Paprikash Meatballs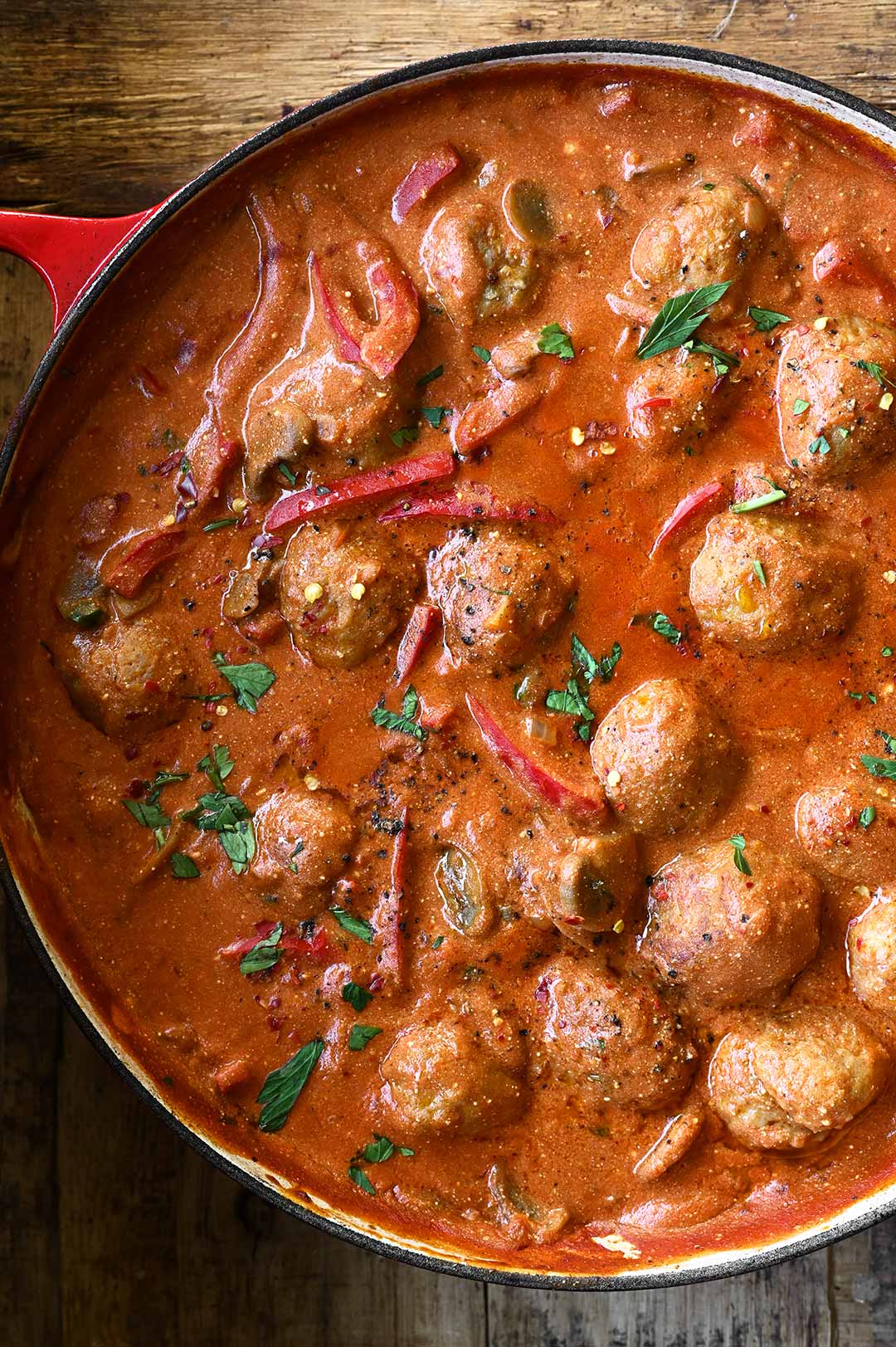 Prep Time 10 minutes

Cook Time 30 minutes

Total Time 40 minutes
Ingredients
Chicken Meatballs
500 g/1.1 lbs ground chicken
1 tsp each: salt, black pepper, Hungarian paprika, garlic powder
2 tbsp breadcrumbs
1 egg yolk
Tomato Paprika Sauce
2 tbsp olive oil, divided
2 tbsp unsalted butter, divided
250 g/9 oz mushrooms, thinly sliced
1 large red bell pepper, cut into thin slices
1 small brown onion, finely chopped
4 garlic cloves, minced
1 tbsp flour
240 ml/1 cup chicken broth
300 ml/1 ¼ cups puréed tomatoes
2 tbsp chopped parsley, more for serving
200 ml/ ¾ cup sour cream
crushed red pepper flakes, for serving
Spices
1 tsp each: salt, black pepper, ground cumin
2 tbsp smoked paprika
¼ tsp cayenne pepper
Instructions
Get the prep done before you start cooking: mince the garlic and finely chop the onion. Cut the bell pepper in half, remove veins and seeds, then cut the pepper into thin slices.
Add the ingredients for the meatballs to a large bowl. Mix until just combined, using your hands. Roll the meat into balls.
Heat 1 tbsp oil and butter in a large skillet over medium high. Add meatballs and brown on all sides, about 5 minutes, turning them frequently. Remove from skillet.
Add mushrooms, cook until browned, remove from skillet.
Add the remaining butter and oil to the same skillet. Add bell pepper, cook for 3 minutes. Add garlic and onion, cook for 2 minutes. Stir in spices and add flour, stir until combined.
Deglaze with chicken broth, simmer for 2 minutes, stir with a wooden spoon while scraping up the brown bits on the bottom of the skillet. Add puréed tomatoes, simmer for 3 minutes.
In the meantime, chop the parsley.
Add parsley and sour cream to the sauce, stir until combined. Add mushrooms and meatballs, stir to coat. Simmer for 10 minutes. (At this point, you can cook your noodles, if using). Finish off with freshly ground black pepper, red pepper flakes and chopped parsley. Enjoy!
Notes
Calories Per Serving: 538 kcal
Nutritional information is only an estimate. The accuracy of the nutritional information for any recipe on this site is not guaranteed.


DOWNLOAD PRINTABLE RECIPE PDF