Chicken Kofta Kebab. You'll quickly become a fan of these juicy ground chicken skewers. Served up kebab style with flatbread, garlic mayo and tomatoes. These quick-cooking, easy chicken kebabs come together in just about 30 minutes. You can grill them, prepare in a skillet or bake them in the oven, you're the chef! Great for busy weeknights and picky eaters approved.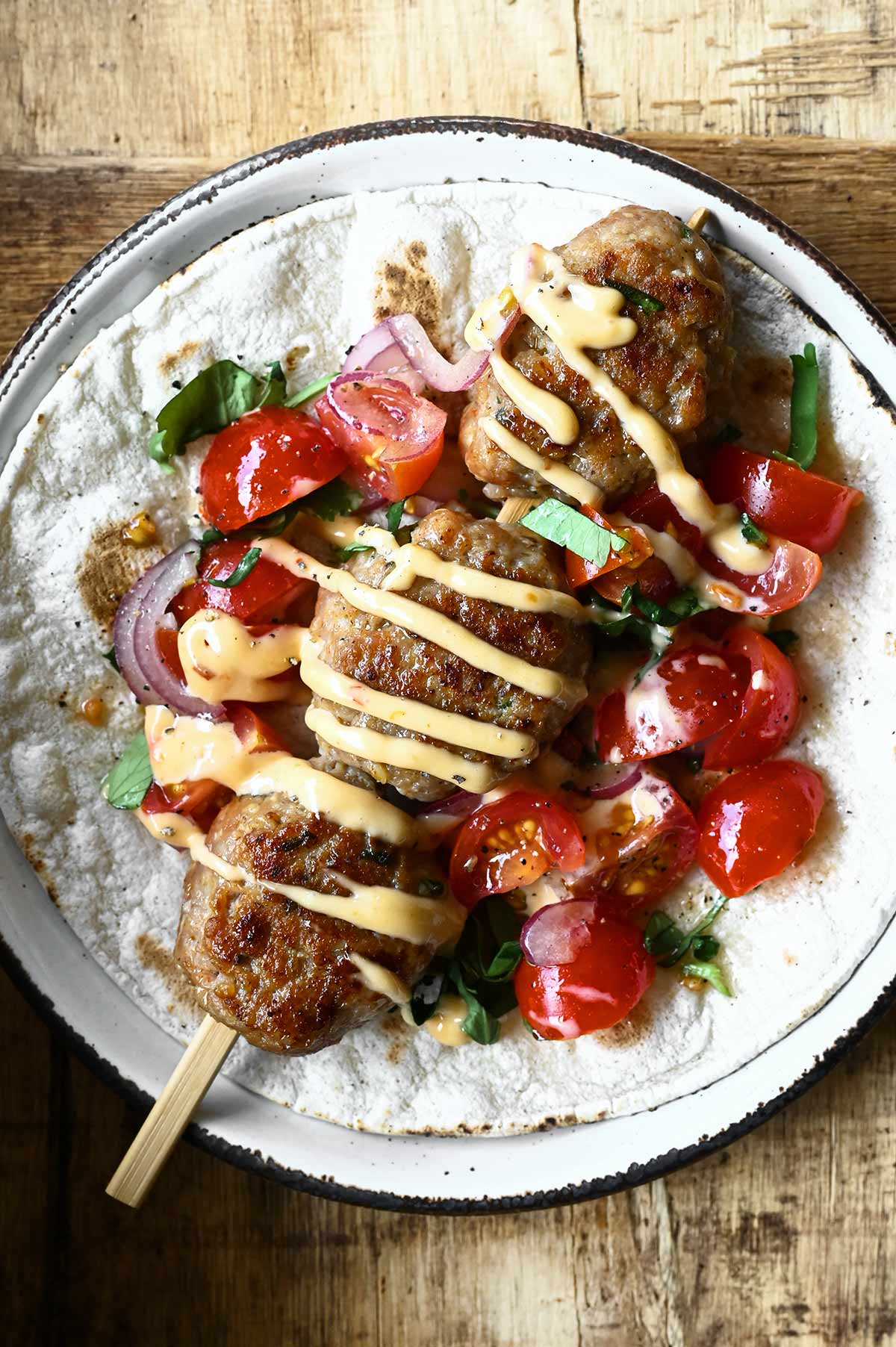 These chicken kofta kebabs are ideal for dinner or lunch and you can easily prepare them ahead of time. They're loaded with delicious flavors, this family-friendly dinner is always a hit and a frequent guest on our meal plan.
It's super flavorful, juicy and easy to make. Plus, you don't need many ingredients to prepare this recipe. The chicken kofta kebabs are made with ground meat which is wrapped around a skewer and then cooked. In summer, it's an awesome dish to serve at BBQ gatherings and during winter, you can prepare them in the oven. See tips below. You can opt for a mixture of lamb and beef, but in this recipe we're using chicken which makes for a faster cooking time.
Let me guide you through the recipe with this step-by-step VIDEO.
How to Prepare Chicken Kofta Kebab in the Oven?
Preheat the oven to 400°F/200°C and line a baking sheet with parchment paper. Arrange the ground chicken mixture on skewers. I recommend soaking the skewers in water, 30 to 60 minutes before you arrange the meat on skewers. This will keep them from burning up.
Place the skewers on the baking sheet, drizzle with oil and bake for about 20 minutes turning ones.
How to Prepare Chicken Kofta Kebab on the Grill?
Soak the skewers in water, 30 to 60 minutes before you arrange the meat on skewers. This will keep them from burning up on the grill. Arrange the chicken mixture on skewers. Grill chicken kofta kebab for 4-5 on each side until nicely charred.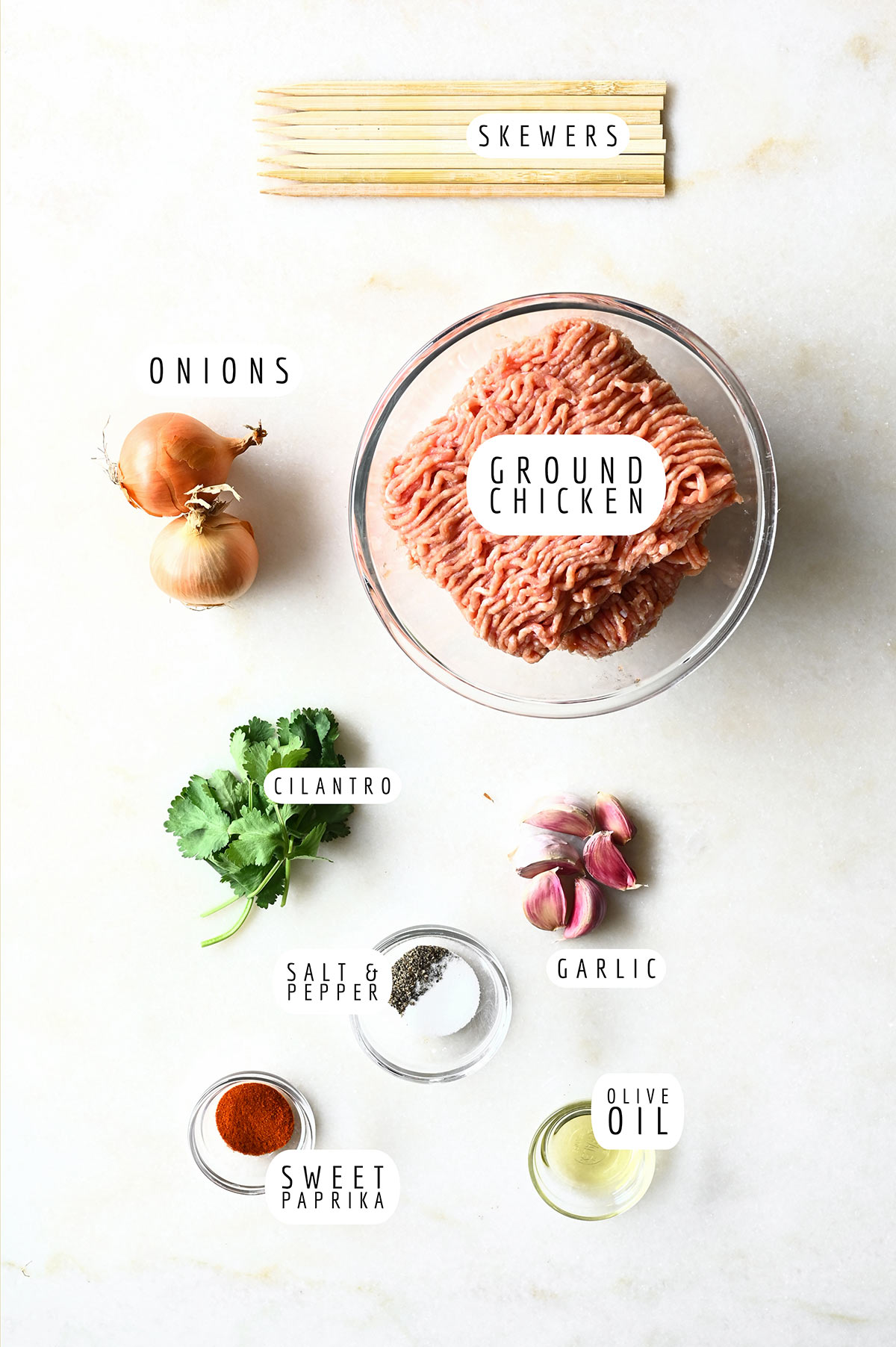 Ingredients, Tips & Substitutions
Chicken Kofta Kebabs
Meat: Ground chicken, you can also use turkey, beef or lamb.
Seasoning: A mix of salt, black pepper and sweet paprika.
Herbs: Cilantro for a fresh touch, you can swap it for parsley.
Onion and Garlic: Lots of those two! Both freshly grated, because you don't want uncooked chunks of onion or garlic in your patties, and it's less easily detected in foods by picky eaters.
Olive Oil: For frying.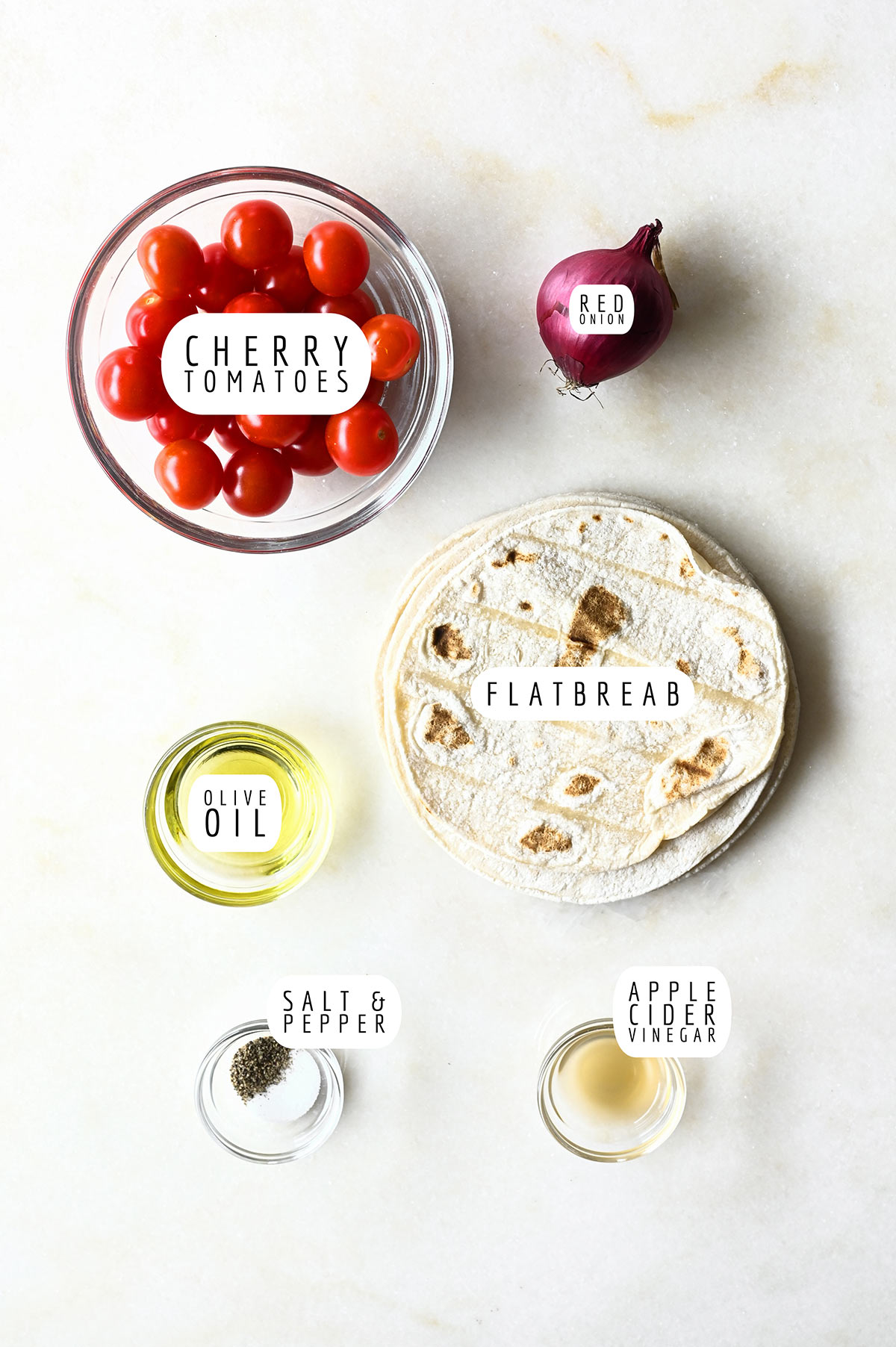 Extras
Flatbread: For serving, you can swap for naan. And you can use store-bought or homemade.
For the Tomato Salad: Red onion, cherry tomatoes, salt, black pepper, olive oil and apple cider vinegar.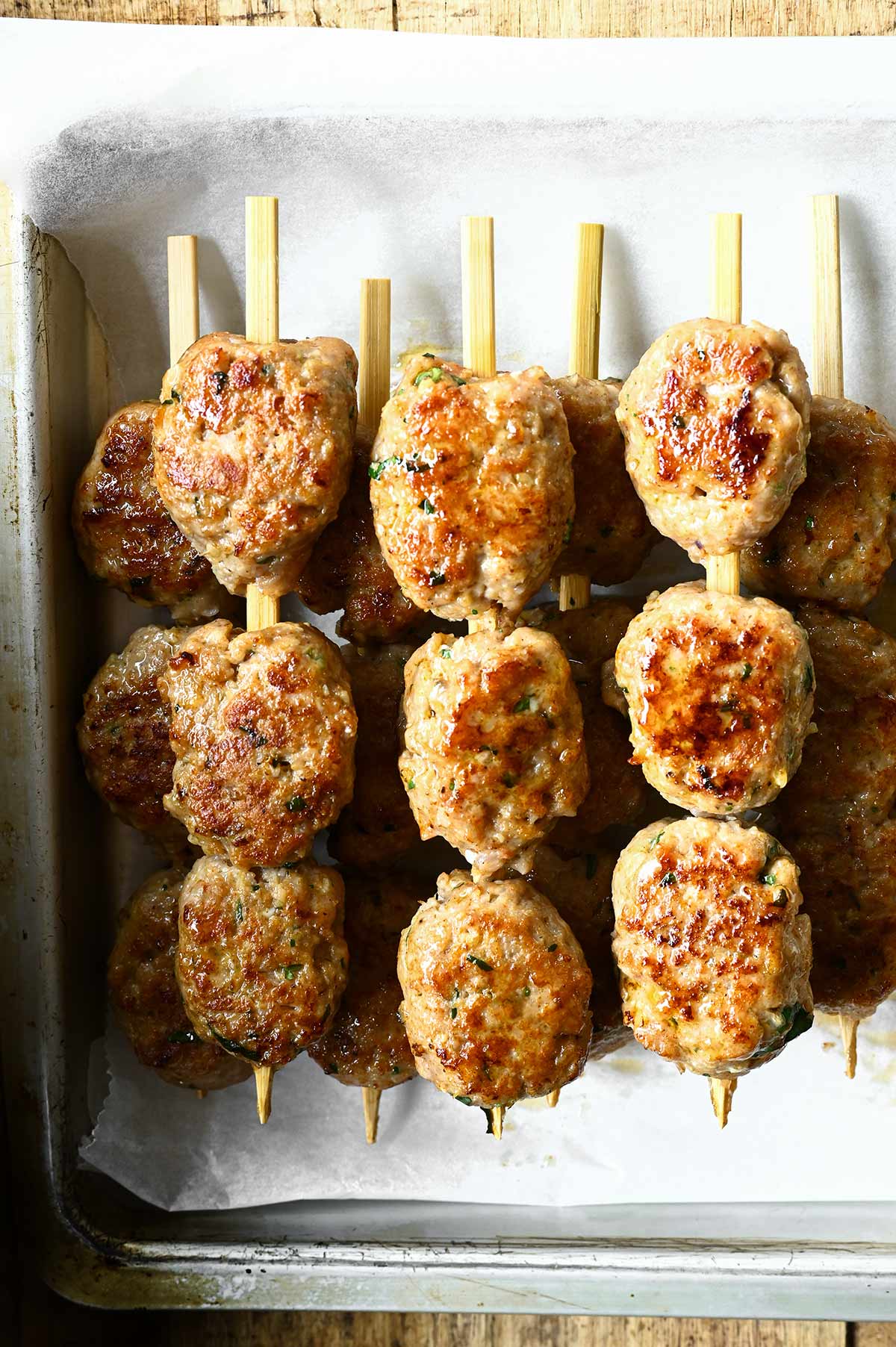 Recipe Notes
Serve with flatbread, naan or rice.
Pair with a simple leafy salad, pickled red cabbage, coleslaw or a chickpea-carrot salad on the side.
Add cayenne pepper or chili flakes to your meat mixture, for a nice spicy kick.
Top with your favorite sauce like garlic sauce or spicy garlic mayonnaise.
Make ahead: You can make the skewers and refrigerate overnight. When you're ready to eat, sear your chicken skewers, make a salad and cook the naan.
Freeze: You can freeze the uncooked chicken kofta skewers in airtight containers for up to three months.
Try These Next
Cooking Video
Yield: serves 4
Chicken Kofta Kebab
Ingredients
Chicken Kofta Kebab
1.7 pounds/800 g ground chicken
2 medium yellow onions, grated
6 garlic cloves, grated
1 tsp each: salt, black pepper, sweet paprika
3 tbsp chopped cilantro, more for serving
1 tbsp olive oil, for frying
8 flatbreads, for serving
garlic mayonnaise, for serving
8 skewers
Tomato Salad
1 red onion, finely sliced
9 ounces/250 g cherry tomatoes, halved
½ tsp each: salt, black pepper
3 tbsp olive oil
1 tbsp apple cider vinegar
Instructions
Prepare the chicken kebab skewers. Grate the onions and garlic, chop the cilantro. In a large bowl, combine ground chicken with onion pulp (the juice is not needed), garlic, cilantro, salt, pepper and sweet paprika. Shape into oval patties, you should have 24 patties. On each skewer, add 3 patties.
Prepare the tomato salad. Thinly slice the red onion and halve the cherry tomatoes. In a bowl, combine the tomatoes with red onion, salt, pepper, apple cider vinegar and oil.
Heat your grill pan or skillet over medium high, drizzle wih oil. Add skewers, cook for 3-5 minutes per side or until cooked through. The cooking time depends on the thickness of your patties. Cook the skewers in batches.
Serve wrapped in warm flatbread with tomato salad and garlic mayonnaise. Enjoy!
Notes
Calories Per Serving: 406 kcal
Nutritional information is only an estimate. The accuracy of the nutritional information for any recipe on this site is not guaranteed.