Chicken in butternut squash and mushroom cream sauce. Imagine juicy chicken breasts seared until golden and served in a delicious butternut squash sauce. This chicken is made in one skillet with mushrooms, fresh sage and a handful of Parmesan. Rich, creamy and super hearty, this truly is a winning dinner. Serve with some crusty bread, mashed potatoes or polenta…and don't forget that big side salad. A no-fuss weeknight dinner that everyone will love.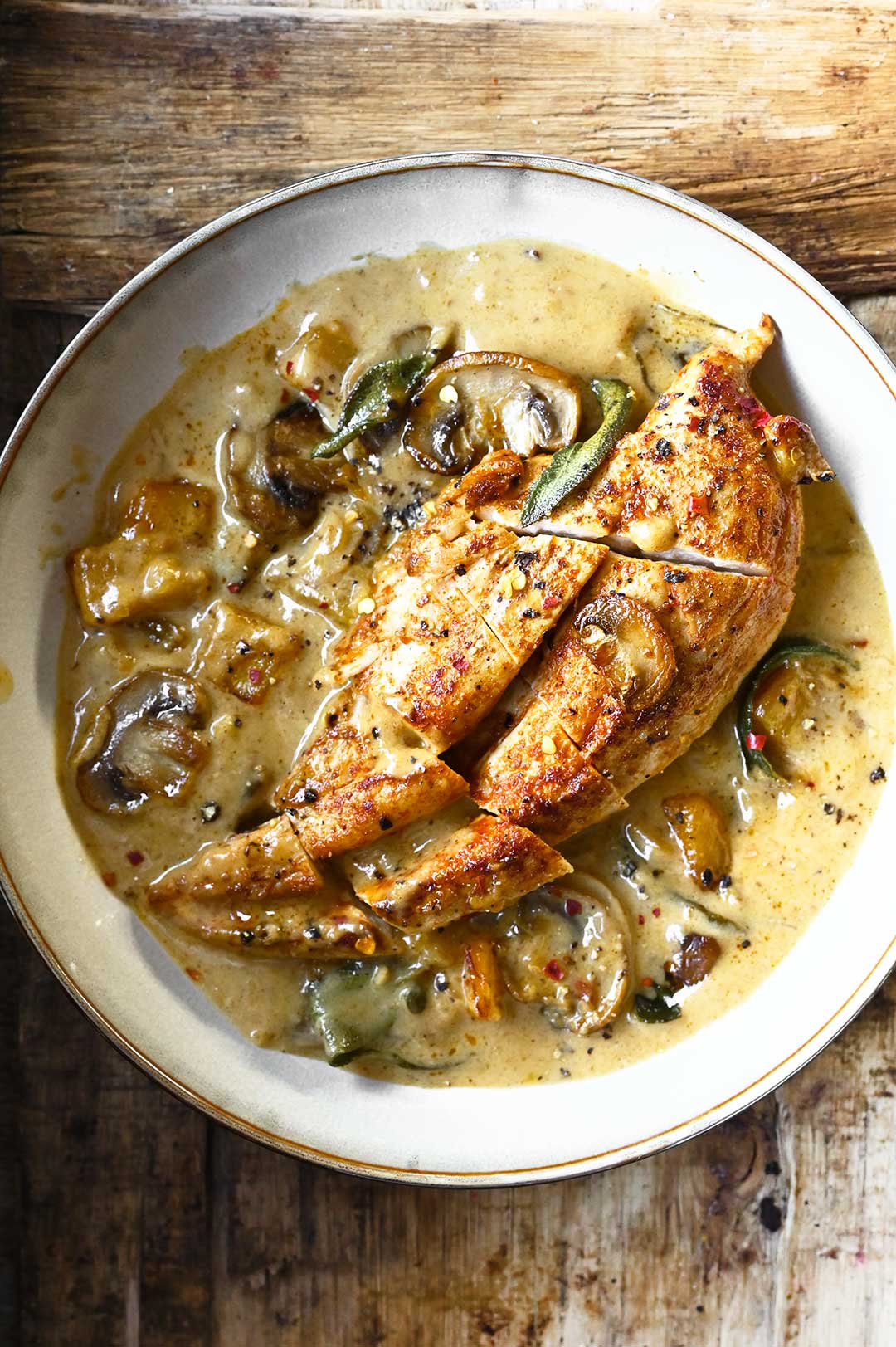 Cream-based pan sauces are some of the simplest and most tasty treats around. Throw in some squash, mushrooms and some sage, and you've got yourself a great one-pan meal.
This dish makes great use of those delicious butternuts or pumpkins. You'd think the hardest part of the recipe is peeling and dicing that squash, but actually it's super easy.
Just check out my step-by-step VIDEO to guide you through this recipe.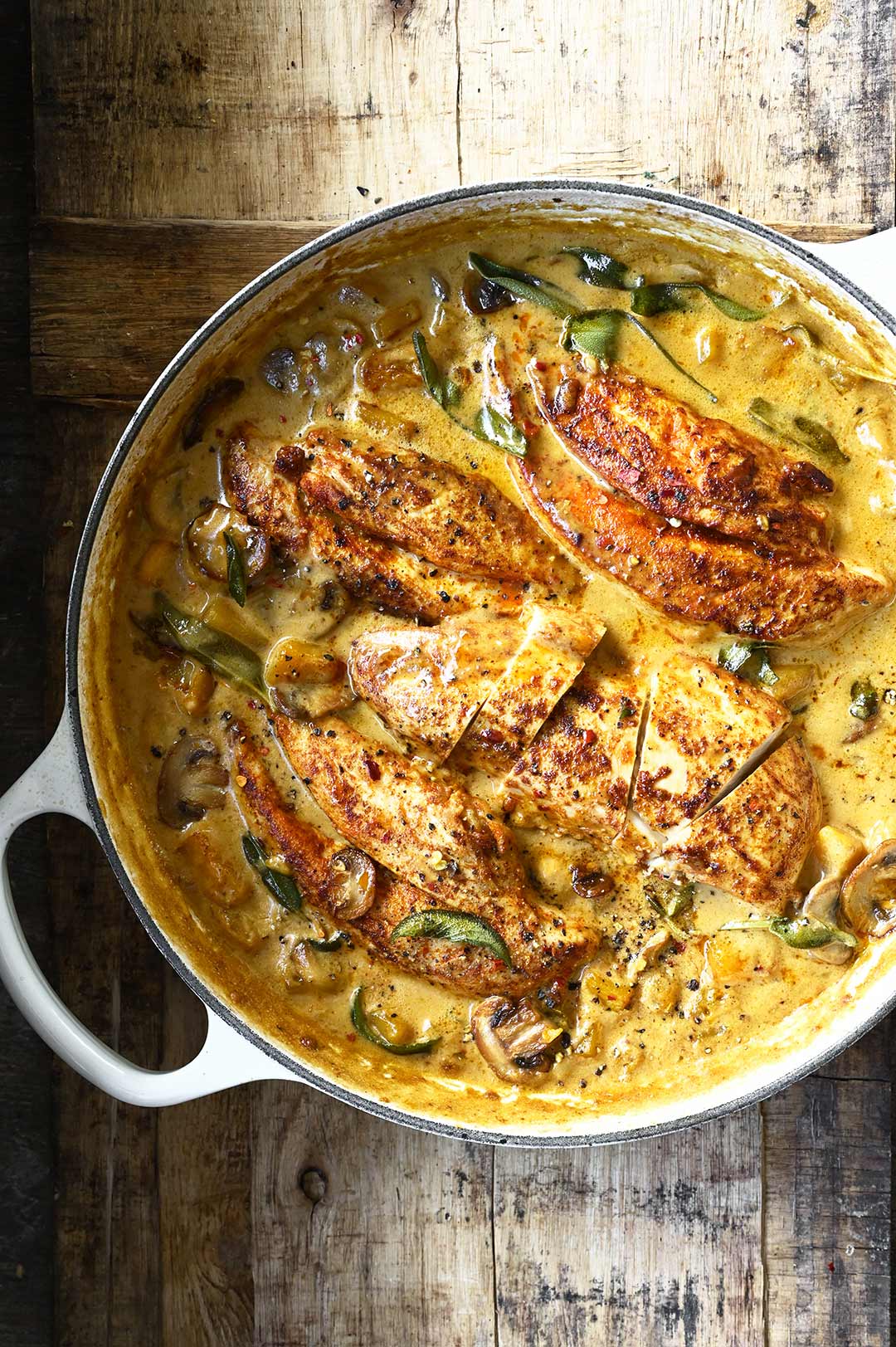 Once that's done, we start by sautéing the mushrooms until crispy and golden, then remove them from the skillet to sear the chicken breasts. Next we sauté the squash until browned and tenderized, which takes only about 5 minutes.
We make this whole dish super flavorful with garlic, onion and fresh sage. Add chicken broth and cook it down while stirring and scraping the delicious brown bits from the bottom of our skillet. Once that's done, we add cream, stir in white miso paste and add grated Parmesan. And we're almost done!
Breaking up the dinner monotony at home, this recipe could be a welcome change at your table and hey, if you've got an extra-large squash, you'll even have enough leftover to make some soup the next day.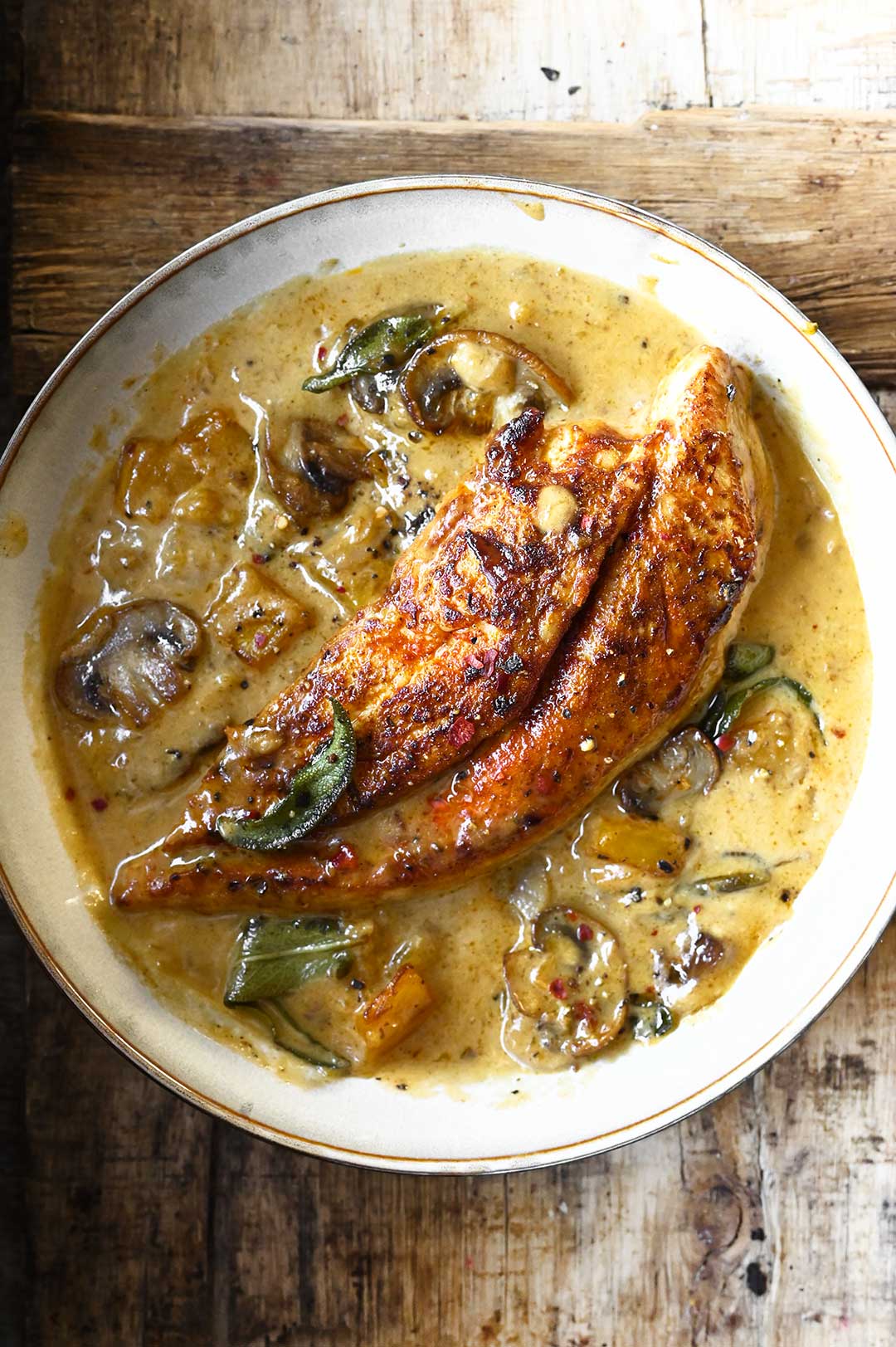 What to serve with chicken in butternut squash cream sauce?
Here are a few things you can add to make it a meal:
pasta, mashed potatoes, mashed cauliflower, creamy polenta or some crusty bread
a big lettuce side salad drizzled with honey-lemon dressing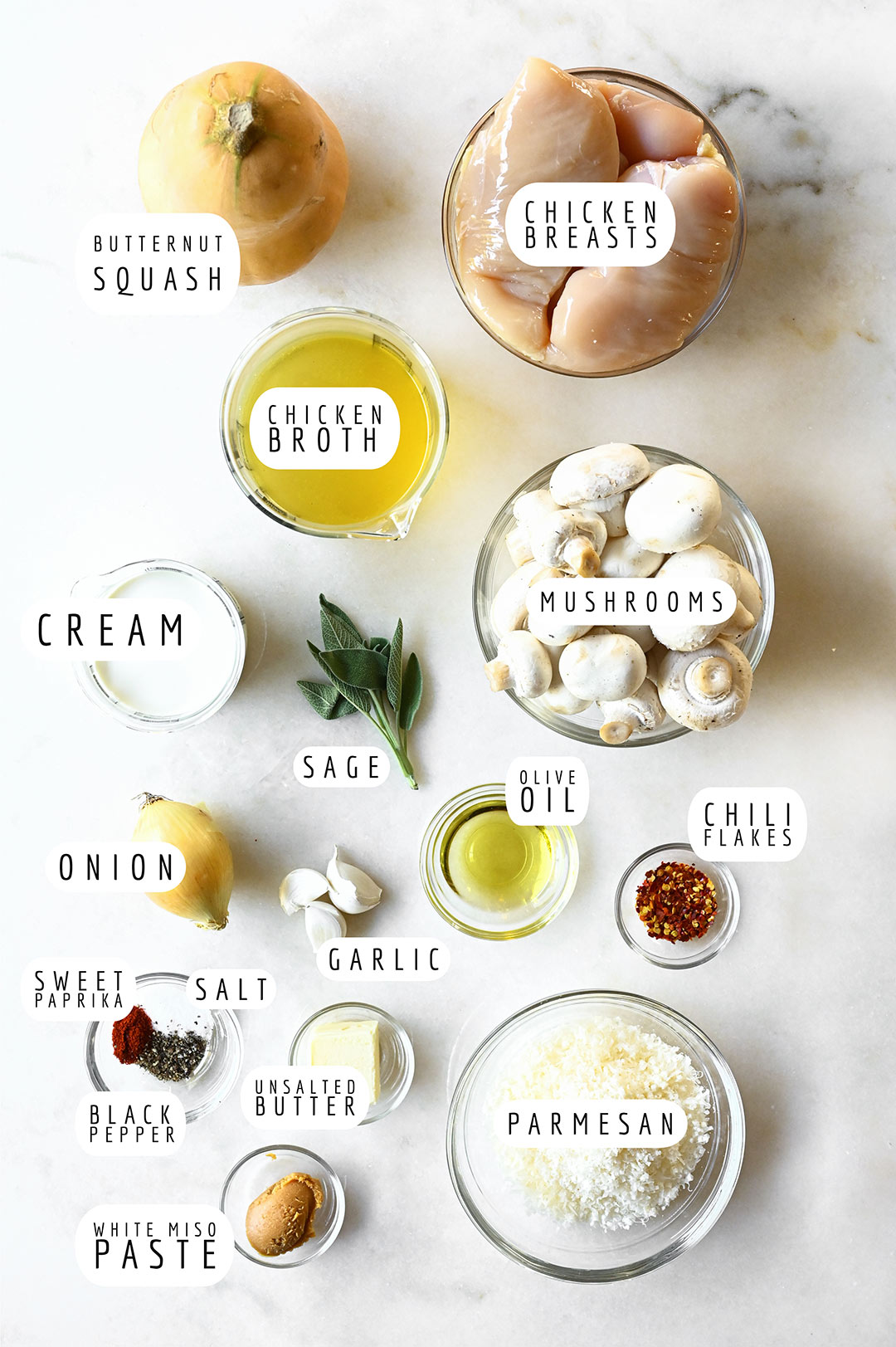 RECIPE NOTES
you can use other squash varieties or pumpkin
instead of cream, use half-and-half or sour cream
swap chicken breasts for chicken thighs or, if you have more time, use bone-in, skin-on thighs and get the skin golden brown and crispy, with a tender and juicy inside from the bone! Truthfully you can use anything you want
instead of mushrooms, use spinach or steamed broccoli, and add those after you've added garlic and onion to the squash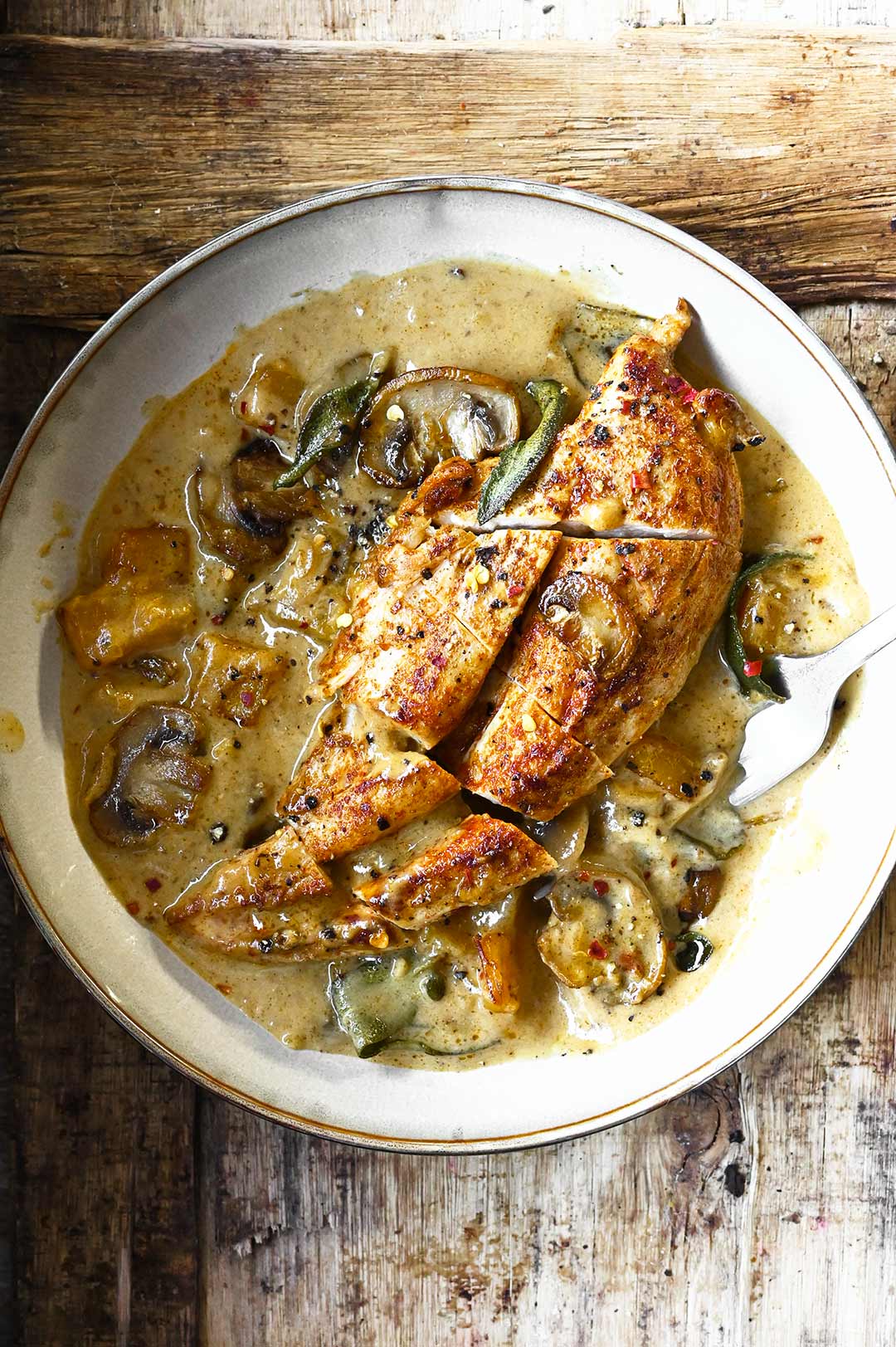 More delicious skillet chicken recipes
Cooking Video
Yield: serves 4
Chicken in Butternut Squash and Mushroom Cream Sauce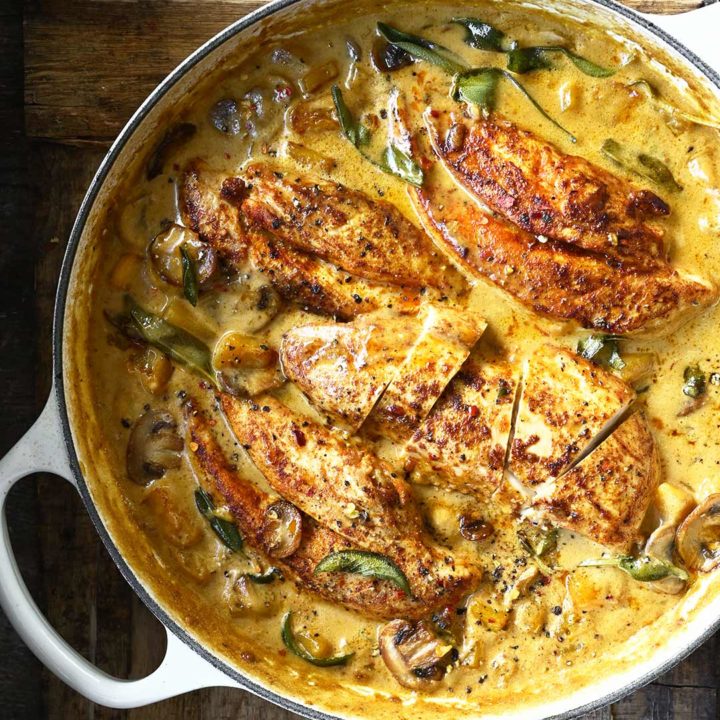 Prep Time 10 minutes

Cook Time 40 minutes

Total Time 50 minutes
Ingredients
4 small chicken breast fillets, or 2 large cut in half lengthwise
400 g/14 oz butternut squash, peeled, seeded and cut into cubes (about 1/2 squash)
250g/9 oz cremini mushrooms, chopped
1 small onion, finely chopped

3 garlic cloves, minced

2 tbsp olive oil

2 tbsp unsalted butter

3/4 cup/200 ml cream 20% fat
1 1/4 cup/300 ml chicken broth

8 sage leaves, torn into large pieces
1 tsp white miso paste
30g/1 oz grated parmesan

1 tsp each: salt, black pepper, sweet paprika
1/2 tsp red pepper flakes, for serving
Instructions
Get all the prep done before you start cooking: mince the garlic, finely chop the onion and chop the mushrooms.
Season the chicken breasts with salt, black pepper and paprika.
Prepare the butternut squash: first slice off the ends using a sharp knife, next cut the squash in half. Peel with a sharp vegetable peeler. Next scoop out the seeds and cut the squash into slices. Then cut those into sticks and cut the sticks crosswise into cubes.
Heat 1 tablespoon oil in a large non-stick skillet over high. Add mushrooms and sauté until they release their moisture, and become crispy and golden brown. Remove from skillet.
Again, add 1 tbsp oil and 1 tbsp butter. Add chicken and cook over medium high, about 8 minutes per side or until fully cooked and browned on both sides. This can vary with the size of your chicken breasts. Remove from skillet and place on a clean plate. Cover with foil.
Add squash and cook, stirring and tossing occasionally, until browned and tender, about 5 minutes. Stir in butter and add onion, garlic and sage leaves. Continue cooking, stirring frequently, until fragrant, about 2 minutes (sage should let off a great aroma).
Pour in chicken broth, stir and scrape up the brown bits from the bottom of the skillet with a wooden spoon. Bring to a boil, reduce heat and simmer for 2-3 minutes.
Add cream, then stir in white miso paste and grated Parmesan. Keep stirring until miso is incorporated.
Add mushrooms and return chicken back to the skillet. Simmer for 3 minutes or until chicken is heated through. Finish off with black pepper and red pepper flakes. Serve!
Notes
Calories Per Serving: 549 kcal
Nutritional information is only an estimate. The accuracy of the nutritional information for any recipe on this site is not guaranteed.

DOWNLOAD PRINTABLE RECIPE PDF

//= __('Print recipe (no photos)', 'servingdumplings' );?> //= __('Print recipe (with photos)', 'servingdumplings' );?>