An ultra cheesy potato gratin made with thinly sliced potatoes, heavy cream, butter and lots of cheese. Flavored with garlic, a hint of fresh thyme and crispy sage on top. It's not only delicious, it's also incredibly easy to make. The extra bonus? It's the ultimate make ahead potato side dish. It's luxurious and thoroughly indulgent.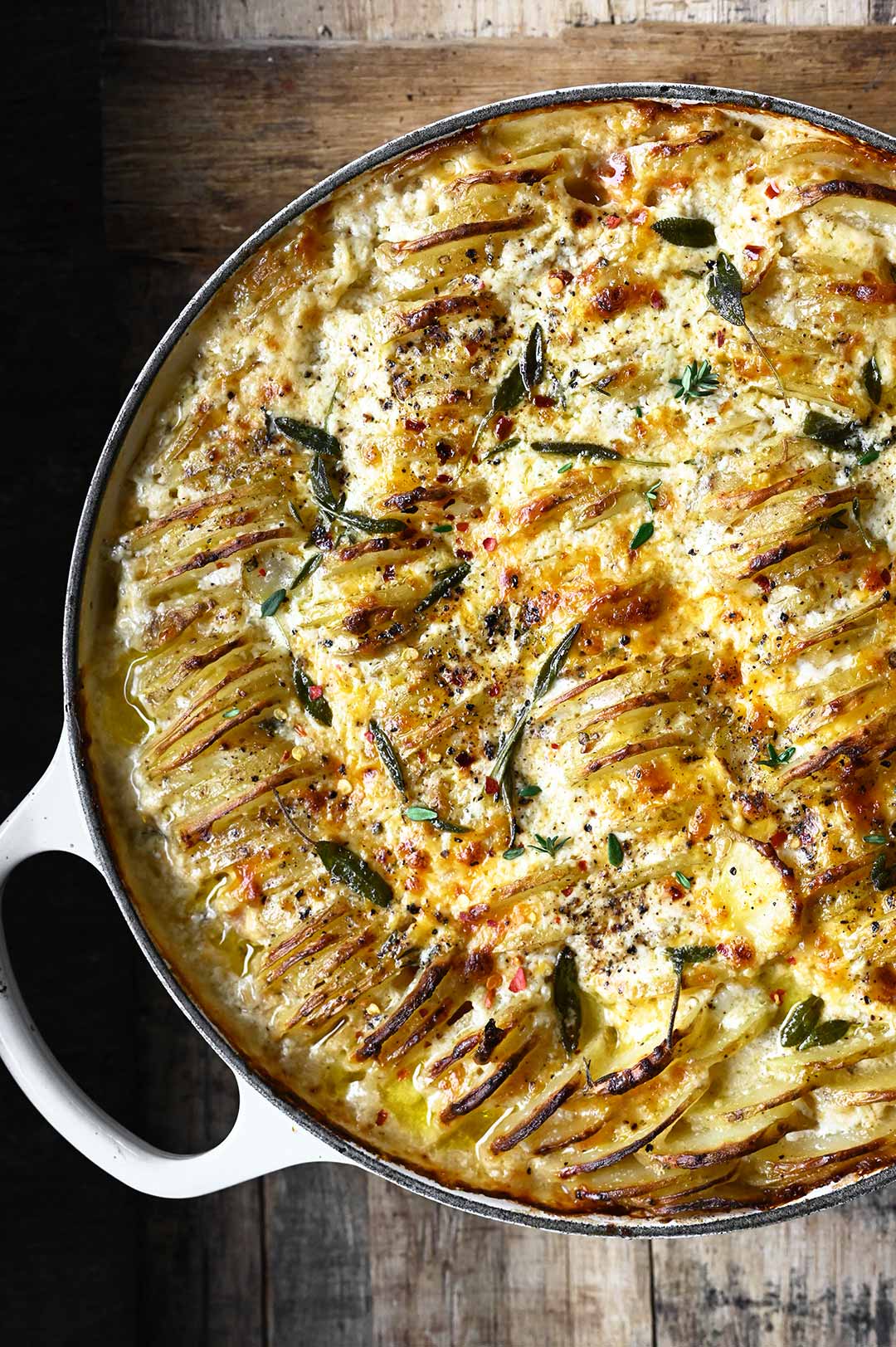 It's quite remarkable how so few ingredients can make something so irresistible. But actually, it's pretty hard to go wrong when potatoes, cream and cheese are involved. This is the kind of dish where the potatoes become ultra soft under a golden cheesy carpet. The result is practically impossible to dislike.
Making potato gratin is really easy. We thinly slice the potatoes, toss with cream, spices and two cheese varieties. In order to let the edges become super crispy, we arrange them upright in a baking dish, instead of layering them flat as in a classic gratin. We add all of the excess cream/cheese mixture and bake, covered with aluminum foil, for about an hour. After this, we bake everything uncovered for 30 minutes more. And done!
Let me guide you through the recipe with this step-by-step VIDEO.
Be sure to take some extra time to cut the potatoes in thin wedges, a mandoline is really helpful but a sharp chef's knife will also work great here. It might seem intimidating to thinly slice this amount of potatoes, but I bet after three potatoes, you'll be slicing like a pro.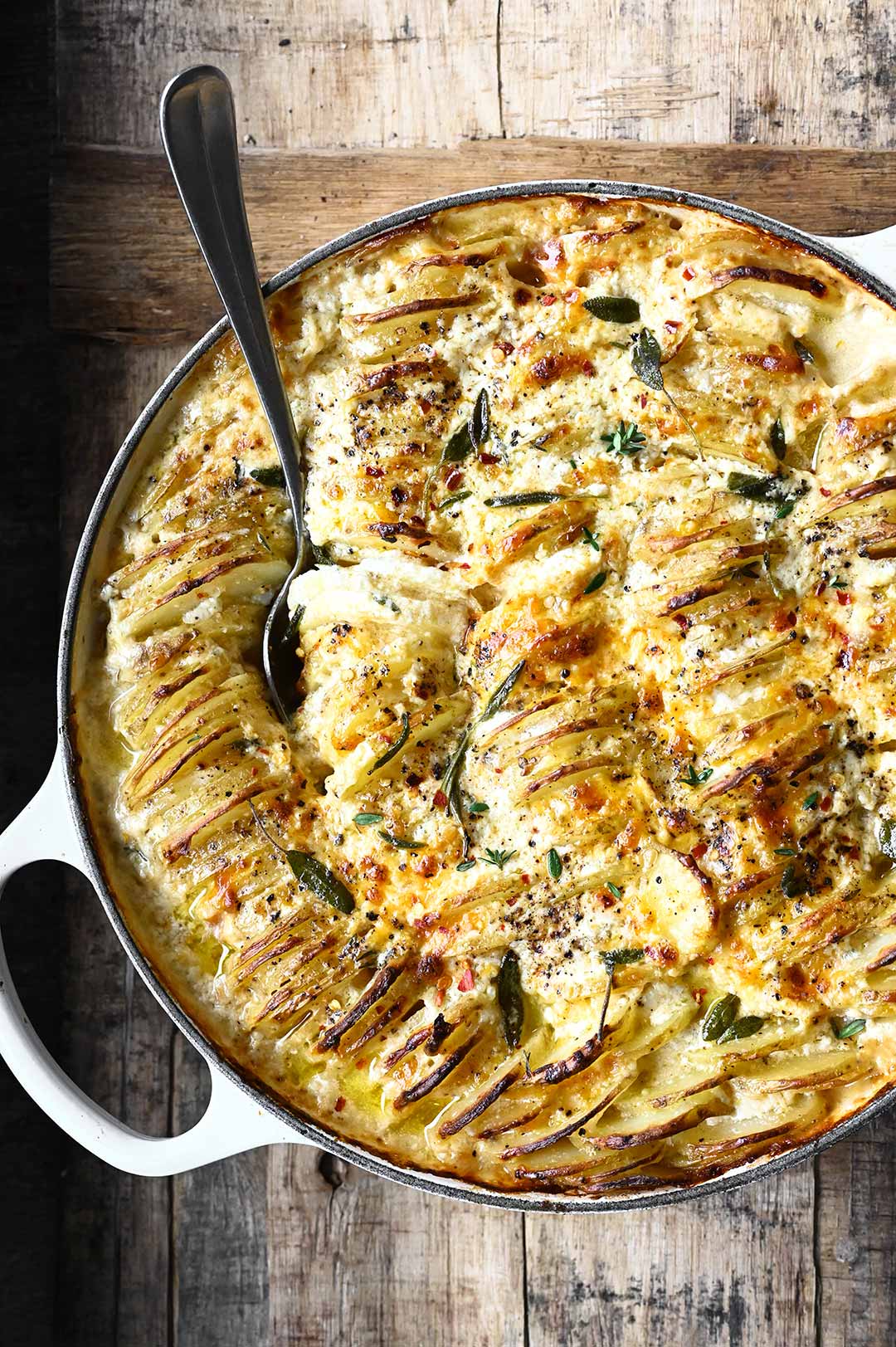 RECIPE NOTES
use potatoes, like Russets, Yukon Gold, Charlotte, Idaho or Nicola
cut the potatoes in thin wedges, a mandoline is really helpful but a sharp chef's knife will work great here
toss the sliced potato with your hands until every slice is coated with the cream-cheese mixture, make sure to separate any slices that are sticking together, to get them coated all over
pack the potatoes tightly to keep them standing up. Longer, thinner potatoes will fill a dish more tightly than shorter, thicker potatoes. Make sure to have more potatoes on hand, so you can slice some more if needed
you can use unpeeled or peeled potatoes
any full fat cream works great here. For a lighter version, use light fat, but don't try this with just milk
instead of cheddar, you could use Gruyere, Gouda or Monterey Jack
use cheese from a block, not pre-grated. By grating it yourself you ensure that the cheese fully melts and becomes as smooth and velvety as possible
sweet potatoes will also work great here
top with crispy bacon bits or toasted walnuts
MAKE AHEAD
You can prepare it without baking and refrigerate up to two days before. Or prepare it one day before, bake covered for 1 hour, allow to cool and refrigerate, then remove from the fridge at least 30 minutes before baking and let sit at room temperature. Bake 30 minutes uncovered just before you serve the gratin (step 5).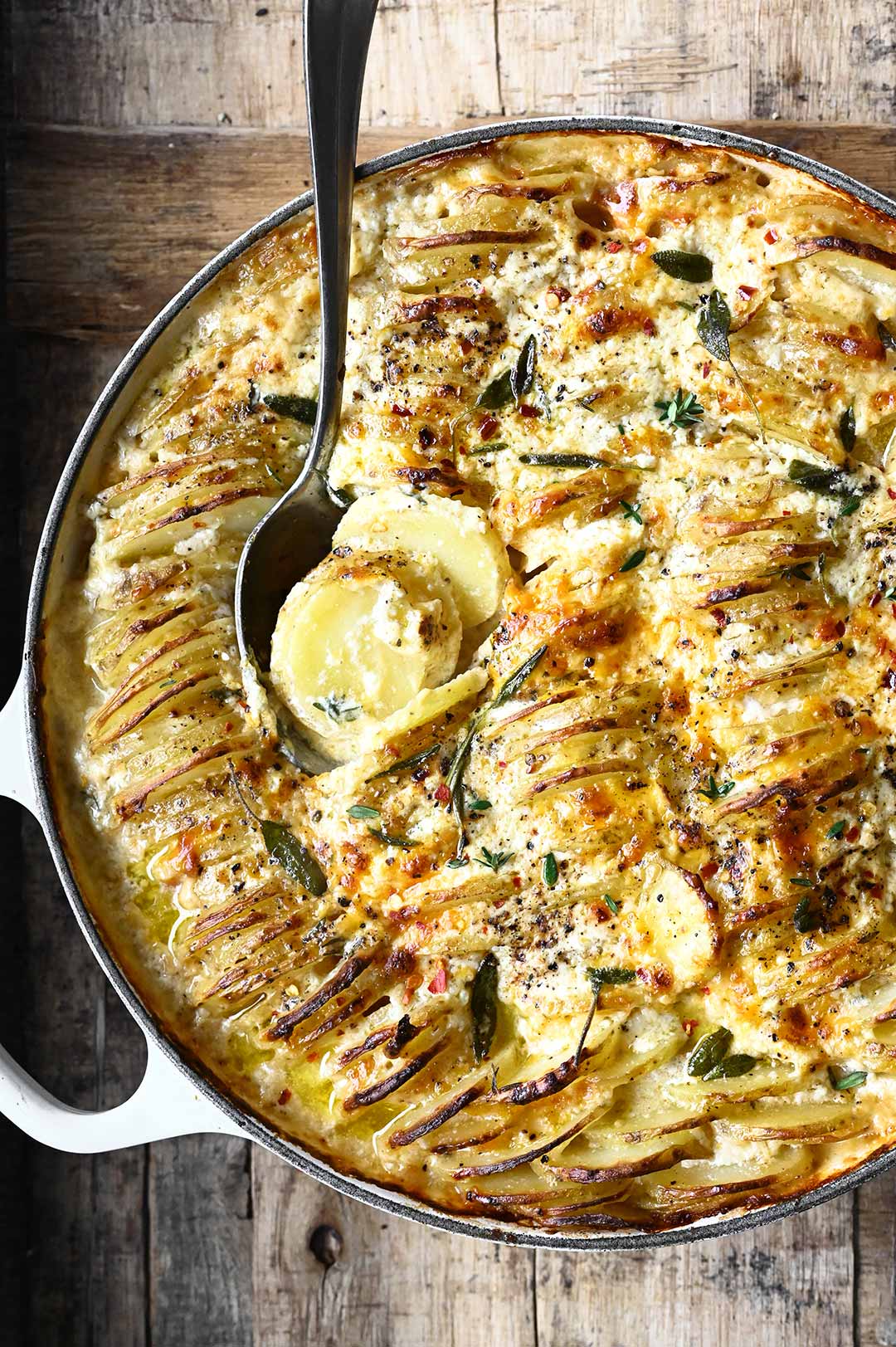 Try These Next
Cooking Video
Yield: serves 4-6
Cheesy Potato Gratin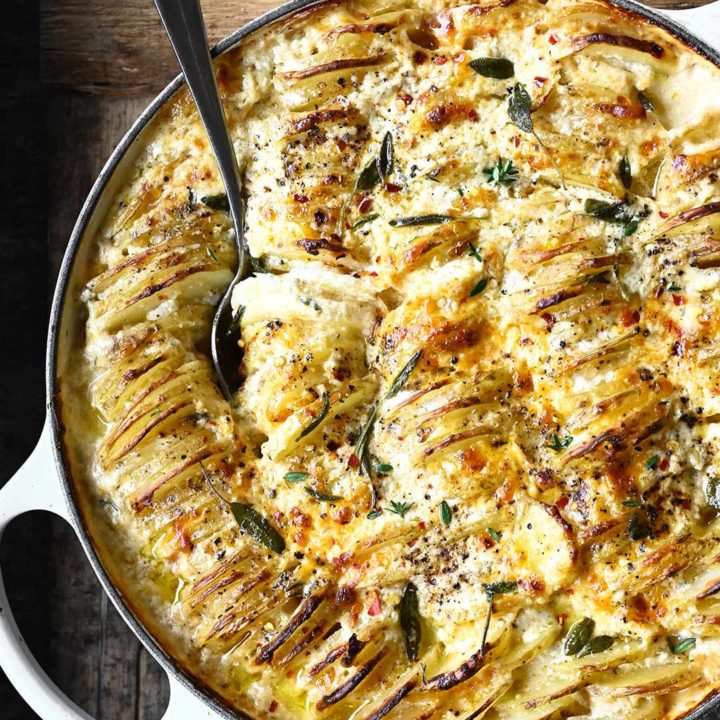 Prep Time 10 minutes

Cook Time 1 hour 30 minutes

Total Time 1 hour 40 minutes
Ingredients
1,4 kg/3 pounds starchy potatoes
90 g/3 oz sharp cheddar
50 g/2 oz parmesan
2 tsp fresh thyme leaves
1 3/4 cups/400 ml cream, 20% fat
3/4 cup/150 ml whole milk
2 tbsp melted butter
1 tbsp olive oil, for greasing
10 fresh sage leaves
1/2 tsp crushed red pepper flakes
spices
2 tsp each: salt, black pepper, onion powder, garlic powder
½ tsp each: cayenne pepper, smoked paprika
Instructions
Preheat the oven to 200 °C/400 °F.
Slice the potatoes, using a mandoline or a very sharp chef's knife, into 1/8"/ 3-4 mm thick.
In a large bowl, grate the cheddar and Parmesan. Add spices, fresh thyme leaves, cream, milk and melted butter. Stir to combine. Then add potato slices and toss with your hands until every slice is coated with the cream-cheese mixture. Make sure to separate any slices that are sticking together to get the mixture in between every slice.
Grease a baking dish with olive oil. Pick up a handful of potatoes, arrange the slices upright, tightly against each other, until all potatoes have been added. If necessary, slice more potatoes. Pour excess cream-cheese mixture over the potatoes. Cover with aluminum foil and transfer to the oven. Bake for 60 minutes or until tender and cooked through.
After this, remove the aluminum foil. Sprinkle with extra black pepper, crushed red pepper flakes and sage leaves. Return to the oven. Bake until deep golden brown and crispy on top, about 30 minutes.
Remove from oven, let rest for 10 minutes, serve. Enjoy!
Notes
Calories Per Serving: 428 kcal
Nutritional information is only an estimate. The accuracy of the nutritional information for any recipe on this site is not guaranteed.

DOWNLOAD PRINTABLE RECIPE PDF