Cheesy orzo with roasted cherry tomatoes. This easy dish is super creamy, supremely satisfying and delicious. The roasted cherry tomatoes are a perfect topping, they add a sweet tart flavor and pair extraordinarily well with the salty Parmesan. It's simple but mouthwatering. This easy orzo dish looks like risotto, tastes like stovetop mac and cheese, and is practically ready in 20 minutes. While almost all pasta dishes can be called 'weeknight-friendly', this one might just win the prize.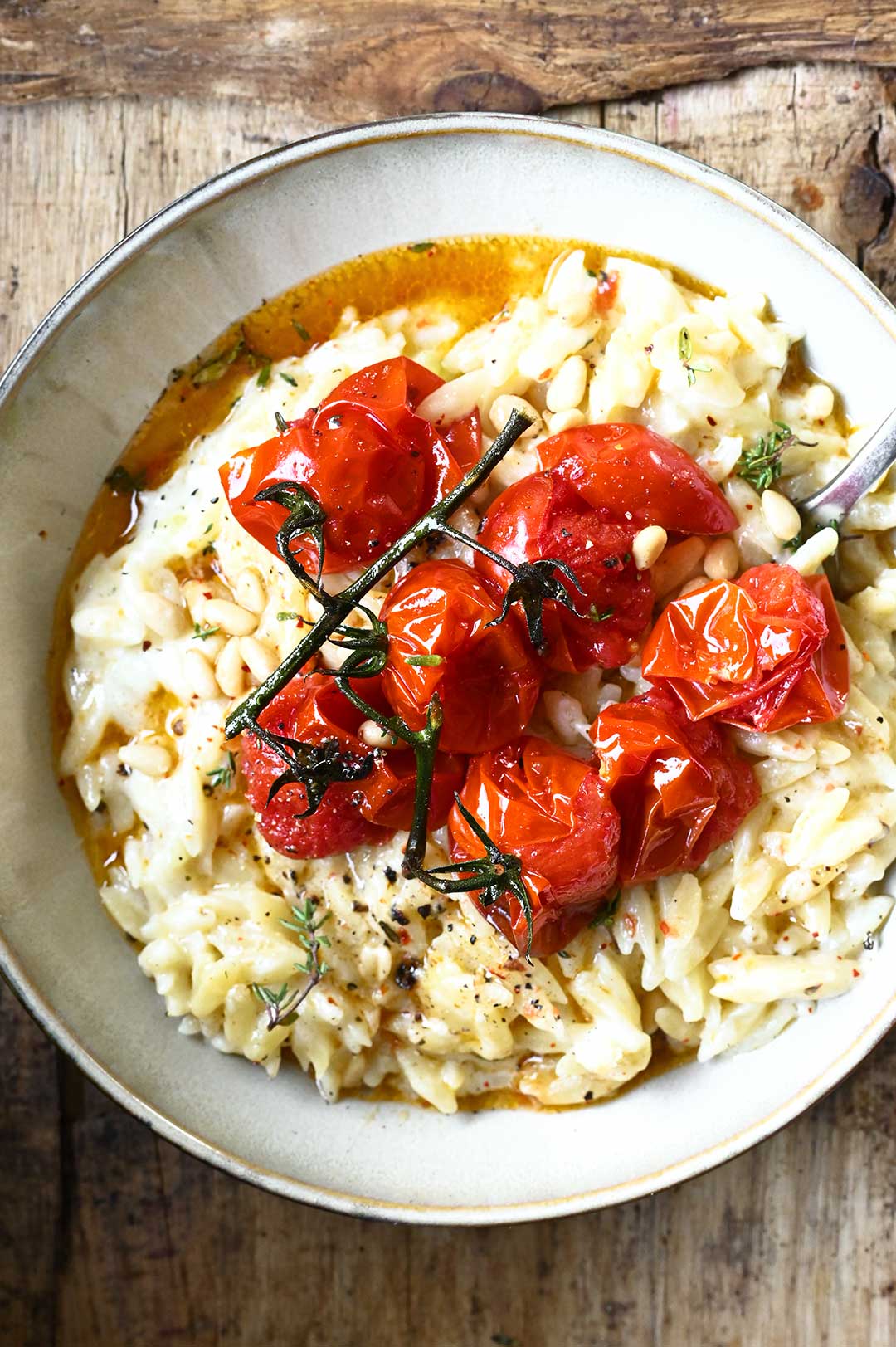 Orzo is a great option for everyone at the table and it's a fast-cooking favorite for weeknight ease. We cook the orzo, just like risotto, in chicken broth, but also add some milk and turn it into a ridiculously creamy sauce. Besides that, there's not much work, we stir the orzo a couple of times and add plenty of grated Parmesan cheese at the end.
All of this happens while we roast the tomatoes in the oven. They're simply seasoned with salt and pepper, and drizzled with olive oil. They soften, get sweet, release their juices and create a delicious sauce.
What you'll end up with is a dinner that definitely will capture a recurring spot on your weekly meal plan. You can finish it off with roasted tomatoes, but also with roasted broccoli or add some grilled chicken. This recipe is super versatile and you can't go wrong.
Let me guide you through the recipe with this step-by-step video.
Tips for a Delicious Cheesy Orzo
Don't skimp on the shallot or garlic, they add a lot of flavor.
Season generously with salt and black pepper just before serving. The amount you need will vary depending on the saltiness of your broth and Parmesan.
Stir frequently to prevent sticking. We simmer the orzo in a covered skillet, and as it cooks, it releases starch, which means that the orzo can easily stick to the bottom of your skillet.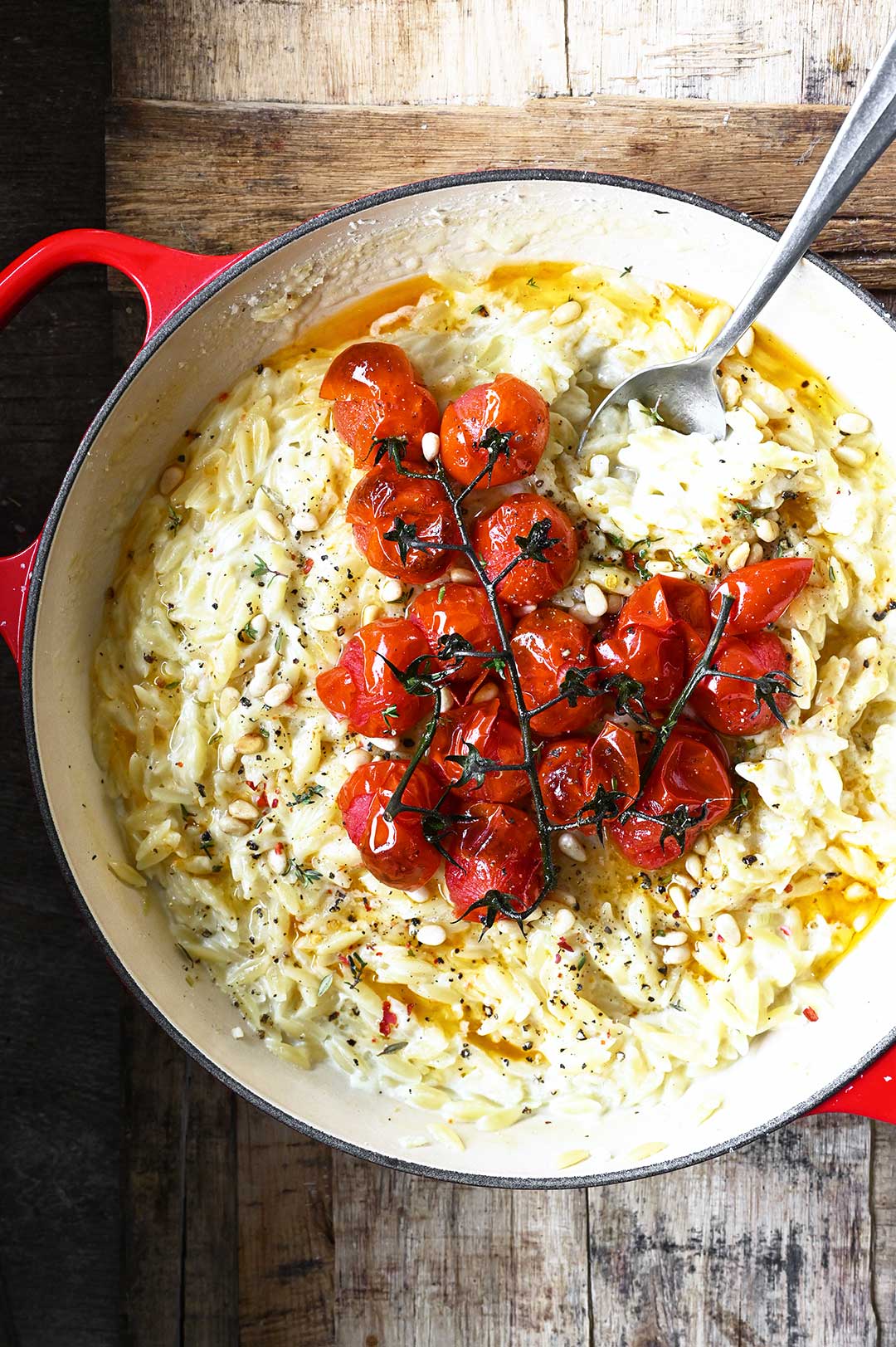 RECIPE NOTES
You can enjoy it as a main dish or a side.
It's delicious with shrimp, salmon or roasted chicken.
This orzo would also be delicious with some cooked greens stirred in, like spinach or kale.
Instead of tomatoes, top it with roasted broccoli.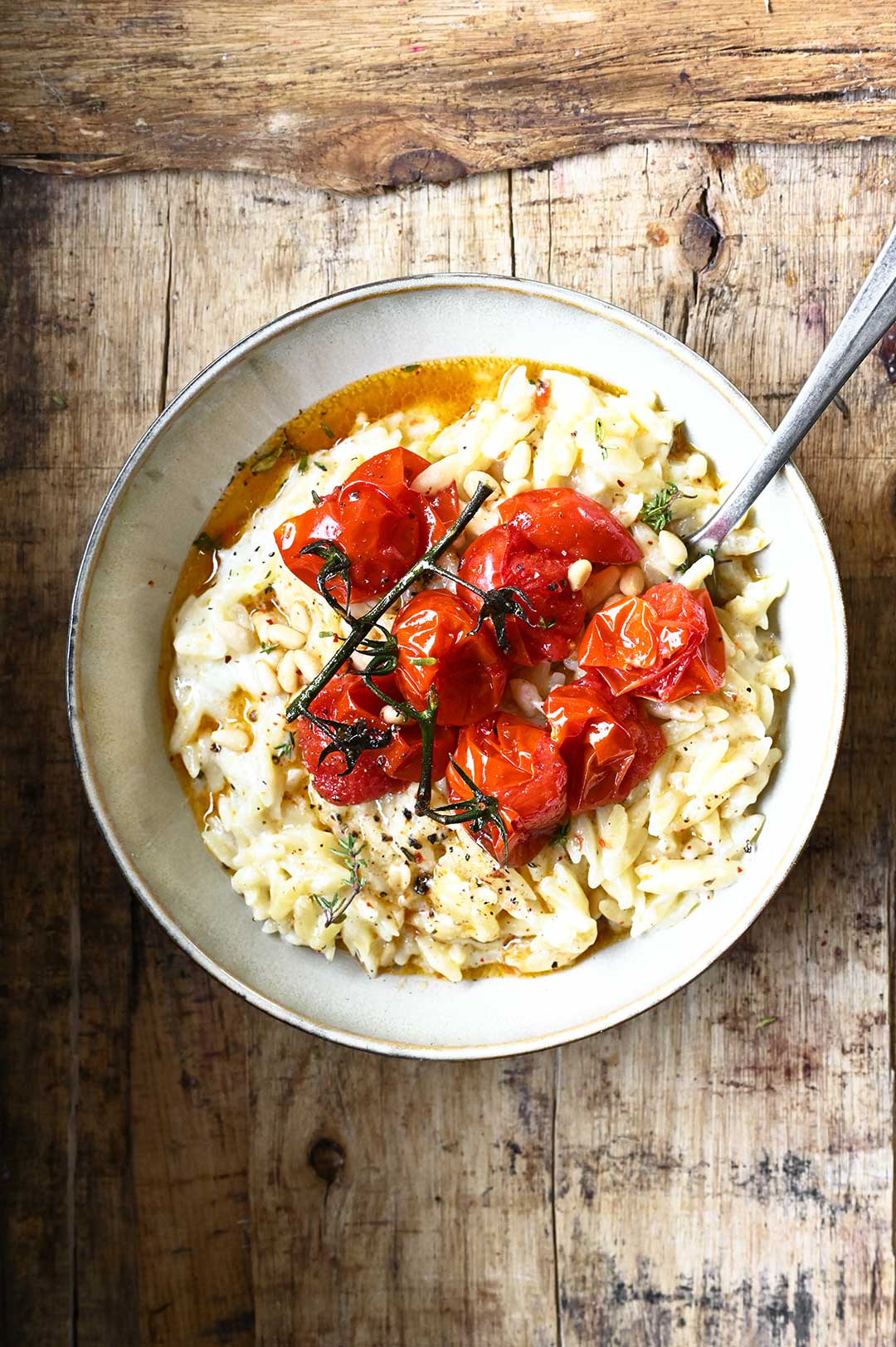 More delicious orzo recipes, please!
Cooking Video
Yield: serves 4
Cheesy Orzo with Roasted Cherry Tomatoes
Ingredients
300 g/11 oz orzo
400 g/14 oz cherry tomatoes
70 g/2.5 oz grated Parmesan
1 ½ cup vegetable broth
1 cup whole milk
4 garlic cloves, minced
1 shallot, finely chopped
4 tbsp olive oil
4 tbsp pine nuts
salt + black pepper, to taste
4 thyme sprigs, for serving
crushed red pepper flakes, for serving
flaky salt, for serving
Instructions
Preheat the oven to 200°C/400°F.
Place the cherry tomatoes in a baking sheet, sprinkle with 2 tbsp olive oil. Season with a pinch of salt and black pepper. Slide into the oven for 15 minutes.
Meanwhile, heat a large non-stick skillet or Dutch oven over high heat. Add pine nuts and toast until golden, about 1 minute. Remove from skillet.
Lower the heat, add the remaining oil, garlic and shallot, cook until soft, about 1 minute.
Add orzo, stir until fragrant, about 1 minute. Pour in vegetable broth and milk. Bring to a boil, cover and reduce the heat to a simmer. Cook, stirring occasionally, until the liquid is absorbed, about 10-15 minutes or according to package instructions. Add a splash of water if the orzo looks too dry.
Stir in Parmesan. Taste, and adjust salt and black pepper.
Top with roasted cherry tomatoes and their released juices. Sprinkle with flaky salt and red pepper flakes. Serve with toasted pine nuts, enjoy!
Notes
Calories Per Serving: 469 kcal
Nutritional information is only an estimate. The accuracy of the nutritional information for any recipe on this site is not guaranteed.