Cheesy mushroom tart with eggs. Balsamic garlic mushrooms, ultra-flaky puff pastry and a carpet of mozzarella and pecorino cheese. It's way easier to make than you think and it comes together with just a handful of ingredients. Simple, but delish, this creamy tart ticks all the boxes.
It's a great appetizer for your next party or a dinner for 4 when served with a side salad. Thanks to store-bought puff pastry, this tart is also fairly easy, ideal for a low-fuss meal. It's decadent and yet perfectly functional.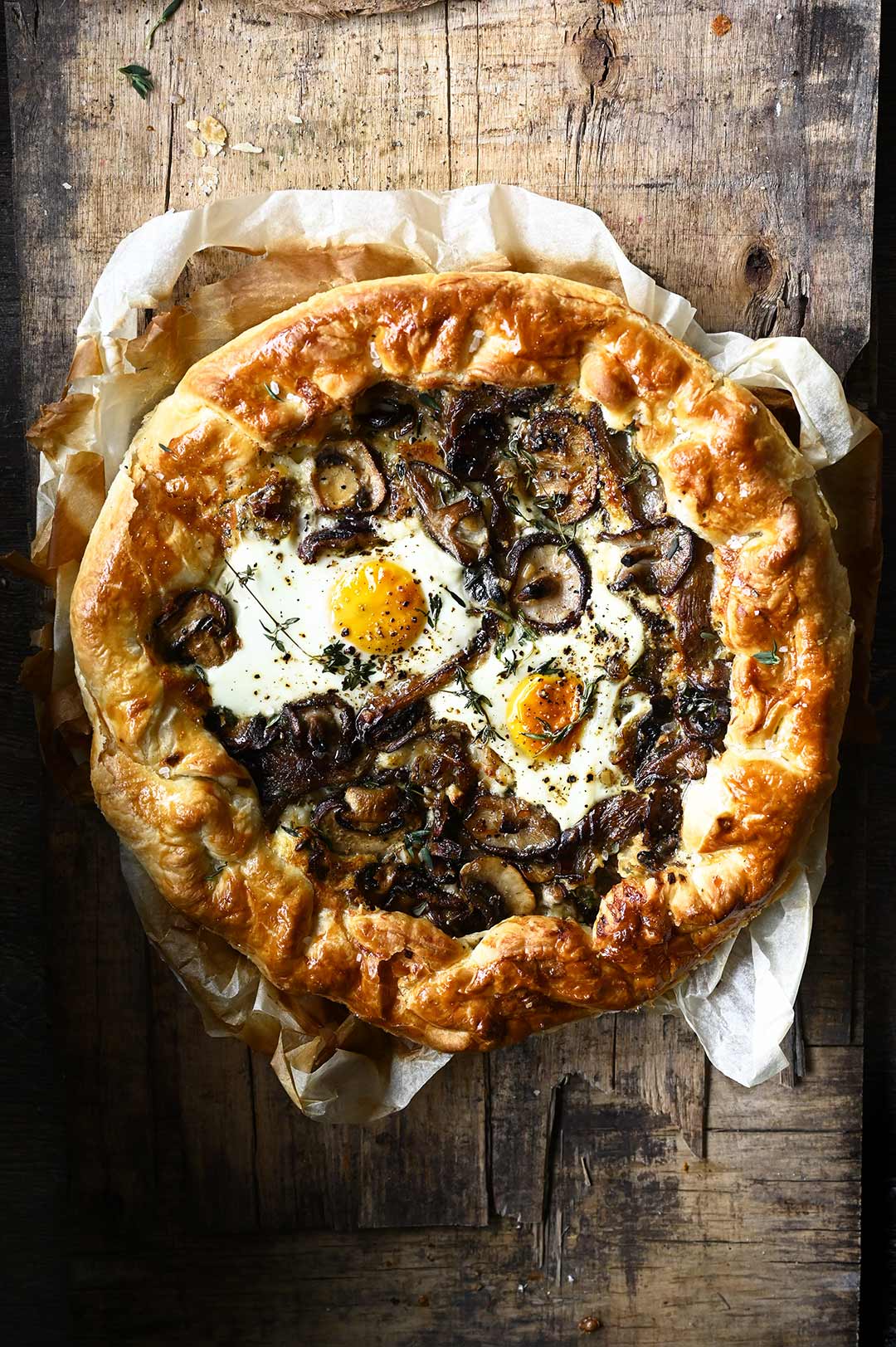 We sauté the mushrooms first, then assemble the tart. This way we prevent a soggy crust, but also to add extra flavor with garlic and balsamic vinegar.
Sometimes, baking whole eggs results in overcooking, but we try to nestle them between the mushrooms, so they can slowly cook until they're creamy. But if you like your eggs really runny, you can cook the puff pastry with cheese and mushrooms ahead, then plop the eggs onto the tart 8-10 minutes before it's ready, depending on how you like your yolk.
Let me guide you through the recipe with this step-by-step VIDEO.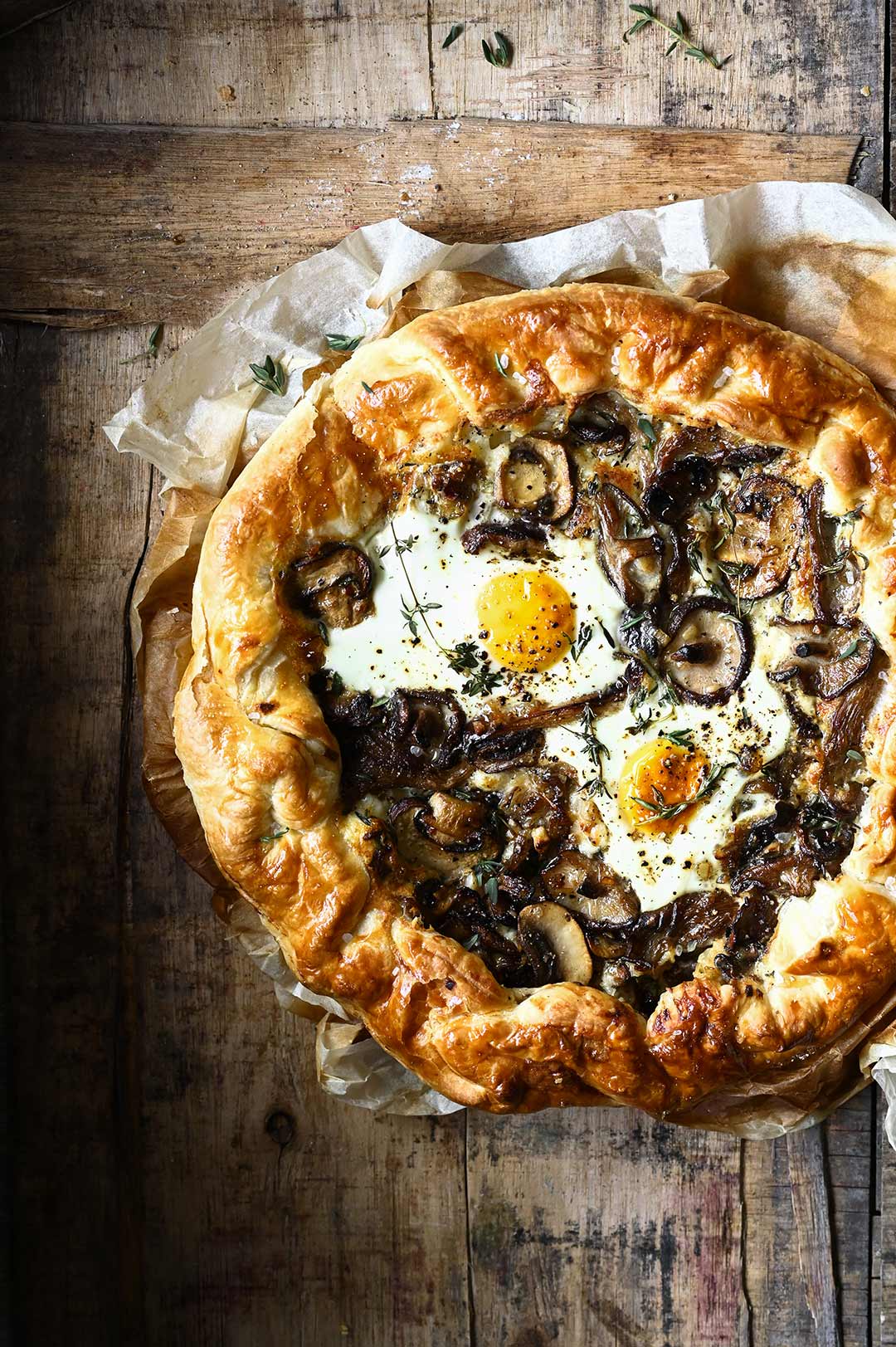 RECIPE NOTES
If you'd like, add some cooked broccoli and drape with prosciutto. Garnish with whatever herbs you have on hand, use sage instead of thyme.
For mushrooms, feel free to use any variety you like most, or pick what's available at your grocery store or your local farmer's market. You can use a mixture of varieties or just stick with one, or use wild mushrooms for maximum flavor.
For puff pastry, there're brands who use oil instead of butter in their pastry. Make sure to buy good quality puff pastry with real butter, this will offer you a richer flavor and an ultra-flaky result.
If you like your eggs runny, just cook the puff pastry with cheese and mushrooms beforehand, then drop the eggs onto the tart 8-10 minutes before it's ready, depending on how you like your yolk.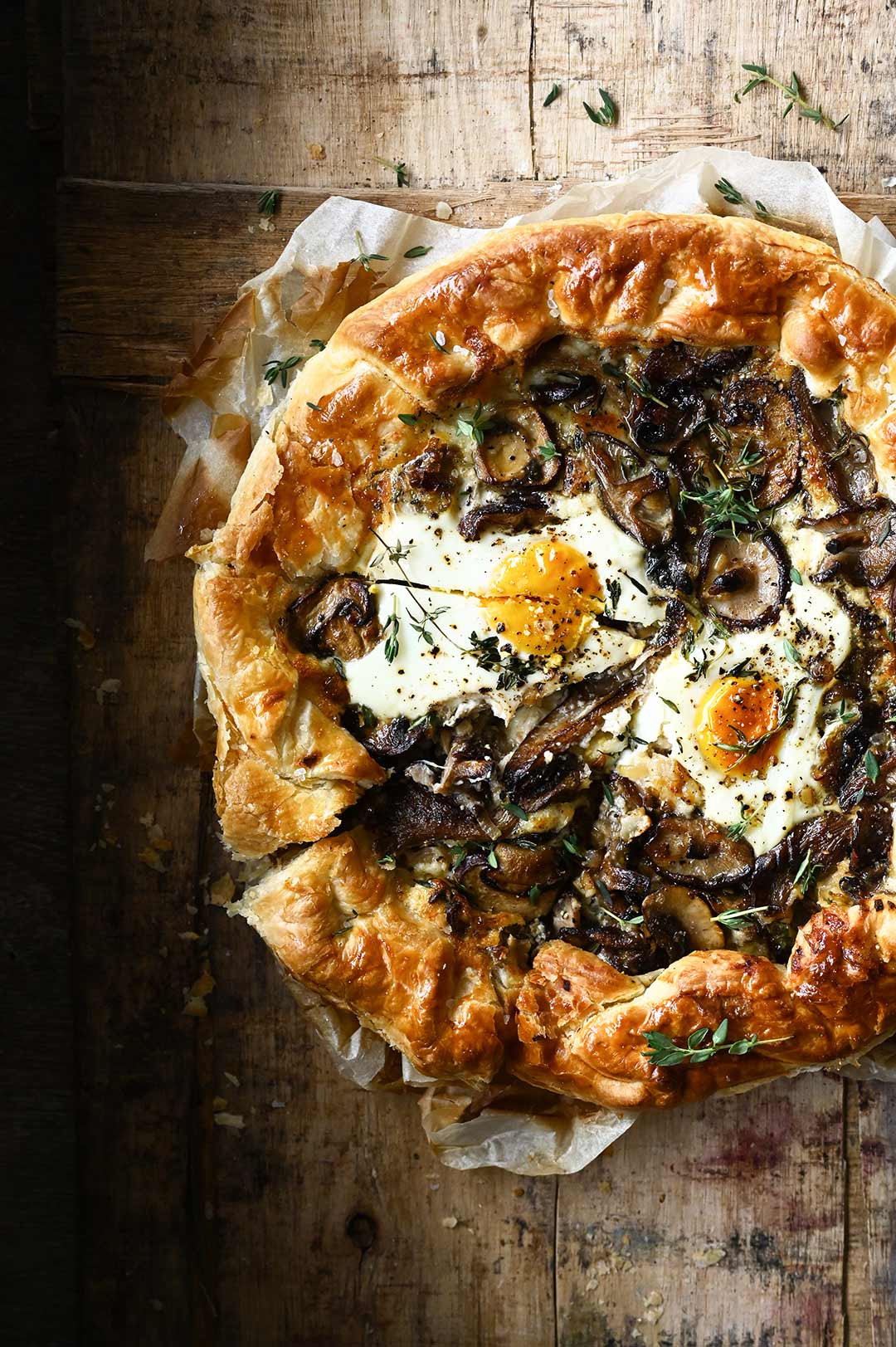 More delicious ideas:

Recipe Video
Yield: serves 4
Cheesy Mushroom Tart with Eggs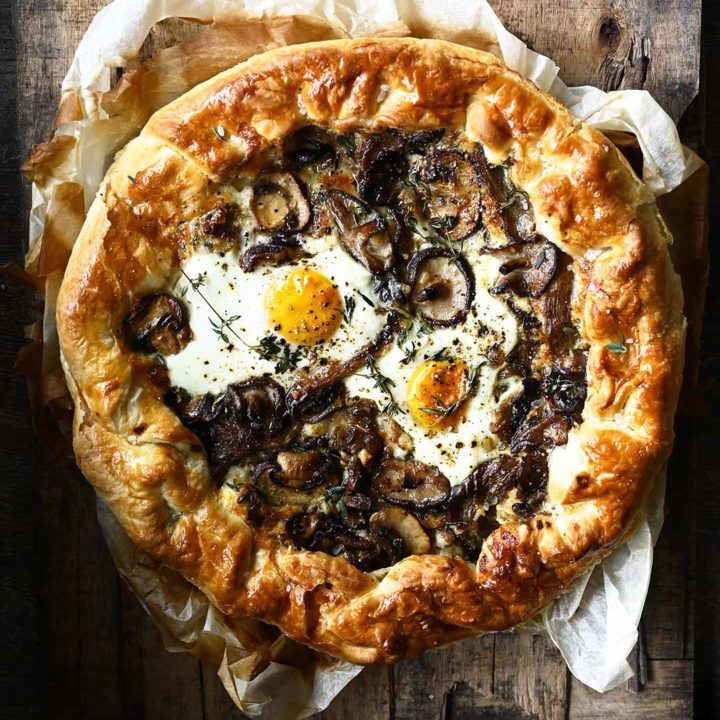 Ingredients
1 sheet puff pastry
2 eggs
250 g/9 oz mushrooms, cut into large pieces
1/2 cup/60 g grated Pecorino, Parmesan or mild Cheddar
1/2 cup/60 g grated mozzarella
3/4 cup/160 ml half-and-half
1 shallot, finely chopped
4 garlic cloves, minced
3 tbsp olive oil
1 tbsp flour
2 tbsp balsamic vinegar
1/4 tsp nutmeg
1 tbsp chopped fresh thyme
salt + black pepper
1 egg beaten with 1 tsp milk, for brushing
Instructions
Preheat the oven to 200°C/400°F.
Prepare a 25 cm/10 inch tart pan.
Get all the prep done before you start cooking: mince the garlic, finely chop the shallot and roughly chop or tear up the mushrooms.
In a bowl, combine pecorino with mozzarella, flour and cream. Season with salt, pepper and nutmeg.
Heat a large skillet over high heat. Add the mushrooms. Fry for 6-8 minutes. The mushrooms will start to release moisture, after this, add olive oil, salt and pepper. The mushrooms will start to brown, now add garlic and shallot, sauté until fragrant, for 2 minutes. Stir in balsamic vinegar and thyme. Set aside.
Carefully drape the puff pastry onto baking paper in the prepared pan. Press the dough into the corners of the pan using your fingers, don't trim off the edges. Prick the bottom with a fork, spread the cheese mixture and top with mushrooms. Make sure there is a concave space where you can drop the eggs in. Crack eggs between the mushrooms. Season with thyme, salt and black pepper.
Gently, loosely lay the pastry down over the filling, repeat all around. Whisk the egg and milk in a small dish and gently dab over the pastry crust with a brush.
Bake for 30-35 minutes until golden. If you like your eggs runny, add them 8-10 minutes before the tart is ready, or until the egg whites are set. Enjoy!
Notes
Calories Per Serving: 417 kcal
Nutritional information is only an estimate. The accuracy of the nutritional information for any recipe on this site is not guaranteed.

//= __('Print recipe (no photos)', 'servingdumplings' );?> //= __('Print recipe (with photos)', 'servingdumplings' );?>