One-skillet cheesy chicken taco dip. Imagine your favorite taco flavors melted into the cheesiest dip. Perfect for dinner parties, on game day or any other festive occasion. It's slightly spicy, gooey and so delicious. Made with ground chicken, taco sauce and of course, with lots and lots of cheese. Serve dip-style with tortilla chips on the side for scooping.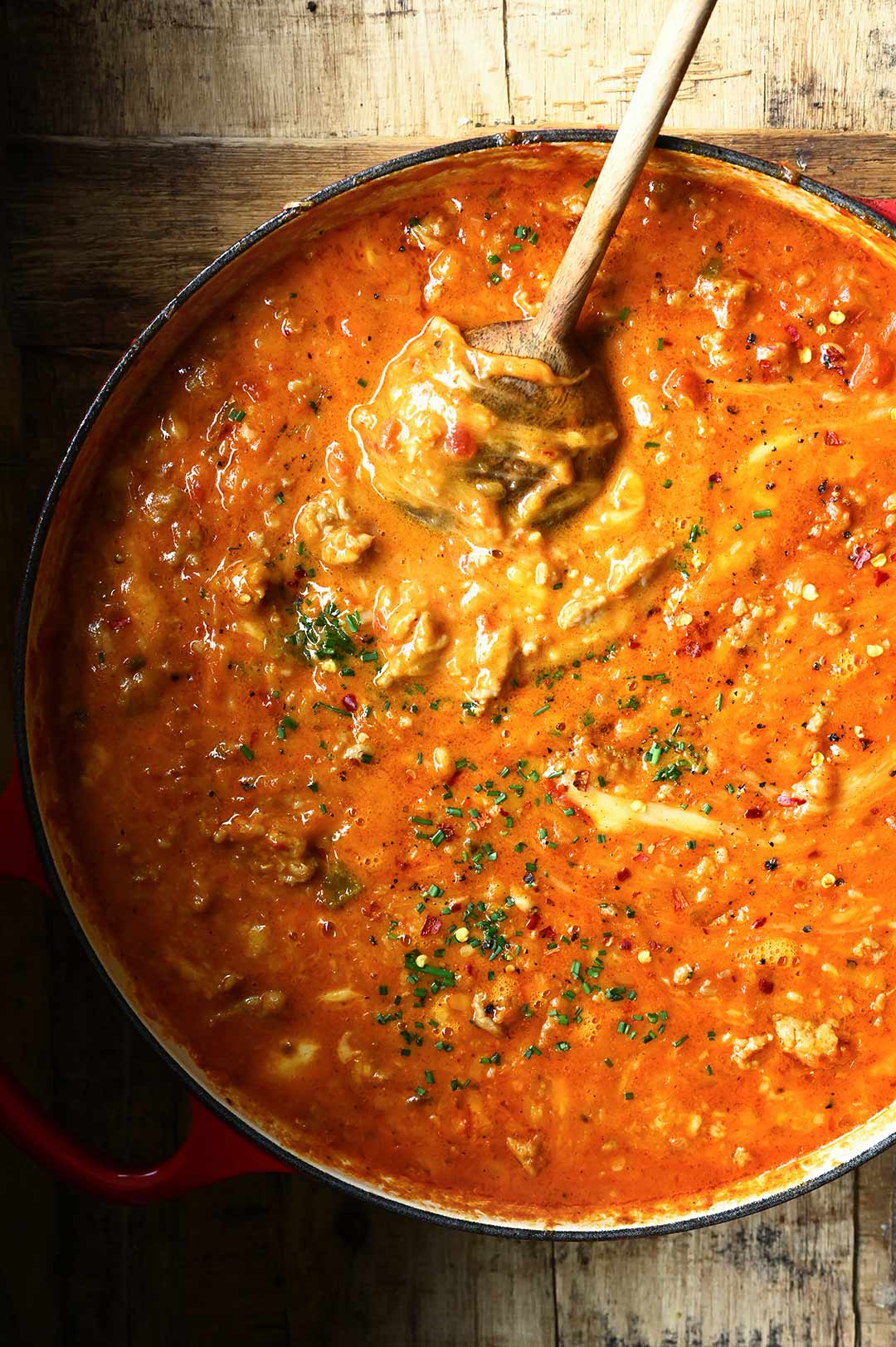 This cheesy ground chicken dip is so good and uses plenty of pantry staples you might already have. It's a serious crowd-pleaser that can be served hot as a dip, spooned over crisp tortilla chips nacho-style, or rolled up in a warm flour tortilla. Make it as spicy as you can handle by adding jalapeños or extra chili flakes.
This dip pleases the pickiest eater, is quick to pull together and super versatile too. Swap chicken for beef, add beans or corn. Or slide it into the oven for a crispy finishing touch.
Let me guide you through the recipe with this step-by-step VIDEO.
This is How We Do It
To put it simply, it's ground chicken with taco sauce and the addition of 2 varieties of cheese. It's all made in one skillet in less than 30 minutes.
We cook the onion and garlic until they smell fragrant. Then add the ground chicken, cook until brown and pour in taco sauce. You can use your favorite taco sauce, mild or spicy. Next we stir in cheddar and mozzarella for melty, cheesy perfection.
At this point, you can also bake the dip in the skillet, assuming it's oven safe, for a crispy crust. Then top with chives, green onions or jalapeños. Serve with tortilla chips, they're a must for scooping.
That's pretty much it. Simple as can be, but every scoop of this cheesy dip is so delicious.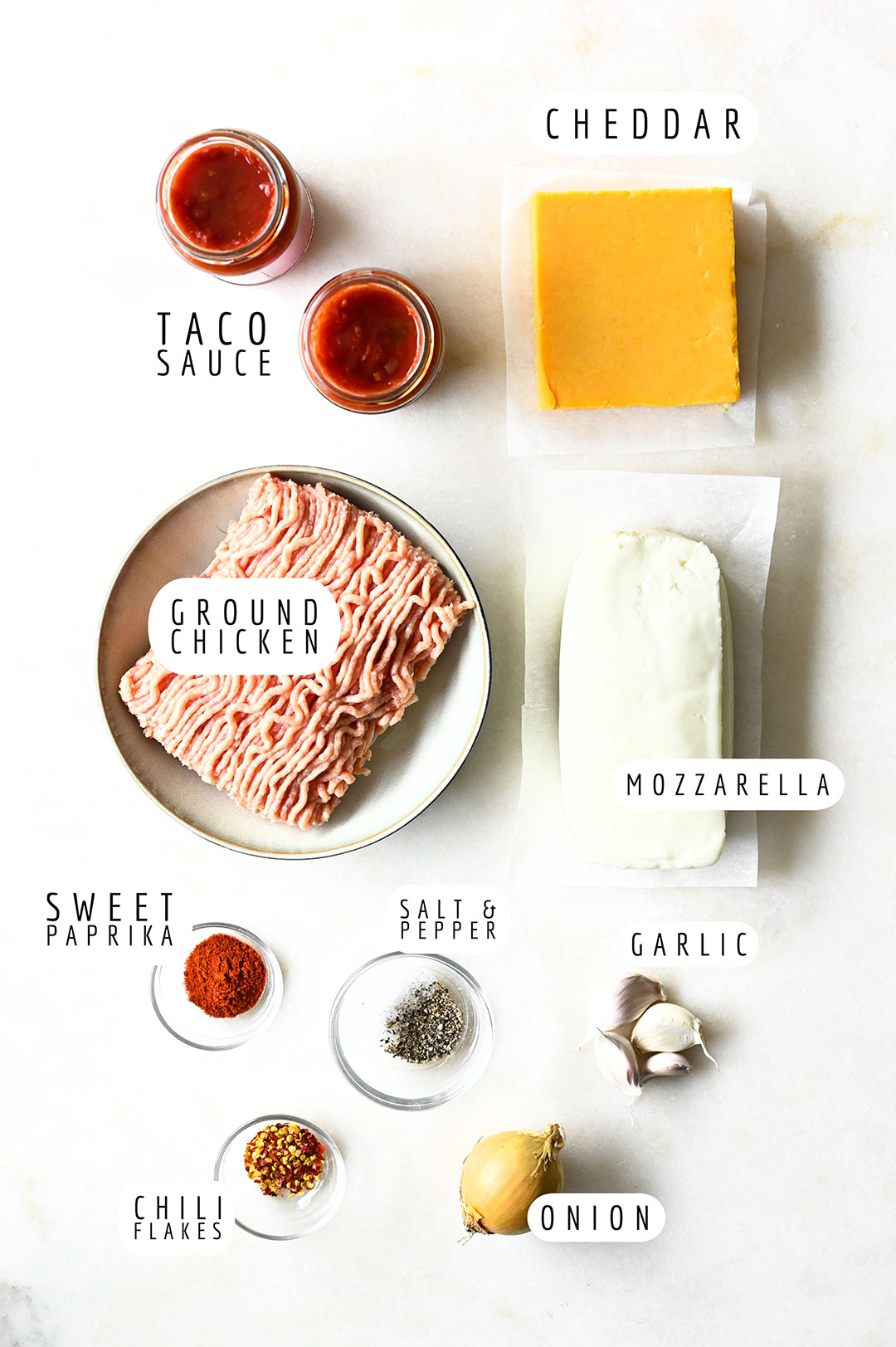 What You Need For This Cheesy Chicken Taco Dip
Ground Chicken: Tender juicy chicken chunks. Instead of ground chicken you can also use shredded chicken.
Onion and garlic: Our flavor base. For convenience, you can also use dried onion and garlic powder.
Taco sauce: I used a more chunky sauce made with bell peppers. Use your favorite brand and choose for a mild or a spicy version.
Cheese: This cheesy dip gets its smoothness from grated cheddar and mozzarella cheese. Make sure to use cheese from a block and grate it fresh at home. Since freshly grated cheese doesn't contain added preservatives and since you're shredding it on the spot, it will have a creamier taste and the dip will turn out less clumpy and much smoother.
Seasoning: We're using salt, pepper, sweet paprika and chili flakes. You can add more spices like cumin or dried oregano.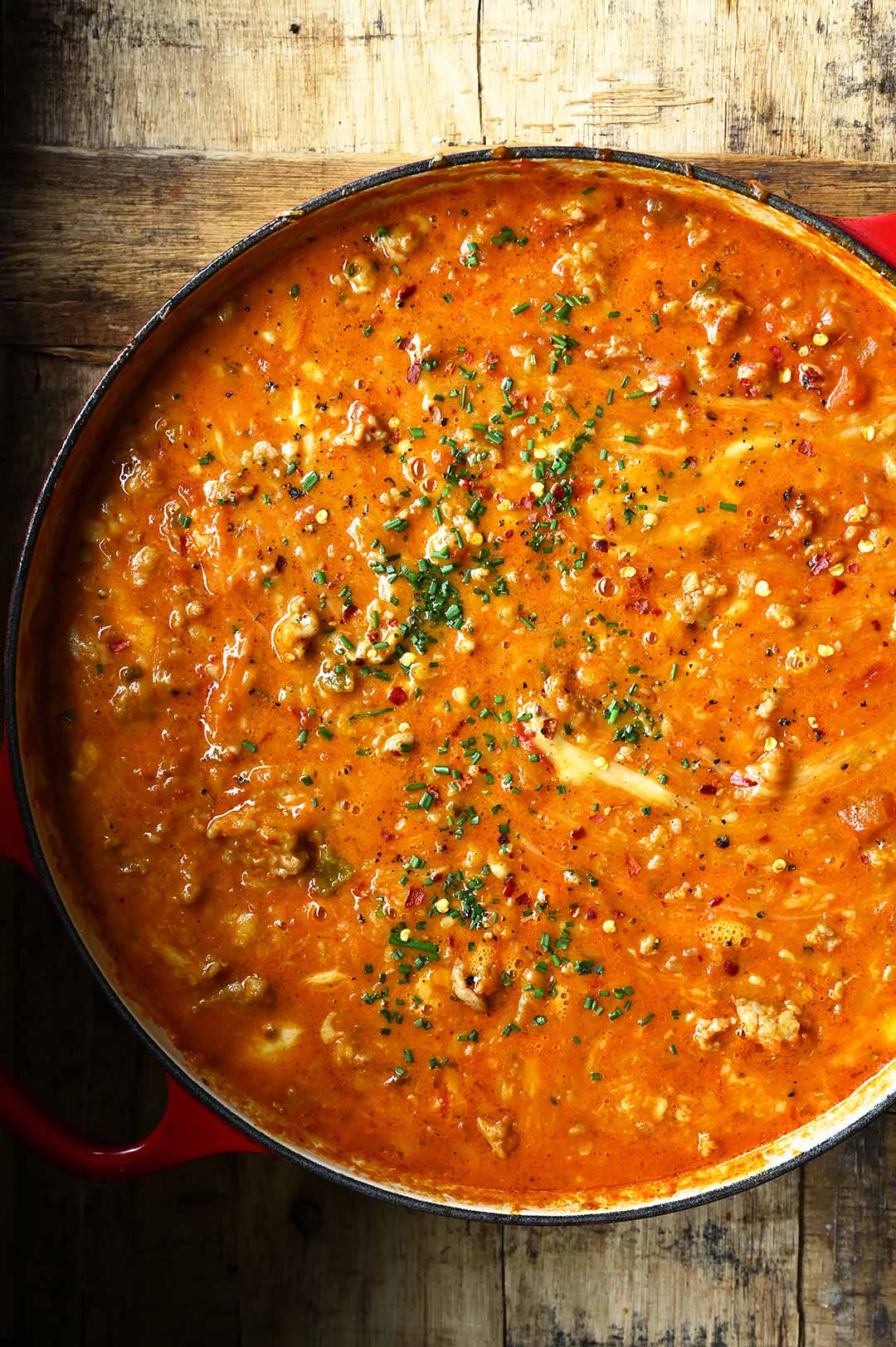 RECIPE NOTES
Add more veggies! You can sauté bell pepper or poblano peppers together with onion and garlic, or add some beans or corn kernels right before you stir in cheese.
Make it as spicy as you like! Add jalapeños or some extra chili flakes.
Swap ground chicken for ground beef.
Add more toppings. Garnish the skillet with sour cream, sliced jalapeños, chives, chopped cilantro, sliced avocado, or scallions. Use tortilla chips to scoop the toppings directly from the skillet, spoon the dip onto a warm flour tortilla and crush chips over the top.
Storage: Refrigerate leftovers in an airtight container for up to 3 days.
Make ahead: You can prepare this dip 1 day ahead, follow the instructions just right before the step you need to stir in the grated cheese. Store in an airtight container, reheat before serving and stir in the cheese.
What to do with leftover taco dip? Make enchiladas, quesadillas, burritos, spread for sandwiches, taco rice bowl, topping on baked potatoes or swirl with some scrambled eggs.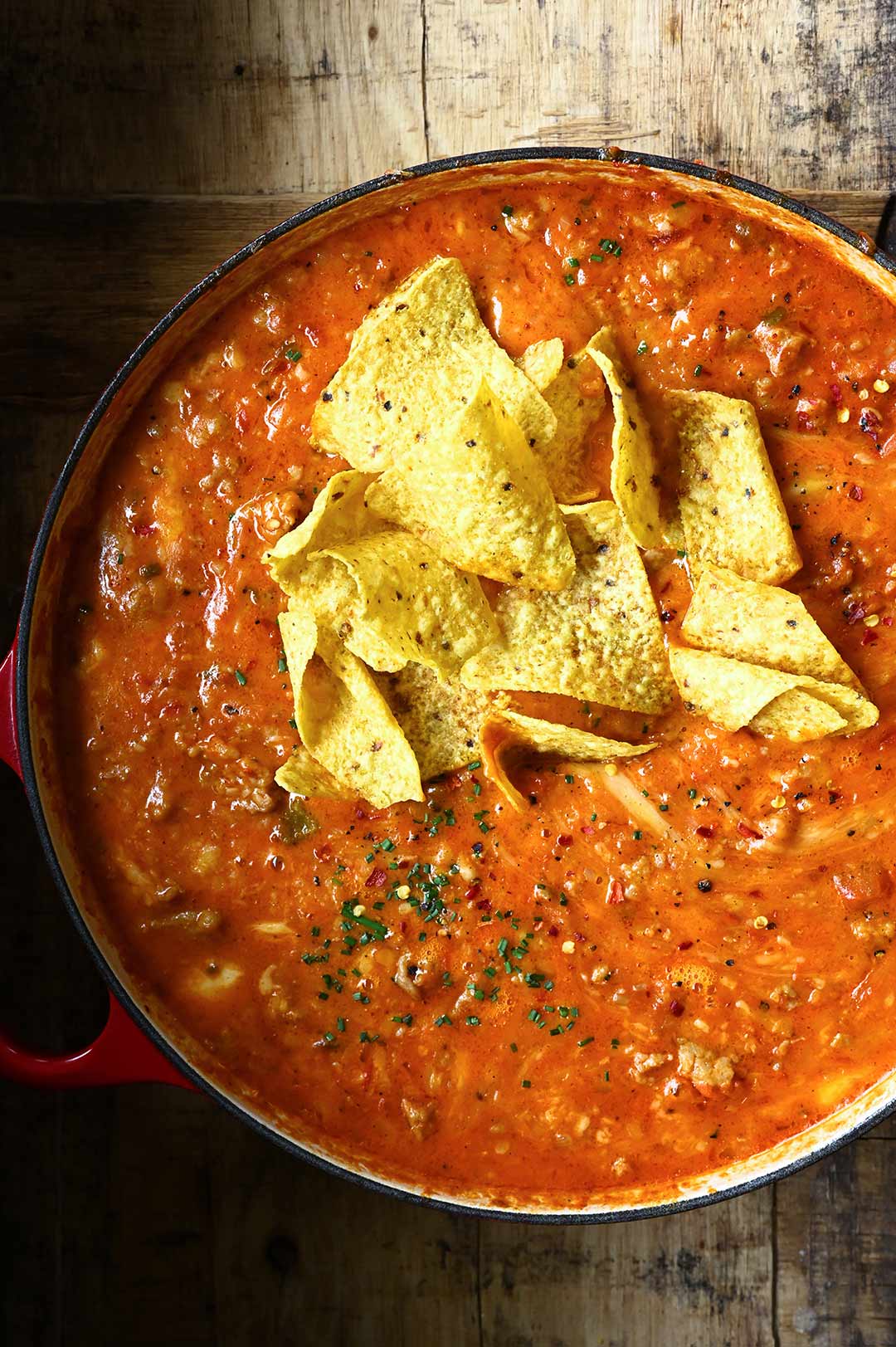 MORE DELICIOUS APPETIZERS
COOKING VIDEO
Yield: serves 6-8
Cheesy Chicken Taco Dip
Ingredients
1 tbsp olive oil
1 small yellow onion, minced
4 garlic cloves, minced
1 pound ground chicken
1 tsp each: salt, black pepper, sweet paprika, chili flakes
2 jars (8 oz) taco sauce, mild or spicy
14 ounces sharp cheddar cheese
14 ounces lower moisture mozzarella in a block
Instructions
Get your prep done before you start cooking. Mince the garlic cloves and finely chop the onion. Grate the cheddar and mozzarella, set aside.
Heat oil in a skillet over medium low. Add onion and garlic, cook until translucent, about 3 minutes. Add ground chicken, break up into pieces and cook until brown and no longer pink in the middle. Stir in salt, pepper, paprika and chili flakes. Add taco sauce and bring to a simmer.
Reduce heat to low and gradually add in grated cheese. Stir until completely melted.
Sprinkle with your favorite toppings like chives, extra chili flakes or jalapeños. Serve immediately with tortilla chips for scooping. Enjoy!
Notes
Calories Per Serving: 501 kcal
Nutritional information is only an estimate. The accuracy of the nutritional information for any recipe on this site is not guaranteed.

//= __('Print recipe (no photos)', 'servingdumplings' );?> //= __('Print recipe (with photos)', 'servingdumplings' );?>